Ask someone what car first comes to mind when they think Subaru, and you'll probably hear one of two answers: the WRX STI, or the 2023 Subaru Outback Wilderness.
In the mid-1990s, long before Subaru's rally rocket became an icon in North America, the Japanese automaker famously hitched their new (station) wagon to Paul Hogan, better known as Crocodile Dundee. The film series was a massive success, turned Hogan into a global star, and it was a genius marketing move following the Outback's introduction at the New York Auto Show in 1994. It was essentially a modified Legacy wagon with a raised suspension, larger tires, and body cladding; it combined the practicality and interior space of a wagon with the off-road capabilities and more rugged appearance of an SUV. Just like that, Subaru made one of the first "crossovers" in the business.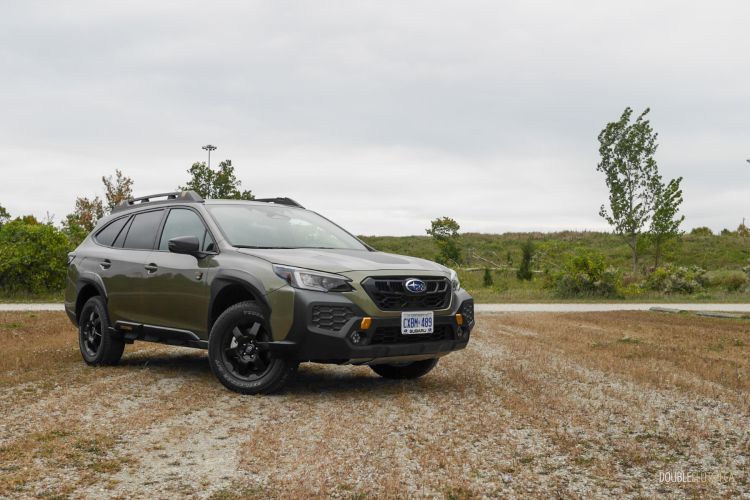 Fast forward to 2023, and the Outback remains a cornerstone of Subaru's lineup with the basic formula still intact, though now built on Subaru's global modular platform. A few years ago, Subaru introduced the Wilderness sub-brand and lives on today, representing a shift towards more rugged and off-road-oriented vehicles catered to enthusiasts who enjoy off-road adventures. The Outback was the first model to receive this treatment in 2021 for the 2022 model year, followed by the Forester and Crosstrek.
The Wilderness showcases a more robust and commanding presence compared to the almost catfish-like face on the standard Outback — itself recently refreshed for 2023 — with a unique front end and honeycomb LED fog lights. Copper accents denoting tow hook locations punctuate the design and enhance functionality, and the more aggressive body cladding offer a more toughened-up look.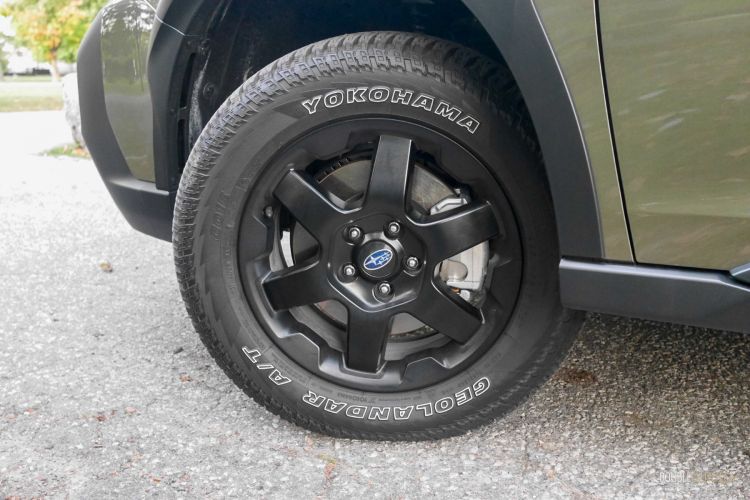 The 9.5 inches of ground clearance give a nice view of the Wilderness-exclusive skid plate, and the satin black six-spoke wheels wrapped in Yokohama Geolandar all-terrain tires boost off-road performance. Even though this particular tester isn't finished in the attention-grabbing Geyser Blue colour exclusive to Wilderness models, the Autumn Green Metallic paint job hearkens back to the great outdoors and better captures the Outback's spirit.
Inside, the Outback Wilderness fuses functionality and style. The cabin is adorned with a variety of layered black textures, including plastic, faux leather, and faux carbon fibre, giving it a rugged yet contemporary look and feel. To maintain continuity with the exterior, copper accents and stitching are integrated throughout the interior, providing a cohesive and visually appealing theme. "Subaru Wilderness" tags on the door panels are subtle reminders of its adventurous nature, and along with the Wilderness logo embossed on the headrests, add a unique touch.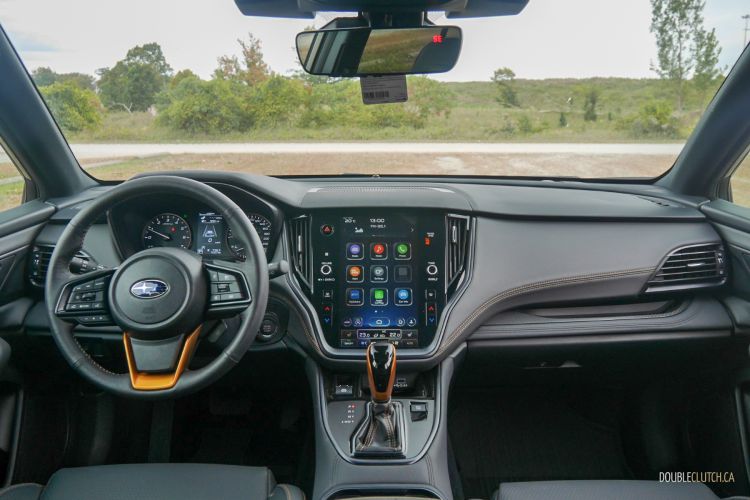 The standard heated front and rear seats are finished in a more durable, soft-touch, all-weather-friendly upholstery, though they're not the most pleasant-feeling. Like the standard Outback, the Wilderness boasts generous storage, offering 923 litres of space with the rear seats in place, and an expansive 2,141 with the seats folded down, making it exceptionally versatile for all your gear.
Subaru also prioritizes entertainment and safety with the Wilderness trim. The tablet-style 11.6-inch infotainment system is intuitive, providing easy access to various functions and useful displays such as the front- and rear-view cameras, while the 12-speaker Harman Kardon audio system sounds great. Safety is enhanced through Subaru's suite of EyeSight driver assists; it now includes a lane-centering function, which resists drifting out of the lane you're in. The LED array to help indicate lane excursions isn't quite centered with the steering wheel; it's a bit irritating but overall, the system works well.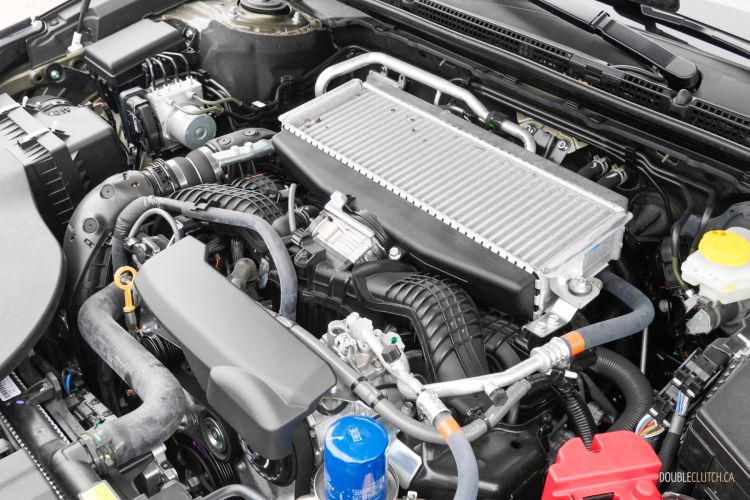 The Outback Wilderness is equipped with Subaru's direct-injected 2.4-litre turbocharged four-cylinder Boxer engine, putting out 260 horsepower and 277 pound-feet of torque. With a torque peak between 2,000 and 4,800 RPM, it has plenty of get up and go with a satisfying snarl when giving it the beans. It achieves this feat through Subaru's famous all-wheel-drive system running through a CVT with shorter ratios compared to the standard Outback. The downside to this more capable setup is that power delivery can be somewhat unpredictable at times, as gear ratios change abruptly when trying to gently accelerate with the flow of traffic. Once the Outback settles into a cruise, it mostly operates between 1,500 and just under 2,000 rpm, which makes for a quiet and fuel-efficient ride.
The Wilderness is rated at 11.0 L/100 km city, 9.0 on the highway, and 10.1 combined, while we observed an even 9.0 L/100 km during our week of mixed-use testing. This is impressive, as Subaru's normally aspirated four-cylinder Boxer engine from the early 2000s does worse and only delivers 165 hp. Even more impressive is that the Outback only requires 87-octane fuel, a big plus for a turbocharged vehicle today.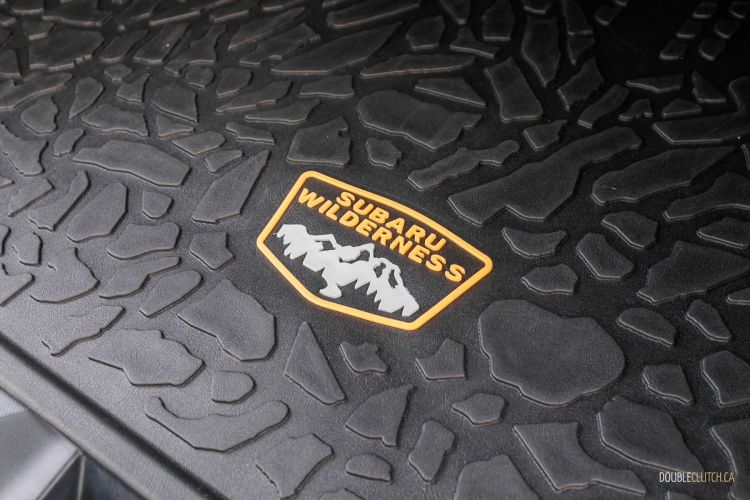 Subaru even equips the Outback with a nifty display which counts the amount of time and fuel saved when the automatic start/stop system kicks in and shuts off the engine. It was enlightening (and alarming) to learn that we sat in the Wilderness for over 37 minutes worth of traffic over our week with it, which would have burned over a litre of fuel had the engine been running.
Aside from beefing up the CVT for off-road adventures, Subaru also enhanced its X-Mode traction control system for the Wilderness. Normally, X-Mode operates the brakes to individual wheels, thereby re-directing power to wheels with more traction, under 40 km/h. Not so in the Outback Wilderness — it allows drivers to keep their foot in it to power through deep snow and mud, but only in certain pre-programmed settings. Unfortunately, X-Mode doesn't have a physical button, which could lead to some issues in the winter when the touchscreen isn't as responsive when cold.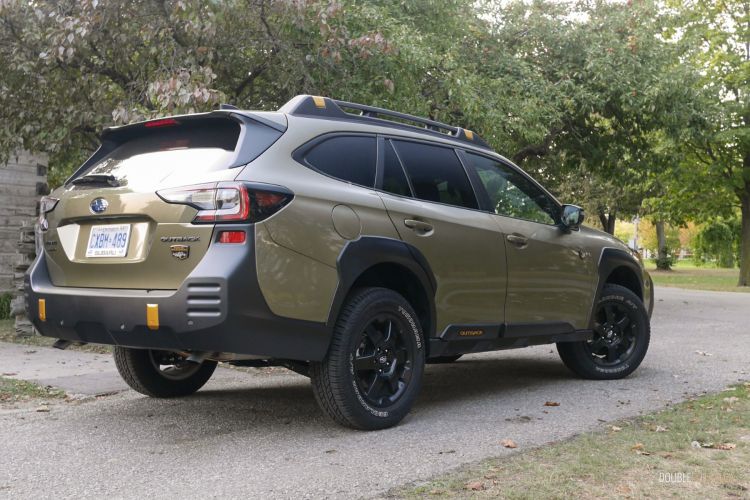 We often make light of how the majority of off-road based vehicles will never set foot off-road, but in Canada, nasty winter weather is almost guaranteed even in major cities, which can be just as treacherous as any off-road trail. Being in any Subaru — aside from the BRZ — gives you a leg up in these conditions, but the Outback Wilderness takes capability to another level and encapsulates everything Subaru does best.
With its enhanced body cladding and skid plate, beefed up driveline, and extra ride height, the 2023 Subaru Outback Wilderness makes for a great family companion to take you anywhere you want to go safely and comfortably, no matter what the conditions may be.
See Also