The 2023 Subaru Outback Onyx Edition fell into kind of a weird trap in my headspace. I've always had a soft spot for Subaru's deliberately quirky way of doing things. Like Mazda's semi-illogical commitment to the rotary engine, I admired Subaru's steadfast adherence to the boxer engine and all wheel drive, doing things their own way. For the longest time, there was nothing else on the road like them. Subaru still uses a lot of that same base formula, but in trying to get away from their rough-around-the-edges charm, in trying to be modern and appeal to the safety minded consumer over the adventurous driver, they've become rather ordinary. 
The most unique thing about the Outback is its recently refreshed styling, and that is not a good thing to this author's eyes. They've followed the lead set by the divisive new WRX, adding larger, more aggressive headlights on top, a larger grille in the middle, framed on the bottom by protruding fog lights on a new front apron with pronounced underbite. The profile view is marked by much larger body cladding with the same dramatic angles seen on the aforementioned WRX. Our Onyx Edition test vehicle includes black trim and black 18-inch wheels to complement the abundance of cladding, which helps, but it's still far too busy and we really don't care for it.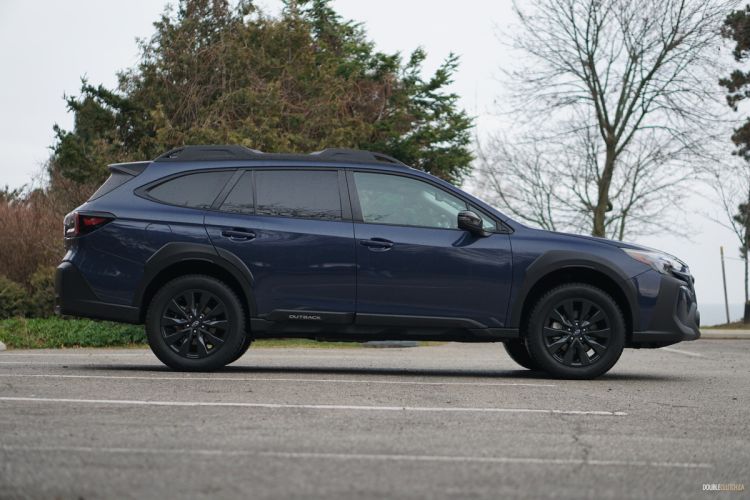 The rest of it is all fairly straightforward and inoffensive. The cabin is large and airy, with abundant head and leg room in the front and rear, with good visibility and more cargo space than some much larger SUVs. The contrasting black and grey leatherette surfaces add a healthy amount of contrast to the space, with bright green stitching giving the littlest flourish of excitement. The switchgear and materials all feel of quality, and the coarse grain leather steering wheel feels substantial in the hands. Behind that steering wheel lies one of the best gauge clusters in the business, with fantastically legible and attractive analog dials with a small, customizable center display.
The center console is dominated by a large vertical touchscreen, powered by Subaru's newest version of their StarLink infotainment system. It generally works well, with a speedy boot time, sharp resolution and good contrast levels, but it isn't perfect. The biggest issue is that our tester's 11.6-inch touchscreen forgoes some physical shortcut controls that the base car's dual 7 inch system greatly benefits from; there's no button to snap to the radio, you have to press home first then select it.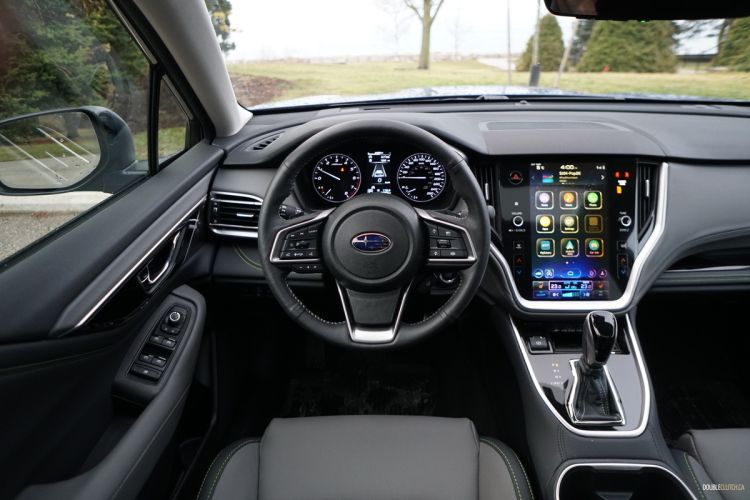 Switching between anything requires a trip to the home screen first, a mild annoyance to be sure, but one that could have been easily avoided with a handful of buttons or fixed on-screen shortcuts. It's worth mentioning that Android Auto and Apple CarPlay are wireless and work incredibly well here, such that StarLink's foibles could easily be a total non-issue for most people.
On the road, the Outback remains inoffensive – perhaps to a fault. The only available transmission, a CVT, is okay and offers decent response, but also seemingly can't decide if it wants to motorboat and hold revs like the most efficient hybrid units, or try and be sporty with artificial "gears," ending up being the worst of both worlds.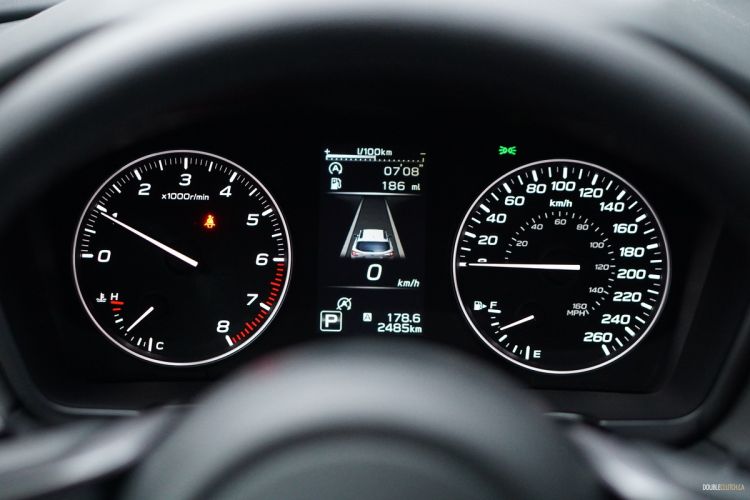 Subaru's gone to great length to refine and silence the notoriously distinct warble of the boxer engine, to such an extent that they've successfully eliminated the character from it, but the mechanical drone inherent to the layout remains and is accentuated by the motorboat-esque CVT on takeoff; worst of both worlds again. With only 182 horsepower on tap, acceleration is… underwhelming, but fuel efficiency is decent at 10.4L/100km (held back by heavy snow and city traffic), so while your adventures with/into the Outback may be conducted at a leisurely pace, they won't be interrupted by fuel stops.
Those adventures into the wild won't be held up by weather or terrain, either. The same qualities that make the Outback so dull on a good day make it reassuringly boring on a bad day when the conditions are dreadful. Rain, shine, snow, sleet, or mud, it is totally unfazed by life's challenges. The same unusually light, strangely disconnected steering feels exactly the same on dry pavement as it does on snow, hiding all sense of feeling, good or bad, and the powertrain's gingerly response similarly becomes an asset in harsh weather.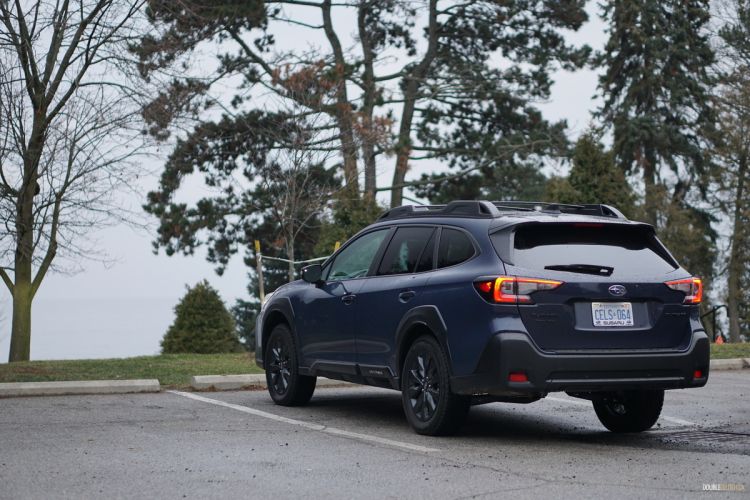 This is a stupendous vehicle for the risk-averse who don't want to feel the highs or lows of driving, they just want to get there and not care. On that note, Subaru's standard suite of safety systems and driver aids, like blind spot monitoring, adaptive cruise and steering assist, all work incredibly well, effectively removing most of the thinking from driving as well; it'll handle just about everything for you. 
I wanted to like our 2023 Subaru Outback Onyx Edition, and in my rational thinking brain, I do. It's comfortable, quiet, very practical, efficient, easy to drive, and at $38,695, is a pretty great value in the modern context. But, my silly kid brain, the part of me that grew up to adore interesting cars and loves driving, doesn't feel it. The base ingredients that make a Subaru cocktail are still there, but the fizz is gone, and the recipe doesn't work for me. In the pursuit of refinement, the more challenging flavors have been eliminated, and we're left with a milquetoast, watered down version that in trying to be everything to everyone, fails to capture what made the originals so good. For a large, practical, go anywhere family car, for someone maybe less emotionally driven than I, it's a solid choice. 
See Also:
2022 Subaru Outback Wilderness
2022 Volvo V90 Cross Country B6