When the Spice Girls dropped Wannabe back in 1997, it was almost like a premonition for the compact crossover segment. Countless automakers hopped onto the bandwagon between then and now, but the 2022 Subaru Forester Wilderness is one of the few sport-utes that can separate itself from the rest of the off-road-ready wannabes and hold its own when the weather turns into a dog's breakfast.
The Forester has always marched to the beat of its own drum, especially when it first debuted back in 1997. But as the years passed, it grew up and traded more and more of that trademark Subaru quirkiness in exchange for mainstream appeal. That's abundantly clear with this fifth-generation model, which first launched in 2019 and sees a refresh for 2022. The Forester's days of being more tall wagon than small SUV are long gone, but one thing that stuck around was Subaru's unflappable four-season capability — and the new-for-2022 Wilderness takes that even further.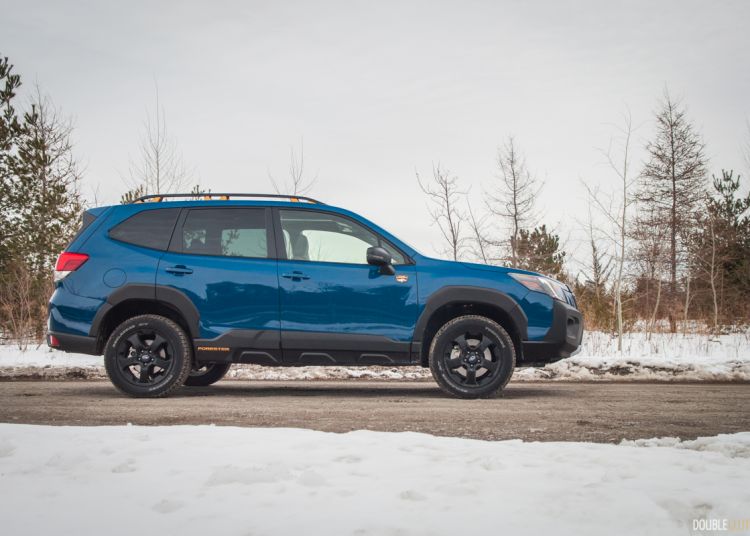 It's a simple formula that we've already seen with the Outback Wilderness: take one regular Forester, jack it up a little more, beef up some things under the skin, and presto — you've got yourself a Wilderness! Like its bigger brother, think of the Forester Wilderness as Subaru cutting out the middleman: most enthusiasts look to the aftermarket for these mods, anyway, so offering this beefing-up fresh off the showroom floor is a smart move.
The Wilderness is powered by the same 2.5-litre Boxer four-cylinder engine used across the rest of the Forester lineup, still putting out 182 horsepower and 176 pound-feet of torque, and still hooked up to a continuously variable transmission. The Forester Wilderness sounds rather coarse when you wring it out, and it doesn't have the same spring in its step as the Outback, so it's a bit of a letdown if you were hoping Subaru would take this chance to stuff a turbo back into the Forester. There's enough kick for puttering around town or venturing off the beaten path, but if you want more beans in your off-road-oriented cute-ute, you'll be better served by the Ford Bronco Sport or the Jeep Cherokee Trailhawk.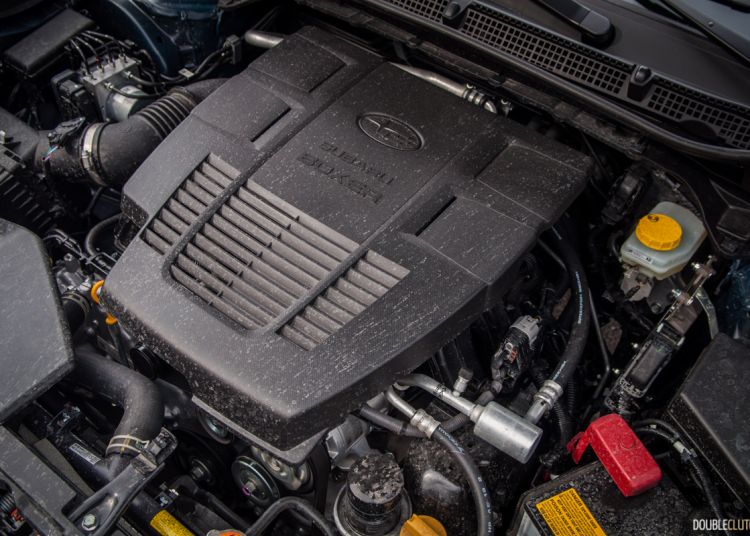 Even if the powertrain isn't particularly refined when you push it, the rest of the Forester Wilderness comes together quite well. There's a bit more wind noise than we expected, but road noise is almost non-existent and the suspension, comfort-tuned chassis, and squishy tires soak up bumps, rough pavement, and other imperfections incredibly well. Naturally, Subaru's full-time all-wheel-drive system is standard, delivering that four-season confidence crossover buyers and Subaru enthusiasts alike seem to crave.
Fuel economy is par for the course. On paper, the Forester Wilderness is a bit more frugal than the Outback Wilderness, rated at 9.5 L/100 kilometres in the city and 8.3 on the highway. We saw 10.7 L/100 kilometres over our evaluation — not bad, considering we sampled the Forester in the middle of winter. We squeezed 10.4 out of the Outback Wilderness, but that was over the summer.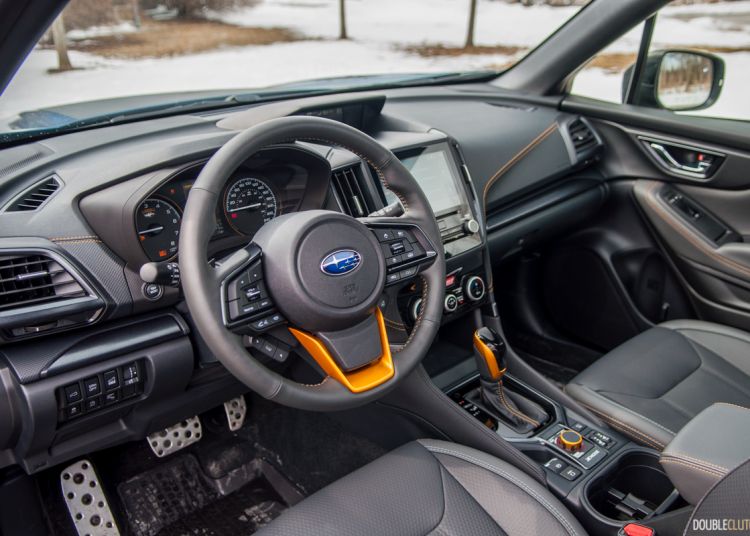 Subaru hasn't messed with the Forester Wilderness' powertrain too much, but they've tweaked a lot of other things: the Wilderness gains about an inch in ride height, bringing total ground clearance to 9.2 inches. That's a bit less than the Outback Wilderness, but it's more generous than other compact CUVs, including the Bronco Sport and Cherokee Trailhawk. As with the Outback, the Forester Wilderness also receives some transmission and other gearing tweaks for off-road performance, and the 18-inch satin black wheels are wrapped in Yokohama all-terrain tires — that are officially rated for winter use. 
Along with the wheels and tires, lift kit, and gearing tweaks, the Forester Wilderness gets a few functional but also cosmetic extras, too. There are a few extra skid plates underneath protecting the engine, transmission, and rear diff, along with some extra body cladding, orange accents all around, and redesigned front and rear bumpers allowing for improved approach and departure angles for all that intense off-roading you'll do on the way to Costco. And just like the Outback Wilderness, the Forester gets a pair of stronger roof racks, so you can  pitch a tent and sleep on the roof, if you're into that.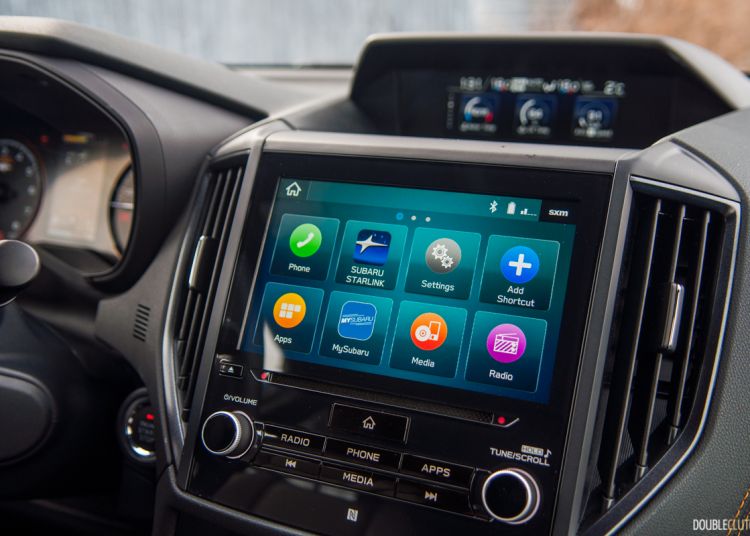 Tech-wise, the Forester Wilderness comes with Subaru's latest-gen suite of EyeSight, its suite of active safety nannies including blind-spot monitoring, adaptive cruise control, and now lane-centering. It all works together well, as long as you get used to the incessant beeping every time you have the adaptive cruise control running and someone changes into your lane. The Forester Wilderness also gets a revised version of X-Mode, Subaru's package of off-road assists aimed at tackling that gnarly cottage access road, or venturing out into a snowstorm for pizza, a bit less of a nail-biter. Infotainment is handled by an eight-inch touchscreen; the graphics aren't too snazzy, but it's intuitive enough.
Unlike the crossovers out there aimed at those with champagne tastes on beer budgets, the Forester Wilderness doesn't really care about any of that fluff. Instead, it makes good its outdoorsy promises with fantastic visibility all around, plenty of space all around, and even more orange accents and water-resistant upholstery. Cargo space punches in at an impressive 818 litres with the rear seats up, and a generous 1,957 folded flat.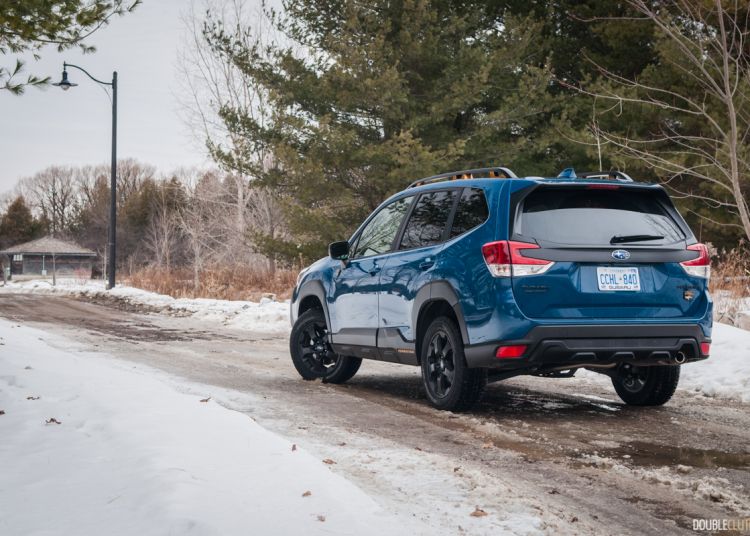 Starting at $38,995, the Wilderness slots in towards the top of the Forester lineup, but it occupies a middle ground in the world of off-road-ready crossovers. The Toyota RAV4 Trail starts at $38,350, but to get the kind of off-road-ready kit similar to the Forester Wilderness, you need to spec the $4,900 TRD Pro package. Arguably, the Forester's closest competitor is the Ford Bronco Sport, offering similar capability as well as bells-and-whistles, provided you go for the right trim. Of course, the Bronco Sport also offers a more powerful engine for a few grand extra, but at that point, you're in Outback Wilderness territory. 
There's no shortage of SUVs and crossovers promising off-road-readiness and capability, but very few have the chops to back it all up. But here's where the 2022 Subaru Forester differs: even the "regular" ones have that unflappable, four-season capability already baked in. The Wilderness takes a very good thing, and makes it even better.
See Also:
First Drive: 2021 Ford Bronco Sport