They say you don't know what you have until it's gone — and they're right. The sun is about to set on the flawed, finicky, and imperfect beast that is the 2021 Subaru WRX STI, and when it happens, mark my words: we're going to miss it.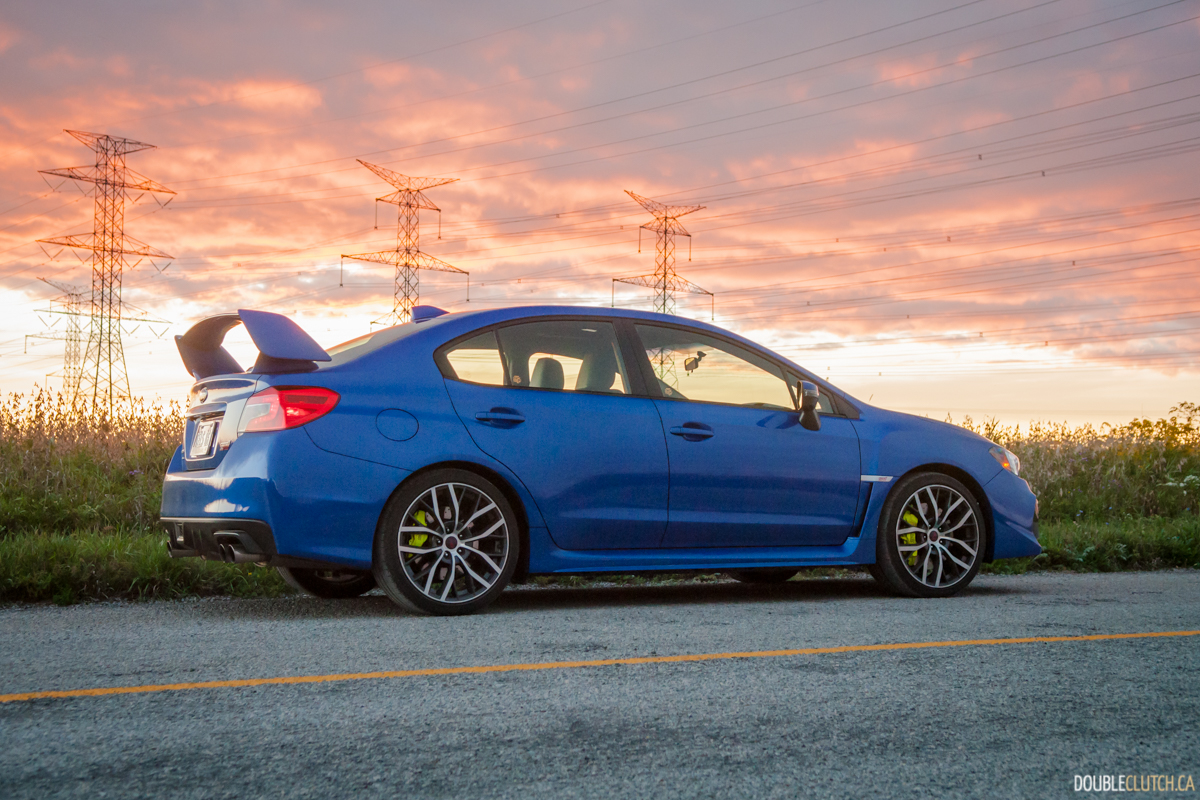 The current flavour of Subaru's rally-bred rocket has been with us since 2015, but its roots can be traced back at least another decade. The world of sporty compact cars is very different today than it was six years ago, let alone 16: its chief rival, the Mitsubishi Lancer Evolution, is long gone and cars like the Honda Civic Type R, Hyundai Veloster N, and the Volkswagen Golf R are point-and-shoot rockets. The STI is an anachronism on wheels, a brand-new car pushing a decidedly old-school driving experience in the best (and worst) of ways.
Subaru's familiar 2.5-litre turbocharged four-cylinder Boxer engine — known to enthusiasts as the EJ257 — lives under the hood. Yes, it's fundamentally the same engine that's been appearing in our STIs since 2004. Yes, it's been massaged over the years. And yes, it still tickles your ears with that trademark "Boxer rumble" we know and love. But with 310 horsepower and 290 pound-feet of torque to play with, the STI barely produces more kick today than its blob-eyed predecessor. That's a whopping 10 extra horsepower over 17 years!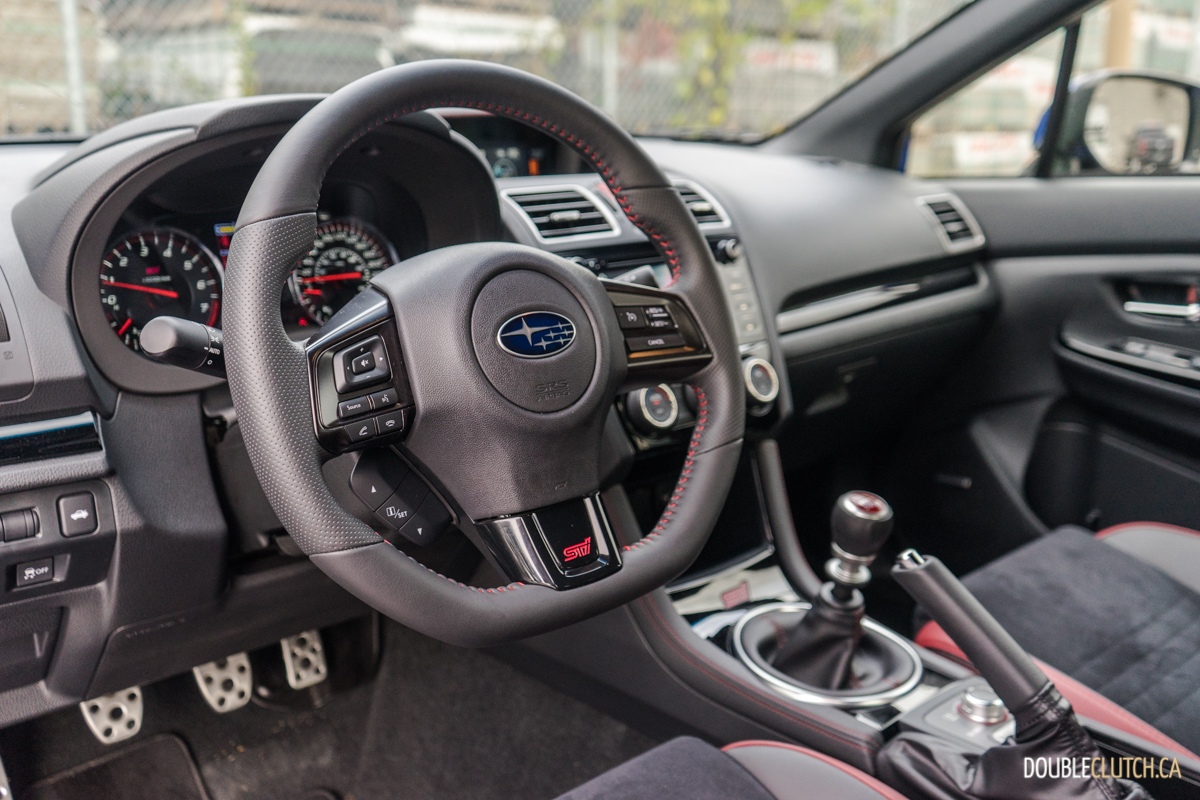 OK, so the STI's venerable EJ257 has been around almost forever and it's barely more powerful than a Camry with a V6. Not to mention, the lesser WRX packs a decidedly more modern Boxer turbo-four with more usable power, but there's still plenty to love about the hardcore STI: it's punchy, it sounds far better than the WRX, and it's backed up by some impressive and proven hardware.
All STIs pack a six-speed manual transmission, a laundry list of chassis and suspension upgrades that's far too intensive to talk about here, and of course, Subaru's arguably most enthusiast-friendly AWD system. In a nutshell, the centre differential (which lets you adjust how much kick goes to the wheels, from a rear-biased 41/59 to an even 50/50 front/rear split) works with a helical front and Torsen rear diff to put the power down, while super-sticky Yokohama summer tires keep the shiny side up.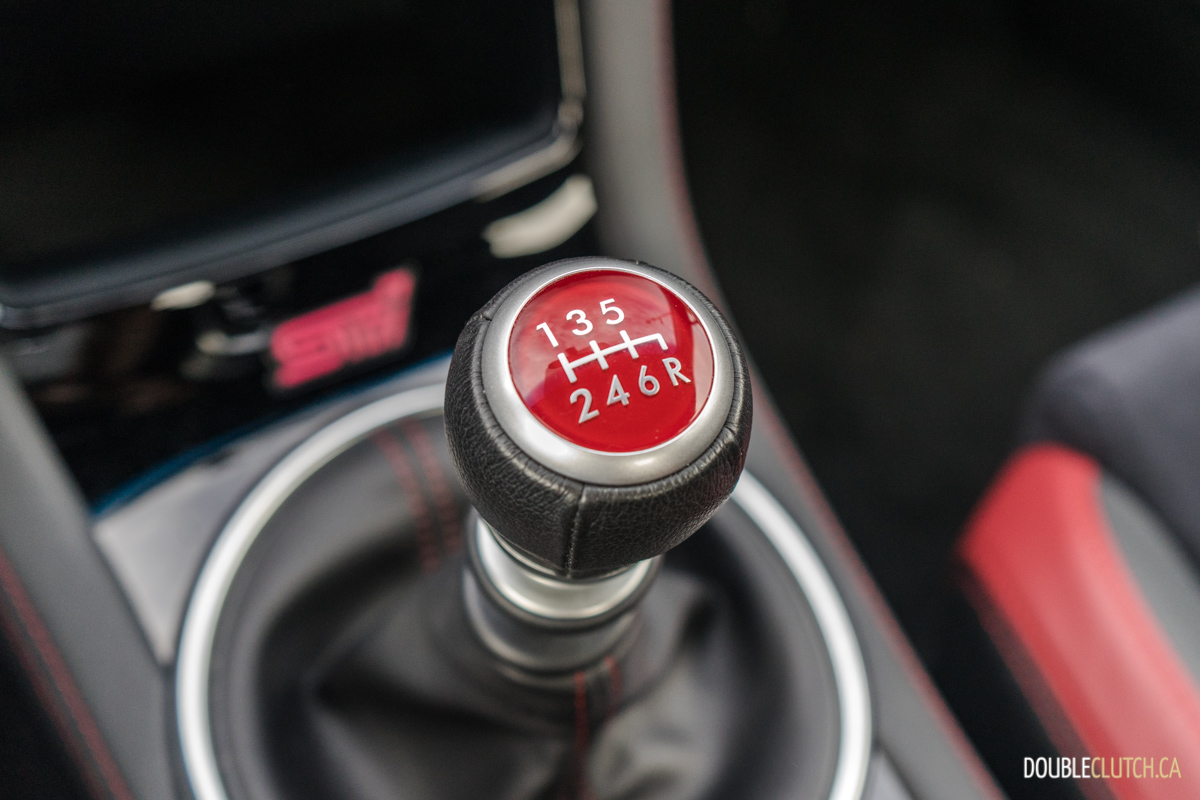 Most Subarus these days are rather cushy, but not the STI. Truth be told, it's not an easy car to live with on a daily basis: the stiff suspension bits, aggressive Yokohama rubber, and 19-inch Enkei wheels make for a punishing over every single bump, pothole, manhole cover, or expansion joint, and the excessive road and wind noise gets on your nerves very quickly. On top of that, the clutch's bite point and generous helping of turbo lag make the STI extremely finicky to drive smoothly at lower speeds, especially in stop-and-go traffic or when you're parking. Better make sure nobody's within earshot when you're about to flick the car into reverse.
But all that goes out the window when you channel your inner Colin McRae. The moment you drop a gear or two and pin the go-fast pedal, that tight leash around the STI's neck magically vanishes. That stiff suspension resulting in a punishing ride? It means you can take a tight on-ramp flatter than the sheets of plywood currently making up your home's sub-floor. Those sticky Yokohama summer tires that generate enough road noise to almost give you a headache? They also generate absurd amounts of grip, to the point where it takes a truly inexperienced and ham-fisted buffoon to upset the car's balance and put it into a guardrail.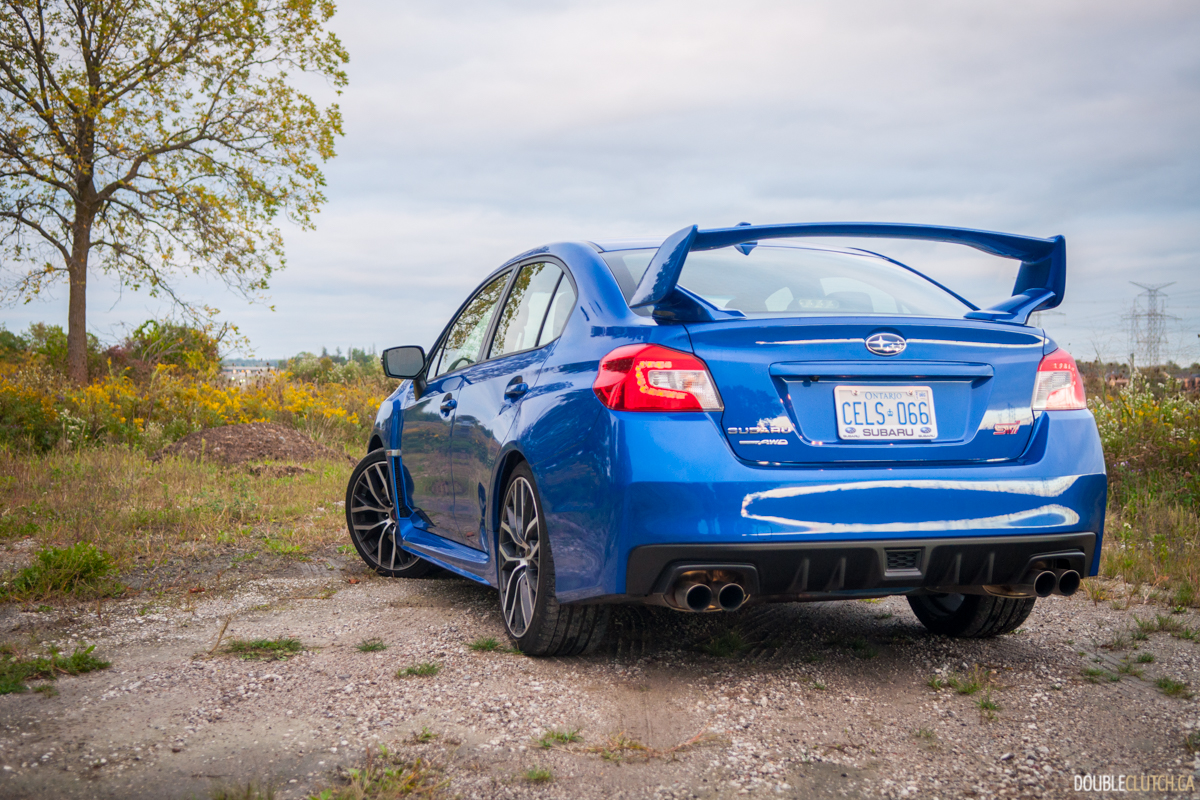 And that peaky power band and generous helping of turbo lag? Easy! Just keep it above 4,000 rpm: that's when the party really starts, keeping you pinned into the seat all the way up to the 6,700 rpm redline. The lesser WRX may have a more usable power band, but the STI's turbo lag is endearingly old-school. Major kudos to the STI's hydraulic power steering; precise and chatty steering wheels are a lost art these days. It may be a finicky beast for puttering around town, but the STI is properly entertaining and rewarding when you give it the beans.
Visually, the STI wears all the basics you'd expect. Big fender flares? Check. Big hood scoop? Check. Big wing on the trunk? Check — although you can opt for a more discreet lip spoiler. It's an acquired taste; the STI isn't exactly subtle, but then again, neither is the Civic Type R. At least this one doesn't have body cladding.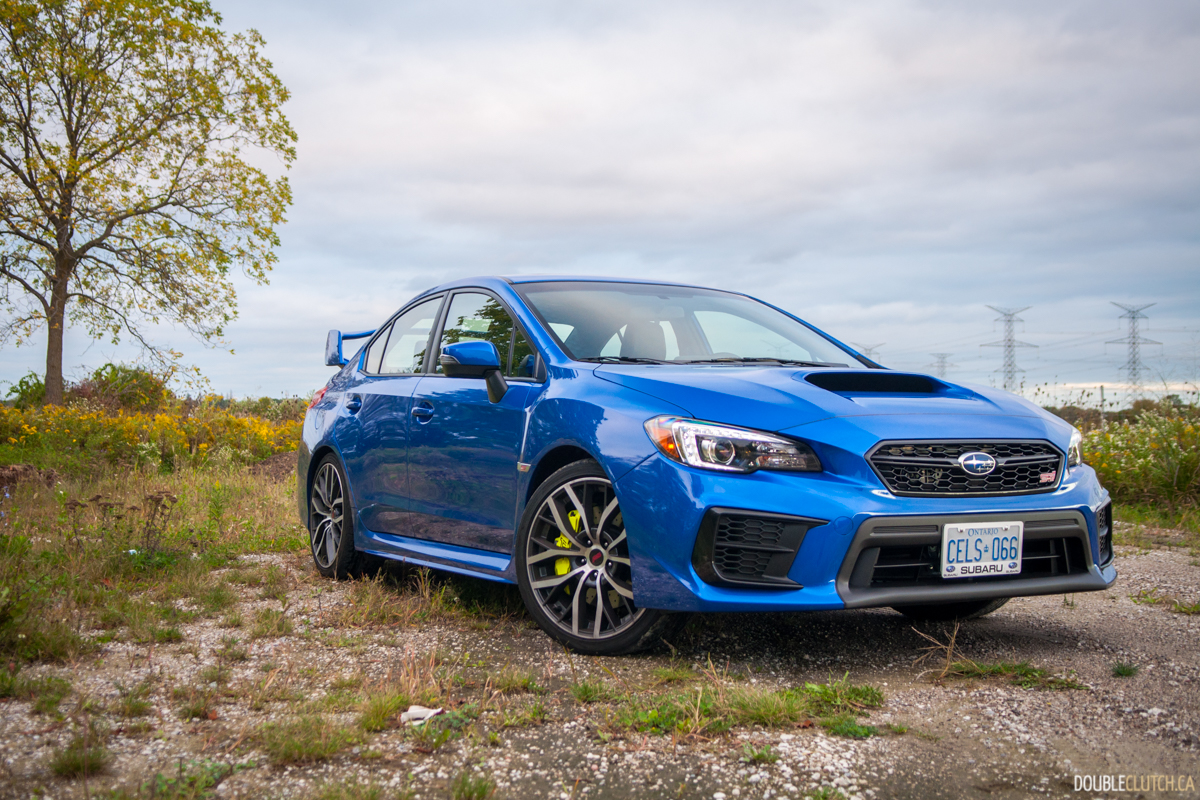 Along with its powertrain, the interior is where the STI shows its age the most. It's the same basic layout we first saw about a decade ago with the Impreza, albeit with some extra Alcantara here and there, a beefier flat-bottom steering wheel, and a bunch of STI logos everywhere. Fit-and-finish isn't particularly noteworthy and the shifter is a bit too tall, but the STI nails the basics: visibility all around is excellent, the optional Recaro front seats are grippy and supportive, and the infotainment is intuitive. Honestly, it's all about perspective: if you've owned an STI before, you'll probably think the interior is an upgrade — and it is. But if you're looking for a pocket rocket with the nicest interior, save yourself some time and pick up a Golf R.
So, how much will these old-school thrills run you? Well, you basically have three flavours to choose from: Subaru asks $40,395 for a base STI, while the mid-range Sport punches in at $42,895. Our particular tester — the full-jam Sport-tech trim — rounds out the lineup at $47,395, and the big spoiler is a no-cost option on the Sport-tech. The STI doesn't quite strike a balance between thrills and comfort as effectively as some of its competitors, but few in this price bracket can deliver a nostalgic, old-school driving experience quite like the bewinged Subaru — year-round, to boot.
Don't be sad our time with the 2021 Subaru WRX STI is over. Be happy it happened.
See Also: