These days, most automakers oversaturate their SUV and crossover lineups by filling niches we never thought needed filling. But Subaru was never one to go with the flow, instead opting to keep their lineup simple with small, medium, large, and extra-large options. This year, the small end of their lineup gets a thorough makeover inside and out, which begs the question: does the redesigned, third-generation 2024 Subaru Crosstrek retain the magic that made its predecessors so popular?
Ever since its launch in 2013, the Crosstrek has pretty much been an instant hit. It even surpassed the Forester, comfortably sitting atop the lineup as Subaru's best-seller in Canada for a few years now. Arguably, the key to its success is twofold. For one, the Crosstrek is right-sized — many players in the inaccurately named "subcompact" segment are a bit too small for their own good, but the Crosstrek offers heaps of space while maintaining a relatively small footprint.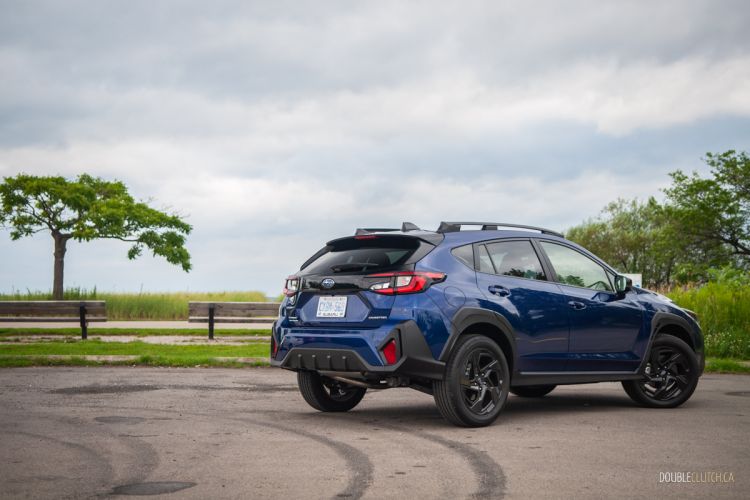 But more importantly, the Crosstrek offers a just-right blend of comfort, practicality, and all-weather capability that seems to appeal to a lot of buyers. You don't have to be the outdoorsy type to appreciate what the Crosstrek brings to the table. And for 2024, Subaru hasn't messed (too much) with that winning formula.
Powertrain options from previous years carry over into 2024. That means the base Convenience and Touring trims continue to come standard with a 2.0-litre normally aspirated Boxer engine, rated at a barely adequate 152 horsepower and 145 pound-feet of torque. You'll absolutely want to step up to the higher-spec Onyx or Limited trims: these two get Subaru's big-block-by-comparison 2.5L Boxer-four, putting out a much more respectable 182 hp and 178 lb-ft of torque. The six-speed manual available with the two-point-slow is gone for 2024, meaning the Crosstrek's now CVT-only. And as always, all Crosstreks are all-wheel-drive.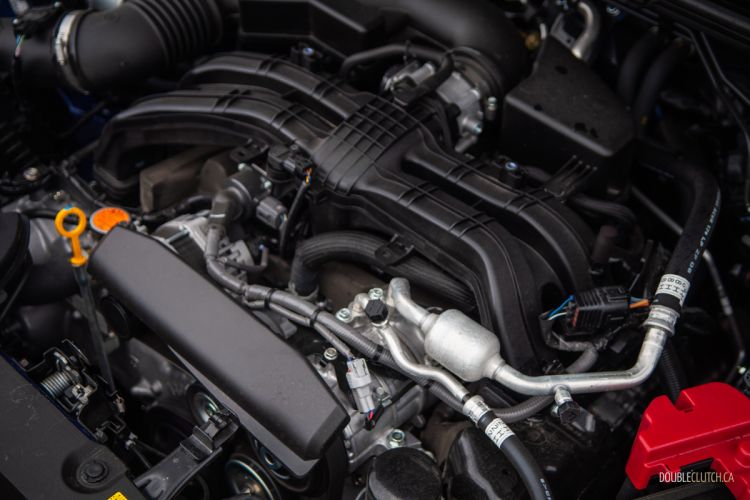 On the road, the third-gen Crosstrek gets on quite well. The 2.5L engine hardly makes it a speed demon, but you have enough beans to execute most merges, passes, and stoplight drag-races without thinking twice. The CVT is well-behaved, keeps the moaning and groaning to a minimum, and offers simulated "shifts" when you floor it. Fuel economy is respectable for an all-wheel-drive cute-ute: it's officially rated at 8.9 L/100 km city and 7.2 highway, and we averaged 8.4 L/100 km combined. Considering the far-less-powerful 2.0 is rated at 8.8/7.1 city/highway, upgrading to the 2.5 is a no-brainer.
What really surprised us was the ride quality and NVH — or lack thereof. The previous-gen Crosstrek was already really good in this regard, but apparently, Subaru found room to improve. The platform is a touch stiffer than before thanks to more structural adhesive and spot welds; this means even softer suspension tuning, and that means the new Crosstrek soaks up bumps, potholes, and other imperfections even better than before.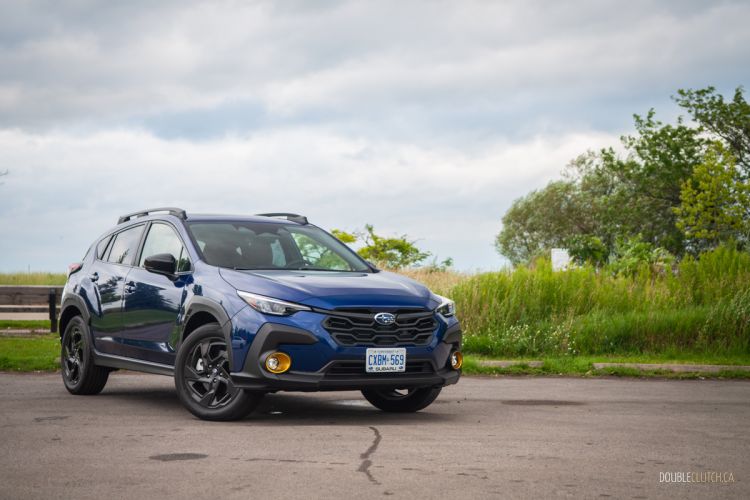 As well, Subaru stuffed more sound-deadening material between the roof and headliner, resulting in even less wind and road noise at highway speeds. These tweaks may seem piecemeal on their own, but working together, the new Crosstrek is especially quiet, cushy, and composed.
Visually, the Crosstrek receives the same makeover as the Impreza for 2024. There's more of a perma-scowl up front owing to the larger grille and more body cladding all around, though ground clearance remains unchanged at 8.7-inches. It's instantly recognizable as a Crosstrek, and our Onyx tester sets itself apart a smidge from the rest of the lineup with greenish-yellow — grellow? — accents inside and out, as well as gloss black 18-inch wheels.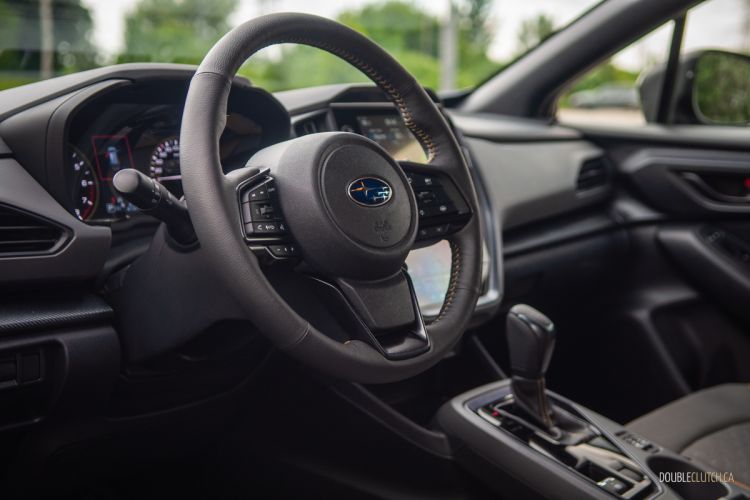 While they've made massive improvements over the years in terms of fuel economy and refimenent, Subaru still seems to struggle a bit with interiors. The good? The revamped Crosstrek's cabin is livable, with excellent visibility all around, cushy seats, and plenty of room regardless of where you sit. Cargo space punches in at a competitive 564 litres with the rear seats up and 1,569 stowed — not quite as roomy as key players like the Volkswagen Taos or Kia Seltos, but more generous than the Hyundai Kona and Mazda CX-30.
The not-so good? For starters, Subaru's material choices are iffy at best. Yes, fit-and-finish is pretty good and they feel nice enough, but the many shades of greyscale plastic, fabric, and textures lack a sense of cohesiveness and feel just a little too distracting. As well, the 2024 Crosstrek now gets Subaru's revised infotainment setup: base models get a dual seven-inch layout, but upper-spec trims utilize the familiar, portrait-oriented 11.6-inch touchscreen from other Subaru models. It's intuitive enough and we appreciate the physical controls, but the interface looks outdated and the system is slow to respond, particularly on start-up.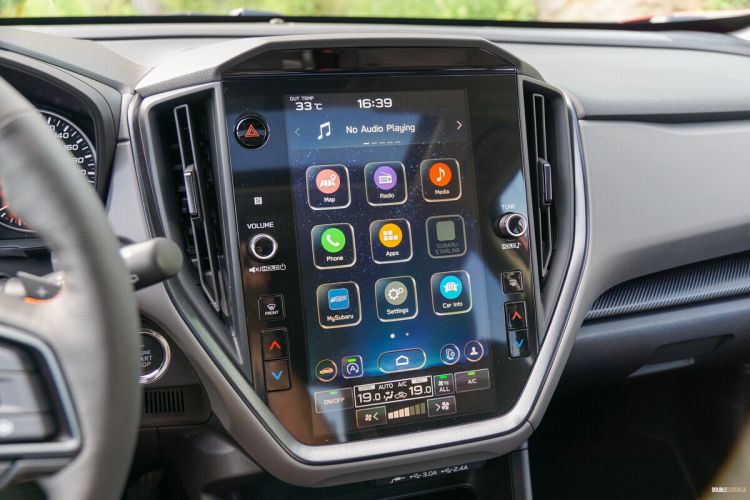 All told, the third-generation rework does result in a price bump. It's not quite as strong a value proposition it once was, but the base Crosstrek still hits that crucial under-30-grand mark to start — $28,995, to be exact. Our mid-range Onyx tester rang in at $33,995 as-tested before fees, taxes, and all that fun stuff. It's pricier than the Crosstrek Outdoor trim it essentially replaces, but it's loaded up with more standard bells-and-whistles, like LED lighting all around, a power sunroof, Subaru's suite of active driver assists, wireless phone charging, and wireless Apple CarPlay and Android Auto connectivity.
Perhaps the most important thing about the revamped Crosstrek is that it's familiar. Sure, the extra refinement is welcome and big touchscreens are all the rage these days, but the 2024 Subaru Crosstrek still offers that same sense of comfort, practicality, ease-of-use, and four-season capability we Canucks can't seem to get enough of. So yes, the new Crosstrek does retain the magic that made its predecessors so popular, and it'll more than likely remain the not-so-little king of Subaru's crossover castle.
See Also