You don't mess with simplicity. When a certain Japanese automaker swapped out the volume knob for a slider a few years ago, things got heated. Now, let's just say that the knob is back. It's an evergreen lesson that isn't lost on most other automakers, including Subaru, and that focus on simplicity and ease-of-use is crystal-clear in the 2022 Subaru Crosstrek Outdoor.
Where countless other automakers pepper their lineups with a dizzying array of various niche-filling crossovers, Subaru keeps it simple. There's small, medium, large, and extra large. There's no coupe-ish medium or hybrid-only large. The Crosstrek knows its place: now in the twilight years of its second generation, it occupies the "small" end of Subaru's cute-ute lineup — in theory. In reality, it punches above its weight in many aspects, and manages to be an automotive multi-tool in a tidy, right-sized package.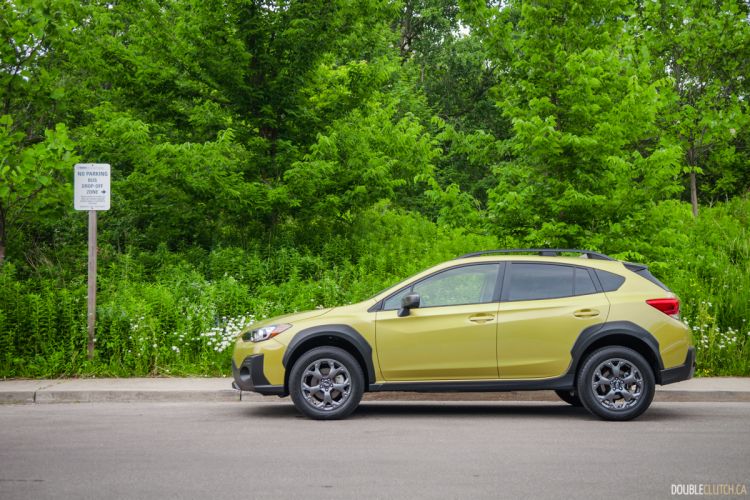 Base Crosstreks come standard with a normally aspirated 2.0-litre horizontally-opposed four-cylinder engine. Putting out 152 horsepower and 148 pound-feet of torque, "leisurely" is probably the kindest way to describe this base engine. That's probably why a couple of years ago, Subaru shoehorned its ubiquitous 2.5L four-cylinder engine under the Crosstrek's hood, but there's a catch: it's only available on the mid-tier Outdoor trim we have here, as well as the top-spec Limited. With 182 horsepower and 176 lb-ft. of torque on tap, it's not a powerhouse by any means, but it's a welcome upgrade that puts a spring in the Crosstrek's step. Honestly, the 2.5 should really be the base engine. 
The only way to get the 2.5 is paired with a continuously variable transmission. It's not a bad combination per se, just a little uninspiring. What mainstream crossover out there doesn't have a four-cylinder hooked up to a CVT? Regardless, it works well around town, going about its business smoothly and almost invisibly, but flooring it on the highway to merge or pass will coax a coarse and strained soundtrack out of the engine. Hey, count your blessings. At least with the 2.5, the Crosstrek gets out of its own way.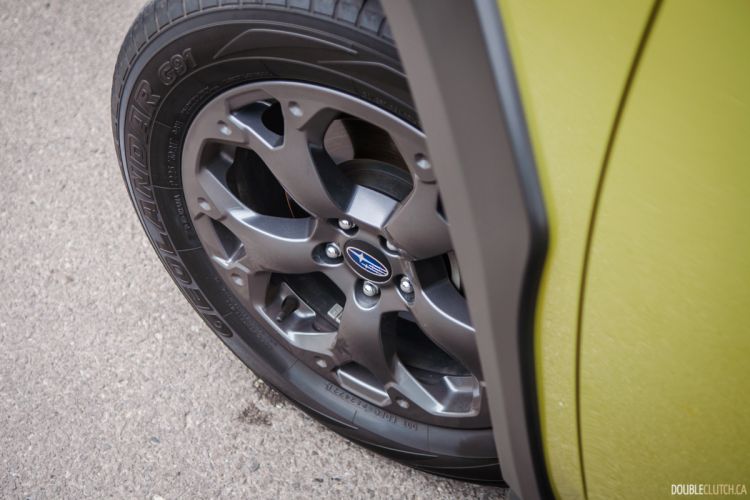 More surprisingly, you can still spec a Crosstrek with a six-speed manual, but the stick is limited to the two-point-slow engine. Still, that's about as rare in this segment as spotting Bigfoot lounging on a nude beach, especially if you also want all-wheel-drive. Oh yeah, about that: all-wheel-drive is standard across the lineup. Naturally.
This Crosstrek might have the big-block engine, but that doesn't mean it's a hot rod. Then again, it doesn't have to be one: having ridden atop Subaru's modular platform architecture since 2018, ride quality and comfort continue to be a Crosstrek high-point in 2022. There's a bit more road noise than we remember, but wind noise is minimal and the suspension is incredibly compliant. Between the generous and squishy tire sidewalls, as well as the suspension tuning that makes exactly zero sporting pretenses, the Crosstrek's ride is pretty damn close to class-leading. Bumps, potholes, expansion joints, and almost every other road imperfection simply do not faze this thing. And with 8.7 inches of ground clearance — more than anything else in the segment — the Crosstrek probably won't break a sweat should you venture off the beaten path.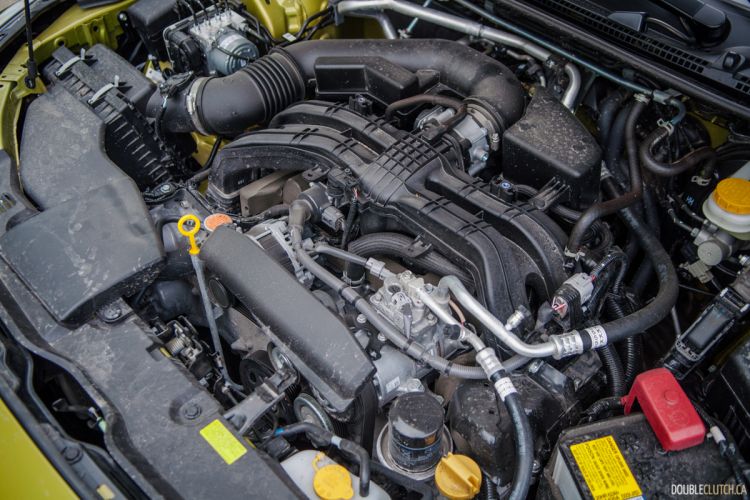 Fuel economy is equally surprising, too. Remember when pretty much everything Subaru made got dreadful fuel economy? The Crosstrek is a form of redemption, officially rated at 8.8L/100 kilometres in the city, 7.0 on the highway, and 8.0 combined. Over the course of 400ish kilometres, we saw a commendable-for-a-crossover 7.5 L/100 km. And if you're still not sold on the 2.5, know this: the base Crosstrek and its 2.0 gets 8.5 city, 7.0 highway, and 7.9 combined. Oh, and they both take regular. Stepping up to the good engine is a no-brainer.
The Crosstrek is virtually identical to the Impreza hatchback on which it's based, save for a few obvious changes. The jacked-up ride height, roof rails, and extra body cladding help differentiate this cute-ute version from its lower-riding sibling. The Outdoor takes it a couple of steps further with even more unpainted plastic around the bumpers and wheels, and an exclusive colour Subaru calls Plasma Yellow. Inside, you get more yellowish accents and stitching, as well as a special, easy-to-clean seat upholstery that does a fine impression of a wetsuit, among other bits and bobs. If you're after a more stylish cute-ute, the Hyundai Kona and Mazda CX-30 are better options.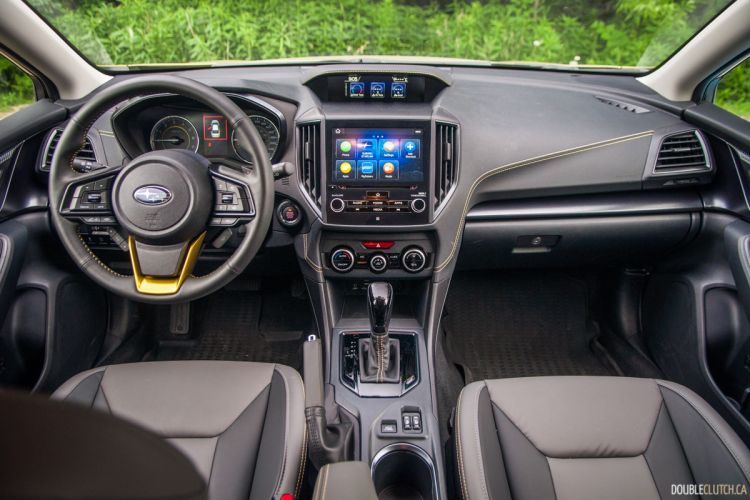 The interior is where Subaru's emphasis on simplicity is the most apparent. If you prefer function over form, comfort over cutting-edge tech, or vanilla ice cream over chocolate, you'll feel right at home behind the wheel of the Crosstrek. Very little in here is a head-scratcher; 11-plus-inch touchscreens may have taken over the dashboards of other Subarus, but the Crosstrek sticks with a far simpler eight-inch display mixed with chunky physical switchgear handling climate controls.
Visibility all around is excellent, too, and the Crosstrek is plenty spacious. There's ample headroom and legroom up front and out back, and cargo space is competitive. You have 588 litres at your disposal with the rear seats up — a little on the tight side compared to the newer entries in the segment like the Toyota Corolla Cross and the Volkswagen Taos — but that grows to an almost-class-leading 1,565 L with the seats stowed.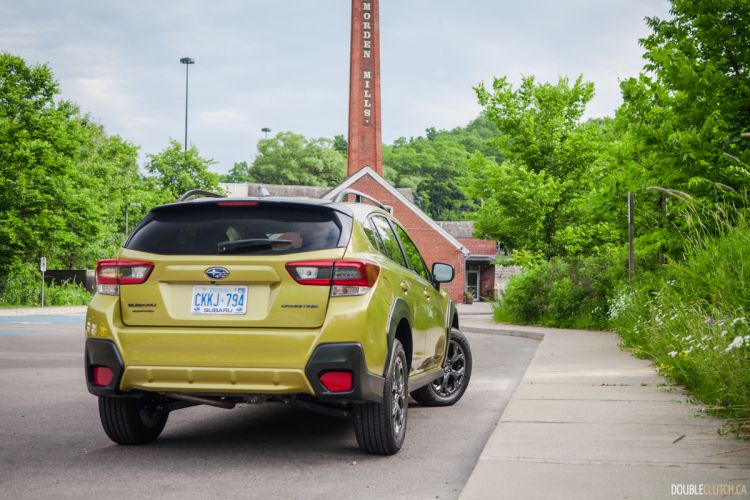 Of course, this focus on simplicity is a double-edged sword. The layout might be simple and intuitive, but it all feels a little too plain. The tech could use some better integration, too. For instance, the Outdoor trim comes with a front-view camera, which would be more useful if it relayed its feed to the big screen instead of the one perched atop the dash, which is roughly the size of a chocolate bar. Can't have your cake and eat it, too.
Price-wise, the 2022 Crosstrek starts at $23,995 on the low end for the base Convenience trim with the six-speed stick, and runs all the way up to $34,795 for the top-dog Limited. At $30,495 as-tested before fees, taxes, and whatnot, our Outdoor tester firmly occupies the middle ground of the Crosstrek lineup, but it's packaged a little weirdly — sure, you get the big engine, niceties like the aforementioned front-view camera, and Subaru's full suite of active safety gizmos standard, but you also have to make do with halogen headlights and no sunroof. To be fair, the lack of a sunroof also means some extra headroom and fewer rattles and potential leaks down the road, but the lack of LED headlights is a bummer at the $30,000 mark.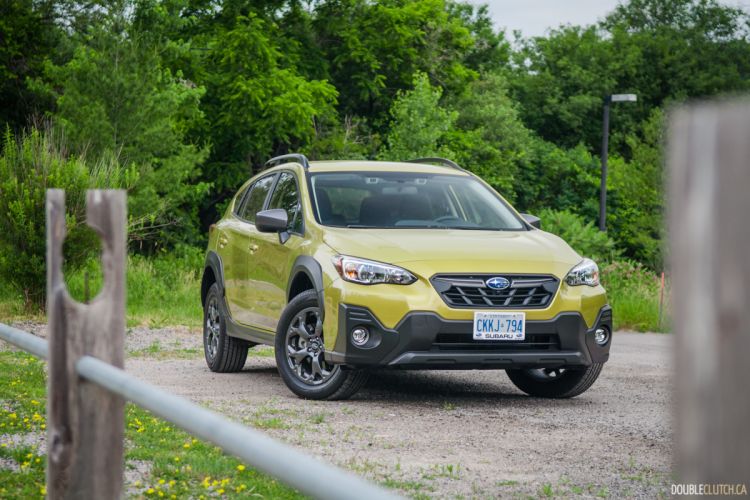 There may not be anything flashy or fancy about the 2022 Subaru Crosstrek, but it has the goods to make most would-be buyers happy. For those new to the Subaru fold, the Crosstrek will draw you in with its simplicity, comfort, and practicality. And for the Subaru loyalists out there looking to downsize, the Crosstrek has something for you, too: that rough-and-tumble, lets-go-anywhere-no-matter-the-weather attitude, all in a right-sized package. 
See Also:
First Drive: 2022 GMC Terrain AT4