Wellington, Ontario – Kia's little Seltos sub-compact crossover is relatively new to the game, having only been launched in 2020, and it's been a huge hit for them, selling more than twenty thousand units per year in Canada alone, and becoming Kia's best selling vehicle. It's the one Kia's been paying the most attention to, saying it's their "number one focus." With this in mind, they've refreshed the Seltos to keep it competitive among fast-growing sub-compact segment, and they invited us out to beautiful Prince Edward County to try the 2024 Kia Seltos.
The Seltos is already doing well, so they've been careful about tweaking the recipe, addressing a few sore spots without messing with success. The front end gets a slightly larger, simpler grille, tidied lower fascia, and revised headlamps with LED lighting on the higher trim levels that incorporates Kia's new "star map" lighting pattern. The profile gets body colored trim inserts, and three new wheel designs, with the top-skew models getting two tone eighteen-inchers.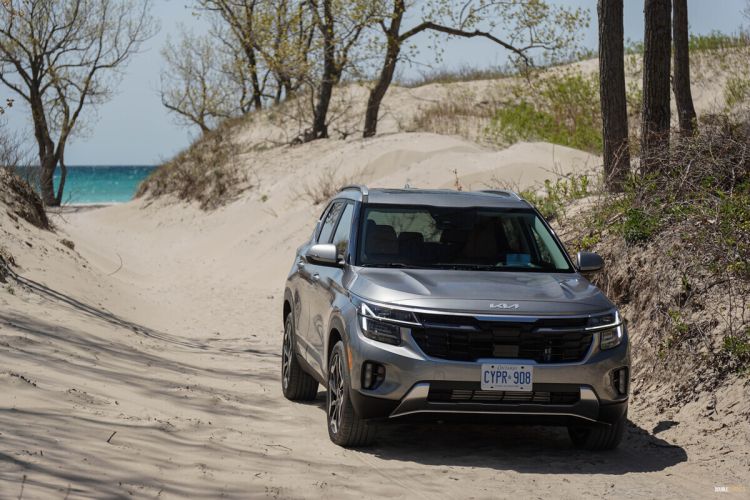 The rear end gets slightly sharper, vertical extending tail lights with a handsome new light bar replacing the chrome beltline trim, and a tidied bumper with the formerly separate reflectors now incorporated into the bumper along with the reverse lights. The changes outside aren't super obvious, but they do add up to a vehicle that looks noticeably cleaner and more modern. 
The changes inside are a fair bit more obvious, with the Seltos inheriting a new dashboard layout, now featuring Kia's new dual 10.25-inch displays, integrated on a single, subtly curved ultrawide frame on the higher end EX and SX models, and slightly smaller displays on the base LX. Despite the added digital real estate, Kia has (joyously!) stuck with physical controls for climate and media, but updated the design to compliment the new dash. We wish the buttons weren't gloss black, but we're happy they're there at all.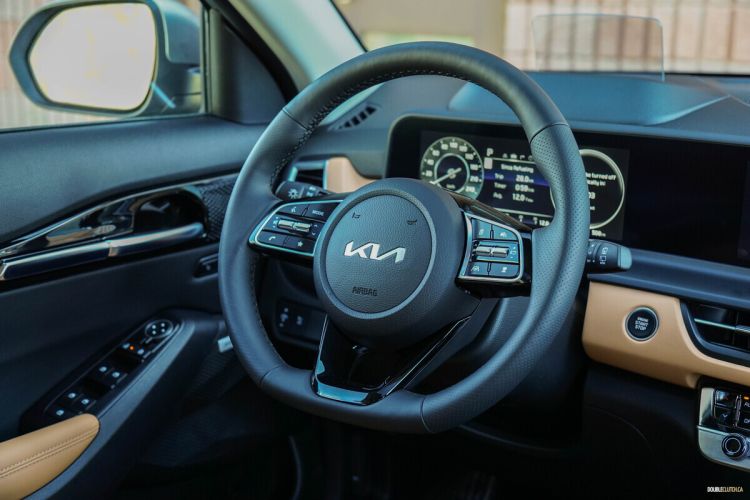 Another change to the cabin is the inclusion of a new two-tone black and brown color combo, which replaces the old red option, and is joined by customizable ambient lighting to complete the new upscale look. There's more changes that aren't visible, but audible; a significant amount of noise isolating foam and acoustic laminated glass reduces wind and road noise, and allows the Bose Premium audio system to produce crispier highs and deeper lows. 
It's not all cosmetic, as there's some meaningful mechanical changes under the skin too. While the base powertrain remains unchanged from last year, the 1.6-Liter turbocharged four-cylinder gets a 20 horsepower bump, up to 195 now, and 195 foot-pounds of torque available in a broad spread from 1,600-4,500 rpms – a very welcome change. To complement the invigorated power plant, the Seltos gets a new 8-speed automatic transmission, which replaces the finicky DCT transmission from before.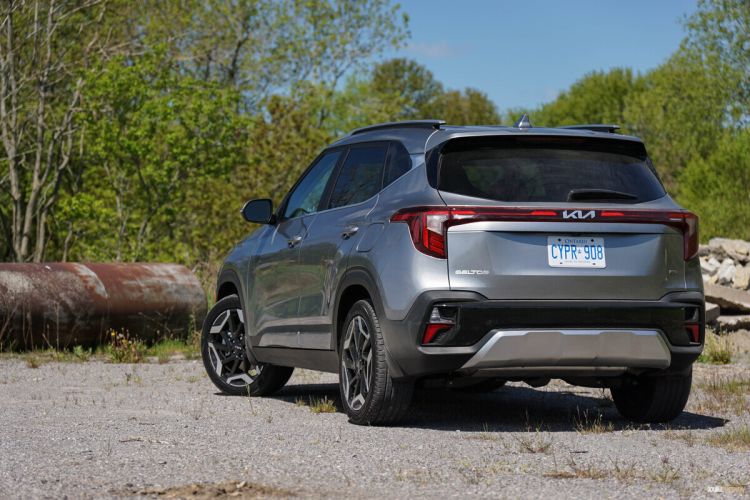 On the road, the new powertrain imbues the Seltos SX with the power to pass confidently on the winding two lane roads around Prince Edward County. It's not fast, but it's effective and a huge upgrade. The new transmission is a similarly big shift for the Seltos as well, with slick action and smart logic. The powertrain combo is smooth and quiet, breathing through a quieter exhaust system, and frugal on fuel, using an average of 9.4L/100km despite lots of… enthusiastic testing.
The Seltos was always one of the better handling vehicles in its group, and this remains true despite some revision of the suspenders for more compliance on bad roads. The controls feel natural and allow for confident piloting, with the steering giving surprisingly good feedback, and reassuring brake response. The Seltos is fun to chuck around fast corners, with healthy lateral grip and surprisingly neutral balance for a little family crossover.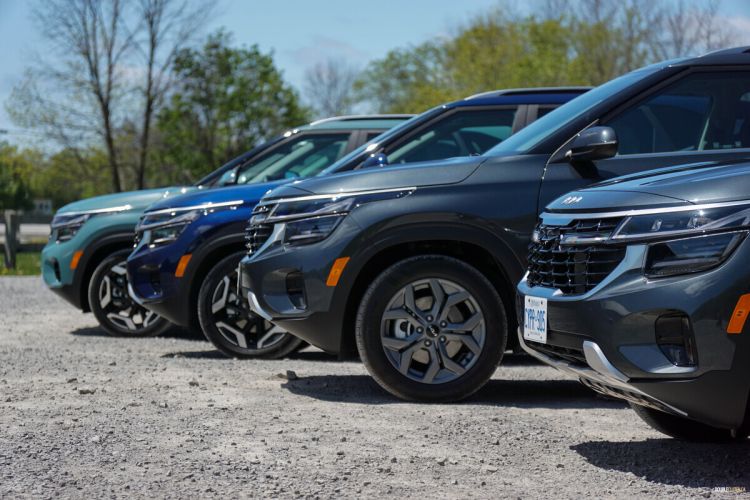 When you're not trying to have fun, it's fairly comfortable and fairly quiet. The added sound deadening helps bring noise levels in line with its competitors, and the ride comfort errs on the taut side but is never harsh. There's plenty of room for people to go places with their things, visibility is good, and a very robust set of frills and driver assists assures easy operation in all conditions. 
All trims of Seltos now feature heated front seats, forward collision avoidance, lane keep and lane following assist, blind spot collision avoidance and monitoring, and rear cross traffic alert and assist, among others. The mid-level EX gets all wheel drive, LED lighting, smart key with remote start, leather seats, heated steering wheel, and chrome exterior flourishes, with the EX Premium adding power seats, power liftgate, and dual 10-inch displays. Top trim SX models get the new powertrain, premium audio, heads-up display, and Kia's trick Digital Key which allows you to use your phone in lieu of a key fob.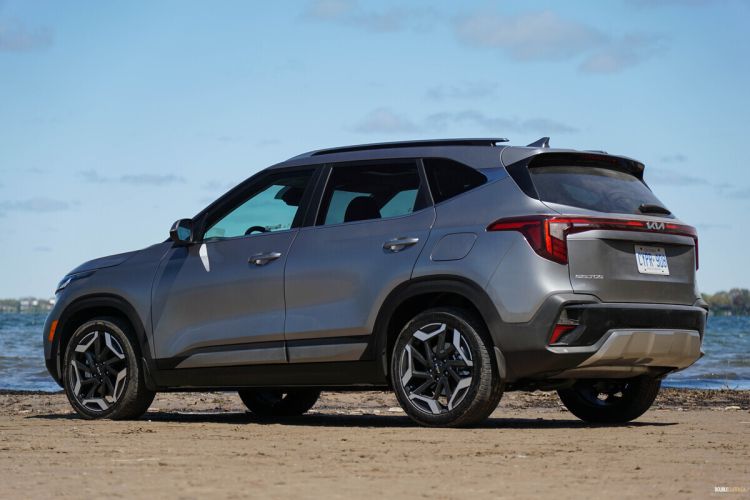 There's an all new X-Line trim too, which like on the Telluride, adds a bunch of visual tweaks to make the Seltos look more tough and off-road-lifestyle-y, like gun metal skid plates, black wheels, and a chuny black roof rack. Kia has gone out of their way to add more features to every trim, and specifically added a lot to the volume-selling EX trim to offer better value to more buyers. We think the SX, with its vastly improved powertrain and exhaustive feature list is the one to have, as it's an excellent little lifestyle enabling vehicle for $35,795. Either way, the 2024 Kia Seltos is sure to remain a hot seller, and is a terrific choice for anyone looking for a practical little vehicle that can do just about anything.
See Also: