Sometimes, bigger isn't always better. A smaller vehicle is more likely to have better driving dynamics, better fuel economy and a lower price compared to a larger one. Tor those that want a little more space than a car can offer but don't need a full size SUV there are plenty of compact crossovers to choose from. No longer offering a base Golf in Canada, Volkswagen is redirecting buyers to the first Chinese developed VW product. We spent a week with the top of the range 2022 Volkswagen Taos Highline to see what this little crossover is like to live with in the urban sprawl.
With its sharp lines, chrome trim and fancy led lights the Taos certainly looks the part of a European SUV. The Taos looks like a slightly shrunken Tiguan with the perfect proportions for a compact. The Cornflower Blue paint on our tester is fun and keeps things interesting in the sea of monotone SUVs. Our tester also came equipped with optional 19-inch "Magnum" alloy wheels sizing up from the standard 18-inchers, making for a pretty nice looking vehicle.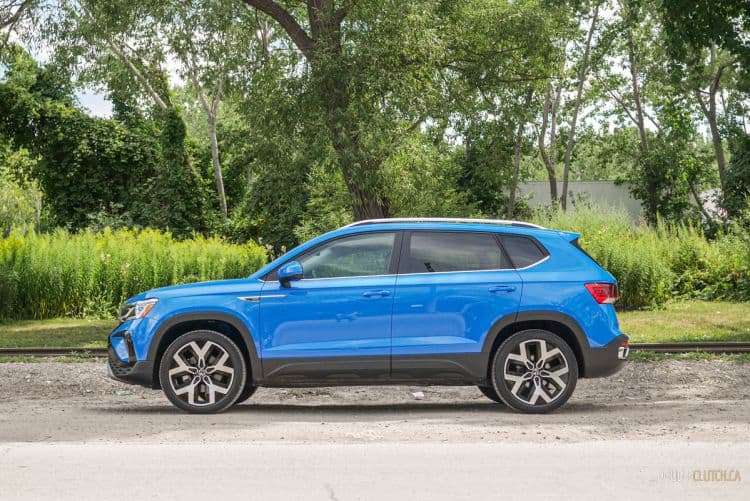 The interior is where the Taos really sets itself apart from its competitors, especially in Highline trim. The crystal grey accents in the titan black leather interior add brightness in concert with a massive panoramic sunroof creating an airy feel. Highline buyers get the added luxury of ventilated seats along with 30-color ambient lighting, however the passenger seat being manually adjustable is a bit disappointing at this price point.
The flat-bottomed steering wheel is trimmed in a nice soft leather with good old fashioned physical buttons to control media and driver assist functions at your fingertips. The wheel is both attractive and functional making us wish it was available in other vehicles like the Golf R. Even the turn signal and headlight stalks have a nice premium look and feel to them. A 10.25-inch configurable instrument cluster nestled behind the wheel is another highlight including a map view to aid with navigation.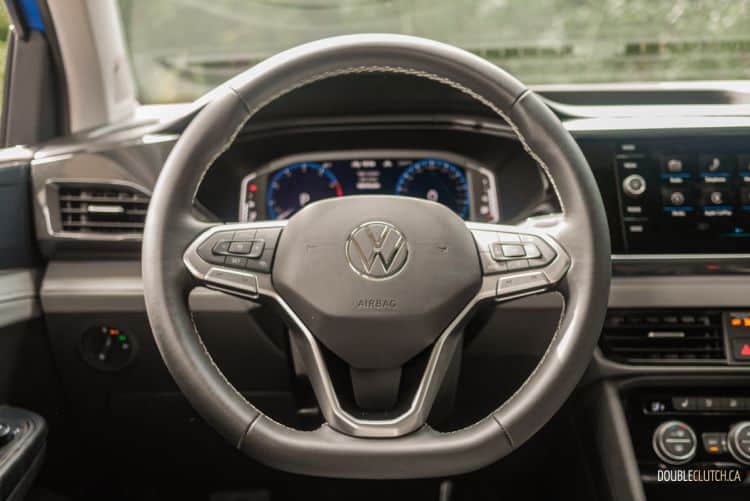 The Highline is also equipped with a BeatsAudio eight-speaker plus subwoofer audio system which is a noticeable upgrade from the base setup. The infotainment interface is easy to use and elevates the overall feeling of the vehicle with its upscale design. VW includes plenty of physical buttons and knobs we continue to applaud. Wireless charging along with wireless Apple CarPlay and Android Auto are also included, topping off this feature rich interior.
Our Taos also came equipped with VW's optional Advanced Driver Assistance Package. This $1,000 add-on includes adaptive cruise control with stop and go, dynamic road sign display, autonomous emergency braking, lane assist and remote start. As more and more vehicles have this safety suite standard, having this package as an optional extra stings a little though VW's execution of these features are some of the best we've tried to date.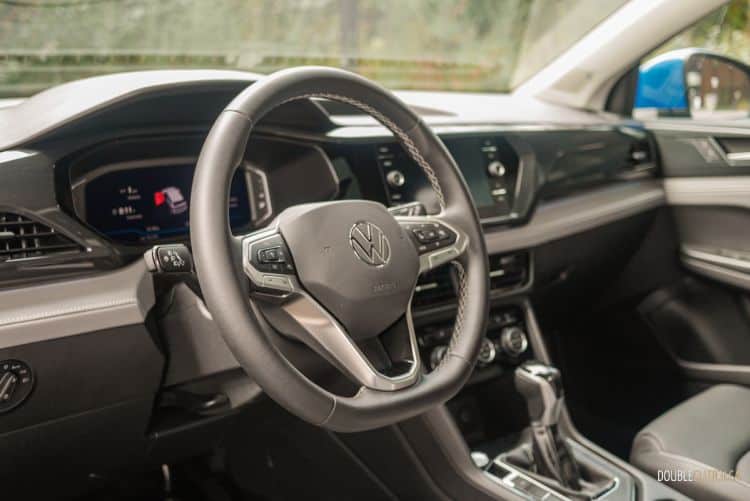 Both Comfortline and Highline trim levels of the Taos come equipped with a seven-speed dual-clutch DSG transmission and 4MOTION all-wheel drive. Despite being equipped with a DSG over the standard automatic found in the front-drive Trendline trim, there is a disconnect when attempting to shift manually – it doesn't provide a consistent positive and so we found it better to leave the transmission in D or S modes to allow the programming to do its thing. We do like seeing an actual lever versus the dial selectors that have overtaken the industry.
As we tip into the throttle on the Taos we're immediately met with a good surge of turbocharged boost making it feel light and peppy. If you're the type of driver that only needs the first 30% of throttle travel the Taos has all the torque you'll ever need hitting peak not far over idle at 1,750RPM. Lean on it a bit more and the power drops running out of breath around 5,000RPM.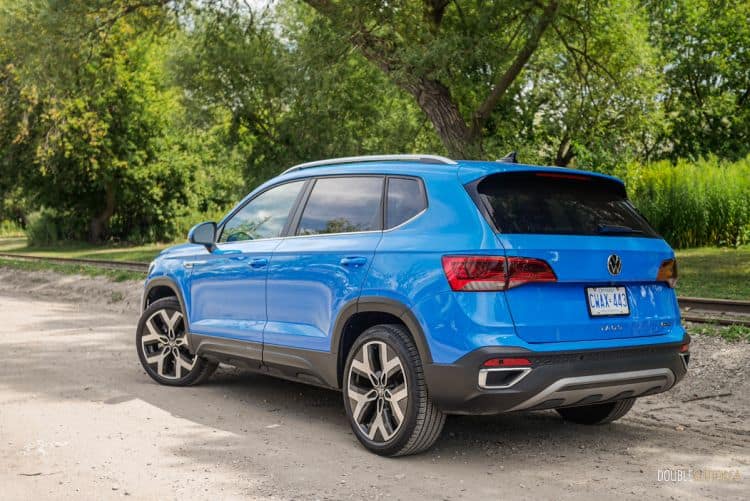 Steering is light but not overly so making the Taos and its relatively small frame easy to place on the road. Suspension does a decent job of soaking up the bumps even with the bigger wheels equipped on our tester. The Taos is easy and fun to push around corners, behaving more like a compact car than a bulky crossover.
One of the biggest advantages of a smaller vehicle is better fuel economy and the Taos is a great example. VW rates Taos' equipped with all-wheel-drive at 9.5L/100km city, 7.4L/100km on the highway and a combined 8.5L/100km. These are impressive figures for a turbocharged all-wheel-drive SUV. With the extra weight of the 19-inch wheels we managed 9.0 with an even mix of city and highway driving in normal and sport mode.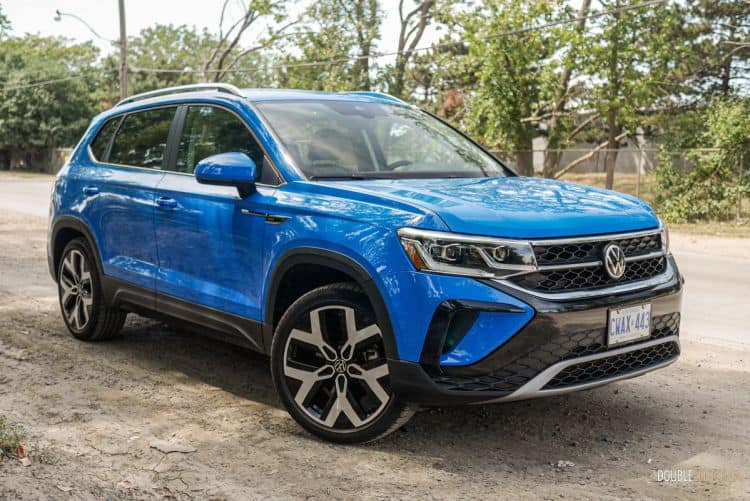 The feature set on offer here punches above its weight class but it's priced like it too. The base Taos starts at a very friendly $26,695 but that is for the front-drive Trendline trim. The sweet spot is probably the Comfortline trim which adds the all-wheel-drive system and some modern safety essentials and both wireless Apple CarPlay and Android Auto for $32,395.
If you want all the bells and whistles of a modern SUV but don't need all the extra size of a larger one, the Highline starts at $36,695. The 19-inch wheel and tire package is $500 and the driver assistance package is another $1,000 bringing our tester up to $38,195. Overall the 2022 Volkswagen Taos Highline is a great compact SUV that leaves little to be desired making it one of the top picks in the class.
See Also:
2022 Volkswagen Taos Comfortline