Having debuted in 1998, the Subaru Forester is one of the early samples of what is later known as the crossover. Its boxy silhouette promises car-like reflexes with an accommodating cargo space and all-weather driving confidence, and helped to create this new segment that transformed the industry. Now in its fifth generation, the 2022 Subaru Forester Premier has lost most of its raw sportiness and has matured into a well-rounded family hauler.
Wearing a new fascia for this model year, the 2022 Subaru Forester is more chiseled than the outgoing model, and the smaller headlamps add a bit of character than the previous plebian design. The rest of the exterior remains unchanged – its distinctive silhouette is instantly recognizable and the Forester looks sophisticated which is definitely a departure from its boy-racer roots. There is also a new Forester Wilderness model with added ride height, rugged body cladding, and an underbody skid plate that will appeal to the outdoorsy bunch.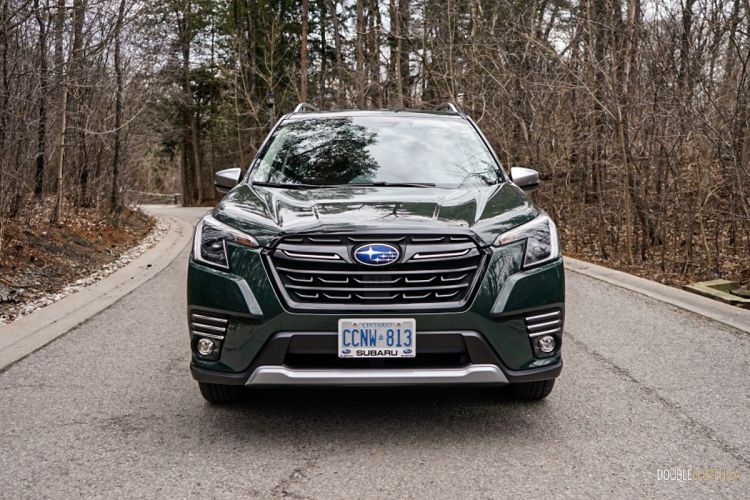 Unlike previous generations, there is only one powertrain that lines every Forester model. It is a 2.5-litre horizontally opposed four-cylinder Boxer engine with 182 horsepower and 174 lb-ft. of torque, linked to all four wheels through a continuously variable transmission (CVT). There is enough power to get around town, but the experience falls short of being rewarding as it requires quite a bit of effort to extract power and the sound it makes was far from premium. We wish to see the turbocharged engine from the Outback XT on the Forester to give it that extra oomph the platform deserves.
Built on the Subaru Global Platform (SGP) with a footprint nearly identical to the Subaru WRX, the Forester feels nimble on its feet and is a joy to row when compared to many of its peers. Steering is direct and accurate, and there is even a bit of feel transmitted through the wheel. Body control is well managed despite the raised ride height, and though there is understeer, it is predictable and the Forester hardly ever feels out of control.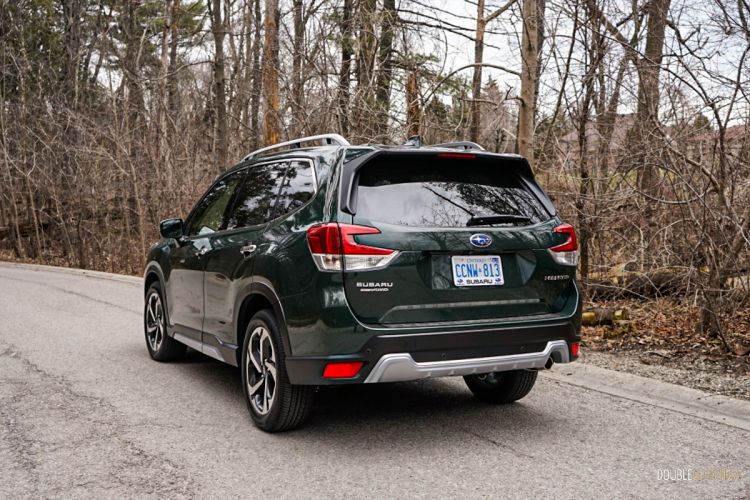 Fuel economy is rated at 9.0L/100km in the city and 7.2L/100km on the highway for a combined average of 8.2L/100km. Our observed average came in at a slightly higher figure of 9.2L/100km for our city-heavy commute, but it is within expectations and regular grade gasoline is accepted to help with long-term ownership cost.
Thanks to that boxy silhouette and oversized windows, there is plenty of space for passengers inside the Forester. The oversized sunroof is nice as it lets in plenty of light into the cabin, but we would have liked to see a powered operation for the sunshade to avoid having to reach back for the pull handle. Ride quality is compliant with its suspension absorbing most harsh bumps, with our only concern being noise control holding it back from a premium experience. Cargo space is below average at 818 litres – similar to the Mazda CX-5 but less than that of the Toyota RAV4 and Honda CR-V.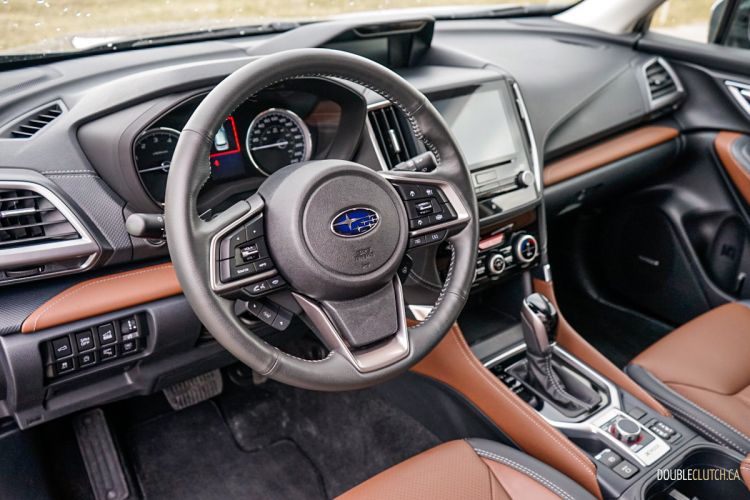 We liked the interior layout in the Forester – simple and purposeful. There is switchgear and shortcut buttons for most functions and are all well within reach for the driver. Even though the split screen design is the more dated layout when compared to the big tablet found in the current Outback, it is actually our preferred arrangement as it allowed us to segregate important vehicle information from the standard infotainment unit and lessen the clutter on the main eight-inch touchscreen.
The infotainment system is fairly straightforward; Apple CarPlay and Android Auto functionality is standard, and the upgraded nine-speaker Harman-Kardon sound system offered up some surprisingly good bass. The star of the show here is Subaru's EyeSight driving assistance technologies that include features like adaptive cruise control, emergency automatic steering, lane keep and centering assist, pre-collision throttle management and braking, and rear/side vehicle detection features.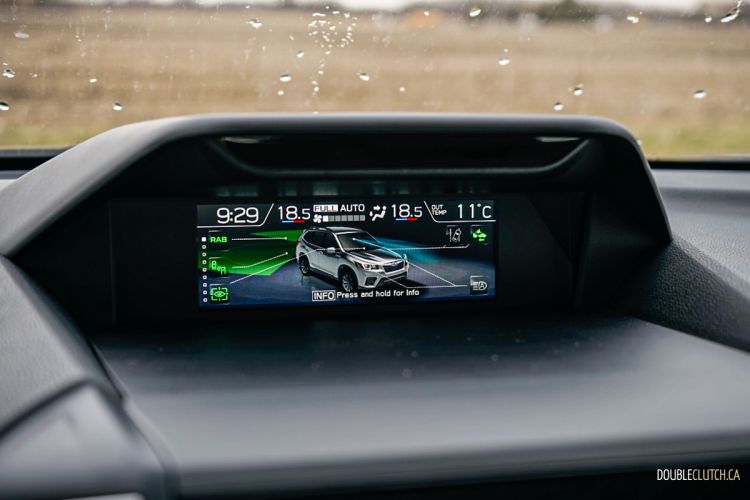 Not only does EyeSight manage to handle the standard driving assistance duties, the Touring and Premier trims also add a DriverFocus Distraction Mitigation system to observe, well, your eyesight. The system senses whether the driver is paying attention to the road ahead and provides a reminder to stay focused. During our road test, we found it to be quite intelligent in detecting distractions. While some might feel these sensors are intrusive to one's personal space, we believe it can serve a crucial function in preventing accidents especially for inexperienced drivers.
The 2022 Subaru Forester starts at $29,495 for the base model which is an attractive entry point for a capable all-weather family hauler. Our top-of-line Premier came in at an all-inclusive price tag of $40,595. Subaru also offers close to 40 different accessories to suit one's unique lifestyle and these are worth considering especially for those who long for outdoor adventures.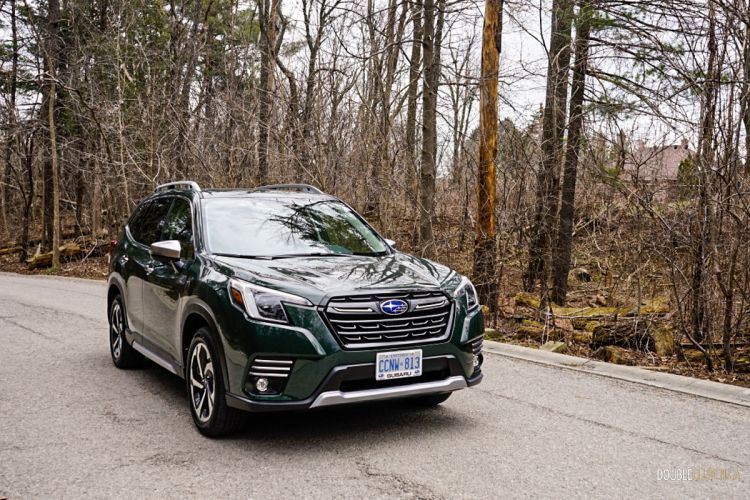 For every ounce of raw sportiness lost, the 2022 Subaru Forester Premier has gained a whole lot more in sophistication. The lack of an optional turbocharger is a tough sell to car enthusiasts, but the Forester has grown into a charming utilitarian that attracts a broader group of buyers. This can only bode well for the crossover that arguably started it all.
See Also: