As gas prices keep climbing, consumers keep looking at various options when it comes to electrified vehicles. Between full EVs, hybrids, and plug-in hybrids, there are more options than ever. But while EV sales continue to grow, some buyers still suffer from range anxiety. That's where plug-in hybrids, like the 2023 Ford Escape PHEV Titanium, aim to please.
The biggest difference between a full EV and a plug-in hybrid electric vehicle (PHEV) is that the latter has a gas engine, thus offering the best of both worlds. Those with relatively short commutes can pass gas stations on a regular basis under the right circumstances thanks to the electric portion of the powertrain, and still have enough range for longer road trips without having to worry about charging stations or range anxiety, on account of the gas engine.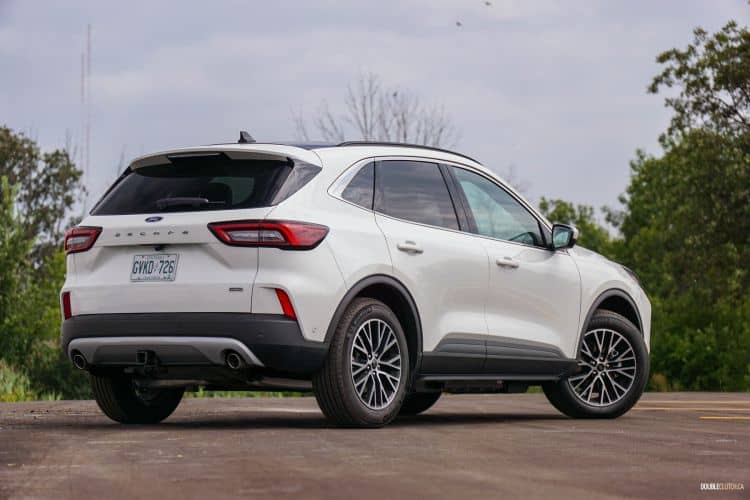 In my use case, I have a 35-kilometre daily commute to work. My condo doesn't have charging stations, but I do have the ability to charge on a daily basis at work. Furthermore, most PHEVs let you travel in pure electric mode, so I wanted to see what I would encounter if I attempted to go electric-only in a mix of highway and city driving. My plan was to come into work using the highway, and head home via city streets. Let's just say, I was pleasantly surprised.
The Escape PHEV tackled my commute with little fuss. Ford says it can do up to 60 kilometres in electric mode, and I was also able to use carpool lanes to bypass heavier traffic, at least here in Ontario. That made made my boss happy — I arrived at the office up to 10 minutes earlier than usual — and I was less agitated than usual. No traffic and no gas makes for a happy Jon.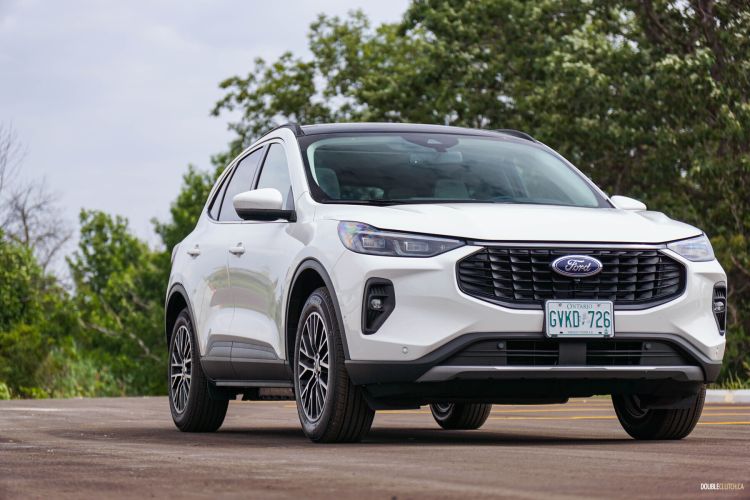 Only during my weekend excursions into the city and cottage country did I have to tap into some petrol. With a little over 650 kilometers covered during the week, I managed a rather impressive 4.1 L/100 kilometres, despite my rather heavy foot and keeping the Escape in Sport mode. Ford rates the Escape PHEV at 2.3 Le/100 km — that's litres equivalent — and 5.9 L/100 km fuel-only. Regular fuel is recommended, so that helps your wallet.
The Escape PHEV looks like its combustion-only siblings, with the only differences being the additional badging and charge port door. That's not to say it's unattractive, but it does look like most compact crossovers on the road — clean, not over-styled, and inoffensive. For the 2023 model year, the Escape gets a refresh inside and out, including a restyled front fascia.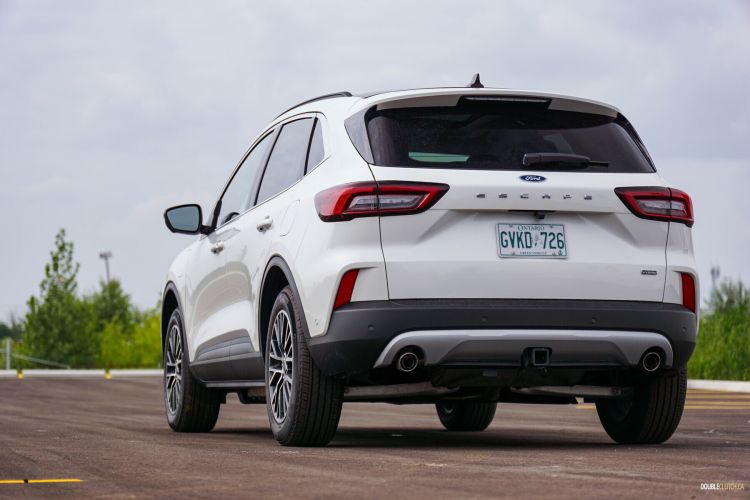 Sharing a platform with many other Ford models, including the Europe-only Focus hatchback, the Escape PHEV is no ST- or RS-badged Ford, but it does handle better than expected. There is also a bit more wind noise than expected, and when the gas engine does kick in, it sounds rather course and less refined than its closest competitors. Still, the ride is comfortable for a daily driver, with only the worst roads rattling those inside.
A 2.5-litre four-cylinder engine lives under the hood, putting out 163 horsepower and 155 pound-feet of torque. This is matched to two electric motors, a 10.7 kWh battery pack, and a continuously variable transmission. Ford does not provide a combined torque figure, but the powertrain makes 210 combined horsepower and the zero-to-100 km/h run takes about 8.5 seconds. The Escape PHEV is front-wheel-drive-only; if you need all-wheel-drive capabilities, you will have to opt for a gas Escape or one of its key competitors. Both the Hyundai Tucson PHEV and Toyota RAV4 Prime are AWD.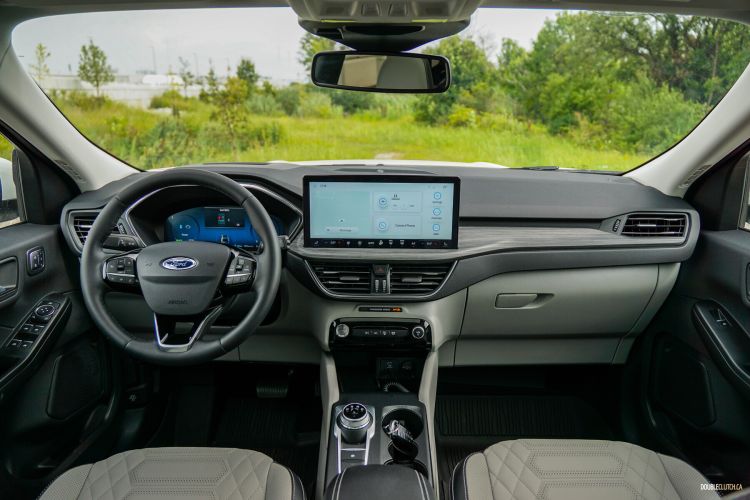 The Escape's interior also sees a refresh from last year's model, the larger 13.2-inch touchscreen running Ford's latest Sync infotainment software being the most noteworthy upgrade. It's massive, the graphics are crisp, the infotainment is intuitive, and wireless Apple CarPlay and Android Auto are standard. Unfortunately, not much else has changed — there are still hard plastics everywhere, and the design looks like that of almost every other Ford currently on the market. Still, Ford uses a variety of colours and shades to break up the monotony, and overall build quality is much improved from when it was first released.
Cargo space and interior spaciousness continue to be highlights. Four adults can sit comfortably, and rear-seat passengers can move the bench to allow for more legroom. Heck, there's more combined legroom in the Escape than the Edge.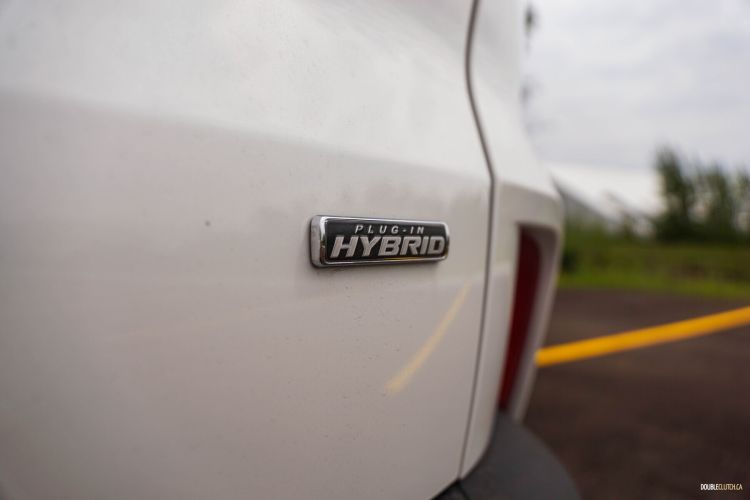 The gas-powered Escape starts at $32,849 for the entry-level Active trim. However, the plug-in hybrid powertrain is only available on the fully loaded Titanium trim, at $47,499. Our tester included Ford's towing and premium packages, bringing the total to $55,324 as-tested, before taxes.
It may not be the most luxurious or fastest plug-in hybrid on the market, but Ford's improvements this year make the Escape PHEV a strong option for consumers looking to blend the benefits of EVs for short-range commutes with the range benefits of a gas engine for longer road trips, and without having to worry much about range anxiety. With the ability to commute to without using an ounce of fuel, plus the peace-of-mind knowing I didn't have to worry about public charging on longer drives, I found this quite liberating and more than enough to make up for most of the 2023 Ford Escape PHEV Titanium's shortcomings.
See Also