It wasn't that long ago that the main talking point about Kia's Sportage SUV was the pronunciation of the name: Sport-ahge. That's what all the commercials were about, just a joke about the name. It was a cheap alternative to the mainstream players in the compact SUV space. But now things have changed, Kia is one of the mainstream players, and the Sportage has so much more to offer than just being the cheap alternative to the CR-V and RAV4. In a lot of ways, this week's 2023 Kia Sportage PHEV tester comes out ahead, and it does so while still being affordable. Some things change, some things stay the same.
The biggest change for 2023 is the Sportage's striking new styling, highlighting Kia's new "Opposites United" design language. It's divisive among our staff, but we generally like it and I personally really enjoy how bland it isn't. There's a lot of slick design touches, like the floating C-Pillar, the boomerang LED lighting, the tastefully integrated ducktail that we saw on the EV6, and the character line that wraps around most of the car, broken up only by subtly bulging fenders. It's easily one of the better looking vehicles in its segment, and definitely among the most distinct, too.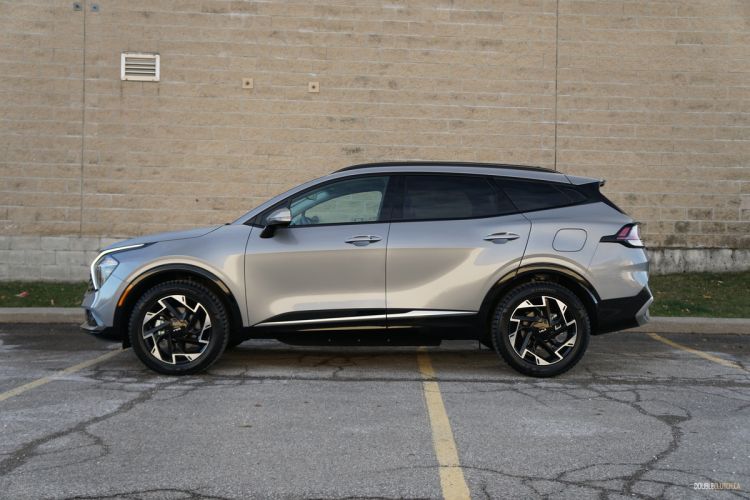 Another point of distinction is the Sportage's optional plug-in hybrid powertrain, which our most recent tester was equipped with. We've already tested the base 1.6L gas engine and the same engine with hybrid assistance, but this week's tester is the range topping PHEV model, with a full electric range of about 55 kilometres. The 13.8kWh battery pack is able to take a full charge in a couple hours, so it's easy to keep topped up if you have a charger at home or work. Our battery was depleted for a little more than half of our testing, and we still observed 5.4L/100km. Not only is it the most efficient Sportage, it's the quickest one too, as it mates a turbocharged 1.6 litre gas engine with a 90 horsepower electric motor to produce a combined 261 horsepower, resulting in very healthy acceleration.
The PHEV powertrain package in our Sportage tester is impressively refined, and for the large part just feels like an EV, offering the same silent operation and abundant low-end punch. Most of the time that the gas engine was running – even while underway –  it was just sitting quietly at a high idle, acting as a generator and a heat pump, rather than a means of motivation. The handover between full electric, energy generation and direct locomotion is seamless to a point that it would be largely undetectable, were it not for the digital tachometer. Getting all these systems to play nicely together is a serious engineering challenge, and Hyundai/Kia are pretty much at the top of the game on this right now.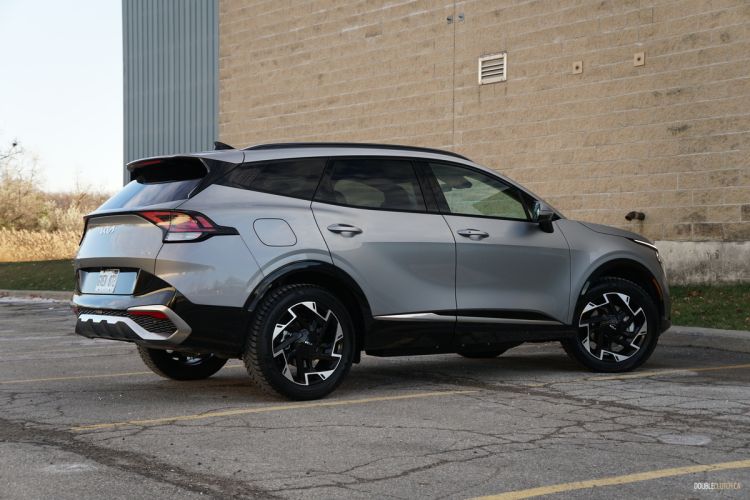 The technological prowess doesn't end there. The Sportage is decked with a plethora of driver assists and safety systems, including but not limited to one of the most robust adaptive control and lane centering systems on the market right now. Kia doesn't advertise it as hands-free, but it asks for so little intervention that it ends up being more hands-free than some of the systems that are supposed to be hands-free. Of course, there's collision warning and blind spot monitoring and all that jazz too, and with the exception of an occasionally schizophrenic proximity sensor, it all works brilliantly.
The interior space has gotten a makeover too, following the slick, tech-forward example set by the EV6. Everything that isn't leatherette is gloss black, and while we normally complain about it collecting fingerprints and dust, we can't deny that it makes the Sportage look more expensive than it actually is. Kia's switchable 2-mode capacitive touch strip for climate/infotainment controls from the EV6 and Niro makes a return here, and we still don't love it. It looks great and sounds like a good idea, but it's way too easy to nudge something you didn't intend to and end up inadvertently cranking the heat when you meant to turn up the volume.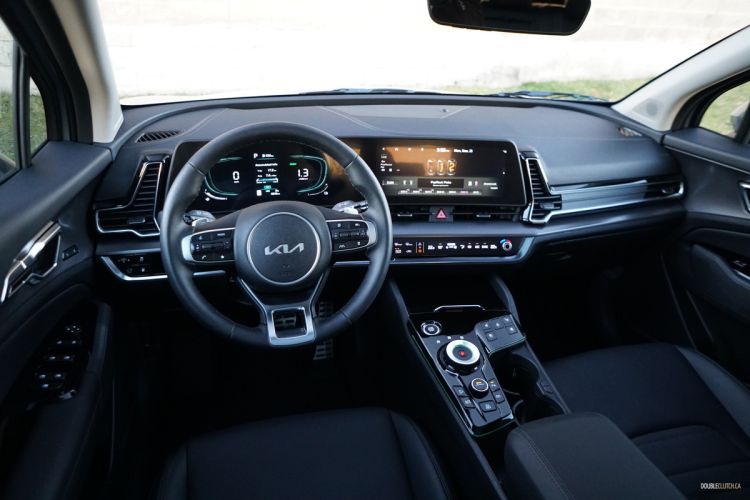 Sitting atop that capacitive panel is an ultrawide 12.3-inch touch screen that shares a frame with the similarly large digital gauge cluster, giving a very German panoramic effect. The displays are sharp, bright, and responsive, and the infotainment generally works well, though it could benefit from a little fine tuning to be more intuitive. We don't want to complain too much, as it's clear that attention has been paid to making sure that most controls have dedicated physical buttons, and you almost never need to use the touchscreen if you don't want to. 
It all translates into a car that's competent and quiet on the road. The steering is super light and breezy but direct enough, and the brakes have gotten away from the jumpiness that used to be so prevalent on Kia cars. It's very quiet and it rides well, erring on the softer side – which I take no issue with, commuter cars shouldn't pretend to be race cars. The seats are powered, heated, ventilated, cooled, and comfortable, and head/knee room are abundant, as is storage space. It's not exactly thrilling to pilot, but it's inoffensive, and it has no bad habits. There's a slew of selectable drive modes and terrain options, and it has good ground clearance, and all wheel drive, so it'll get you just about anywhere you might need to go, and it'll use hardly any fuel in doing so.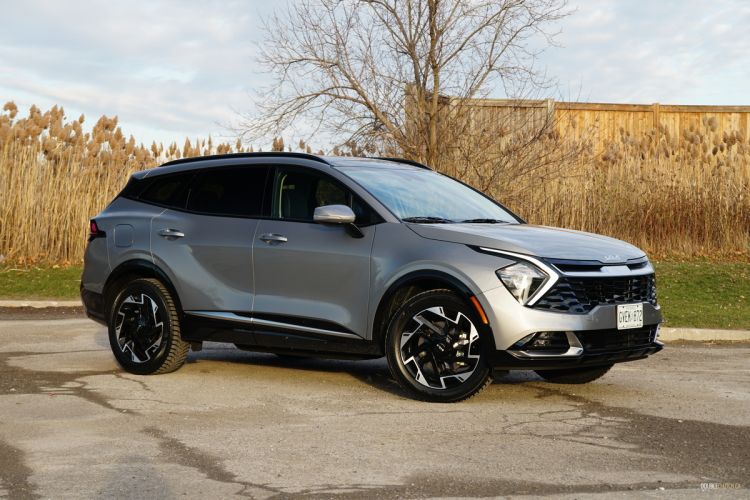 The 2023 Kia Sportage PHEV is an excellent offering in its segment, offering one of the slickest powertrains, healthy performance, a very generous equipment loadout, and impressive refinement, and at $44,495, it still manages to be the value proposition despite now being one of the most compelling vehicles in its segment. The PHEV neatly solves one of our only complaints about the new Sportage (that being the limp-wristed powertrain on the base model), and it provides an EV-esque ownership experience without the range anxiety. A comparably equipped RAV4 Prime is around sixty grand, and Honda doesn't even offer a plug-in variant of the CR-V. If you're in the market for a practical mild EV, the Sportage is a must-see. It's got a hell of a lot more going on than a lame pun.
See Also: