For all you fence-sitters out there toeing the line between gas and electric, the 2022 Hyundai Tucson PHEV may be the solution to your woes. Plug-in hybrids, PHEV for short, are either a compromise or the best of both worlds, depending on whom you ask. It's a simple recipe: combine a pinch of the benefits of electric motoring for short-distance trips like dropping the kids off at soccer without using a drop of gas, with the flexibility and range of a gas engine for those long, almost-all-highway drives across town or to the cottage. Then, pour it into an oven-safe dish, bake it at 350 for half an hour, and presto — you have a frugal set of wheels that'll save you more than a few bucks at the pump.
These days, it's more of a question of who doesn't have a hybrid option in the compact crossover segment. Hyundai offers you two: a Tucson without a plug, and the one we're driving here — a Tucson with a plug. Park them beside each other, and there's a 99.9% chance you can't tell them apart. Aside from the extra fuel door on the passenger-side rear quarter hiding a charge port, the Tucson PHEV is identical to its gas and conventional hybrid siblings, jagged lines, random creases, wacky headlights, massive grille, et al. 
The main differences are under the skin. The Tucson plug-in shares its 1.6-litre turbocharged four-cylinder engine with the regular hybrid, putting out 180 horsepower and 195 pound-feet of torque. That's augmented by a 67 kW electric motor and a 13.8 kWh battery pack, all of which work together to produce a net system output of 261 hp and 258 lb-ft of torque. That's sent to all four wheels via a six-speed dual-clutch automatic transmission — a welcome change over the CVTs used by the Toyota RAV4 Prime and Ford Escape PHEVs, if only for the lack of moaning and groaning when you floor it.
All told, the Tucson PHEV is fairly pleasant on the road. Around town, the Tucson is easy to manoeuvre thanks to its light steering and well-thought-out sightlines. The 19-inch wheels and chunky tire sidewalls do a great job at filtering out all but the roughest of rough pavement and holiest of potholes. And for all you stoplight drag-racers out there, the PHEV is surprisingly snappy off the line thanks to all that instant torque, not to mention the 34-hp bump over the standard Tucson hybrid. The RAV4 Prime is still the hot rod of the segment, but the Tucson plug-in is much sprightlier than the Escape PHEV.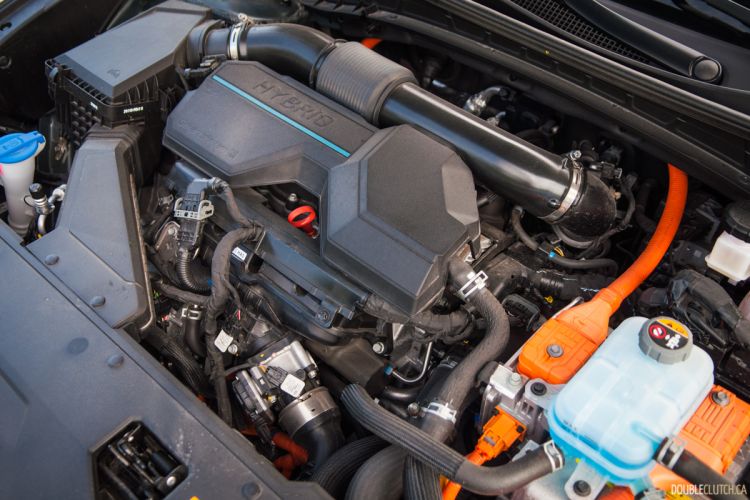 On the highway, the Tucson PHEV is equally pleasant. It feels a tad harsher than the RAV4 Prime when you take a pothole or an expansion joint at speed, but overall ride quality is impressive, and both wind and road noise are well-controlled. Pro tip: flick the Tucson into sport mode here. Not only does it considerably liven up throttle response, but it also helps the Tucson recharge its battery through regenerative braking, and you won't obliterate whatever electric range you have left within minutes of setting off on your long drive to the cottage.
Fuel economy is a strong suit for the Tucson PHEV, but that depends on where you do most of your driving and whether or not you have easy access to a charger. Running in electric-only mode, the Tucson is officially rated at 2.9 litres equivalent per 100 kilometres. When the gas engine kicks in, that climbs to 6.8 L/100 km in the city, 6.6 on the highway, and 6.7 combined. We initially averaged 5.2 L/100 km running errands around town, but thanks to an all-highway weekend road trip and less than ideal charging infrastructure — such is the life of living in an older condo — that figure climbed to 6.9 L/100 km.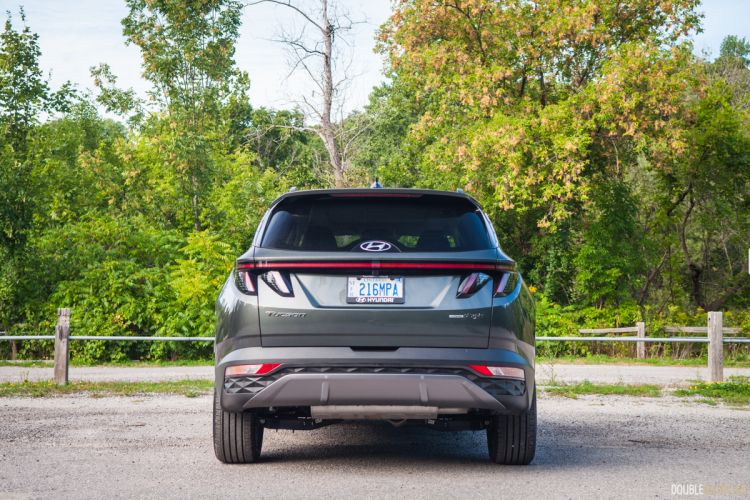 If you do have easy access to a charger, fully recharging the Tucson PHEV's battery from empty takes about 10 hours — call it overnight — on a standard household outlet. Plugging into a Level 2 charger speeds that up to about two hours. With that battery fully topped up, you'll have about 53 kilometres of electric-only range at your disposal. It's decent — plenty for shorter commutes and running errands around town — but it falls short of the RAV4 Prime's 68, and the Escape PHEV's 60 km. 
Inside, the Tucson PHEV impresses with a slick overall design and spacious accommodations, but we do have a few nit-picks. First, the good: the infotainment is intuitive, fit-and-finish is mostly good, and the tech isn't totally useless — once you've lived with Hyundai's Blind View Monitor, which relays a view of your blind spot into the all-digital instrument cluster when you activate the corresponding turn signal, you can't live without it. Can't really say the same about the Tucson's ability to move it forward and back via the remote, though. At best, it's a neat party trick — whenever it works.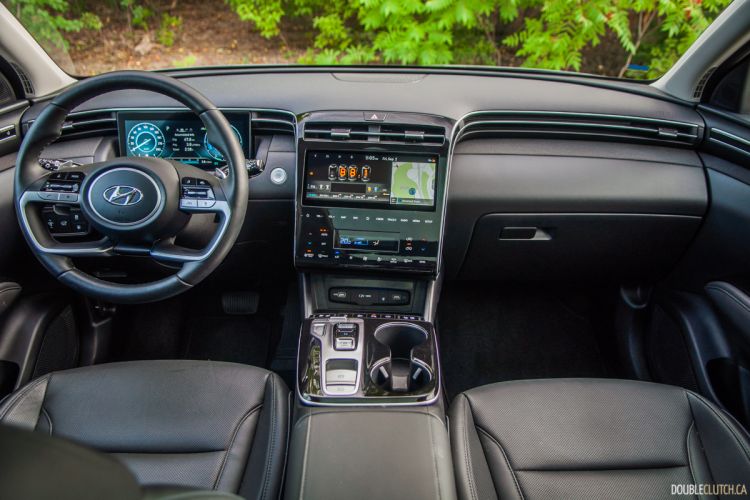 There's also plenty of space regardless of where you sit or what you're carrying out back. Front and rear headroom is pretty much a draw between the Tucson, RAV4 Prime, and Escape, but the Tucson offers a touch more rear-seat legroom than those two. Cargo space punches in at 903 litres with the rear seats up — slightly tighter than the Escape and RAV4 — but that opens up to a whopping 2,033 litres when folded, handily beating the Escape's 1,721 and the RAV4 Prime's 1,787 litres. 
Now, the not-so-good. There's much to like about the Tucson's interior accommodations, but some of Hyundai's decisions are a little questionable. The touch panel handling climate control and other functions is less intuitive than the buttons and knobs you'd find on lesser trims, not to mention the gloss black finish is a magnet for dust and fingerprints. As well, the combination of shiny black and metallic silver trim on the centre console creates a lot of glare on sunny days, even with the sun shade for the panoramic sunroof closed. Furthermore, it's a little puzzling that the Tucson PHEV "upgraded" infotainment and the 10.25-inch touchscreen display comes with wireless charging but not wireless Apple CarPlay or Android Auto connectivity, despite being available on lesser Tucson trims with the standard eight-inch display.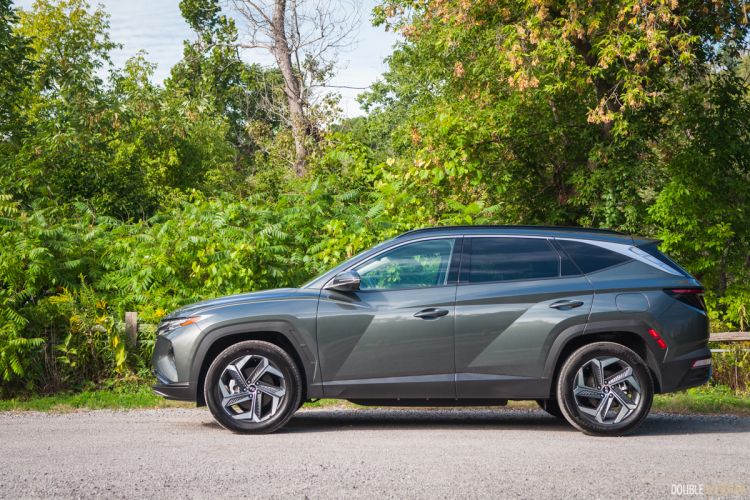 Rather than treating the plug-in powertrain as a standalone model, Hyundai considers it a $4,600 option available on the regular Tucson hybrid. The not-quite-fully-loaded Luxury trim with the PHEV option box ticked brings the total to $43,699 before any fees, taxes, and incentives. Our particular tester, the Ultimate, tops out at $46,399. Add another $200 for a colour that isn't black, and you're looking at $46,599 as-tested. To further sweeten the deal, the Canadian government's rebate of up to $5,000 on EVs and PHEVs practically pays for the step-up. It's great value no matter how you slice it, coming in at over $10,000 less than the RAV4 Prime.
So, where does all that leave us with the Tucson in the world of plug-in hybrid CUVs? It's arguably the pick of the litter: the Escape PHEV is the cheapest option, but its FWD-only configuration and lacklustre interior leave much to be desired. The RAV4 Prime is a hot rod and boasts the most electric-only range, but it's pricey even after incentives. For all you fence-sitters looking to dip your toes into the world of EVs, the 2022 Hyundai Tucson PHEV strikes the best balance between efficiency, roominess, and value.
See Also:
2022 Hyundai Tucson Ultimate Hybrid