The 2022 Toyota RAV4 Prime is the four-wheeled embodiment of progress. You see, through no fault of her own, my wife has a first-gen RAV4 coupe. It's about as fully loaded as it got in 1997; our little blue Pipsqueak has luxuries such as air conditioning, power windows and door locks, alloy wheels, and not one, but two sunroofs. How lavish!
Yet here we are in 2022, and today's RAV4 may as well be from a completely different universe. Gone is the adorably dorky and scrappy little cute-ute, having evolved into a smooth-driving and exceptionally fuel-efficient family hauler, albeit one with a steep price tag. Twenty-five years ago, a RAV4 pushing past the $30,000 barrier — that's about $50,000 today — would've been inconceivable. Today? That, and then some, is the price you pay if you want Toyota's shining example of hybridization.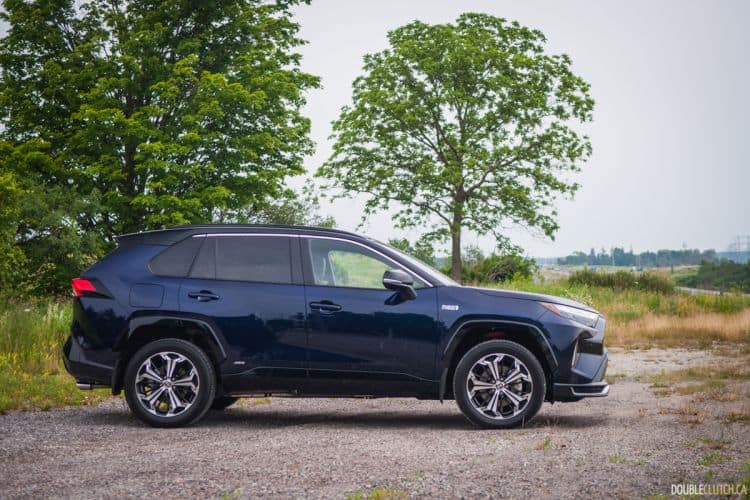 Have you ever wondered why it took Toyota so long to come out with a full EV? For the longest time, the Japanese automaker was hung up on the drawbacks of EV life, namely limited range, battery tech that wasn't quite up to par, and lacklustre charging infrastructure. It's no secret that instead, Toyota bet big on hybrids, and the RAV4 Prime is about as good as it gets.
It all starts with a 2.5-litre inline four-cylinder under the hood that runs on purified dinosaurs, putting out a modest 177 horsepower and 165 pound-feet of torque. That's augmented by two electric motors — one on the front axle, the other out back — rated at 179 and 53 hp, respectively. Through some complicated math I'll probably never understand, the RAV4 Prime is good for a whopping 302 horsepower combined, although Toyota is seemingly too modest to dish out an official, combined torque figure. As with the rest of the RAV4 lineup, the Prime is available only with a CVT.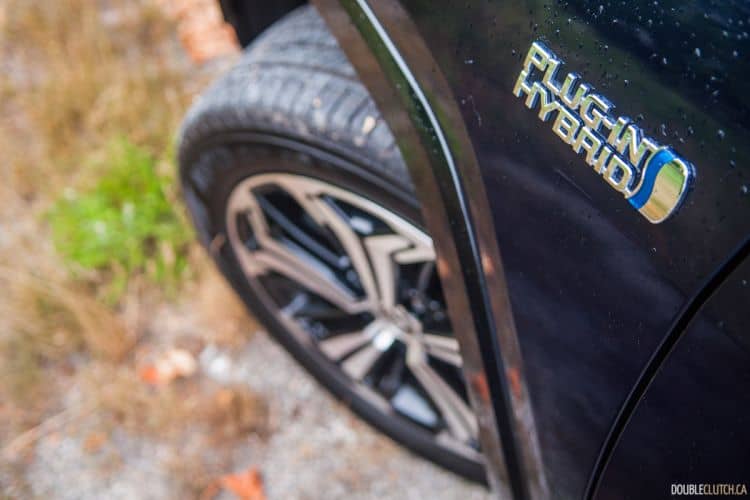 Yes, this powertrain exists mostly for efficiency's sake, but the performance is an unintentional plus: Toyota says the RAV4 Prime can do 0-100 km/h in just under six seconds. Yup, we live in an age where you can walk into a Toyota showroom with a $60,000 cheque, and eventually drive out with a 302-horsepower RAV4 that'll handily embarrass most cars off the line at a stoplight. What a world we live in.
Perhaps the best thing about the RAV4 Prime is how it all comes together. The hybrid powertrain is a marvel of smoothness; the switch from gas to electric (and vice-versa) is seamless, and depending on your commute, you'll either never have to plug in to charge the Prime, or burn a drop of gas driving around town. Ride quality is exemplary; it's not the best choice for tearing up a highway on-ramp, but the Prime soaks up bumps and rough pavement incredibly well, and road and wind noise are virtually non-existent. It's a pleasant departure from the gas-only RAV4 and its grumbly four-cylinder engine, an improvement over the standard RAV4 Hybrid and its suspension tuning, and positively Rolls-Royce-like compared to our '97 and its tired old bones.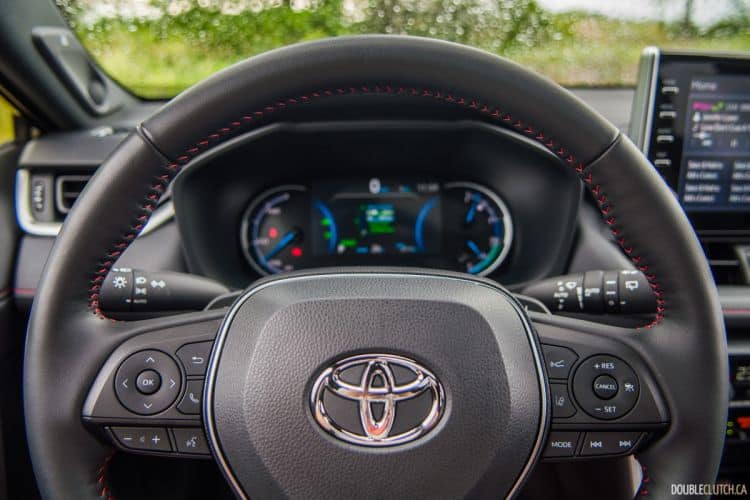 Of course, the real reason you'd buy — or perhaps more accurately, put yourself on a waiting list for — a RAV4 Prime is fuel economy. On electrons alone, the Prime is officially rated at 2.5 litres equivalent per 100 kilometres. Drive it like a regular car, and it's supposedly good for 5.7 L/100 km in the city, 6.4 on the highway, and 6.0 combined. After about 500 kilometres mostly around town, and with a couple of highway jaunts sprinkled in using the Prime's gas-only mode, our particular tester settled at an impressive 3.4 L/100 km. 
That's the beauty of the RAV4 Prime: if you have easy access to a charger and don't do a lot of long hauls on the highway, it'll probably take you a very long time to use up a tank of gas. The Prime can do about 68 kilometres on batteries alone on a full charge in "ideal" conditions, but we had about 75 kilometres at our disposal in the middle of summer. Either way, it's more than key competitors like the Ford Escape and Hyundai Tucson PHEVs, and it's more than enough to last you multiple days' worth of shorter commutes and grocery runs before having to plug in.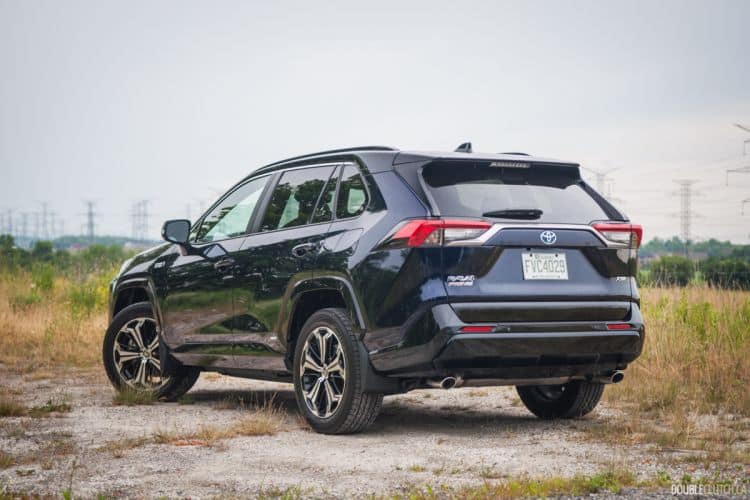 And even if you don't have easy access to an EV charger — as someone who lives in an older condo building, I'm in this camp — it's not impossible to keep your visits to public chargers infrequent. Bumping the Prime into the gas-only "Charge" mode on a highway jaunt will put some juice back into the battery by the time you get off, even though you'll burn some gas. If you do decide to plug in, it'll take you about 12 hours on a standard 120 V household outlet — call it overnight — to charge up from empty, but that's cut down to about two and a half using a 240 V fast-charger.
The RAV4 Prime does many things right, but there are a couple of things holding it back from being an all-star. First, the interior: it's not necessarily a bad place to spend your time. Fit and finish is pretty good, it's logically and intuitively laid out, and it's plenty roomy all around. Cargo space punches in at about 949 litres with the rear seats up, and 1,787 with them stowed. That's a little roomier with the seats down than the Escape PHEV, but the Tucson plug-in has the advantage with them stowed. Not quite class leading, but it's competitive, usable, and more than enough.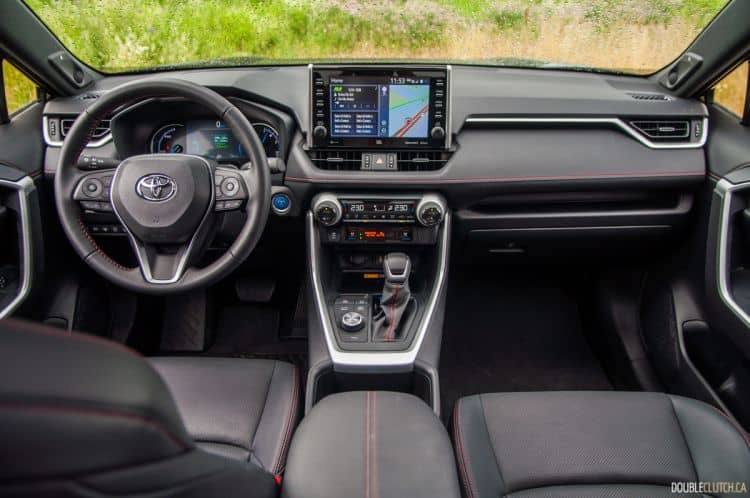 But the RAV4 Prime's cabin really shows its age compared to its newer and fresher competitors especially on tech, with the infotainment feeling a couple of generations behind with its Windows XP-like graphics and low-res camera displays. It might be passable at the lower end of the RAV4 lineup near the $30,000 mark, but considering what Toyota asks for the RAV4 Prime before any incentives, the cabin needs an update, stat.
And that's the other thing. The RAV4 Prime starts at $46,090 for the SE trim, and if you don't care for any bells and whistles, or for colour options beyond white, silver, and black, that's fantastic value considering the Prime's strengths. If you want bits and bobs like a sunroof, a power liftgate, and even Apple CarPlay and Android Auto connectivity — you know, things that'd be considered basics — you have to step up to the XSE for $52,690. Our particular tester, the XSE with the Technology Package, included goodies like a 360-degree camera, cooled front seats, a panoramic sunroof, and a power-adjustable passenger seat — again, more things that'd be considered basic — bringing the as-tested total up to a whopping $58,090.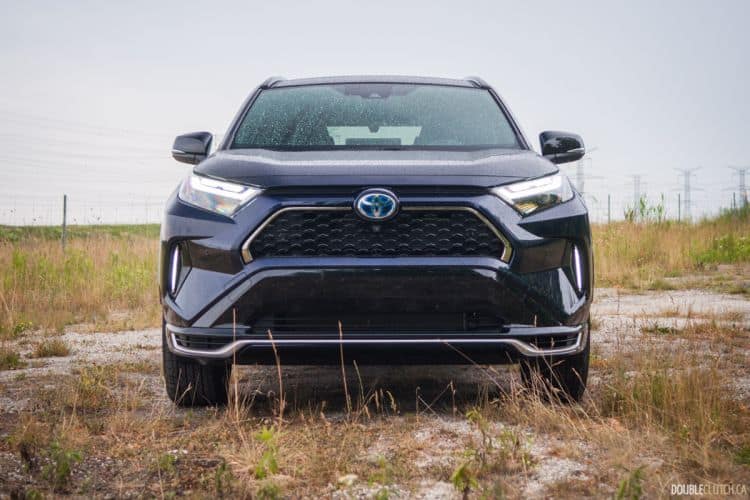 You could knock a few grand off thanks to various provincial and federal EV rebates depending on where you live, but $50,000-plus is a lot for a RAV4. If you're willing to give up a few klicks of EV range, you'll be better-served by the Tucson PHEV and its much fresher design inside and out, and not to mention its lower price tag. 
Progress is a wonderful thing. If we didn't learn to embrace it, we'd be stuck in 1997 without supercomputers in our pockets, and driving around in dorky RAV4 coupes. Huh, now that I think about it, that sounds pretty great, but I digress: the 2022 Toyota RAV4 Prime is the gold standard of Toyota's hybrid lineup. The stellar fuel economy, sublime ride, and surprising performance could very well outweigh the steep price tag and aging infotainment. Sometimes, you get what you pay for.
See Also:
2022 Honda Passport TrailSport