Buying a new compact crossover is about as exciting as buying a new dishwasher, but for most people, it's an inevitable part of being a grown-up. That probably explains why CUVs are everywhere — they won't make your plates spotless, but they'll certainly make your life easier by combining efficient powertrains, refined road manners, and loads of cargo space into one easy-to-live-with package. The 2023 Honda CR-V EX-L is a textbook example.
For 2023, the CR-V enters its sixth generation with a number of tweaks inside and out — some obvious, others not so much. The Civic may be Honda's best-selling car, but the CR-V is its best-selling model overall; coupled with the fact that the mainstream compact CUV segment is massively competitive, this means the last thing you want to do is cock up that winning formula.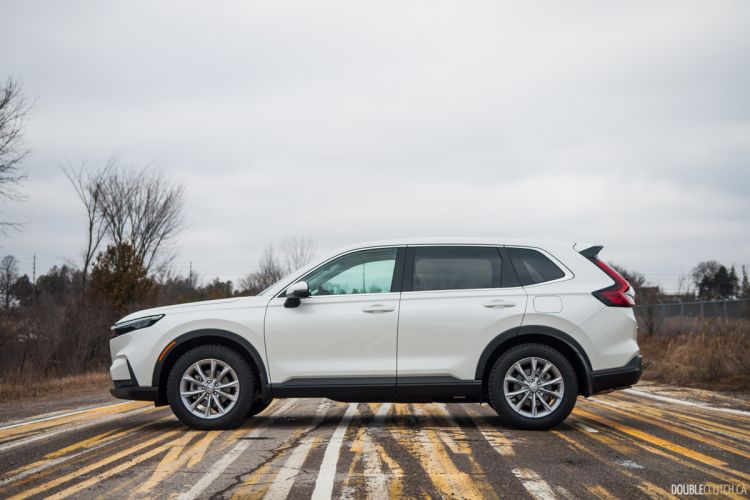 Fortunately, Honda left the CR-V's winning formula intact. Perhaps the biggest news for 2023 is that the hybrid powertrain is finally coming to Canada, but we'll have more to say about the hybrid in the coming weeks. Non-hybrid CR-Vs are powered by Honda's familiar 1.5-litre turbocharged four-cylinder engine, rated at a modest 190 hp and 179 lb-ft of torque. All-wheel-drive is available on all but the base model, and a CVT is your only transmission option. Obviously. 
On paper, Honda says it's reworked the engine to be a little more responsive — peak torque now arrives 300 rpm sooner — and the CVT now features Step-Shift programming, which is Honda's way of saying it'll pretend to "change gears" when you floor it so it won't groan too much. In practice, it comes together reasonably well: the nicest way to describe the CR-V's acceleration is leisurely and you still get that "motorboating" sensation on anything less than full throttle, but there's enough kick for booting around town and the CVT fades into the background when you settle into a cruise.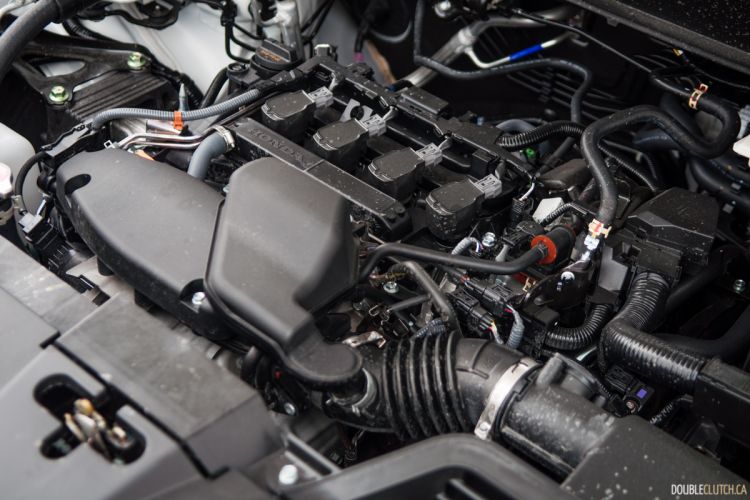 Beyond the powertrain, it comes as no surprise that the CR-V's easygoing driving dynamics carry over into 2023. Ride quality is particularly impressive, with only the harshest of potholes and choppy pavement finding their way into your posterior — an impressive feat considering Honda says the chassis and rear springs are a touch stiffer than the outgoing CR-V. Wind noise is well-controlled, too, although there was a touch more road noise than we expected, but that likely had more to do with the Bridgestone Blizzak winter tires fitted to our tester. Steering is exactly what you'd expect — almost totally devoid of feedback, but nonetheless responsive and effortless.
If you prioritize fuel economy, you'll obviously care more for the CR-V hybrid and its superior fuel economy ratings, but the gas-powered numbers are pretty much what you'd expect. Honda rates the turbo CR-V at 9.1L/100 km in the city, 7.6 on the highway, and 8.4 combined. In the real world, we averaged 9.8L/100 km over a fairly even split of city and highway driving, and with generous use of the remote starter thanks to Old Man Winter. For comparison's sake, the CR-V hybrid manages a far more frugal 6.0 L/100 km in the city, 6.9 on the highway, and 6.4 combined, at least on paper.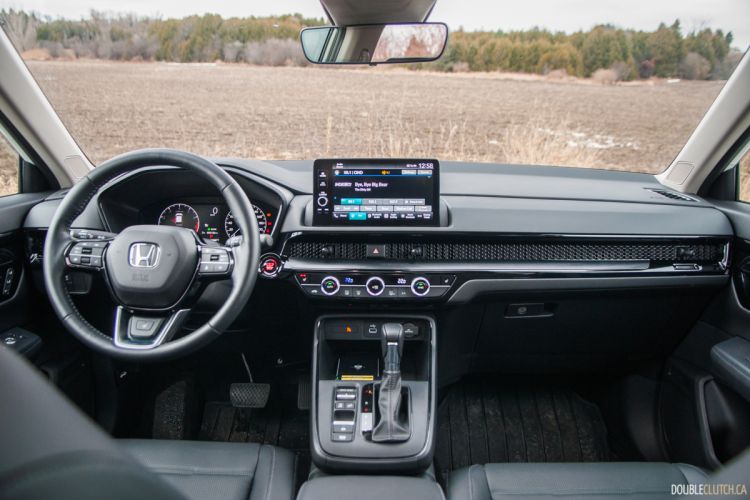 No CR-V could ever really have been considered a looker, and to be honest, this latest model is no exception. We'll grant that the new CR-V is a bit more handsome than the outgoing model, trading the egg-shaped silhouette and chunky proportions for a squared-off silhouette and a more chiseled look overall. Still, the CR-V continues to play it safe; if you want a sport-ute with a bit more visual pizazz, you may be better served by the Hyundai Tucson, Kia Sorento, and Mazda CX-5 and CX-50.
Inside is where the CR-V arguably takes its biggest steps forward. Gone is the chunky dash, almost minivan-like centre console, and painfully fake-looking wood trim, in favour of a much cleaner and understated aesthetic clearly inspired by the redesigned Civic. Materials are vastly improved, fit-and-finish feels solid, and there are more than a few clever and classy touches, like the one-piece honeycomb trim spanning across the dashboard that also conceal the air vents, and the knurled volume and climate control knobs. Come to think of it, those knobs are quite possibly our favourite aspect of the new CR-V's interior; it's such a small detail, but their tight and clicky operation is what you'd expect from an Audi.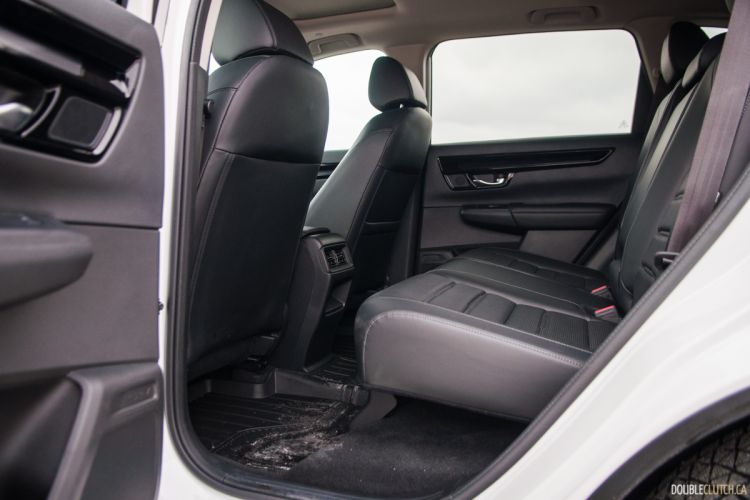 The rest of the new CR-V's cabin is as intuitive as you'd expect. Visibility all around is excellent, the reworked infotainment is much more responsive and boasts crisp graphics, and there's plenty of headroom and legroom up front and out back. Cargo space punches in at an impressive 1,112 litres with the seats up, and 2,166 with the rear seats stowed. That's pretty close to the top of the class; the Tucson is a touch roomier with the seats stowed, but the Honda's comparatively low load floor makes loading up heavier items a cinch. 
Pricing for 2023 CR-V kicks off at $34,790 for the base front-wheel-drive EX-L. Of course, "base" is a relative term; aside from the lack of all-wheel-drive, it comes standard with alloy wheels, LED headlights, Apple CarPlay and Android Auto connectivity, Honda's full suite of active safety features including adaptive cruise control, and a front wiper de-icer that seems extremely trivial at first, but it's a godsend here in the Great White North. Our particular tester, the almost-fully-loaded EX-L, rings in at an entirely reasonable $43,390. That nets you bells and whistles like heated rear seats, wireless Apple CarPlay and Android Auto (plus a wireless phone charger), leather seats, and more.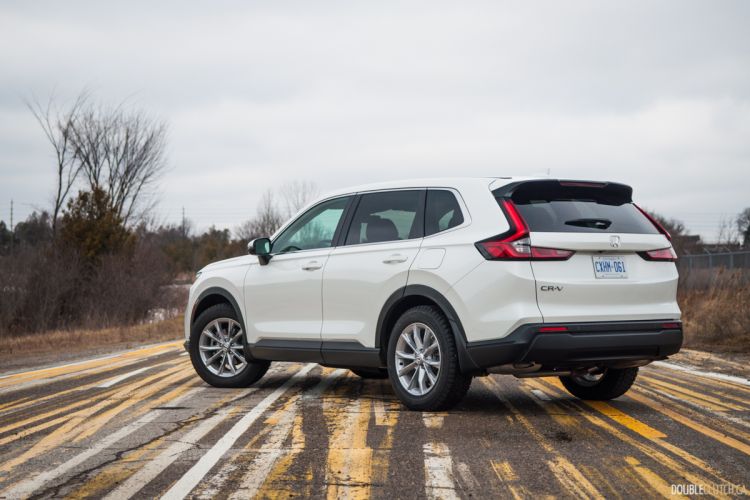 Make no mistake, Honda's most important model won't win you over with scintillating acceleration, a raucous engine, or gorgeous curves. Instead, the 2023 Honda CR-V will win you over with good value, a comfortable and practical interior, and good fuel economy — you know, things grown-ups actually care about. It's clear Honda did its homework, taking a good thing and making it even better.
See Also: