The 2023 Mazda CX-5 is, by several orders of magnitude, Mazda's best selling vehicle, and has been for years. Mazda sold some 62,000 vehicles in Canada in 2021, and 42% of them were CX-5s. It's paying the bills almost entirely on its own. As such, they're very careful with it, and have only made minor changes since its introduction in 2017. Slight tweaks here and there, a subtle facelift this year, modest infotainment improvements; they're playing it very safe, and I guess I can't fault them for it. Wise man once said: If it ain't broke, don't fix it. With this in mind, the 2023 CX-5 gets a new shade of white on the color wheel, and that's about it.
Mazda's success and near unanimous adoration from all corners of the automotive press comes from their adherence to a basic set of principles, all which essentially boil down to: focus on the fundamentals. They all look good, with soulful design and purposeful, curvaceous lines. They're all well made and beautifully appointed, with an aesthetically pleasing interior design that's thoughtful, and driver centric. The driver focus persists on the road, where they all feel excellent to drive with controls that are calibrated to feel organic – nothing's too jumpy, nothing's too numb, it all feels right.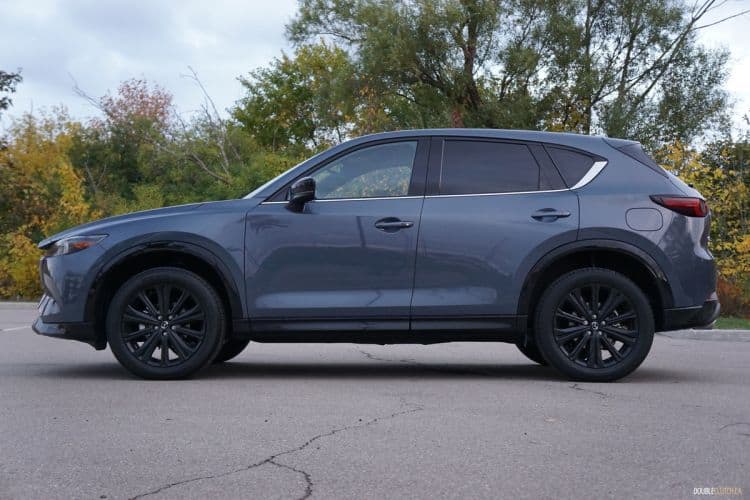 This is what matters. This is what we all like cars for. By focusing on the core tenants of why people like cars, and carefully avoiding industry gimmicks, Mazdas look and feel much nicer than they actually are. Displays and touchscreens and infotainment systems all age very quickly, and can make an otherwise competent vehicle feel irrelevant, and dated. By putting the emphasis on the driving experience and clean design, which never get old, Mazdas feel fresh and relevant long after their contemporaries. In ten years, the massive touch display in a flagship Mercedes will look and feel like trash – the Mazda's simple ten inch widescreen with knobs and buttons will still look good and work well.
All the things that make Mazdas great are front and center in the CX-5. It's the best driving vehicle in its segment, and has been since its inception – the only arguable exception is its new stablemate, the CX-50. It looks great, and our $40,950 Sport Design model sharpens the already slick style with gloss black body trim and fascias, a subtle red highlight in the grille, black wheels, and red stitching on the interior. It's very comprehensively equipped, and slots in neatly under the top shelf Signature trim – which we'd prefer, if we're honest. The body color trim looks so much better, and the turbo engine is a delight. That turbo engine is a $2,200 option on our Sport Design, which brings it very close to the Signature's price point.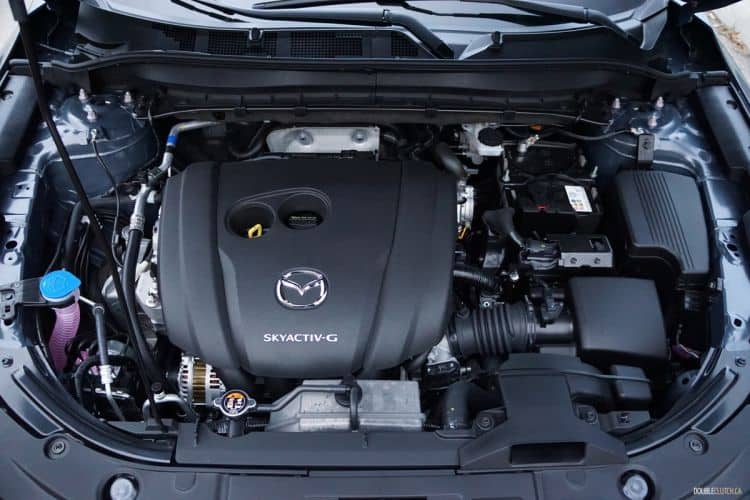 Our test vehicle instead came fitted with Mazda's well proven 2.5-liter naturally aspirated four cylinder, developing 186 horsepower and 186 lb-ft. of torque. This same engine that we liked so much in the manual Mazda3 we tested a little while ago feels a little more strained here, with a much taller, heavier vehicle to move around. It's still a nice engine and should be adequate for most, with a smooth demeanor and healthy acceleration around town, but it starts to feel a little lacking if you really want to get moving. If you can live without the generous shove of the boosted motor, you'll be rewarded with better fuel economy – we averaged 8.8L/100km.
Regardless of which engine you opt for, you're getting Mazda's ubiquitous six-speed automatic, which, just like the rest of the package, is a known quantity that works seamlessly. Ditto for the all wheel drive, which is now standard on every CX-5. The CX-5 shines on the road, striking a fantastic balance between engaging when you're in the mood, and easy-peasy when you're not. The throttle, steering, and brakes feel natural and communicative, and inspire confidence in every driver in every situation. Visibility is good, the heated and cooled power seats are excellent, and everything looks great, feels great, and works well. We all already knew all of this.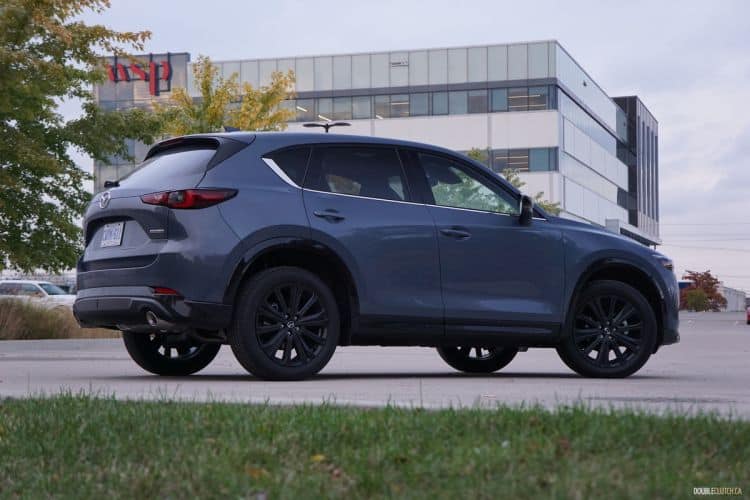 Two plus two is four. Mazda's signature attention to detail and careful avoidance of industry gimmicks lends to a product that looks and feels wonderful and ageless. Two plus two is four. Rear seat accommodation isn't as generous as some of its competitors, but is more than made up for in class leading quiet comfort and fantastic road manners. Two plus two is four. Tactile knobs and buttons are better and more user friendly than touchscreens. Two plus two is four. The 2023 Mazda CX-5 Sport Design is the best driving vehicle in its segment. There are only so many ways to state what we've all known for years. What else am I supposed to say? 
See Also:
2023 Kia Sportage X-Line Limited