For those of you regular readers who are sitting there thinking: "Wait, didn't you just review one of these recently?" You're half right. We did just review a 2022 Mazda3 Sport GT, but there are some crucial differences between this car and that car. That car was outfitted with the turbocharged variant of this engine, routed through an all wheel drive system via a six-speed automatic. This car is what we'd call a driver's spec: naturally aspirated for better response, front drive for better lightness, and a six-speed stick for better engagement. What a rare treat.
It seems the only way to get something with some genuine character, some real panache, some honest-to-god mechanical soul, is to buy something that's either expensive, impractical, or old. More often than not, it's some combination of all three, as you'd see in most of our personal cars here at DoubleClutch.ca. New cars for normal people to do normal things with typically end up being compromised and more than a little bland. Little boxes, and they're all made of ticky tacky, and they all look just the same.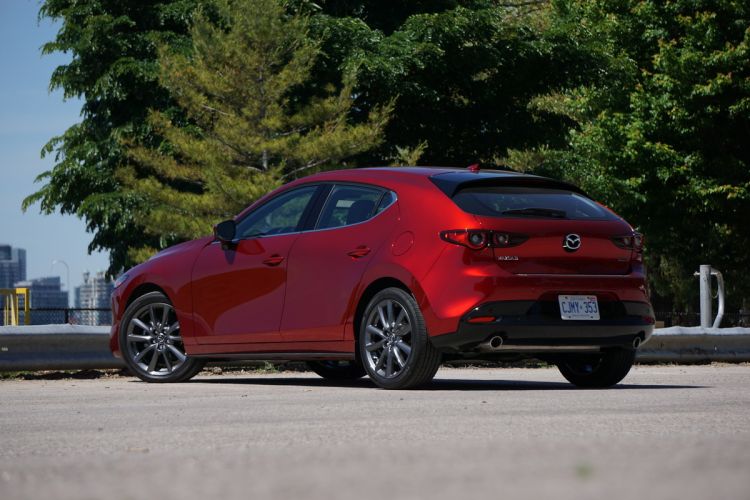 This Mazda3 shows us, as it has before, that you can still buy a regular car that doesn't feel regular at all. It's passionate, wonderfully detailed, and deftly blends comfort and sporting character. It's refreshingly honest, and free of gimmickry – I personally love that it doesn't have a sport or economy mode, or adjustable suspension/steering/whatever settings. It's set up right in the first place, the rest is on you. What a concept.

Mazda's "Kodo" design language is refreshing too. Tight, clean, beautifully hewn lines, with very little in the way of interruption; minimal trim, no pointless creases, and no plastic cladding. Of course, our test car came coated in Mazda's signature Soul Red Crystal paint, which absolutely screams on this sculpted shape. This is a reasonably priced family car that looks like a million bucks.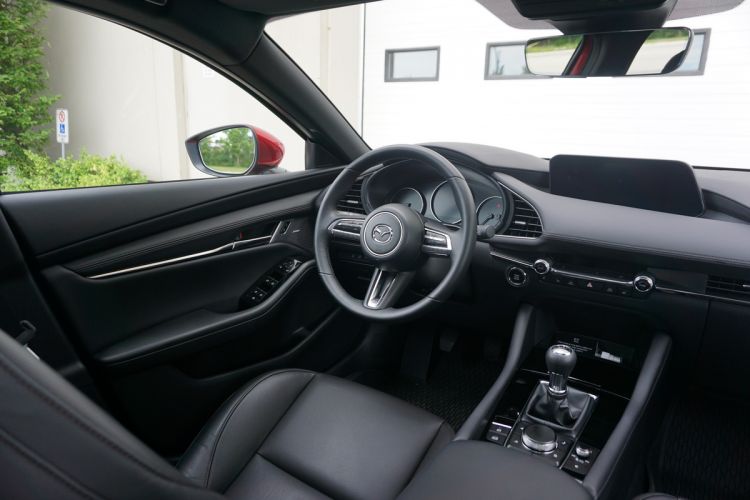 The theme continues inside, whereupon Mazda's cohesive design language and singular vision really comes into its own; it's serene. Every single line, shape, and material has been given careful thought, and plays well with every other line, shape, and material. The way the two lines of the upper dash interplay to drape over the gauge cluster and accentuate the swept multimedia screen is gorgeous, and it's framed on the bottom by a sweeping piece of metallic trim, which itself incorporates the climate controls and vents. The attention to detail is sublime, really.
The driving position is excellent, and the seats are comfortable for long hauls and supportive enough for all the spirited driving that the Mazda3 encourages. You sit high, with a good view of the road and surprisingly decent visibility – those juicy rear haunches eat into rear visibility for sure, but not nearly as bad as you'd think. All the controls are intuitive and are where you'd expect them to be; save for the infotainment system, which created some divided opinions among us.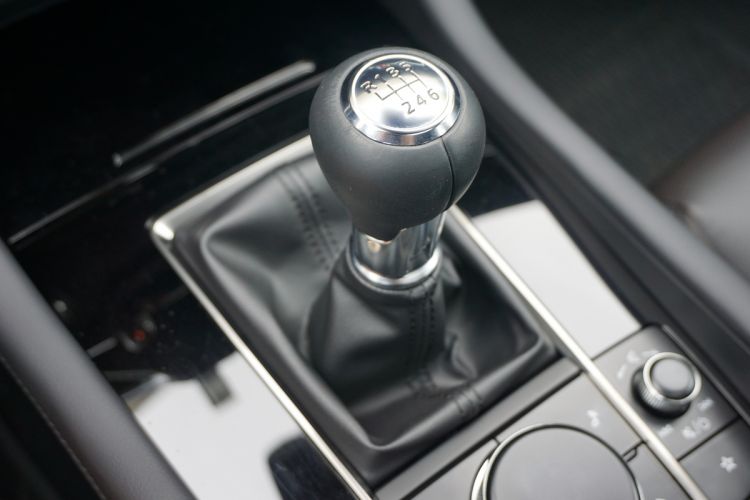 Mazda made the daring decision to forgo a touchscreen at all. They've opted instead for two rotary dials, a large one for most functions and a smaller one dedicated to audio volume and playback, both of which are positioned just ahead of the armrest on the center console. We're pretty much always advocates of physical over touch based controls, but this setup does have some drawbacks.
For one, entering an address or destination into the navigation system is hopeless. Mazda does include Apple CarPlay and Android Auto on all models so this can be circumvented, to some extent. Second, changing stations on the satellite radio is way more complicated than it needs to be, as the side to side function of the volume knob is used for SiriusXM's live replay function, rather than tuning through channels as it does on AM/FM. Mazda gives you a plethora of customization options over its UI functions, and it seems like a silly oversight that this isn't one of them.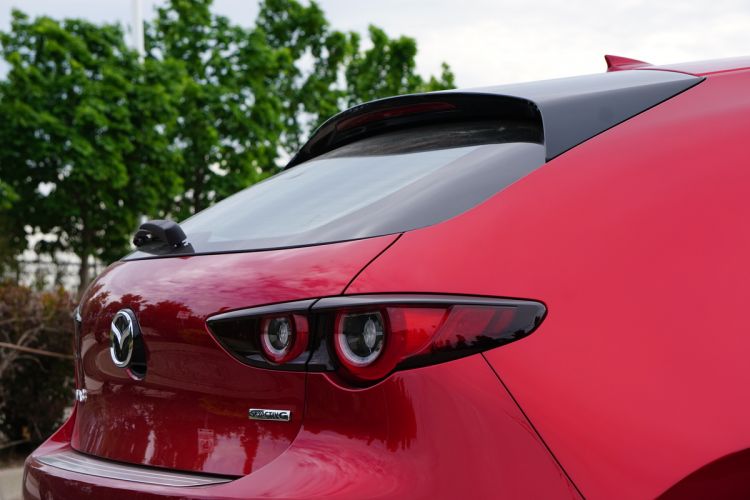 Beyond those gripes, we felt the system generally worked well. The wide screen is crisp, clear, and responsive, the backup camera is fantastic, and Mazda's use of Home/Navi/Music/Back buttons around the center dial means it's very easy to flip between functions. It's all easy to figure out, and even the more cumbersome actions like the aforementioned satellite radio station changes are easy to get used to – such is the joy of a purely physical interface that you can commit to muscle memory and never look at again. And, not to sound like a broken record, but it's very pretty, too.
The gauge cluster maintains this thoughtful attention to detail too, with a digital multifunction speedometer encircled by a fuel economy gauge and fuel level gauge – both of which neatly incorporate average fuel economy readings and remaining range. Speaking of, we saw an average fuel economy reading of 9.1L/100km, which falls right in between Mazda's rating of 7.1 highway and 9.6 city – impressive given that our test car spent the week either sitting in traffic or being driven… rather enthusiastically. We did see that average dip as low as 6.7L/100km on an early morning commute, so it can be quite frugal if you let it.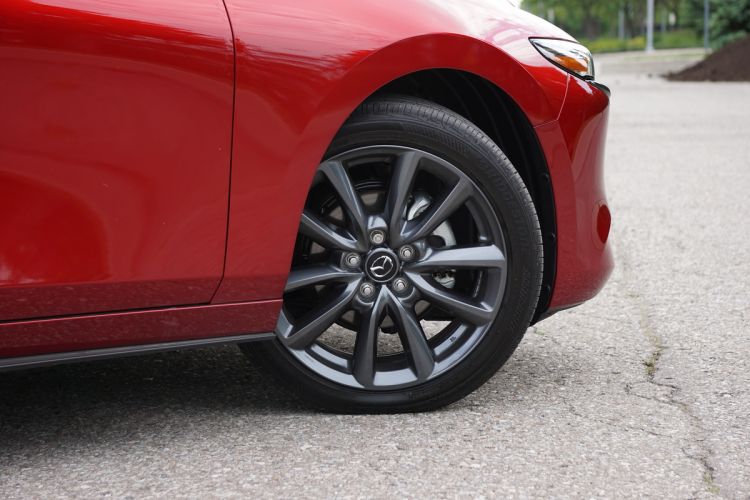 As mentioned previously, this Mazda3 Sport GT was equipped with fine delicacy: a six-speed manual transmission. And a fine thing it was, with deliciously crisp throws that you'll be enjoying often thanks to the 3's closely spaced gear ratios. Those same tight gears make the most of the gutsy 2.5 liter engine, which produces 186hp and 186 lb-ft of torque, and makes for very snappy acceleration – it's very easy to light up those front tires. It's responsive, linear, and smooth. If we had to nitpick, we'd say it's perhaps too serene, as it's easy to run out of revs and run into the rev limiter. A tiny bit more intake growl would go a long way to making this all the more enthralling.
The chassis is just as willing, drawing on expertise from the Miata. They're not the same, but the family resemblance is undeniable, with perfectly weighted controls that lend themselves organically to inspiring confidence through the virtue of being linear and feeling natural. The steering is tight and relatively communicative, without having to fall into the trap of being overly eager off-center to make up for feedback it doesn't have.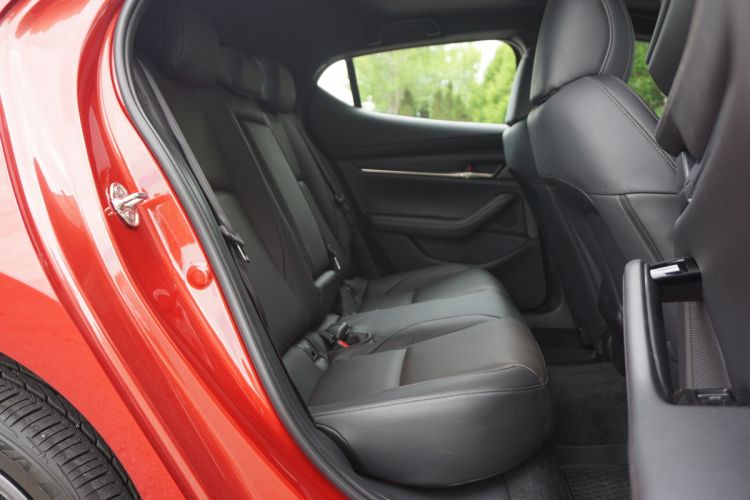 The pedals are well positioned and are easy to heel and toe, with a short clutch take-up and well judged brake feel. The chassis is well balanced and is blessed with a generous amount of mechanical grip to claw you through corners, and the traction control won't get in the way unless you're being really ham fisted. It's composed, competent, and a thoroughly willing partner.
That same well calibrated chassis and controls make the Mazda3 a pleasure to pilot when you're just trying to go to work, too. The ride is on the firmer side but never harsh, and Mazda's excellent sound insulation does a commendable job maintaining serenity. The engie is nearly inaudible at lower revs, and is synced so effectively to the light clutch and shifter that they're never a chore to operate, even in heavy traffic.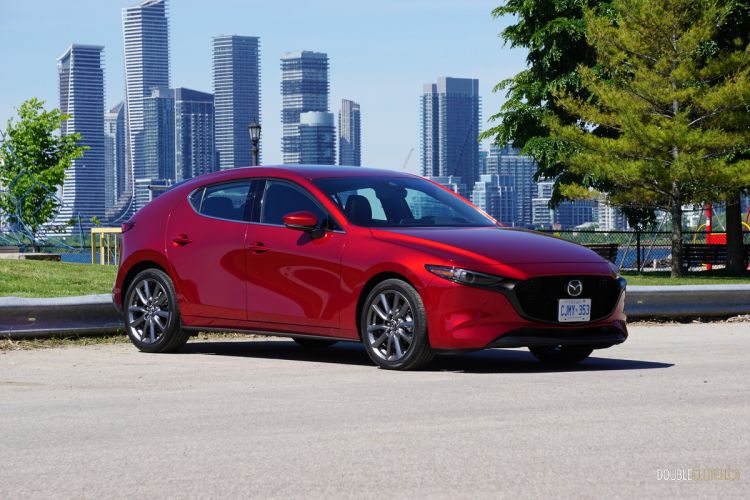 In a lot of cars, as they grow ever more complicated and require bigger development teams and more resources to bring to life, there's a lack of unity. There's a team for the engine, and a team for the transmission, and a team for the suspension, and a team for the interior design, and a team for the infotainment, and it goes on and on. While all these teams of all these people are working under the same directives, it feels like none of them talk to each other. There's no unified vision. The Mazda 3, conversely, feels cohesive, as though it were created from a singular vision.
This sense of cohesion is what Mazda excels at better than most in the business. It's rare to see something so inspired, and it's nearly unheard of in this price range – $32,681 for our driver-spec GT model. What Mazda has done here is taken all the style and thoughtfulness that we'd like in something we'd want to live with, and blended it with the holistic mechanical goodness we want to drive. If you want a nice, practical hatchback and need a holistic driving experience, the 2022 Mazda3 Sport GT is a no brainer: you want this one.
See Also: