Do "regular" cars still matter? If you ask Toyota, they sure do: not everyone needs the 4Runner's off-road prowess, the Highlander's three-row flexibility, or the RAV4's jack-of-all-trades appeal. If you fall into any of those camps, there is salvation. Enter the 2022 Toyota Corolla Hatchback. 
Over 55 years and 12 generations, Toyota sold a whopping 50 million Corollas, and it's easy to see why. Not too long ago, Toyota called it QDR — quality, durability, and reliability — and this reputation still holds true today. The Corolla is exceedingly good at being a car, and this is what the masses want. Nothing more, nothing less. No miss, no fuss. What you see is what you get.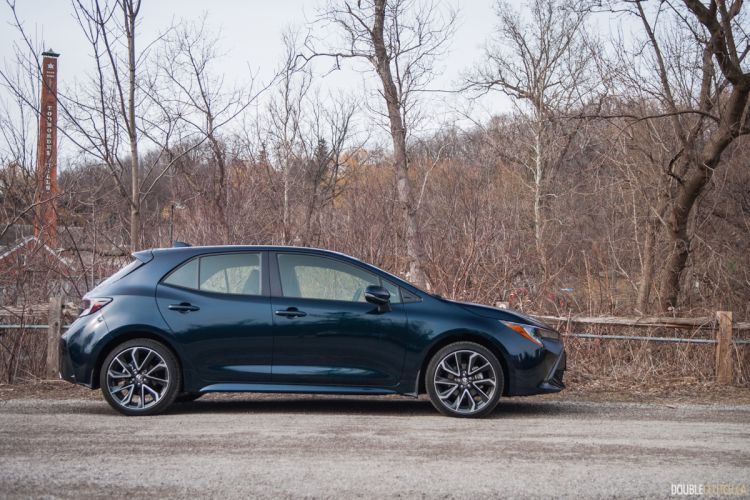 Powering the Corolla hatch is Toyota's so-called "Dynamic Force" 2.0-litre four-cylinder engine, but trust us, this normally aspirated inline-four is hardly dynamic nor forceful. Rated at a modest 168 horsepower and 151 pound-feet of torque, the Corolla is about as exciting to wring out as a loaf of white bread. It's acceptable around town, but on the highway, the power is merely adequate and you'll definitely have to plan your maneuvers. You'll eventually hit the speed you want, but the Honda Civic and Mazda3 are hot rods in comparison.
But just like perfectly toasted white bread can make or break a grilled cheese sandwich, the transmission you pick can make or break the Corolla. Most Canadians will go for the admittedly very good CVT, but Toyota offers a six-speed manual, too. This particular tester was equipped with the latter, and it does an excellent job at adding a much needed spring to the Corolla's step. No, it's not even half as sporty as the Golf GTI, but flicking through the gears adds a level of engagement that helps you forget about the Corolla's straight-line sluggishness. The numb clutch and its vague bite point takes some getting used-to, but shift action feels pleasantly smooth and crisp. It can even automatically blip the throttle for rev-matched downshifts, something pretty much unheard of in this segment.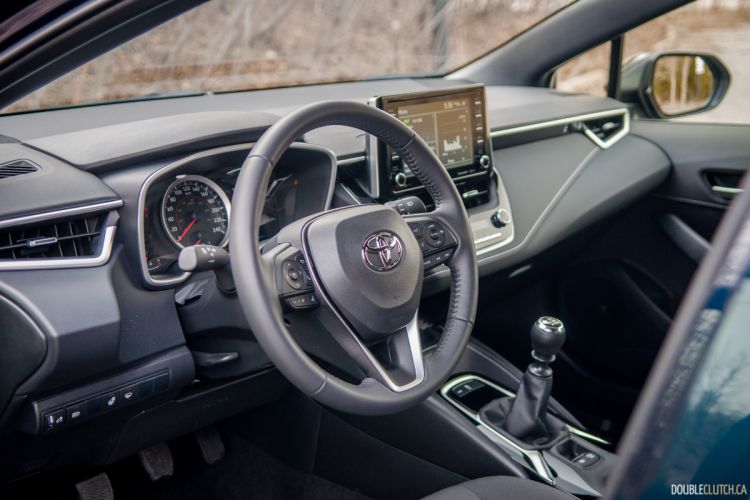 The fact that the Corolla rides on Toyota's so-called TNGA modular platform is hardly news, but the chassis is the other part of the unexpectedly fun-to-drive equation. Drive like an angel and the Corolla rewards you with a comfortable ride, filtering out bumps, potholes, and other imperfections just as well as larger cars out there. But drive with a bit more gusto, even for a brief moment, and the Corolla will actually put a smirk on your face. Carry a bit more speed than usual into a corner, and it rewards you with surprisingly little body roll and a fair amount of grip. Steering is light and numb, but also accurate and responsive. There's a bit more road noise than we'd like on the highway, but by and large, there's a fun and playful side to the Corolla's largely grown-up and sensible attitude. 
Perhaps the only drawback to the Corolla hatchback's driving experience is fuel economy. It's not a gas-guzzler by any means; it's officially rated at 8.4 L/100 kilometres in the city, 6.7 on the highway, and 7.6 combined. We averaged 8.6 in the real world over mostly city driving, with a couple of highway stints here and there. It's not bad by any means, but you can't help but expect better numbers from something so sluggish in a straight line. Must've been all the wide-open-throttle pulls necessary to merge onto the highway. If you're willing to sacrifice fun and engagement for fuel economy, the CVT is the way to go.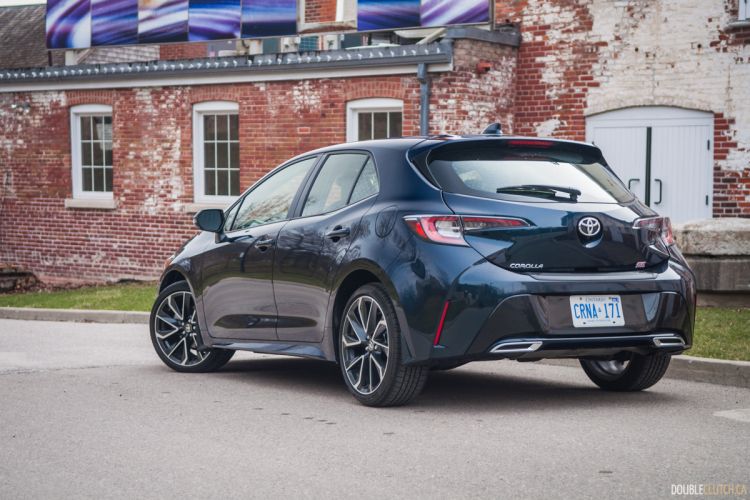 Inside, the Corolla doubles down on its no-muss-no-fuss approach with an interior that gives you exactly what you need, and with very few frills and gimmicks on top. It's easy to live with: visibility is generous all around, the steering wheel and shift knob are well within reach, and there's a decent amount of range to the manual seats' adjustability, although taller drivers might want a bit more thigh support. Still, there's a good amount of headroom thanks to the lack of a sunroof, physical buttons and knobs take care of the climate and audio controls, and the gauges are easy to read. It's a pleasant and comfortable environment overall, but there are a handful of shortcomings you need to know about.
First, the tech and toys. Infotainment is handled via an eight-inch touchscreen sticking out of the dashboard, while the instrument cluster gets a 4.2-inch display. It's a really dated look overall; the infotainment shows its age with graphics seemingly inspired by Windows XP, while the instrument cluster display isn't integrated particularly well. At least Apple CarPlay and Android Auto are standard!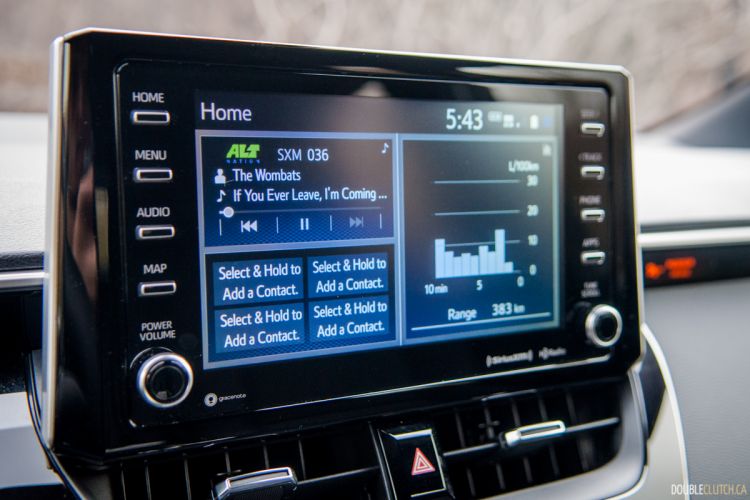 Second, the Corolla hatch is a little on the cramped side. There's enough space up front to get comfortable, but the back seats are tight, and the narrow door openings mean getting into and out of the back seats require a little contorting. Cargo space isn't much to write home about, either: the Corolla hatch is roomier than the Mazda3 and Subaru Impreza, but the Honda Civic and Kia Forte5 offer more cargo space. If you're an empty nester or you don't have kids yet, you might be able to get away with a Corolla hatch, but the lack of space might be a challenge for families.
But on price, the Corolla hatch makes up for its shortcomings. Starting at $21,450, the base, stick Corolla hatch comes standard with LED lighting all around, automatic climate control, and even nannies like adaptive cruise control, lane-keep assist, and automatic high-beams. For a modest $25,360, our mid-range SE Upgrade tester adds creature comforts like heated front seats, a heated steering wheel, satellite radio, 18-inch wheels, and blind-spot monitoring, to name just a few. If you can live with the Corolla's shortcomings, $25K is pretty good value in the segment. Springing for the CVT adds anywhere between $1,000 and $2,000 to the Corolla's bottom line, give or take a few bucks, depending on the trim level.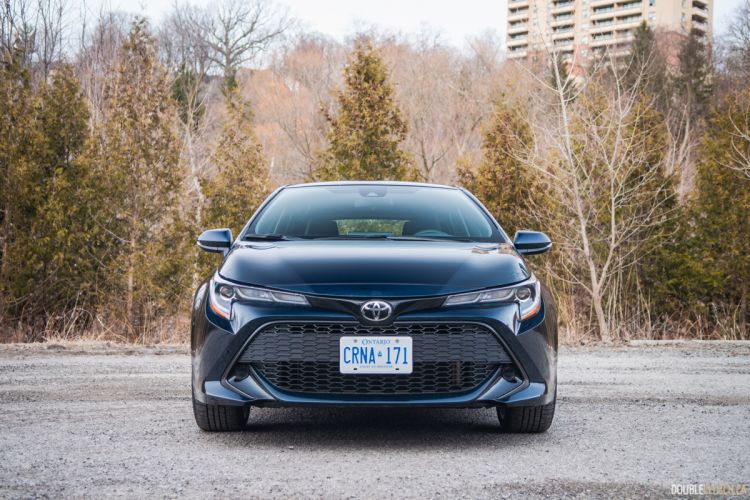 On the surface, the latest Corolla is exactly what you'd expect from the nameplate and its 50-plus-year run. Not everyone needs an SUV or a crossover; if you can live with the 2022 Toyota Corolla Hatchback's shortcomings, it's a sensible form of transportation that'll faithfully, reliably, and comfortably get you from point A to B. Go for the stick, and you uncover an unexpectedly fun side to the Corolla's grown-up, no-nonsense attitude. Huh, how about that — "fun" and "Corolla" in the same sentence. Now there's something we didn't think was possible.
See Also:
2022 Honda Civic Hatchback Sport Touring
2020 Toyota Corolla Hatchback XSE