With all the attention focused on the compact current crossover craze, many have forgotten about just how good a compact hatchback can be. They are lightweight, inexpensive, practical, and quite fun to drive with a low centre of gravity. Fortunately for those who realized this, the market has continued to offer its fair share of compact hatchbacks including the perennial favourite, the 2021 Mazda3 Sport GT.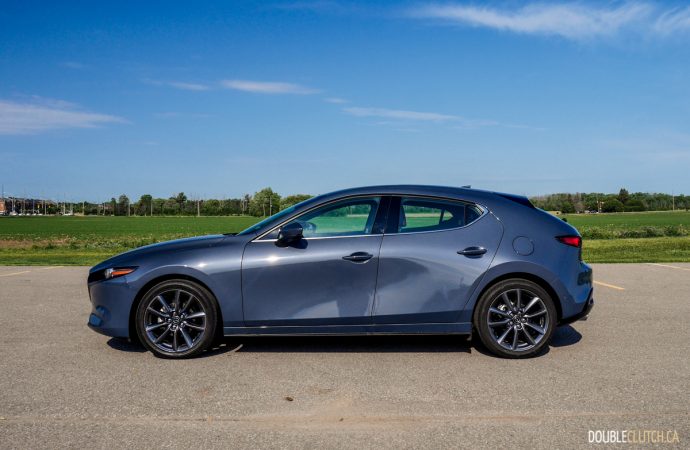 Entering its third model year, the current fourth-generation Mazda3 Sport has managed to keep up with the styling of most of its competition thanks to its modern design. The controversial rear-end styling has aged surprisingly well and the Mazda3 Sport's fluid design is a refreshing take on the traditionally boring hatchback. The standard LED lights all around look sharp and the optional Polymetal Grey Metallic with 18-inch light grey alloy wheels adds a layer of sophistication to the overall design.
The beautifully crafted design extends inside with a cabin that can easily disguise as an entry level luxury sedan. The standard Garnet Red and black two-tone interior on the GT trim looks gorgeous with great fit and finish, and the metallic accents are perfect complement to the 3's modern interior design. An 8.8-inch centre display sits atop the centre console which houses Mazda's own infotainment system with commands accepted through the rotary dial below the shifter.
We appreciate the volume knob and some shortcut keys around the knob but the infotainment's usability feels a bit clunky with an overly simplistic layout. There are too many submenus that are distracting to use. A good example would be putting the radio presets on a list under the favourites menu rather than keeping a row of channels on the main radio screen for quick access. Fortunately, users can bypass this by connecting their smartphone with Android Auto or Apple CarPlay to enjoy the rich sound quality from the 12-speaker Bose surround sound system.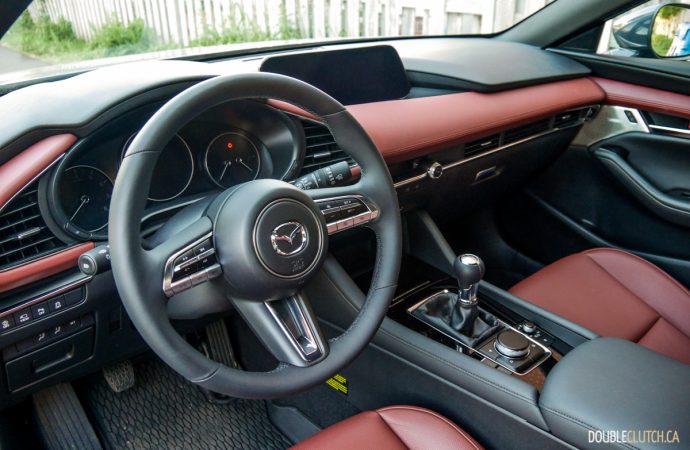 The Mazda3 Sport GT has good head and legroom up front but rear passengers are going to feel a bit cramped with limited space and a smaller opening due to beefy C-pillars. The ride is refined and comfortable thanks to good shock absorption and sound deadening, and combined with the supportive seats, the Mazda3 a good companion for longer trips. Cargo capacity is rated at 569 litres which is a marked improvement from the sedan's 374-litre trunk.
Power comes from a 2.5-litre SKYACTIV-G four-cylinder engine that churns out 186-horsepower at 6,000 RPM and 186 lb-ft. of torque at 4,000 RPM. In theory, this should be ample of power to get the 3,077-pounder going, however the peppy powertrain is marred by the six-speed manual transmission's tall gearing ratios that make it accelerate slower than it should.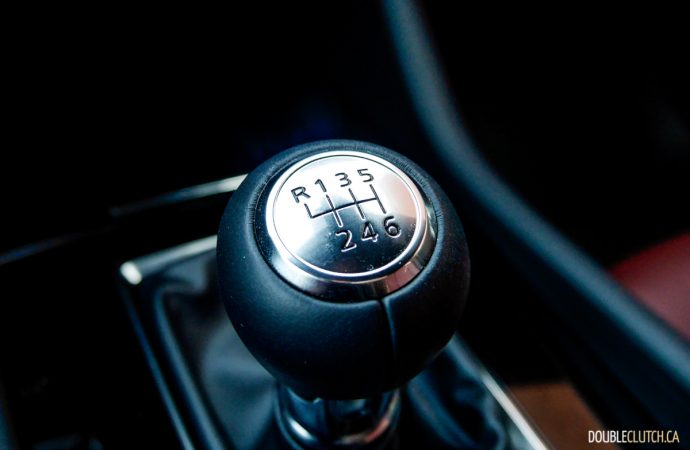 We do not say this often but the automatic transmission is our preferred choice in the Mazda3 lineup as it is well tuned for urban stop-and-go situations. We found ourselves downshifting a lot whenever we need to catch up with traffic in our tester. It is a shame because tall gear ratios aside, the manual shifting Mazda3 Sport is a real joy to drive thanks to its precise shifter and an easy to find clutch engagement point.
Handling is the Mazda3's strongest suit with one of the best steering racks in the segment. It goes where you point and the chassis is adaptable to quick directional changes. Mazda's 'Jinba Ittai' (horse and rider as one) engineering philosophy is evident on the Mazda3 and its poise in corners is unlike most other front-wheel drive cars in its price range. Buyers who forego the manual transmission will have the option to equip their 3 with Mazda's i-Activ all-wheel drive system but a powered rear axle is not necessary if all you want is a nimble car to enjoy going around town with.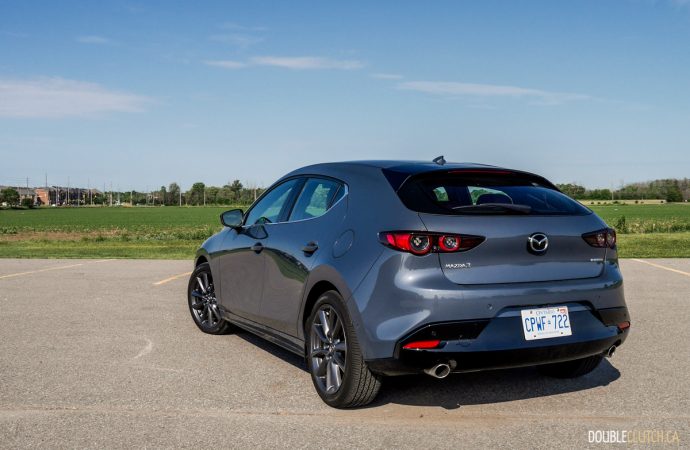 Fuel economy is rated at 9.5L/100km in the city and 7.0L/100km on the highway which closely match our observed figures during our test. It is similar to what we achieved in the Honda Civic Hatchback and notably higher than what we achieved in the Toyota Corolla Hatchback, though both our road tests in the Civic and Corolla were performed with automatic transmissions that are more fuel efficient than the ones where you row your own. The Mazda3 can accept regular fuel in its 50-litre tank.
The Mazda3 Sport GT is well equipped with proactive safety and driver assistance features, including Adaptive Front-Lighting, Advanced Blind Spot Monitoring, Rear Cross Traffic Alert, radar cruise control with stop & go function and Smart City Brake Support systems. Our tester was equipped with the Premium Package that adds front and rear parking sensors, 360-degree view monitor, Traffic Jam Assist, and Smart Brake Support Rear and Rear Crossing systems. These systems make the Mazda3 a great choice for newer drivers looking for a first car.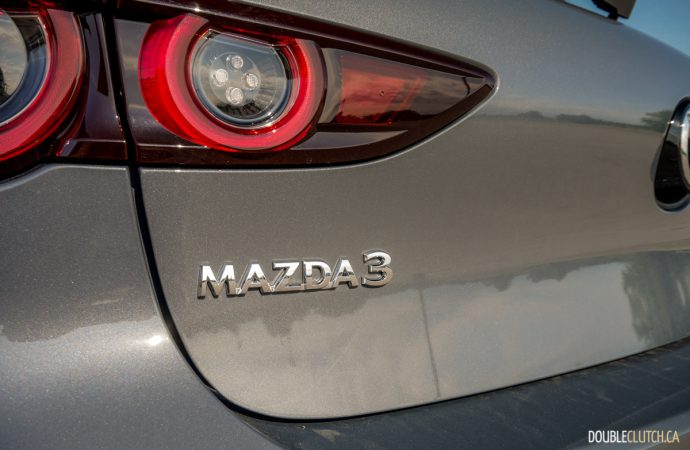 The 2021 Mazda3 Sport starts at $21,600 for the base GX model and moves up to $28,200 for the GT. Our tester adds $200 for the paint job and a $1,900 Premium package that adds the 18-inch wheels, head-up display, aforementioned driver assistance systems, frameless rearview mirror and some more, bringing us an as-tested total of $30,100.
At around the $30,000 price point, the Mazda3 Sport GT is an excellent value for those looking for a simple and affordable car. Despite a couple of shortcomings, namely its infotainment and lacklustre acceleration when paired with the manual transmission, the 2021 Mazda3 Sport GT remains one of our top choices for its well-appointed interior and expansive equipment list. It also one of the more engaging options in its segment and is an excellent choice for those who are new to driving.
See Also:
2020 Toyota Corolla Hatchback XSE