Once considered a regular staple at car rental lots, the Nissan Sentra has come a long way with its 2020 redesign, inside and out. With Honda, Toyota and Mazda bringing out their best compact entries, Nissan needed something that was at least competitive. It may not be the top dog in the segment but it is an entry that should satisfy most buyers. This year, the 2022 Nissan Sentra Midnight Edition turns up the heat to entice customers to take a look.
The Midnight Edition comes as a new trim level across Nissan's lineup available on the Altima, Murano, Armada and our Sentra. Consider it more of a visual upgrade more than anything else. No changes have been made to the engines, suspension or transmission. The two year old design of the current Sentra still looks handsome to this day, resembling its larger sibling, the Altima.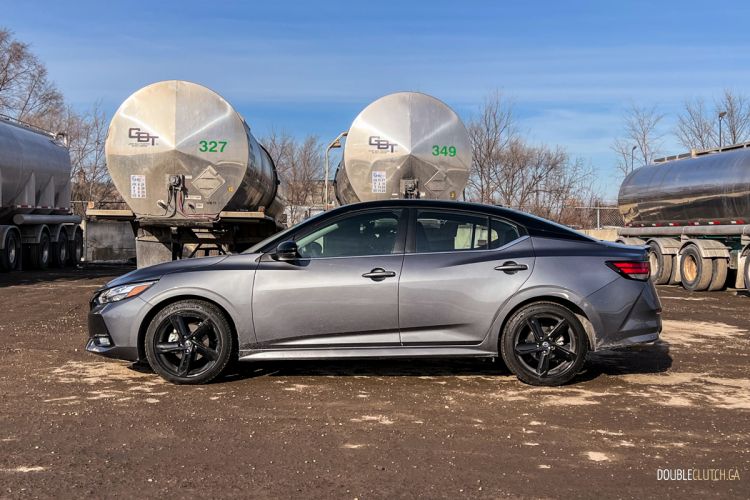 The 2022 Nissan Sentra Midnight Edition eliminates any unsightly chrome trim for gloss black. Buyers get a Super Black/Gun Metallic paint scheme. Blacked out on the exterior are the grill, side mirrors, 18-inch wheels, exclusive rear spoiler and badging. The blacked-out roof lends to the two-tone look. Inside, a D-shaped steering wheel and faux carbon trim can be found. The overall design is clean and eye-catching. No, it's not going to compete with some of the better designs like the Mazda3 but unlike these competitors, the only configuration is a sedan. If you want a hatch, you'll need to look at one of the many crossovers that Nissan has to offer.
Inside, most will be pleasantly surprised with the quality of materials used. Most surfaces are soft touch materials and don't feel like you've been placed in a penalty box like the Hyundai Elantra, which has more hard surfaces in exchange for more technology. The Sentra Midnight Edition is a much nicer place to be especially when sitting in traffic or on long road trips, with very comfortable Zero Gravity seats. Orange stitching is used throughout to break up the black interior and can be found on the steering wheel, dash, console, doors and seats.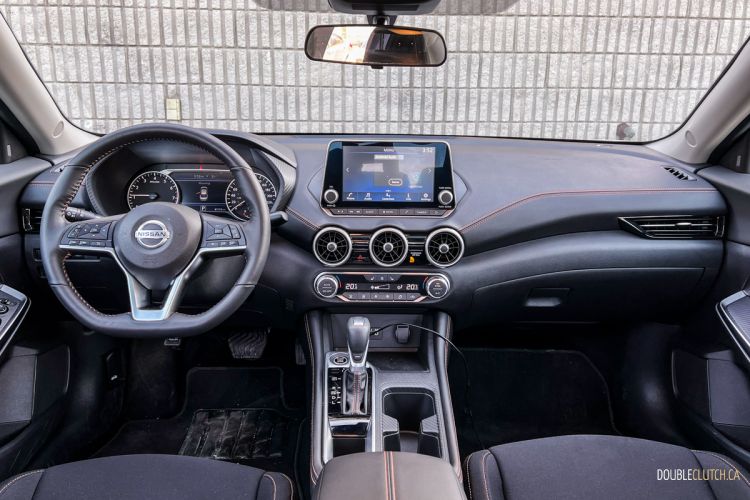 The eight-inch infotainment touchscreen does seem rather small but it does a good job with standard Apple CarPlay and Android Auto connectivity. The system is snappy and easy to operate; those jumping in won't be overwhelmed with gimmicks as physical buttons are on board for regularly used functions. The controls on the steering wheel are very easy to use and don't rely on haptic touch points, thankfully.  Graphics are crisp though the resolution on the rear-view camera could use improvement.
Sadly, Nissan does not offer any larger engine options. Something with a bit more pep would be greatly appreciated to go with the more aggressive exterior additions and sharp chassis. Under the hood lives a 2.0-liter naturally aspirated DOHC four-cylinder engine. Output is 149 horsepower at 6,000RPM and 146 lb-ft. of torque at 4,000RPM. Depending on the trim level, a six-speed manual transmission is available, though the volume choice is a CVT as found in our tester. The CVT has been vastly improved over the years, but there is some drone and lag if asked for urgency.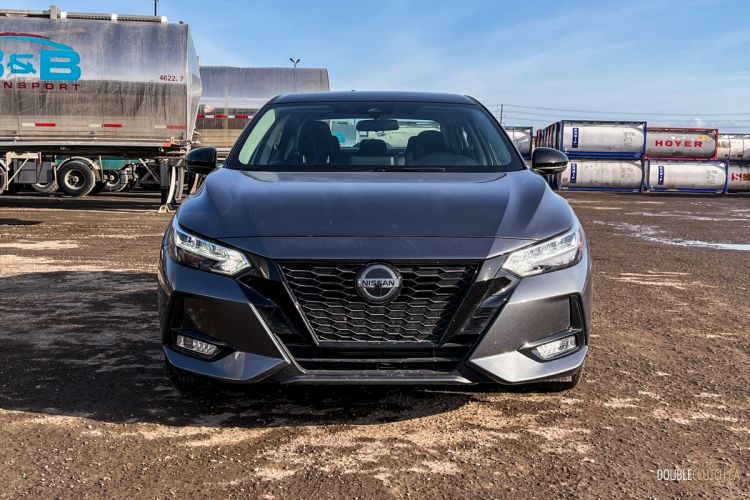 Handling is much better than expected thanks to the Sentra's stiff chassis. Body roll is controlled and steering response provides a greater level of confidence when quick maneuvers are required. People looking at the Sentra expect good fuel economy and here it won't disappoint. Nissan has a ratings of 9.2L/100km city and 6.2L/100km highway, for a combined 7.9L/100km figure. During our test week, a more than reasonable 8.1L/100km was achieved in extremely cold weather.
Nissan has loaded the 2022 Sentra Midnight Edition with numerous active safety features using Safety Shield 360 suite. Features such as Intelligent Forward Collision Warning, Intelligent Cruise Control, Lane Departure Warning, Rear Cross Traffic Alert are standard. Pricing has gone down this year as well, with $19,598 for the base Sentra S with a manual transmission. Our Midnight Edition comes in at $25,598 well-equipped, and the top-trim SR Premium is $27,098.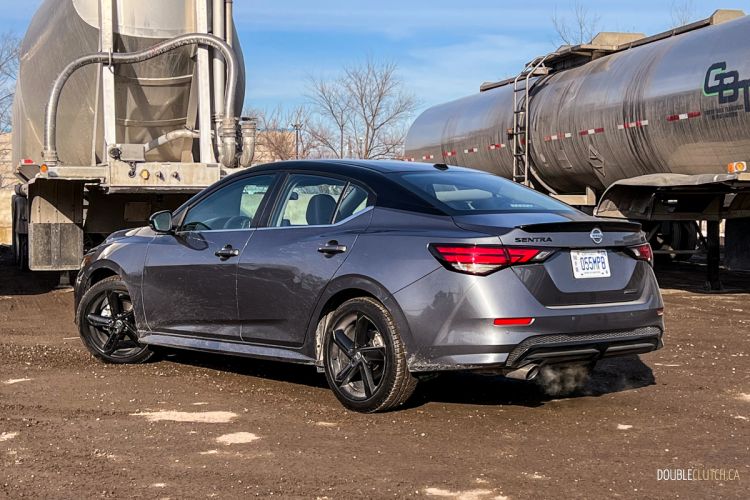 As the compact car segment shrinks in sales numbers, the competition has increased in price significantly to a point where they are no longer the value proposition they once were. Thankfully, Nissan has stayed on point giving customers a great alternative to other rivals. The 2022 Nissan Sentra Midnight Edition is a great little car that is easy on the eyes and doesn't break the bank; it's time to put it back on the shopping list.
See Also: