It shouldn't have been as surprising as it was, but my first drive with the new Bridgestone Blizzak WS90s was nothing short of shocking. Like the rest of the DoubleClutch.ca team, I've been an avid proponent of proper winter tires for many years. In an era of many car buyers assuming they need all-wheel-drive to survive the chilly months, I've spent more winters than not tearing around in everything from a Mazda MX-5 to a modified BMW 335i.  Every one of those machines, equipped with proper winter rubber, got me through the worst of what mother nature could throw at us.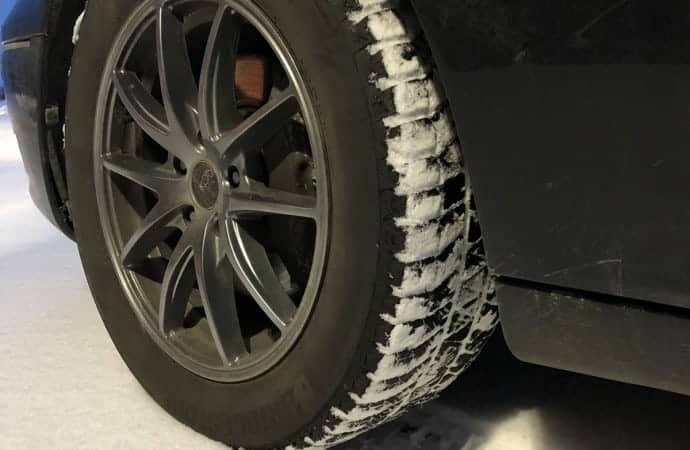 After replacing the old DoubleClutch.ca Lexus LS 400 (reviewed here) with a 2005 Lexus LS 430 this autumn (just like our Editor-in-Chief's car), I needed a new set of snow boots for it. Bridgestone graciously offered a set to try and they couldn't have shown up at a better time, as the Greater Toronto Area received its first proper dumping of snow.
The (ahem) "all-season" Michelins that came on the car are still in great condition with plenty of tread remaining, but on the way to the tire shop with the roads covered in a sloppy mix of ice and snow, the big Lexus was a real handful to manage, having difficulty getting enough traction to exit my rural driveway.

With the new Blizzak WS90s installed, the LS 430 was completely transformed.  The amount of grip afforded when pulling away from a stop in the wintery mess was extremely impressive.  The car's turning and braking capabilities were improved in an equally dramatic measure, and overall driver confidence increased notably with the car become far more controllable. The first kilometer of driving with the Blizzaks was a reinforcement of the belief I've long held that proper winter tires such as these should be mandated for use in all of Canada, not just Quebec.
Bridgestone has updated the tread compound versus last year's Blizzak WS80, designed to pull water away from the contact patch, enabling better grip. It's these mixed surface conditions (such as a small layer of water on ice, or slushy roads) that can lead to some diabolical driving conditions like those experienced here. All winter tires are designed to remain pliable in very cold weather, which is one of the aspects that sets them apart from all-seasons.  The WS90's silica-based rubber has an almost sticky feel to the touch when I rolled them across the garage before mounting them, which speaks to their foul weather grip on the road.

The tread design has been updated with Bridgestone's three-dimensional sipe design claimed to better evacuate water than before.  More impressively, the WS90's tread blocks have been stiffened to improve handling response in dry conditions. This latter point has been true in my experience, not only with my Lexus, but recently with a Mazda CX-3 (reviewed here) also fitted with Blizzak WS90s. The handling of both cars remained capable without the tire squirm experienced with other winter tires. Bridgestone also claims that the WS90s will be longer-lasting than earlier Blizzaks, anticipating that users should get an extra winter's worth of use out of them, helping to make these tires an excellent value.
The only downside I've noticed with the Blizzak WS90s so far is that they generate a considerable amount of noise, particularly at highway speeds. While the Lexus is insulated enough for this to be negligible, the tire hum was very noticeable in the Mazda.

Bridgestone improved upon what was already a very highly-regarded winter tire with their WS80, and have made me a die-hard believer all over again that good winter tires like the WS90, are a must-have for Canadian winter driving. The Bridgestone Blizzak WS90 is available in more than 50 sizes to fit wheels 15 to 19-inches in diameter.

See Also:
Tire Test: Michelin X-Ice XI3
Tire Test: BFGoodrich Winter T/A KSI
Tire Test: Hankook Winter i*cept evo2