Forget everything you know about Subarus and the aftermarket. Forget silly things like downpipes, ECU tunes, and blow-off valves that make your car go pshhh. These days, what really matters are lift kits, all-terrain tires, and skid plates — and if the 2022 Subaru Outback Wilderness is any indication, Subaru seems to agree.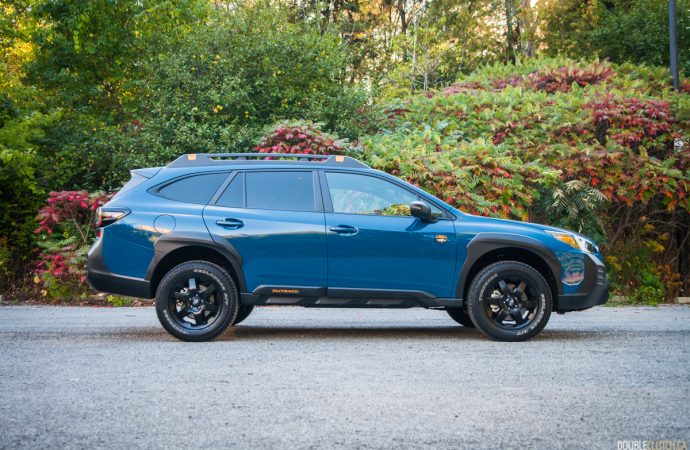 The idea of an SUV (or crossover) toughened up with more butch, off-road-ready kit is hardly new, but for Subaru, the Outback Wilderness is the first of its kind. Scroll through the #outback hashtag on Instagram, and it's easy to see why Subaru bought into the trend: most enthusiasts install half the stuff you see on the Wilderness anyway, so why not cut out the middleman and offer these bits fresh off the showroom floor?
Most of the mechanicals in the Outback Wilderness carry over. Subaru's 2.4-litre turbocharged Boxer four-cylinder engine still puts out 260 horsepower and 277 pound-feet of torque, a CVT is still the only transmission you can get, and of course, all-wheel-drive is standard. But Subaru has touched a lot of other things: first and foremost, the Wilderness gains about an inch in ride height, bringing total ground clearance to 9.5 inches — almost on par with a base Jeep Wrangler and Toyota 4Runner. It also receives some transmission and other gearing tweaks for improved off-road performance, and the 18-inch satin black wheels are wrapped in Yokohama all-terrain tires — with white letters!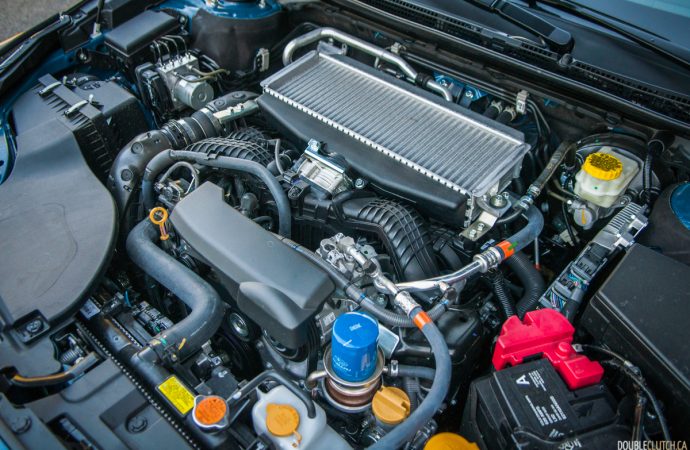 It's promising on paper, and in practice, it comes together quite well. Love it or hate it, the Outback Wilderness is still a Subaru: the Boxer four sounds gruff and grumbly the more you wring it out. Throttle response isn't particularly sharp, either; mash the go-fast pedal off the line, and between the CVT and a slight hint of turbo lag, the Outback seems to take a moment before it realizes you want to go fast, then sling-shotting you forward. The automatic start/stop system isn't particularly smooth, either, sending a jolt into your posterior every time you pull away from a stoplight.
But unlike most other sport-utes gussied up with off-road bits, the Outback Wilderness is rather easy to live with on a daily basis. There's plenty of shove for merging and passing, wind and road noise are almost non-existent on the highway, and around town, the suspension and comfort-tuned chassis soak up the rough stuff quite well. Only the nastiest bumps and potholes will disturb you, and even then, it's more of a distant thump rather than a teeth-gnashing thwack.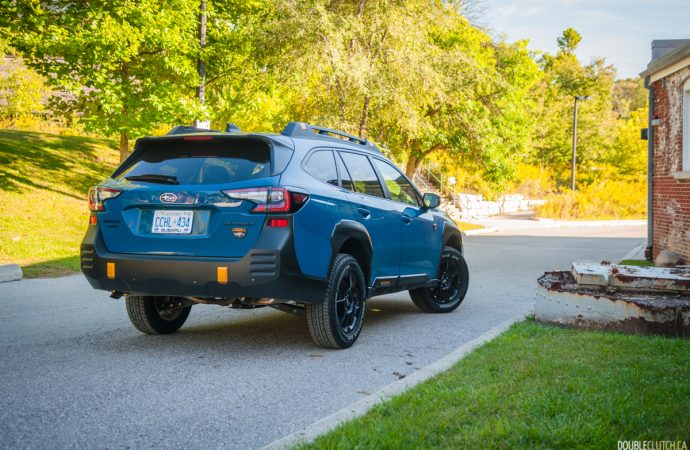 Fuel economy is what you'd expect. Officially, the Outback Wilderness is rated at 10.9L/100 kilometres in the city and 8.9 on the highway. After a week, we saw the trip computer settle at 10.4L/100km — not bad, considering it's a jacked-up and not-particularly-light sport-ute with full-time AWD. The Wilderness isn't as hardcore as other showroom-fresh off-roaders like the Wrangler or 4Runner, but it's considerably more comfortable on pavement, where these things will actually spend most of their lives.
In addition to the wheels and tires, lift kit, and gearing tweaks, the Outback Wilderness receives a handful of functional but also cosmetic extras. There are a few extra skid plates underneath protecting the engine, transmission, and rear differential, along with some extra body cladding and redesigned front and rear bumpers that allow for improved approach and departure angles.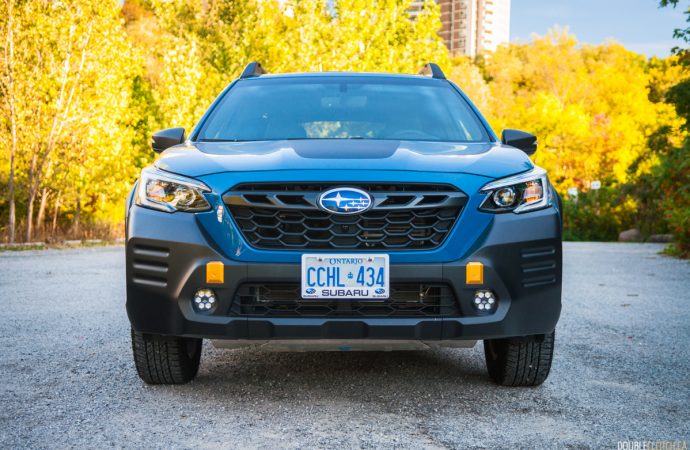 The fixed roof rail design is unique to the Wilderness, too. Upside? They can hold up to 700 pounds when you're parked, so you can pitch a tent on the roof and sleep a little closer to the stars while living out your overlanding fantasies. Downside? You lose the clever and oh-so-practical flip-out cross bars from the standard Outback. 
Rounding off the visual tweaks are some gold accents all around, a honeycomb grille, blacked-out exterior trim and a matching hood decal, and a new-for-2022 colour called Geyser Blue. Say what you will about the oddly shaped body cladding and gold accents, the Outback Wilderness certainly stands out in a Costco parking lot.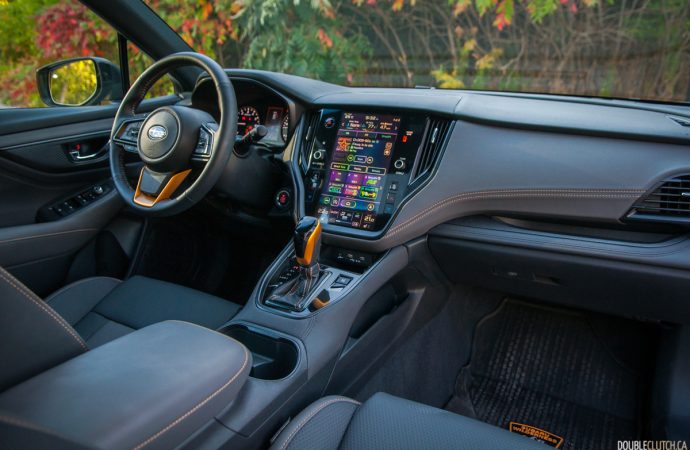 Inside, it's exactly what you'd expect. Okay, fit-and-finish and material quality is decent at best, but it's certainly an improvement over previous Outbacks. And so what if the power seat motors make a bit more noise than you like? Does anybody buying a Wilderness really care? Probably not. Get a Lexus if you really care about that fluff. 
Instead, the Outback Wilderness makes good on its outdoorsy promises with excellent visibility all around, plenty of passenger space, and some more unique touches, like water-resistant upholstery and a smattering of Wilderness logos — including a couple of tacky ones on the door panels. Cargo space punches in at 920 litres with the rear seats up, expanding to a generous 2,144 folded flat.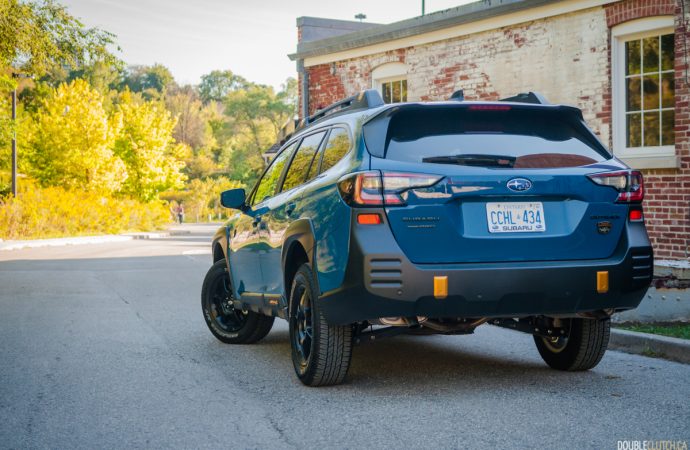 On the tech front, the Outback Wilderness comes standard with Subaru's suite of active safety nannies, including blind-spot monitoring, lane-departure warning, and adaptive cruise control, among other assists that all work together quite well, if you don't mind the incessant beeping when the adaptive cruise control is active and someone changes into your lane. It also includes a smarter version of X-Mode, Subaru's suite of off-road assists that supposedly make venturing off the beaten path less of a nail-biter. 
But the one tech niggle we'll keep bellyaching about is the infotainment. Subaru's Starlink system is a fairly responsive and intuitive system, but the execution in the Outback (and Legacy) could still be better. The portrait-oriented 11.6-inch touchscreen has been improved a bit from when the Outback first launched, but it can still become bogged down and most climate controls are still buried in virtual sub-menus, save for the temperature and defroster functions. Fortunately, Apple CarPlay and Android Auto are still standard, and they've been reworked to make better use of the digital real estate.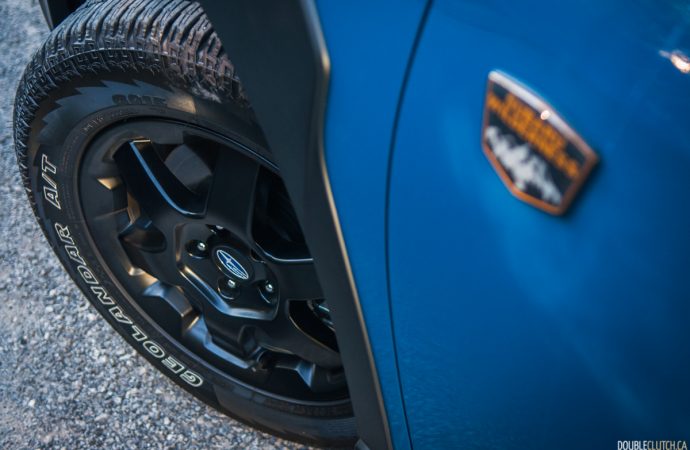 At $41,995 — roughly a $2,000 jump over the Outdoor XT it replaces — the Wilderness slots in towards the top of the Outback lineup. Hardly pocket change, but it occupies a relatively untapped middle ground, undercutting more capable (and expensive) factory-fresh off-roaders and offering more capability than most other soft-roaders, all in a package that feels a bit more special than your run-of-the-mill Outback. The 2022 Subaru Outback Wilderness may be the first of its kind for Subaru, but it certainly won't be the last.
See Also:
2019 Volvo V60 Cross Country T5