Subaru is well known for their all-wheel drive systems and horizontally-opposed four-cylinder engines. This combination has allowed Subaru to build a brand based on outdoor ruggedness and sporty handling leveraging their success in the World Rally Championship to solidify their image. Since parting ways from WRC, Subaru has built its brand to be synonymous with safety. The 2020 Subaru Legacy Premier GT we have is an exemplary specimen as to why Subaru has gained this status; its emphasis on safety is unquestionable.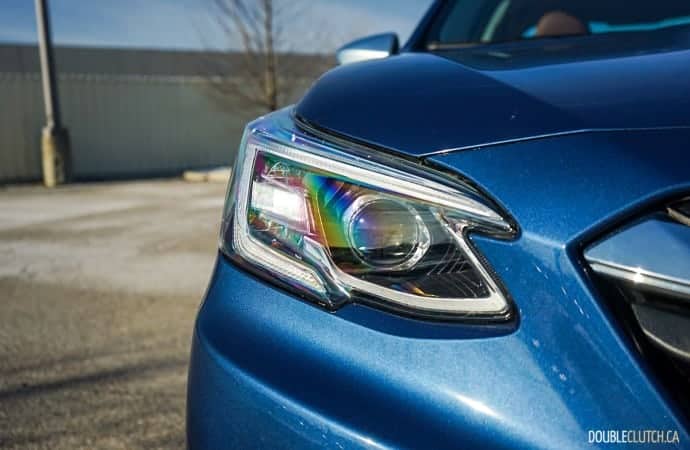 Subaru has never been known for vehicles that break necks for styling, using very simple and inoffensive designs. The 2020 Legacy is no exception; even though it's a completely new generation, it looks like a mild facelift compared to the 2019 model. The headlights, grill and taillights are reshaped for a sleeker and more sophisticated look. Our tester is painted in an Abyss Blue Pearl, perfect if you want to blend right into your surroundings. The hood scoop previously seen in previous high powered Legacy models is no longer present. Any sign of sport or excitement has been stripped away from the design. The body lines are very clean and simple for a handsome but much understated look.
One of the more exciting updates to the 2020 Legacy GT is the return of the turbocharged boxer engine for the lineup. The FA24 is taken from the Subaru Ascent, which in theory means it should have plenty of extra grunt to power the much lighter Legacy. The FA24 is a 2.4-liter direct injected, turbocharged and intercooled flat-four good for 260 horsepower at 5,600RPM and 277 lb-ft. of torque between 2,000 and 4,800RPM. This engine produces good power and a very wide torque curve for excellent acceleration.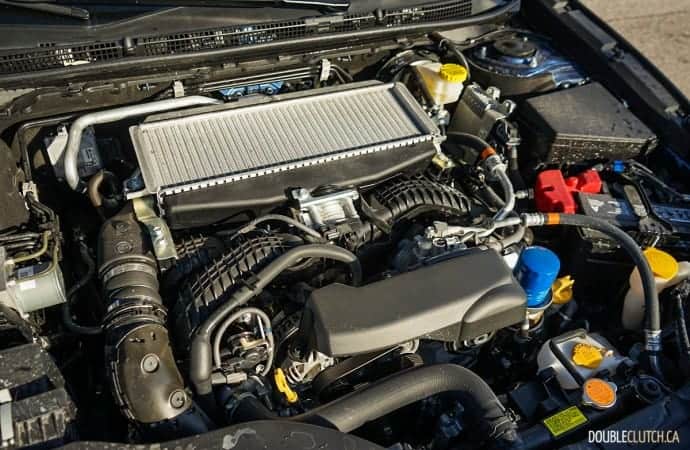 The wide torque curve also means high speed cruising behavior is excellent with great response for effortless overtaking. Even though the powerful engine is mated to a CVT, it does not hinder power delivery at speed. However, acceleration from stand is not very smooth as the transmission always drops to a lower cruising RPM even while still accelerating to speed. For more control, drivers have the option to use the paddle shifters to choose between eight simulated gears.
The reason behind going from a 3.6-liter flat six cylinder to a four-cylinder turbo is naturally efficiency related. By employing the turbocharged engine, the Legacy is able to achieve impressive fuel ratings for its performance. It is rated at 9.9L/100km city and 7.3L/100km highway, for a combined 8.7L/100km consumption rating. During our week of testing we were able to observe an average consumption of 10.9L/100km; still very good considering the cold conditions and wholly city driving.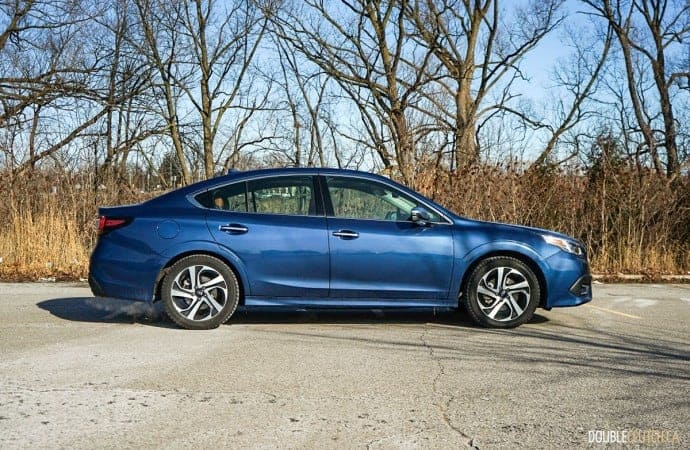 Even though the 2020 Legacy looks like it was a mild refresh from the exterior, you can tell a lot has changed since it is now built on the Subaru Global Platform. This new platform improves chassis rigidity for better handling and improved refinement. The Legacy does handle very well with light but positive steering. High-speed stability is excellent; the car handles better as you get up to highway speeds. You can take on-ramps with great confidence feeling the low center of gravity the boxer engine enables. Overall the car feels nimble and light on its feet, which is not a comment that can be made for most of the midsize sedans on the market. It makes for very effortless driving in the city and confidence inspiring at speeds.
The Legacy also inspires a lot of confidence and makes you feel safe in the worst of conditions. It uses a new Active Torque Split All-Wheel-Drive system which focuses on easy of operation, reliability and efficiency. The system operates with a standard 60/40 torque split using a multi-plate transfer clutch. The EyeSight safety system not only monitors outside with adaptive cruise control, pre collision braking and throttle management, as well lane departure with active lane keep. It also monitors the driver with Subaru DriverFocus to avoid distracted driving and monitor for fatigue. The Legacy casts a very big safety net around you.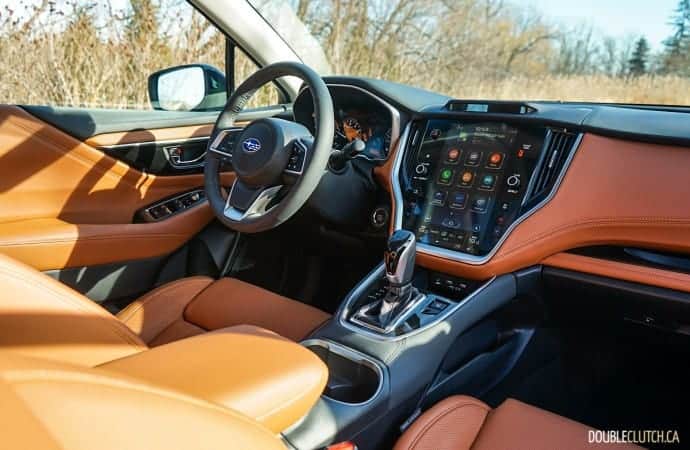 The interior of the Subaru is very spacious and comfortable. Driving position is excellent with lots of adjustability in both the seats and steering column so you can feel connected to the car. Rear leg room is adequate but definitely not class leading. You can fit three adults in the back with reasonable comfort for a short trip. Trunk space is excellent with a healthy 428-liters of cargo volume and a wide opening for easy loading.
Subaru has also up'd their game in the interior design of the Legacy especially in Premier trim. The doors and dashboard are all lined with soft touch plastic and leather surfaces with contrast stitching. Seating is also plush with Nappa leather with both heated and ventilated seats up front. The center console features a tablet style 11.6-inch screen. Connectivity is enhanced with Android Auto and Apple CarPlay. However all the efforts fall apart at the shifter console, where Subaru decides to use a big slab of black plastic for the shifter surround and the shifter. The use of low quality plastics in this crucial part of the interior negates the efforts put forth everywhere else.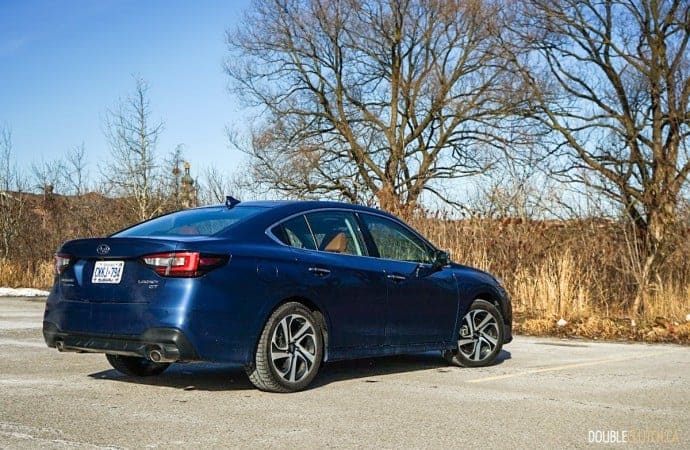 Our tester is the top trim Legacy GT Premier which is priced at $39,095. Pricing starts at as low as $26,395 for the entry-level model. The Legacy has always been successful in its category due to the advantage of all-wheel-drive. Now that the Altima priced at $35,098 (top trim) also offers this, and for 2020 the Toyota Camry has also added this feature. The Altima undercuts the Legacy with price point but also lacks a more powerful engine option. The Legacy is against extremely tough competition but still manages to carve out its own niche by focusing on its superior safety suite and more advanced all-wheel-drive system.
The 2020 Subaru Legacy Premier GT is an excellent option for the drivers who value safety above all. There is compromise in style and refinement but during a blizzard or any type of adverse weather, you will be very glad the Legacy is the one you chose as it inspires serious confidence. The Legacy GT is a tank tamed to become your day-to-day sidekick and bodyguard.

See Also:
2019 Nissan Altima Platinum
2020 Subaru Legacy Limited
2019 Toyota Camry XSE V6