You may not have noticed, but the Atlas has quietly been around since 2017 and has become one of VW's more successful models. To keep up with the competition, Volkswagen has given the Atlas — and its sibling, the Atlas Cross Sport — a major refresh that includes freshened styling and a new powertrain. Following a brief taste earlier this summer, we spent a week with a fully loaded 2024 Volkswagen Atlas to see whether it has what it takes to continue its sales success until a next-generation model arrives.
Donning restyled front and rear fascias, the 2024 Atlas looks much fresher than last year's model. While we do not consider the Atlas distinctive, it is handsome and the new lighting elements up front and out back offer a more premium, European look. The top Execline trim comes standard with unique R-Line styling cues and 21-inch wheels, for an additional dash of athleticism.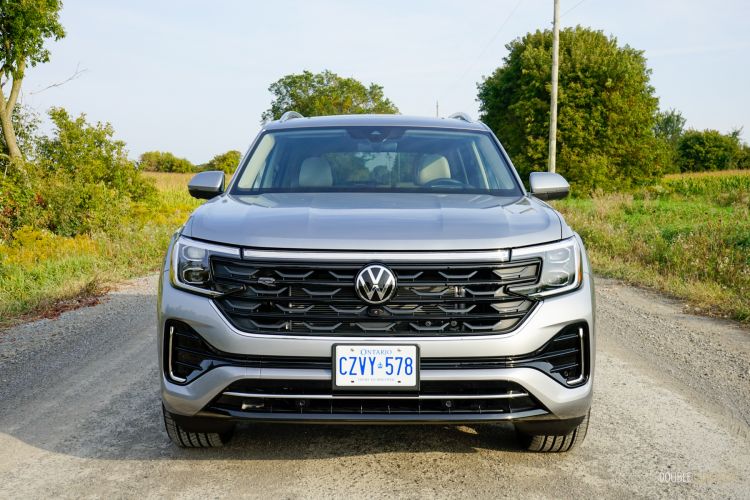 While the exterior styling remains largely unchanged, Volkswagen completely reworked the interior to incorporate more upscale materials and a cleaner layout. A 12-inch floating touchscreen display and ambient lighting offering up to 30 colour choices are now focal points. The new materials look and feel more upscale, and the Atlas now features wireless Apple CarPlay and Android Auto connectivity, plus wireless phone charging and up to eight USB-C ports with 45-watt fast-charging capability. The Atlas will definitely keep the kids charged up and entertained on those long drives up to the cottage.
We liked the look of dashboard's uncluttered design, but found usability undeniably hampered as most functions are now controlled by either the touchscreen or touch-sensitive panels. The lack of haptic feedback when using certain basic functions, such as volume and temperature adjustment, takes our attention away from the road. Plus, many commonly used functions — such as seat heating and ventillation, and changing audio sources — are buried inside the infotainment menu, although it is possible to set up shortcuts.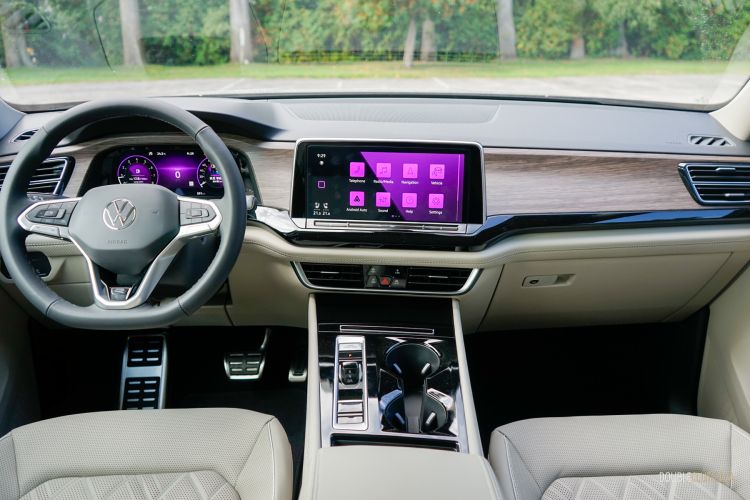 Infotainment aside, the interior of the Atlas is a pleasant place to be. It is plenty roomy throughout, especially with the optional captain's chairs. Cargo space is very generous for a midsize crossover, with 583 litres of space behind the third row, 1,571 litres behind the second row, and expands up to 2,735 litres with all rows folded. We enjoyed the comfortable seats — the fronts now features heat and ventilation across all trims, and heated rear seats are standard on the Highline. VW also updated their IQ.Drive suite of driver assists to be more comprehensive than ever; it can even drive itself semi-autonomously using the lane centering and predictive adaptive cruise control functions.
Another key update to the 2024 Atlas is that a new 2.0L turbo-four is now the only powertrain available. Yes, we are sad to see the creamy 3.6-litre "VR6" V6 engine discontinued, but the new engine is actually better-suited for this big and heavy family hauler. It's rated at 269 horsepwoer — seven less than the VR6 — but makes up for that with its peak 273 pound-feet of torque now arriving at 1,600 rpm — about 1,150 sooner.
This gives the Atlas much better get-up-and-go, especially cruising around in the city, and all Atlas models in Canada feature all-wheel drive, which most buyers deem essential for our winters. The only time when we really mourned loss of the VR6 was on the highway, as the turbo-four gives up some refinement, but we appreciated the extra punch everywhere else. For some, towing is an important aspect when considering a three-row SUV; the new Atlas' 5,000-pound towing capacity remains unchanged.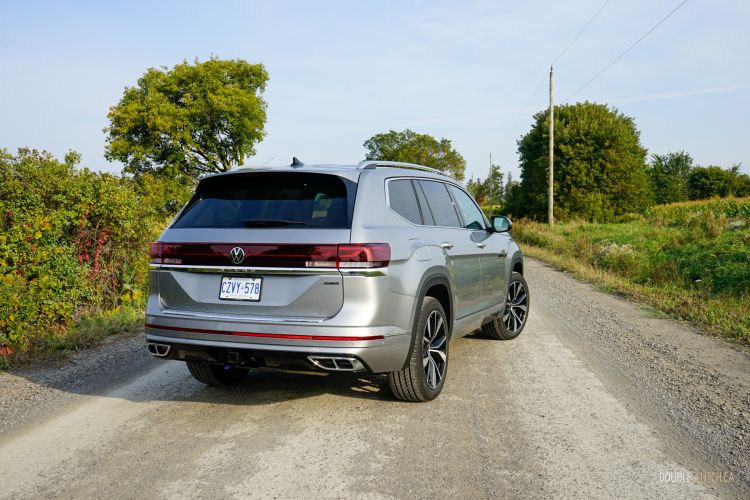 As with everything else in this segment, the Atlas prioritizes comfort over driving dynamics, which is absolutely welcome. The suspension setup is well-tuned to soak up most road imperfections, and unwanted noise is kept outside fairly well. Steering is light and easy, with little to no road feel — but again again, that is par for the course in this segment. There are various drive modes, but there is not meaningful differences felt between them.
Fuel economy is a key benefit in swapping the V6 for a turbo-four, rated 12.6 L/100 km city, 9.4 highway, and 10.8 combined. Those figures are improved across the board compared to the VR6, but our real-world figure for our week yielded a disappointing 12.7 L/100 km over mixed commuting. However, we chalk that up to the Atlas being well within its break-in cycle; expect that figure to normalize as it gets run in. Regular grade gasoline is accepted.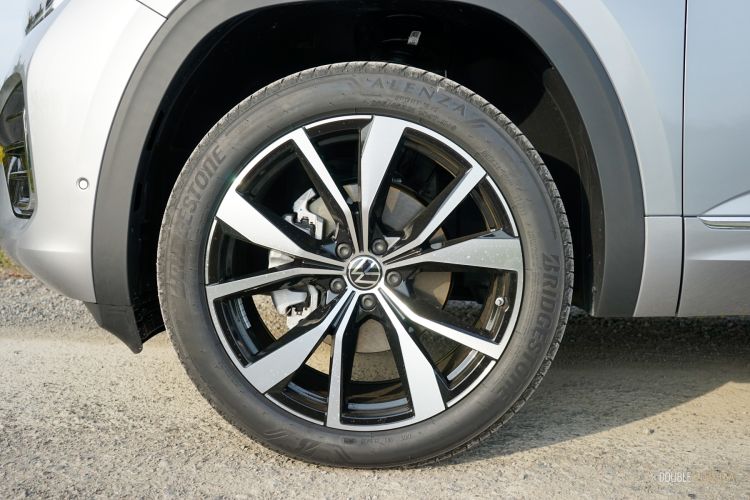 Pricing starts at $49,995 for the base Comfortline trim, and tops out at $59,995 for the top-trim Execline. Our as-tested total was $60,695, including $700 for the optional captain's chairs. The 2024 Atlas is on the high side of the segment, but still manages to undercut the new Honda Pilot and Mazda CX-90 by a few thousand. There is some value here, particularly if comfort and interior space are your main objectives.
The past two years have seen a steady flow of new or refreshed options in the midsize three-row crossover segment. Volkswagen obviously knows how important it is to keep the Atlas fresh until a fully redesigned model eventually arrives. This year's overhaul is not perfect, but the improvements are meaningful over last year's model and we expect the 2024 Volkswagen Atlas to stay successful in this ultra-competitive segment.
See Also