Let's talk about the choke. Not choke in the literal sense, but choke as most often heard in athletics. The defining characteristic of the choke that separates it from a garden variety bad play is the spectacularly bad timing of the choke, and the heartbreak that comes with it. It specifically is the failure to perform at a crucial moment. It can happen to anyone, even the titans of their respective fields, and it can happen any time. I say all this because I think the 2023 Toyota Highlander XSE AWD is an unfortunate example of this. 
The Highlander XSE we reviewed this week was more than a little disappointing, and we know Toyota can and routinely does perform better than this. It's just a shame that this very particular trim level of this particular model with this particular engine is such a let down, and it's come at a time when Hyundai/Kia have been really knocking it out of the park with the Palisade/Telluride, Jeep has been raking it in on the Grand Cherokee, and Mazda is doing well with the CX-9 and poised to score big with the upcoming CX-90. The Highlander was already in a field with fierce competition, and their updates for 2023 to keep it in competition have put them on the back foot.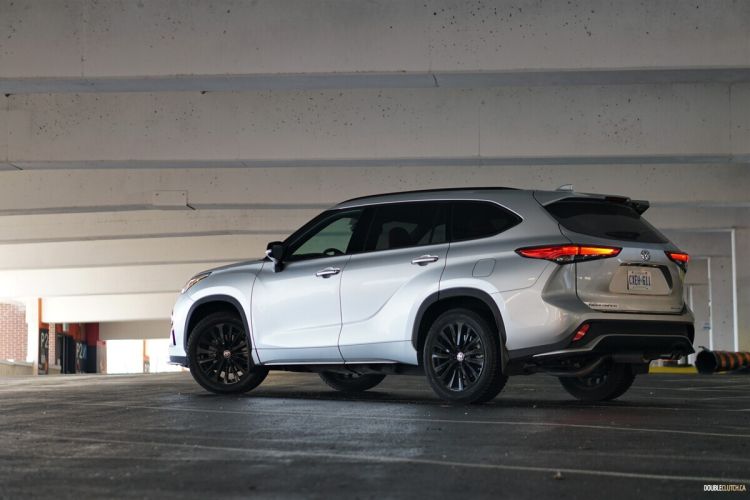 This sport trimmed model was picked to highlight Toyota's new 2.4-liter turbocharged four-cylinder engine, which replaces their venerable 3.5-liter V6 that's been serving dutifully for ages. In my recent review of the Hyundai Palisade, I praised it for avoiding "characterless turbo-four engines that sacrifice performance and refinement for false efficiency." This is a perfect example of that new and improved engine that meets targets on paper, but fails to impress on game day, producing 265 horsepower, some 30 fewer than the outgoing V6. 
Being a boosted mill, there is some noticeable midrange punch that wasn't there before, but it's accompanied by a surprising amount of torque steer and an agricultural mechanical clamor that's… unpleasant. Any efficiency gains from this motor are modest at best, as we averaged 11.5 L/100km in our testing, about on par with what the elder V6 could do, but it felt and sounded so much better doing it. This doesn't seem like a great trade to us, and hopefully for Toyota's sake it'll avoid the teething pains that have affected (a small amount of) their other new turbo engine, as seen in the Tundra pickup.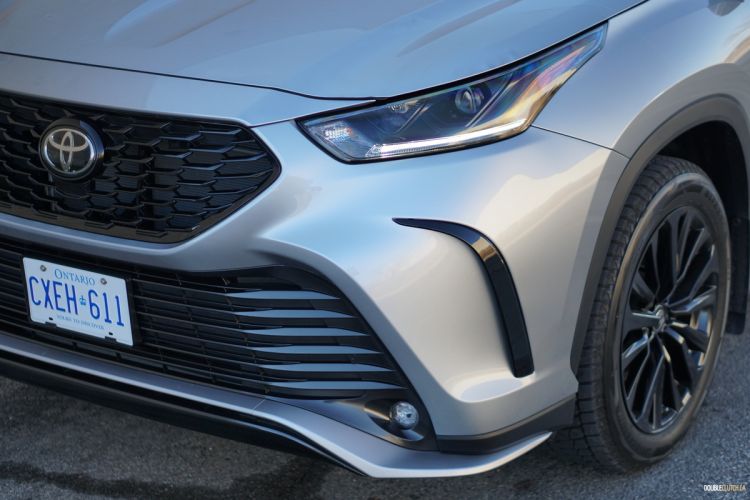 Speaking of improvements that fail to improve, Toyota's new UI that we've praised in the Tundra has been rolled out here, but in our XSE, it's handicapped by a relatively small, eight-inch screen. It lacks the tuning knob and physical buttons of the old system, and also the digital real estate of the more upscale version we've already sampled, sadly being a worst-of-both-worlds that can be frustrating to use. I can't comment on the navigation system, as that subscription wasn't activated on our tester. I'm going to assume Toyota's banking on your use of the standard wireless Android Auto/Apple CarPlay, because it otherwise feels like it's not ready for the big leagues yet.
While the Highlander XSE subscribes to a sporting motif, that subscription probably wasn't activated on our tester, either. The "sport tuned" suspension just barely controls body motions, often leading to a wallowing effect that'll freak out the stability control at the slightest jostling; even an abrupt lane change will get that light flashing and trying to cancel the play. The new turbo engine fails to engage even with its added low-range muscle, and we found it was a player we tried to keep on the bench as much as possible. I left it in eco mode and counted on the eight-speed automatic to shift early and keep the noise down. Otherwise it's quiet and comfortable enough on the road.
To be clear: the XSE specifically is the only trim of Highlander that's really missed the mark. It's pitched with "sporty & dynamic styling," and said styling, which is mercifully unique to only this trim, seems misguided. Every trim above and below is more reserved, with only the XSE being  garnished with a protruding center grille, and a massive gaping maw below it. Our sport model was also dressed with black 20-inch wheels and blacked out trim, which would look good were it not for the overwrought facade. Toyota's well known for their conservative plays, and I can't for the life of me imagine why they spent the money to re-tool an assembly line for just this one trim level.
Inside, our XSE was dressed with two-tone bright red and black leatherette trim and garnished with faux carbon-fibre around the dashboard's large center pod. The seats are comfortable and reasonably supportive, but the screaming bright red seems out of place here. The second row captains chairs offer decent adjustability, but rather critically are incapable of folding flat. They only tilt and slide forward, and they don't lock, so if you leave them tilted for added space, they'll move around and distract you when you're on the move. The third row is really meant as a last resort, and should probably be folded and kept down as it severely compromises cargo capacity.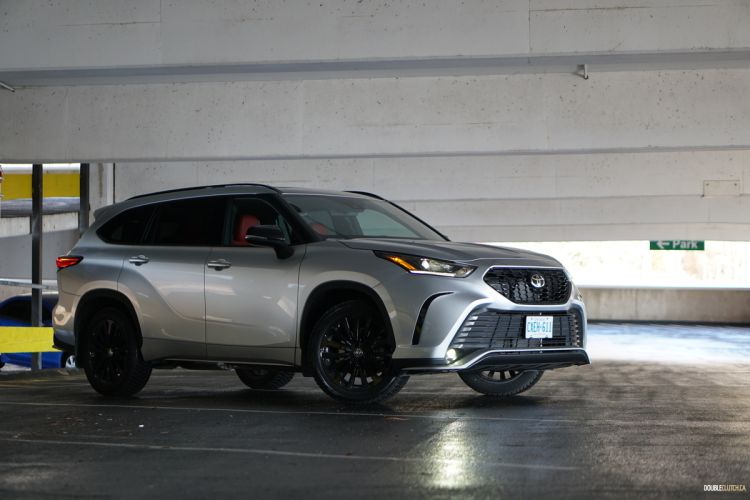 If it sounds like I'm disappointed, it's because I am. This choke is not a fair representation of what Toyota is capable of. This XSE trim focuses on all the wrong things, with it's unbecoming faux athleticism, and tragically dreary engine. The base Highlander sheds the unsightly styling and immediately gets a huge leg up, and more loaded Highlanders add the much more useable 12.3" touchscreen, and the optional hybrid powertrains are quieter, slicker, and more efficient. This new turbo engine lacks merit over the hybrids or the V6 it replaces, and anyone looking for its added power should probably just look elsewhere altogether.
The Mazda CX-9 is much more attractive inside and out, feels like a premium product, and is much better to drive; the CX-90 should be even better still. The Hyundai Palisade trades some of that driver-centric goodness for much more capability and practicality, with more interior room and cargo space than either, a much more well thought out cabin space, and more refined driving experience. For $50,650, our 2023 Toyota Highlander XSE AWD still represents a decent value, but when compared against its competition, or literally any other of its own teammates,  it struggles to justify its spot on the team.
See Also:
2023 Hyundai Palisade Ultimate Calligraphy