The luxury truck game is a difficult business to explain. The idea of taking a pickup truck, which for many years was little more than a tool, and loading it up with a smorgasbord of bourgeois decadence while deliberately maintaining the rough and tumble attitude of a proletariat work truck is a little baffling. For the longest time, Toyota's Tundra, in typical Toyota fashion, has avoided the upper crust frills in favor of more pragmatic, working class ideals. The new for 2022 Toyota Tundra Capstone throws that out and goes right for the heart of the ownership class, and the result is a fascinating blend of blue-collar charm and white collar decadence.
The Capstone has no qualms about proudly announcing its luxurious intentions, swaggering up with a generous amount of chrome, big 22-inch wheels,  and walnut accents, and divisive white leather. A lot of people will say donk rims and white leather have absolutely no business being anywhere near a job site vehicle, but then again that's not who this is for. This is the developer's truck. It's better suited to moving their family in comfort and towing a boat on the weekends, rather than moving job site materials and the sweaty laborers on payroll – this truck has to be kept clean for ferrying clients to new properties.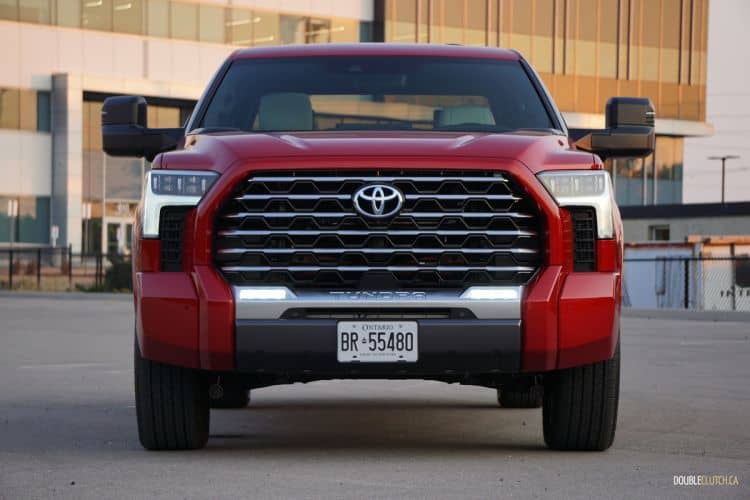 It's a handsome truck that neatly tows the line between opulent and ostentatious. It's adorned with lots of chrome, but its body colored grill surround saves it from being too much. The running boards are black, rather than chrome, and they neatly tuck away automatically for a slicker look and better aerodynamic efficiency. Our tester's gorgeous Sonic Red metallic paint perfectly encapsulates the classic "big red truck" look without being too on-the-nose. Our only sticking point on the style side is the massive wheels; they're too busy, and the low profile Bridgestone tires look just a hair too small.
Climbing inside the Tundra reveals a stunning cabin that is an honest-to-god masterstroke of practicality and luxury. It uses two-tone white and black surfaces, tied together with metallic trim and icy blue accent lighting, and then warmed up with matte walnut laminate trim gives it a striking, modern style that's still unmistakably truck-ish, and stops short of being too fancy for its own good. I'll usually be first to say white leather is a terrible idea in any vehicle and especially so in something that's supposed to be utilitarian, but Toyota's been fairly smart about it, and the result looks like a million bucks.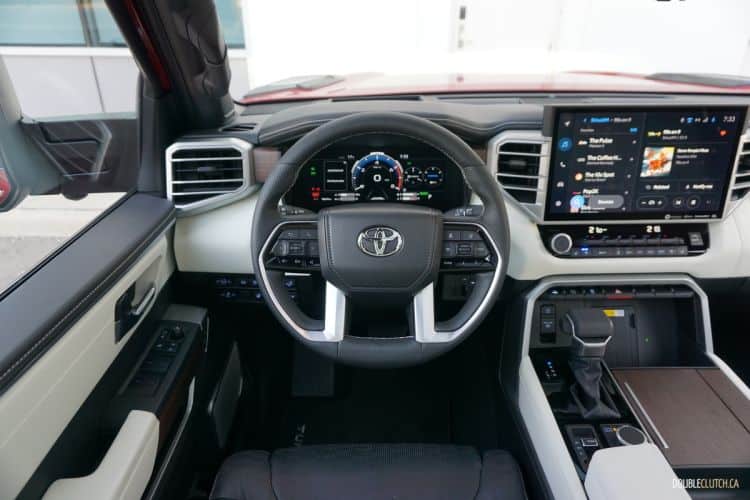 The bottoms of the seats and the steering wheel that will see the majority of wear and discoloration are black, and Toyota's semi-aniline leather has proven to be very durable (read: scrubbable) when something inevitably happens to the white armrests. In typical Toyota pragmatic fashion, the white leather trim pieces on the doors and center console are easily replaceable if that coffee stain just won't come out. 
The Tundra's cabin is awash with storage, cubbies, cupholders, and charging ports of every kind, too, and as you'd imagine, space is thoroughly abundant in every dimension. The massive panoramic sunroof and vertical sliding rear window make for a uniquely airy, open experience, like one of those open concept homes that this will probably be parked in front of.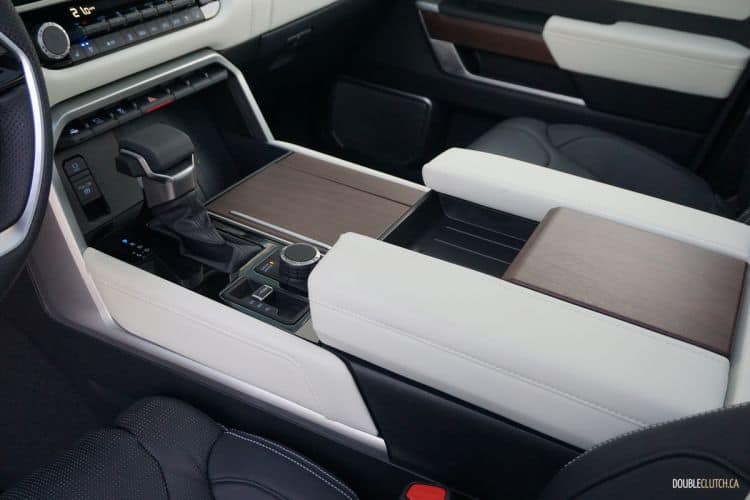 There's more smart pragmatism too, as the Tundra employs large, easy to see buttons and dials for every core function, with only a tuning knob being left out. Perhaps the single biggest component of the Capstone's makeover is the 14-inch touchscreen infotainment system, augmented by a 12.3-inch digital gauge cluster and a 10-inch heads up display. All this screen real estate sounds like it'd be too much, but the Tundra's new UI software is a quantum leap over what we've seen in previous Toyotas. In one swoop, they've gone from one of the worst to one of the best. 
Toyota's newest software is brilliant. The displays are all razor sharp with excellent contrast, and everything is snappy in response and animations are smooth. It's immediately easy to jump into and understand, everything makes sense, everything works incredibly well, and it looks great. I personally appreciate its implementation of smartphone connectivity. It has wireless Android Auto and Apple CarPlay, but they've taken the rare step of understanding that some people (like this author) prefer not to use those, and have baked in nearly all of the functionality you'd want from them, seamlessly.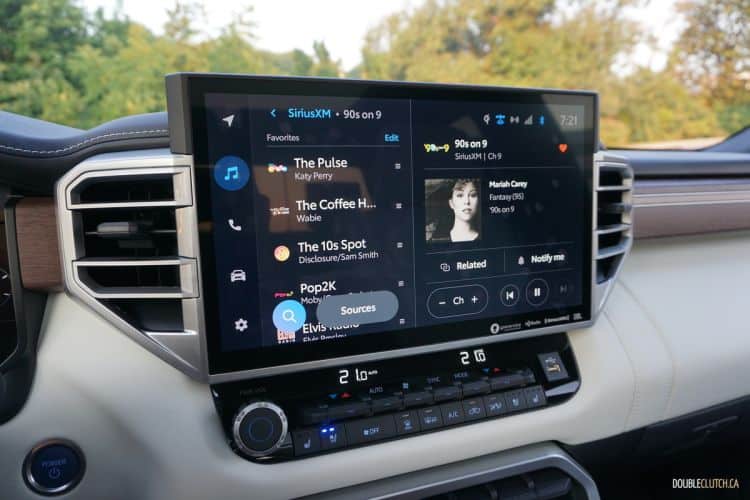 On the road, the Tundra Capstone drives incredibly well, so much so that we preferred it (by a sizable margin) over its much more costly Lexus LX 600 platform-mate that we reviewed a little while ago. The Capstone's coil rear springs and adaptive dampers pair with hydraulic body mounts to deliver an impressive ride that is unphased by anything. Chassis shudders and vibrations are an inevitability with any body on frame truck, and the Tundra's done a good job of isolating the cabin from that – which again, is a huge relief, because the LX 600 really disappointed us on that front. The Tundra, by contrast, is one of the smoothest trucks on the road.
The cushy ride pairs with acoustic glass, incredibly comfortable heated and ventilated seats and an excellent JBL sound system to make for a truck that's a pleasure to drive for many hours. All the driver controls feel organic and natural, and everything responds as you'd expect. The truck is armed with a litany of sensors and excellent cameras to help maneuver it in tight confines. Toyota's done a phenomenal job of making this incredibly easy and satisfying to pilot without letting you forget you are at the helm of a 6,000 pound behemoth. It's still very much a truck and it's all the better for it.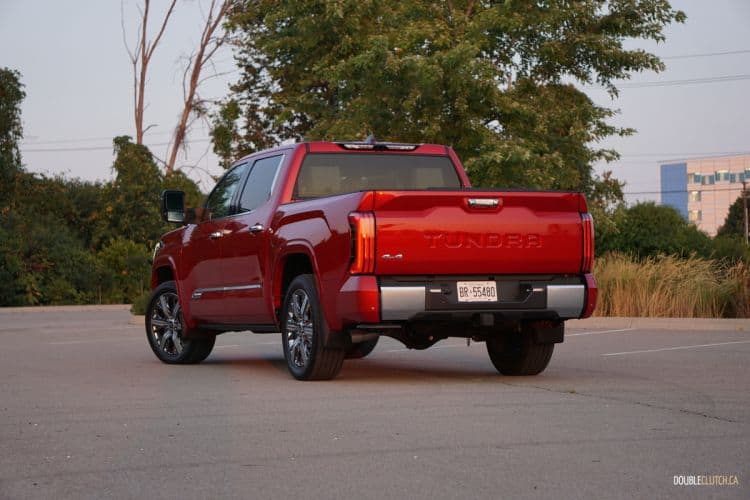 Toyota's new iForce Max twin turbocharged V6 engine and hybrid assist powertrain are incredibly impressive. Our testing saw an average fuel economy of 13.2L/100km; very frugal for  a three ton brick that can pull five tons more behind it. It's not just about raw numbers, although they are impressive with 437 horsepower and 583 foot pounds of torque on tap. Toyota's been doing the hybrid thing for longer than just about anyone and they are incredibly good at seamlessly blending the engine and the electric motor and its regenerative brakes together. Perhaps more impressive is how Toyota's made this feel like a normal, traditional pickup with a brawny V8 under the hood.
I'm completely serious about this: no one has ever been more successful at getting six cylinders to masquerade as eight. It's astonishing. It even sounds like a dead ringer for a V8 at lower engine speeds, with all the same thumping baritone warble you'd eimgxpect from a good old fashioned truck motor. The engine kicking on and off is so slick you probably won't notice it half of the time. From a stop light, the electric motor provides effortless low end grunt to get the truck rolling, at which point the engine will seamlessly fire up and the turbos will start filling in the rest of the torque curve. To call it a torque curve is a bit of an oxymoron, it's just a plateau, it's always on. This is all managed by Toyota's 10 speed automatic transmission, which there isn't a lot to say about – it was flawless with us. It does everything right. Period.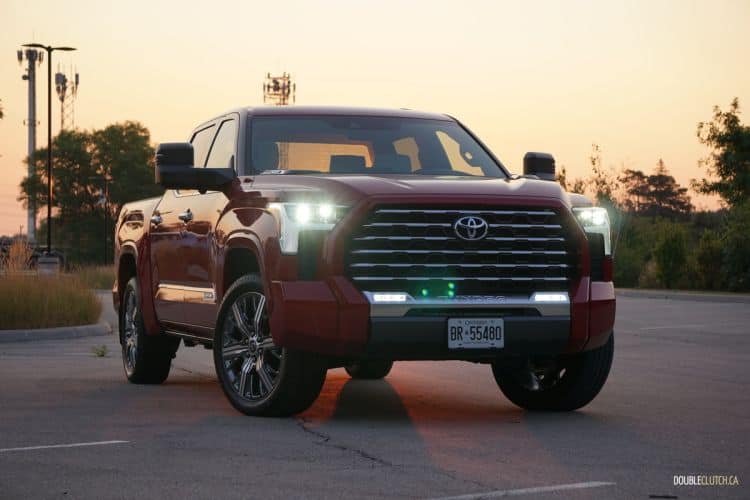 The whole package of the 2022 Toyota Tundra Capstone does everything right. It's handsome, it looks like the boss's truck without inspiring hostility amongst the underlings, it's impeccably put together, it's well thought out, it offers all the creature comforts you could ever want, everything works without flaw, it can do damn near any job you could ever think of, and it can make it all look easy.
At $84,150 before taxes and delivery (nearly a hundred grand out the door), it's a mighty tall order, but that is the cost of a truck that does everything right, and you'll probably write it off as a business expense anyway. This class of truck is about showing and knowing that you can do anything, you can do the job, but you don't have to. You're past that point. You have people for that now. You've earned the right to keep your white leather clean.
See Also:
2022 Toyota Tundra Double Cab Limited