The Jeep Grand Cherokee has a long history as a favorite here at DoubleClutch.ca. Regardless of generation or driveline, it's always been a solid choice for a capable, semi-luxurious, family hauler with great on-road dynamics. This latest generation is no exception, but now, Jeep has prepared to take the Grand Cherokee into the future with the first plug-in hybrid. The 4xe aims to combine traditional Jeep capability, Grand Cherokee comfort, and plant-friendly technology to deliver an uncompromised experience on and off road, as well as at the fuel pumps. To find out just how uncompromised it is, I spent a week with a 2022 Jeep Grand Cherokee 4xe Overland.
There isn't much to distinguish the 4xe from a regular Grand Cherokee, other than the 4xe badging, the charge port on the front left fender, and in Ontario at least, the green license plates. That's not exactly a bad thing as the Grand Cherokee is a handsome SUV to look at. I do find the C-pillar a little awkward, but the rest of the styling leans towards the conservative side with traditional Jeep cues and a tall straight beltline, with a stately look.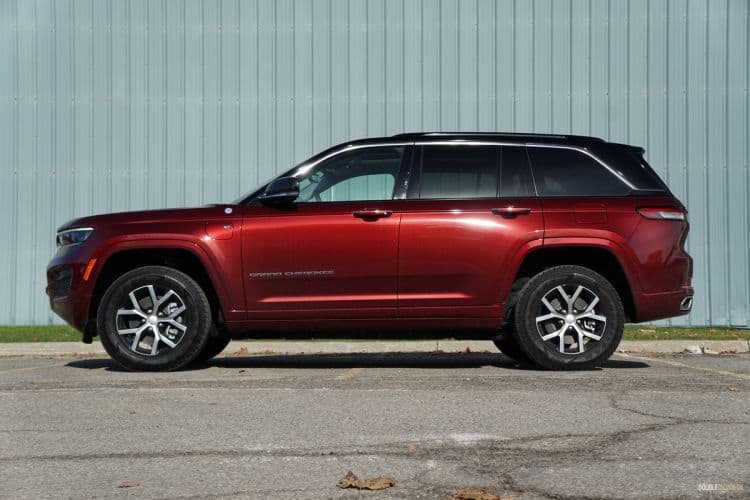 Optional ($995) is a gloss black roof, which was equipped on our test example. 20" alloys are standard on the Overland trim, but ours came equipped with the off-road group which comes with unique 18" alloys wrapped in beefy all-terrain tires. The off-road group ($1,095) also adds handy skid plates and the all important electronic locking rear differential.
The interior of the Grand Cherokee has always been a high point with quality finishes and logical, clean controls. The Overland trim adds to that a gorgeous set of heated and cooled Nappa leather buckets up front, and matching perforated heated leather bench in the back. Fun fact, cooled rear seats are available on the Summit and Summit Reserve trims. The Overland also features a nice stitched leather dash and door panels, panoramic sunroof, and an amazing sounding 19-speaker 950-watt McIntosh sound system.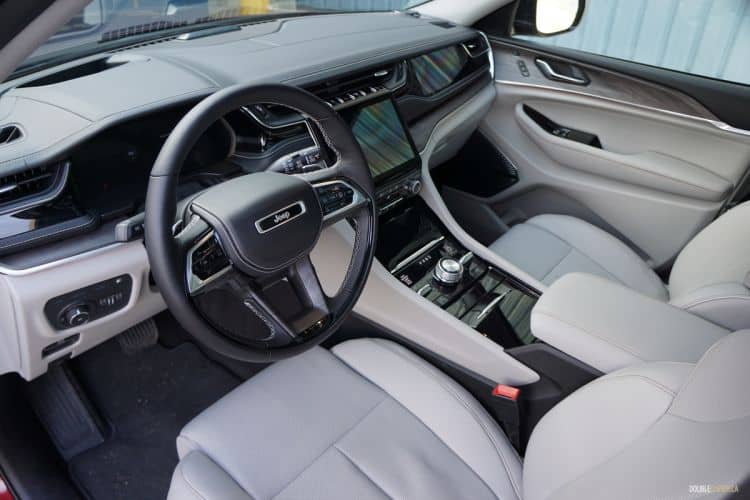 Aside from just looking good, the interior is quite practical with plenty of convenient storage up front thanks to deep door pockets and a very well designed center console with optional wireless charging pad. The Grand Cherokee is a five-seat two-row SUV, but a larger Grand Cherokee L is available if third row seating is a must – though it is not yet available with the hybrid powertrain. Head and legroom in the second row is excellent, and there's plenty of cargo space behind it for gear. We took the Grand Cherokee on a four-hour road trip with three adult passengers, and not a single complaint was made.
The technology inside the Grand Cherokee is quite impressive as well. One thing that stands out is an optional ($1,595) touchscreen in front of the passenger, which can adjust audio settings, set a destination, or even watch a movie, since the optical glass over the screen makes it impossible to view from the driver's seat. Of course, with the 4xe there's plenty of technology on board to monitor the efficiency of your drive, so you can keep tabs on battery charge levels, electric range, and a whole selection of driving stats.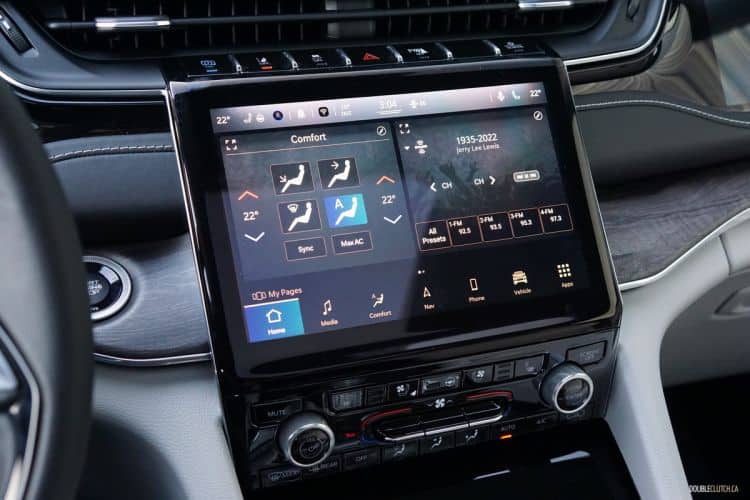 Additionally, the Grand Cherokee is available with the latest advanced safety systems; the Overland comes standard with forward collision warning and active braking, active lane management, blind spot and rear cross traffic monitoring, and more. Additionally, opting for the Advanced ProTech Group III ($3,295) adds additional high-tech features such as in-cluster navigation map, heads-up display, highway and active driving assist system, surround view camera, off-road camera and night vision with pedestrian and animal detection. While costly, there's a lot of cutting-edge technology, and the night-vision alone is a heck of a party trick; turning the digital cluster into a very detailed heat-sensitive night vision camera.
Traditionally, the Grand Cherokee has been available with the popular Pentastar V6, or the hearty 5.7-liter HEMI V8, both tried and true powerplants. The new 4xe hybrid system is a big departure in that regard. The system is comprised of a 2.0-liter turbocharged four-cylinder gasoline engine, and a 17‑kWh lithium-ion battery pack powering a eTorque belt-start generator/motor. The electric motor is good for 44 horsepower and the gas engine 270 horsepower. Combined, the total system is capable of outputting 375 horsepower at 5,250RPM and 470 lb-ft. of torque at 3,000RPM.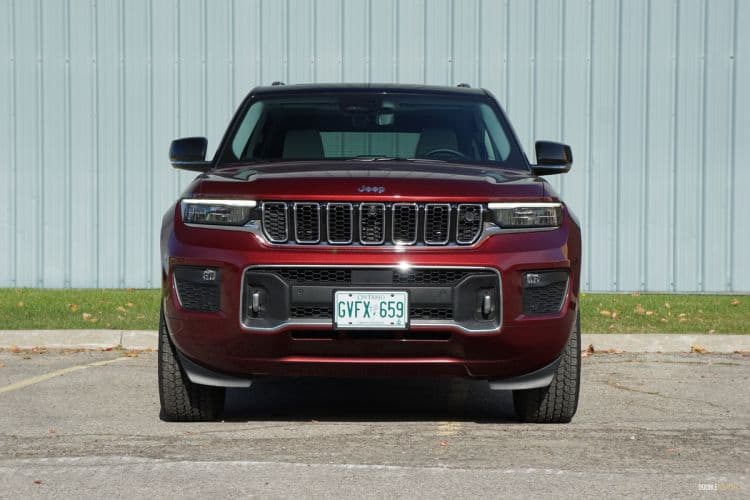 The kind of economy you can expect to see from a PHEV like this is entirely dependant on your charging and driving habits. The lithium battery alone is good for about 42 kilometers on a full charge, running the SUV on full electricity. If most of your driving is local, and you can charge frequently at home or at work, you may be able to get around on mostly electricity. If you take a lot of longer trips, or don't charge frequently, you'll be depending more on the gas engine, and that will obviously impact your economy.
The system has a few different modes ranging from standard 'hybrid' mode where it will automatically flip between electric and gasoline depending on driving style, 'electric' mode where the system will use full electric until the battery is depleted, or an 'e-save' mode which prioritizes the gas engine to save battery charge for later. Finally, there is a 'max regen' mode which will use regenerative braking whenever you let off the throttle to quickly slow the vehicle down, generating electricity back into the battery. This is more akin to how true EVs drive, and allows one to drive the Jeep with almost no use of the brake pedal.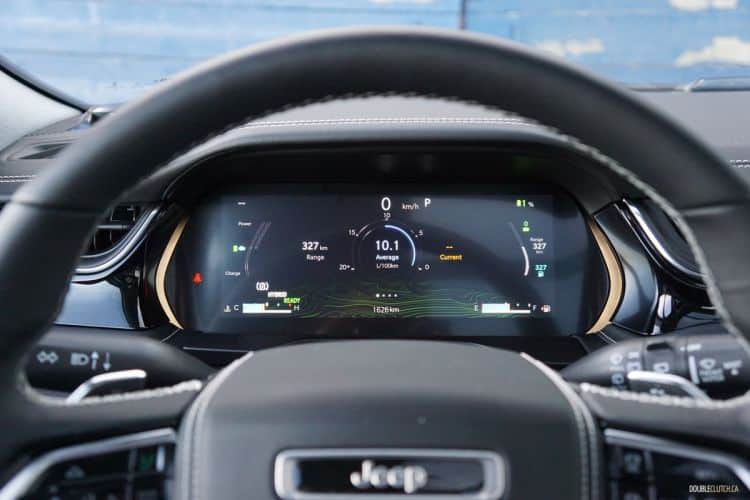 During my time with the Jeep, I took it on one long road trip without any opportunity to charge, plus a fair bit of in-town driving, with limited charging. This meant that at the end of the week I had an observed fuel consumption of 10.3L/100km. That's a great number for a mid-sized off-road friendly crossover, and not a very good number for a PHEV; but that's a reflection of my usage. If you're going to spend the additional money for a 4xe, my advice would be to make sure you're set up to reap the full rewards of the system by charging frequently.
The 4xe powertrain provides plenty of peak power and torque, maneuvers with authority and is rated to tow up to 6,000 pounds. In true Jeep fashion, it's also properly set up for use on the trail, especially when the Off-Road Group II is selected, finally confirming that driving a hybrid and having fun don't have to be mutually exclusive.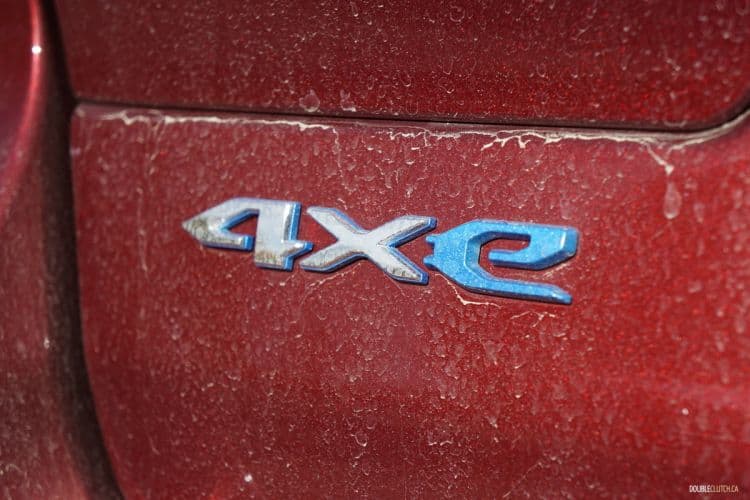 That said, there are some negatives to the 4xe, and that comes down to overall refinement. While it's generally a very quiet powertrain, when the gas engine does kick on and puts in work, it can be raspy, enough to intrude on the serenity in the cabin. The transitions from electric power to gasoline are not as smooth as some other hybrids, and the eight-speed automatic exhibits jerky downshifts while slowing down. While it's true that these are fairly minor faults, the Grand Cherokee platform is so serene and balanced that these little misses are a stark contrast to the rest of the experience.
On that note, the current Grand Cherokee itself is fantastic. Having loved the handling and ride characteristics of the previous generation, which was slightly sporty with weighted steering and a firm yet comfortable ride, I was disappointed with the latest Grand Cherokee L. It was much lighter on the road, felt disconnected and wallowed around. This shorter wheelbase model resolves that and feels tighter, sharper and better than the previous generation. The adjustable air suspension, standard on the Overland, is phenomenal and allows for flat cornering without compromise to the ride.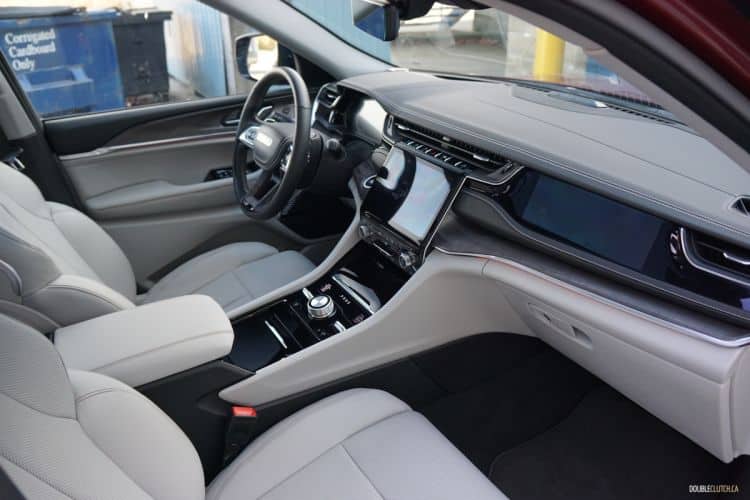 The Jeep Grand Cherokee 4xe is a pretty unique offering; a true PHEV powertrain, impressive handling and ride quality, a luxurious cabin, real towing and off-road capabilities, there's quite a bit to like here. That may be why it's far from a bargain. A base 4xe starts at $77,835, a steep increase over a standard Grand Cherokee's $54,740. An Overland like our tester rings in at $84,185. From there you can jump up to the Summit at $89,785 and the Summit Reserve at $91,490 – both of which offer fancier interior trims and features over the Overland.
Our tester got a healthy dose of options too, including the Off-Road Group II ($1,095), the Advanced ProTech Group III ($3,295), black roof ($995), front passenger screen ($1,595) and the Luxury Tech Group IV ($1,995). Interestingly, the Luxury Tech Group IV provides a big upgrade to the seating with massage function up front, 12-way adjustment and memory in both front seats, along with a short-list of other nice luxuries. Ultimately, our tester came to a total of $91,565, and at that price one would need to consider whether upgrading to the Summit Reserve would be a better option.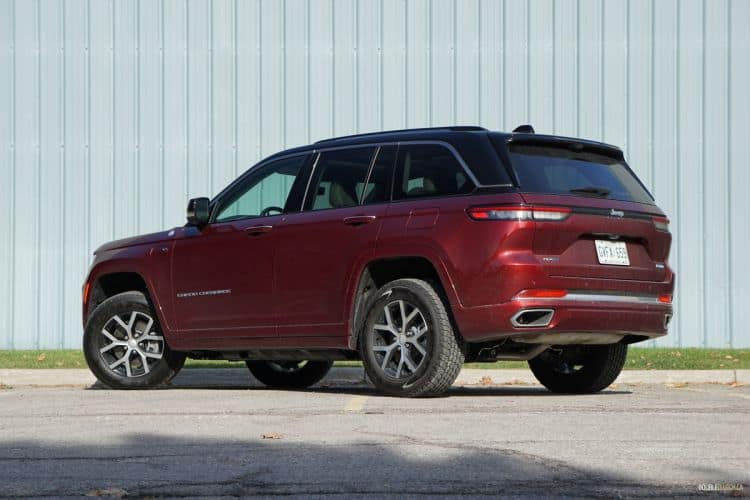 The bottom line here is that the 2022 Jeep Grand Cherokee 4xe Overland is really a class leading SUV, and a phenomenal platform. If the new PHEV driveline is of interest, be prepared to make some sacrifices in refinement, and to pay heftily for it. However, if it's the right fit for your lifestyle, or you live somewhere where the PHEV status comes with nice perks, it's a great option to have.
See Also: