Overlanding has taken the world by storm as people discovered automotive adventures as a means to get outdoors amidst the pressures of the pandemic. With special models and in some cases entire lineups, manufacturers are eager to fuel this hobby – think Subaru Wilderness, Honda TrailSport, Mazda Meridian, Toyota Trailhunter – even Lamborghini and Porsche are getting in on the action with the Huracan Sterrato and 911 Dakar. Nissan was quick to join the trend with the previous generation Pathfinder and now they have followed it up with the 2023 Nissan Pathfinder Rock Creek.
First sold as a body-on-frame SUV, in 2012 the fourth generation Pathfinder adopted unibody design more suitable for the civilized family hauler it had become. The fifth generation design suggests a return to its roots with more rugged styling. In our eyes the redesign does project a more off road capable aesthetic so that's a job well done.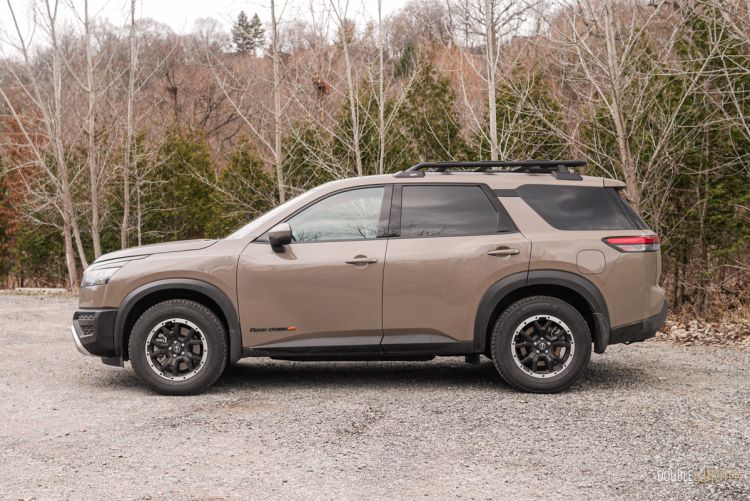 The Rock Creek gets a handsome unique front fascia with black accents and can be optioned out in a unique Baja Storm paint like our press vehicle. I generally like unique paint color options but this one didn't quite hit the mark, appearing too flat for my liking. While some of the manufacturer overlanding packages are more cosmetic, Nissan seems to have made an honest attempt at giving buyers some equipment they can really use. Judging by the size and number of emblems they are proud of what they have delivered.
Overlanding demands a lot of gear so Nissan has outfitted a beefy looking tubular roof rack with a weight capacity of 100KG, which should be sufficient for most roof top tents. 18-inch two tone wheels with beadlock styling are wrapped in 265-60R18 all-terrain tires. When combined with the 7.7-inch ground clearance (0.6-inches more than standard) they give the Rock Creek a more imposing stance and more off-road capability (although it would have been nice for the wheels to have actual tire beadlock functionality).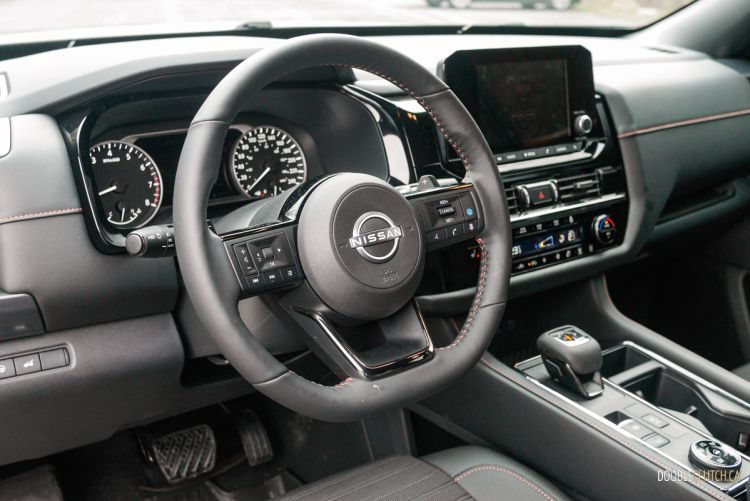 The interior is upholstered with a weather resistant leatherette, sporting unique orange stitching and Rock Creek logos. It's a smart looking interior with soft touch areas abound and should be easy to keep clean. We really like the steering wheels Nissan is using in all their new models as they have a unique cross section that feels great in hand. The wheel is heated, though we wish the button to activate it was on the left side of the dash instead of the right. The seats are plush and supportive with three levels of heating which kept us comfortable during long trips and while stuck in traffic.
Pathfinders come standard with an eight-inch touchscreen with multi-touch along with a six speaker audio system – it's nothing exceptional but functional and on par with the competition. The Rock Creek is equipped with Nissan's Intelligent "Around View Monitor" and front sonar which come in handy both off road and during tight parking scenarios, though the cameras could do with a bump in resolution.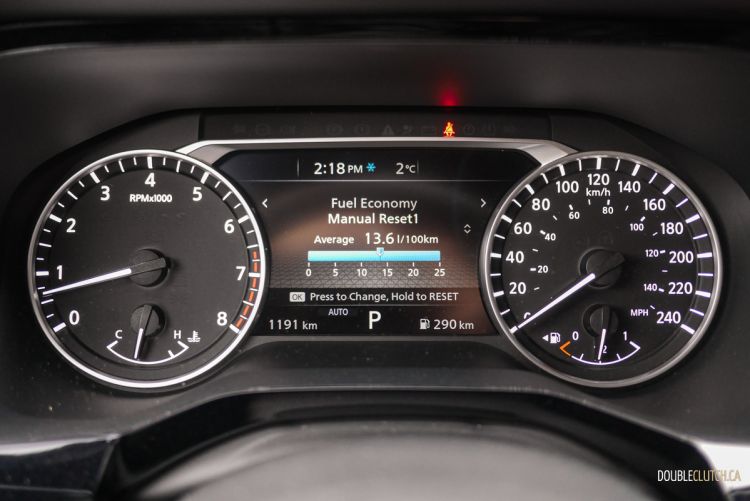 Under the hood of the new Pathfinder we still find the normally aspirated 3.5-liter V6 first introduced in 2017, though in the Rock Creek it is pushing 295 horsepower and 270 lb-ft. of torque (versus 284 and 259 in other grades) when running premium fuel thanks to some fancy engine mapping. It's enough grunt to move the Pathfinder without feeling sluggish like some of the other V6s in this segment (and makes a good sound to boot!) but that may have more to do with the nine-speed automatic by ZF.
By adding gear ratios the automatic has all the flexibility and fuel economy of a CVT, but offers a much more traditional driving feel especially when selecting your own ratios with the paddle shifters, hence giving the driver more control of the engine RPM. The transmission shifts smoothly, is worlds better than the CVT it replaces, and should offer more reliability under heavy loads while towing or off-roading.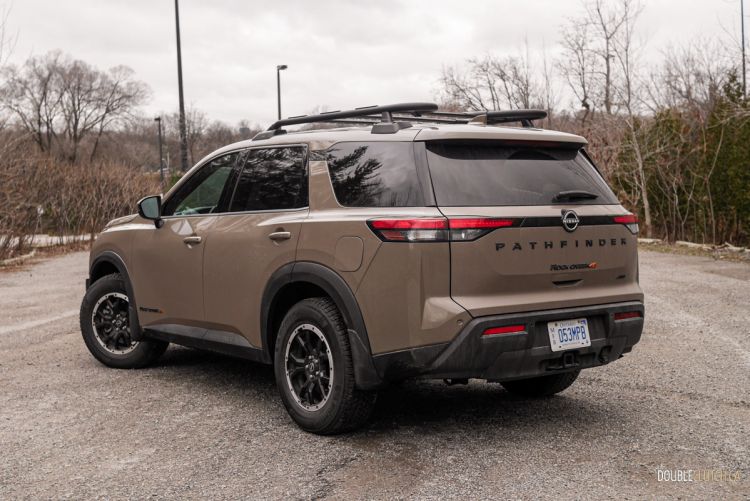 The driveline has some modern amenities including the Intelligent 4X4 system which automatically controls torque distribution between the front and rear wheels for easier cornering, and seven terrain modes to better tackle things like mud/ruts, snow, sand and towing. Like many others in the segment it has an idle engine start-stop feature, but in our experience it wasn't really worth using. The system disables auto climate control and only saved 68 ml of fuel with a total of four minutes of idle time according to the in-dash display.
One of the areas where the Pathfinder has a potential advantage in the segment is fuel economy being rated at 11.6L/100KM city, 9.2L/100km highway and 10.5L/100km combined. The Rock Creek's extra weight, ground clearance and all-terrain tires hurt economy slightly at 11.9, 10, and 11.1 respectively. Our actual fuel economy was 13.6L/100KM which is pretty average for the segment, though we did have a trip or two as low as 8.8L/100km so better fuel economy is theoretically possible depending on use.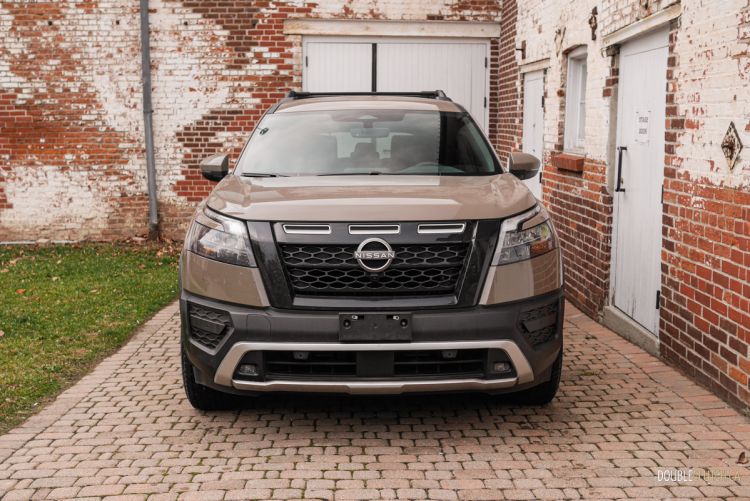 Nissan has outfitted the Rock Creek with tuned suspension and steering designed for off road driving. For street driving we found the suspension on the firm side from a comfort perspective but to its credit bumps did not have much effect on the chassis and direction of travel. Body control during cornering isn't great as the Pathfinder seems to wallow around before settling down and changing direction.
On the street the electric power steering is so unnatural it's hard to believe. Initial turn in is ok, but if you need to make any mid corner adjustments or emergency swerving the Rock Creek makes this a butt clenching experience. The more we turn the lighter the steering feels, almost like when you hit a patch of black ice or hydroplane and your front wheels have lost traction. This is especially disappointing after recently taking the Nissan Frontier and Armada for a spin, making us wish the Pathfinder could also adopt the excellent hydraulic assisted systems there.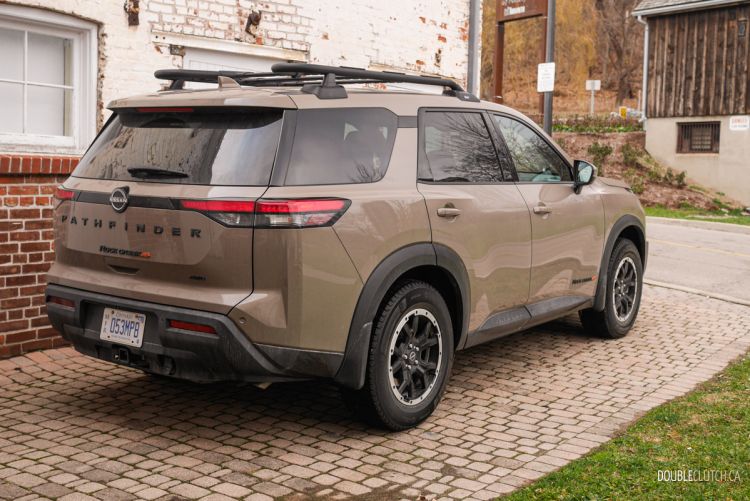 The base Pathfinder S starts at $45,998 and while this is a big jump compared to the previous generation it is competitive in the segment given all the improvements in style and capability that have come in this latest generation and the current economic climate. Our 2023 Nissan Pathfinder Rock Creek carries an as-tested price of $52,669 and adds a significant amount of equipment for the extra cash. If buyers are not actually intending to try their hand at overlanding we recommend one of the other grades for a better street driving experience.
See Also: