As many of our loyal readers know, the automotive industry operates on trends. Sometimes these ideas stick around long enough to change the industry as a whole, and sometimes they are mere fads that spread quickly but fade even faster. The latest trend is one we have seen before – raising the ride height and adding plastic side cladding. – We are seeing popularity rise once again thanks to the Subaru Outback Wilderness and the upcoming Mazda CX-50. In response, Honda is launching a rugged TrailSport trim for two of its bestselling SUVs. We borrowed the 2022 Honda Pilot TrailSport to evaluate its appeal in frigid Canadian winter.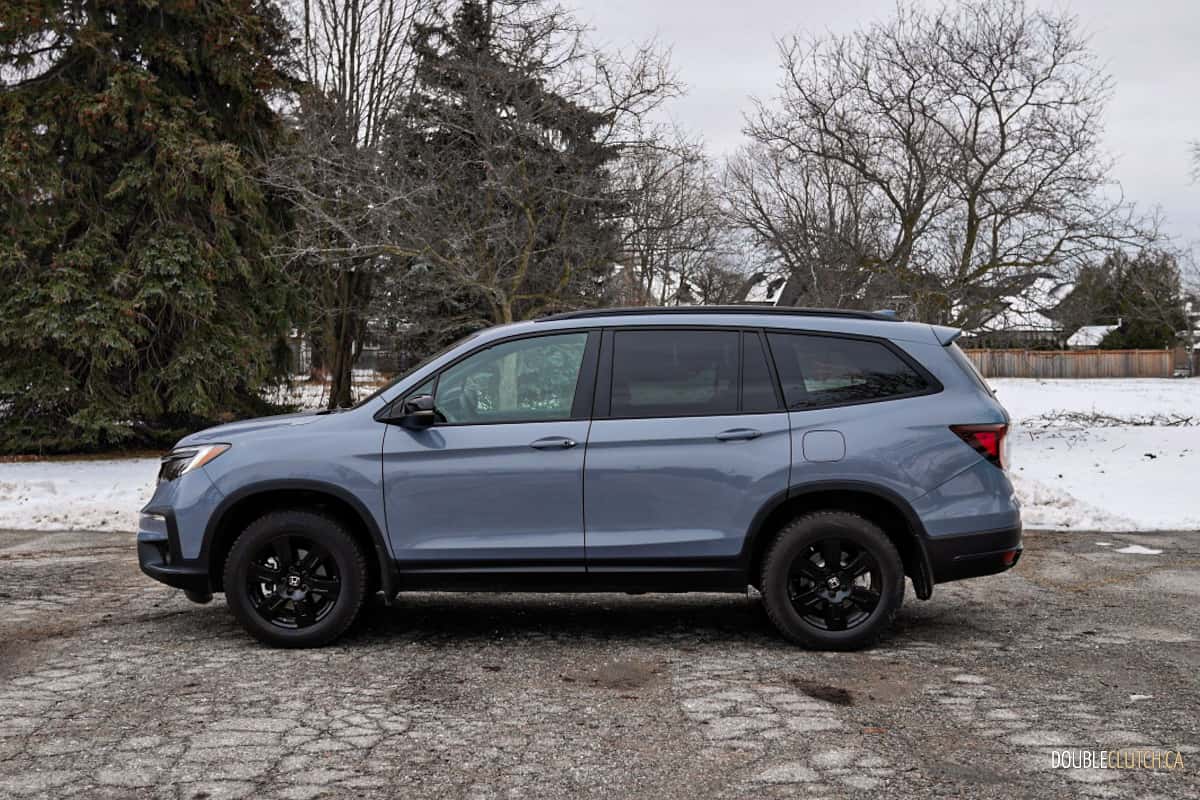 The change from a regular Pilot model to the TrailSport is far from radical. We noticed additional rugged styling cues and unique badging surrounding the exterior and some exclusive elements such as orange stitching and all-weather mats inside but it would take a keen-eyed owner to recognize most of these changes. Honda Canada says that this is only the beginning as they plan on expanding its capabilities over the next few years to include things like all-terrain tires, full-size spare, increased ground clearance, underbody protection, off-road tuned suspension, and expanded all-wheel drive capabilities from its i-VTM4 system.
Powered by Honda's tried-and-true 3.5-litre V6, the Pilot TrailSport produces 280 horsepower and 262 lb-ft. of torque. The powertrain is silky smooth in getting the 4,339-pound mammoth going at a moment's notice, and the nine-speed automatic transmission is responsive delivering power but the gear ratios are a bit too tall for it to be considered quick by any measures. Despite what the marketing department says, the Pilot TrailSport is most comfortable on the highway as it manages to just hum along without much harshness or vibrations. We had the opportunity to trek over snowy terrains during our test drives and can confirm the i-VTM4 all-wheel drive system works well in ensuring traction at all times.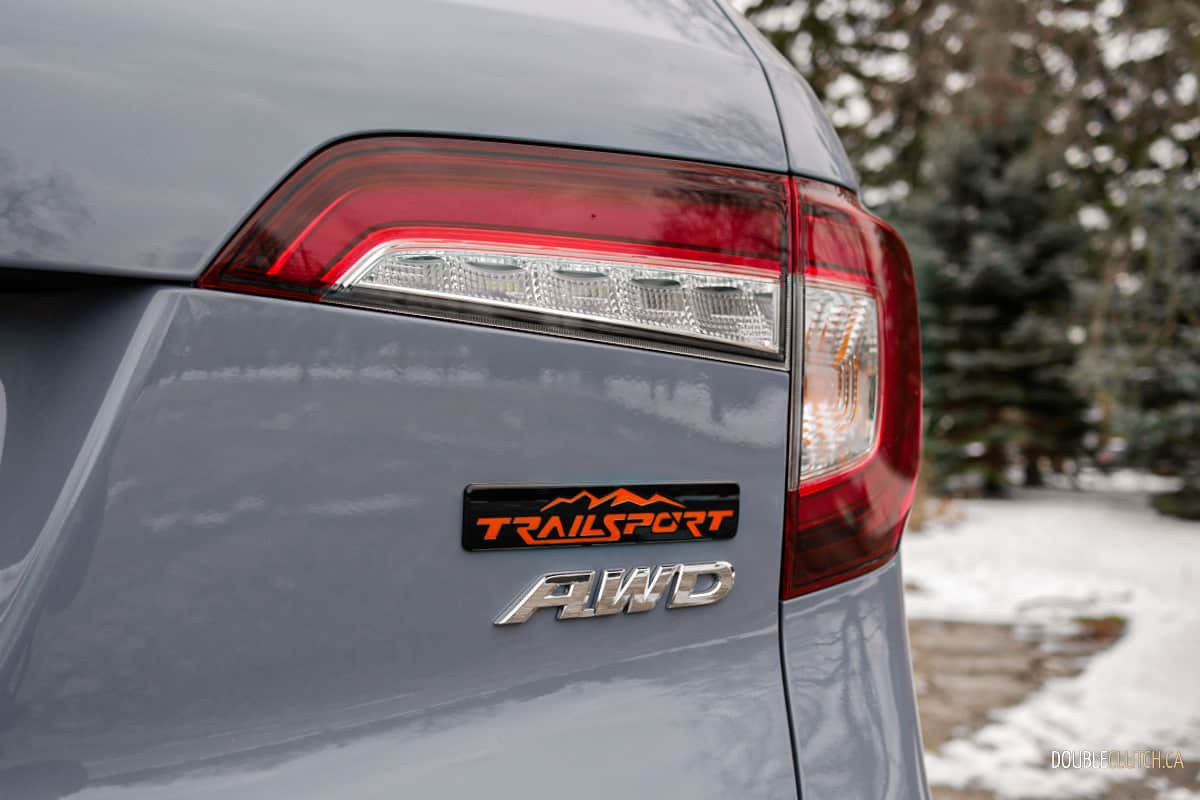 The point of having taller gearing ratios is usually for enhanced fuel efficiency especially on the highways, which was what we observed when we managed a frugal 8.8L/100km rating on a road trip up north – easily topping the Pilot TrailSport's published 9.5L/100km highway fuel economy figures. What made it more impressive is this was performed in wintry conditions with five of us and all of our luggage in tow. City fuel economy is rated at a respectable 12.4L/100km and the Pilot will accept regular grade gasoline into its 73.8-litre fuel tank.
Steering on the 2022 Pilot TrailSport is effortless and is fairly accurate for a three-row SUV of this size. It does feel big especially around the city so you will want to use all of its onboard driver-assist technology such as Honda LaneWatch blind spot display, Lane Departure, and Lane Keeping Assist systems. Adaptive Cruise Control and Collision Mitigation Braking systems are also standard on the TrailSport trim, and shoppers will get a full Blind Spot Information system as well as a Rear Cross Traffic Monitor system once they move up to the Touring and Black Edition trims. The Pilot does carry a firm ride when compared to other SUVs of its class – enough for drivers to feel most of the road imperfections but not enough for its occupants to feel uncomfortable.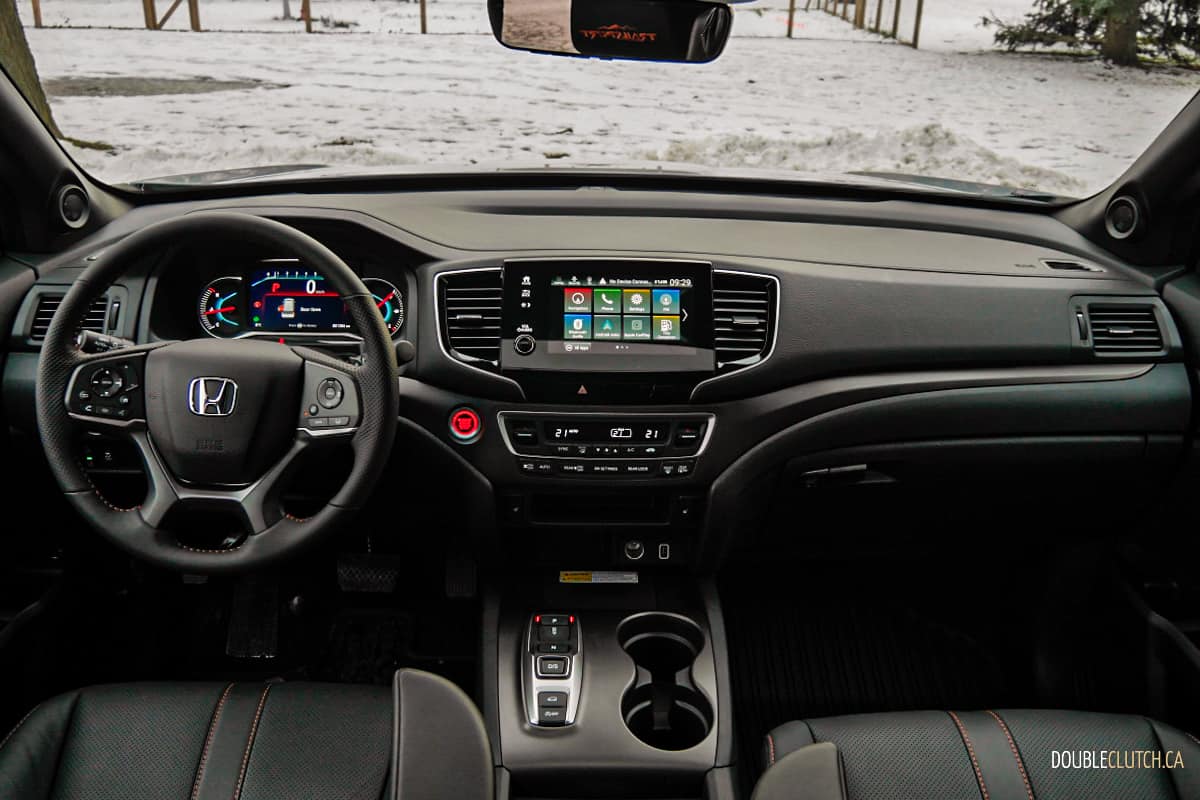 Aside from the dedicated stitching and badges, the interior layout of the Pilot TrailSport is largely the same as the rest of the lineup. Its simple and no-nonsense layout is welcomed especially for road trip users and we like that the materials seem durable and are easy to keep clean. The Pilot TrailSport is decently equipped for its price with standard wireless charging pad, heated second-row seat and remote engine starter. Stepping up a trim to the Touring and you will get 115-volt power outlet, upgraded surround sound stereo, rear-seat entertainment system with Blu-ray player, Wi-Fi hotspot, and CabinTalk feature, all of which are features ideal for family users and could potentially be worth the extra $3,800 in price.
Infotainment is delivered through the touchscreen on the centre dashboard. While It is easy to use, its screen resolution left much to be desired. Apple CarPlay and Android Auto integration is supported with four USB connectors throughout. Thanks to its large size and box shape, there are acceptable space in all three rows. The large side windows created an airy atmosphere and rear passengers will appreciate having the panoramic moonroof – available only in the top two trims with captain's seat configurations. Cargo volume is plentiful even with the rear row up with 524 litres and opens up to 1,582 litres with it folded.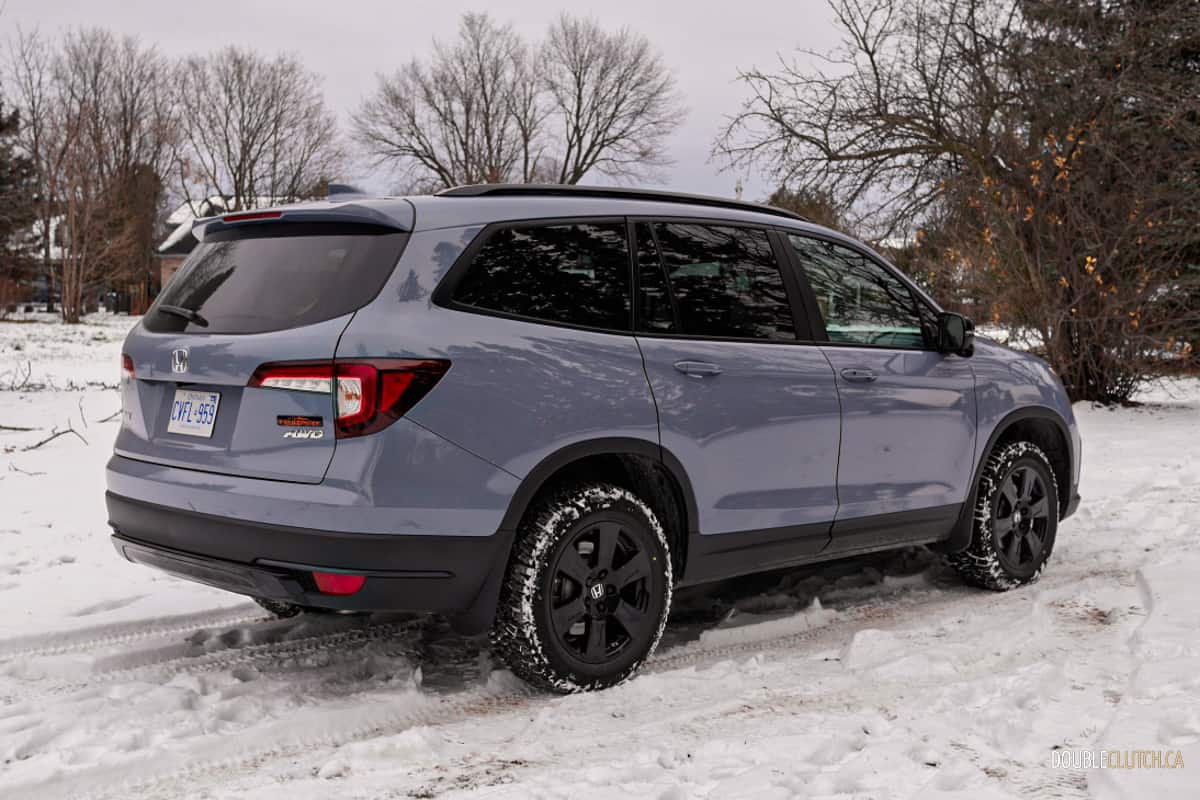 The 2022 Honda Pilot starts at $46,120 for the base Sport model and moves up to $51,620 for this TrailSport version. There are no optional features available and our as-tested total came to $51,920 once we factored in the Sonic Grey Pearl paint job. It is slightly more than a similarly equipped Toyota Highlander XSE AWD, though the two carries a vastly different exterior appeal. The Highlander is the most stylish and sporty choice between the two but the Pilot TrailSport carries an extra outdoorsy vibe with a roomier interior to boot.
The 2022 Honda Pilot TrailSport is an interesting offering created to meet a specific type of shoppers – family users who want to look the part but are unlikely to actually veer off the beaten paths. As it stands, the Pilot TrailSport's rugged treatment looks more like a byproduct created to meet marketing needs, with its main appeal still with on its on-road comfort and practicality. It is important to note that this is only a sample of the TrailSport offerings and we would have a better understanding of what it can achieve once Honda engineers assume full rein on its next generation light truck and SUV models.
See Also:
2021 Honda Pilot Black Edition