The 2024 Mazda CX-90 Signature we're reviewing this week is kind of a huge deal. See, in the late 1980s, the Japanese economy was enjoying an unprecedented financial and technological boom, with the rapid preponderance of the computer chip and a seemingly infinite supply of cash lead to some of the wildest cars the world has ever seen. A large number of the most currently sought after sports cars came from that time, and a sizable amount of impressive luxury cars came from this, too. Remember, this was a time when humble Toyota built a car that rattled Mercedes' rock solid foundation with the Lexus LS 400.
A lot of people don't know that Mazda was developing their own luxury brand too, and they were extremely ambitious with what they wanted to achieve. Their proposed luxury brand was called Amati, and their target was to develop a full size luxury car with a 12 cylinder engine just like Mercedes and BMW had done. This goal was made all the more impressive given that Mazda was (and still is) a relatively small company, and developing a large twelve cylinder luxury car that wouldn't be outright embarrassed by the established Germans was a mammoth undertaking. This booming economy would eventually collapse, and Mazda was forced to abandon their luxury plans before they got off the ground.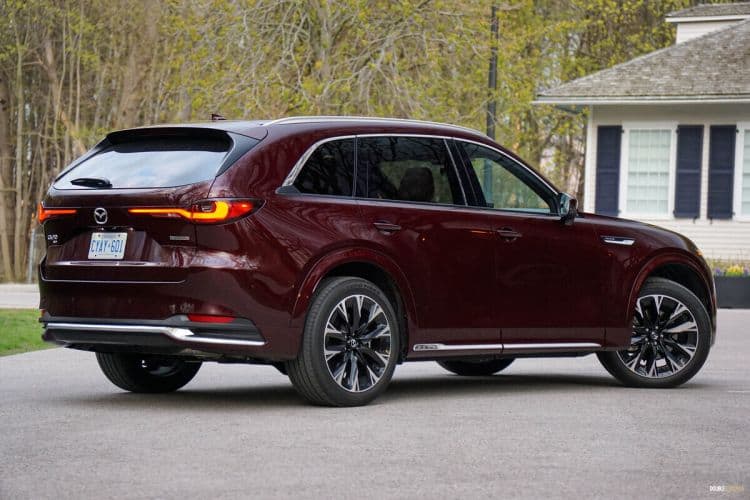 With the all-new 2024 CX-90, Mazda has sought to pick up where Amati left off, and is doing what the Germans are doing now, but rather than building a Mercedes S 600, they've instead opted to build a BMW X5 (because that's what sells now). They've been executing an upmarket luxury push for a few years now, but for this undertaking, Mazda has developed an all-new straight-six engine, in the same vein as Mercedes's and BMW's best. To make this work, they've also gone to the enormous expense of building a new, rear wheel drive architecture, just like the Germans. For Mazda to attempt to go right for the throat of BMW's best seller is, um, ballsy, to say the least.
The CX-90 draws from the same more squared off and handsome lines as seen in Mazda's other recent crossover vehicles, like the CX-50. Unlike the CX-50, it veers away from the middle-class rugged look and errs decidedly more towards the upper crust luxury look, with a modest amount of subtle, body-matched cladding. Its lines are crisp, tight and beautifully proportioned, exuding athleticism and elegance from every angle, in a distinctly Japanese style that Mazda is so good at.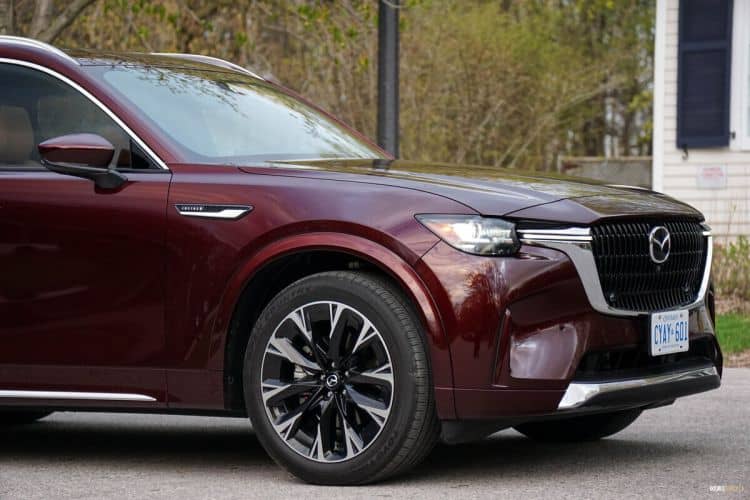 Its sharp fascia is framed by muscular front fenders, giving it a very broad-shouldered stance, which leads backwards along subtly sculpted side surfaces to a rear end that has a distinct rake, conveying motion even a standstill. Our loaded tester's 21-inch wheels and gorgeous Artisan Red metallic paint complete the look and make the CX-90 look every bit as expensive as its German contemporaries, without the bourgeoisie badge on the nose. Whether or not this will work for or against the CX-90 remains to be seen, but it is an excellent looking vehicle in its own right. 
Our CX-90 was also garnished with some prominent "Inline-6" badges on the front fenders, showing that Mazda is very proud of its new baby under the hood. Said new motor is noteworthy because the "straight-six" layout is inherently harmonically sound, leading to terrific performance and refinement, but was long thought to have been abandoned by everyone except BMW for packaging reasons. Mazda's decision to develop this engine is especially interesting because it only aims upward; Mercedes and Chrysler have also recently developed new straight-sixes as well, but only did so to replace aging V8s, whereas Mazda has built this motor out of raw ambition, not compliance.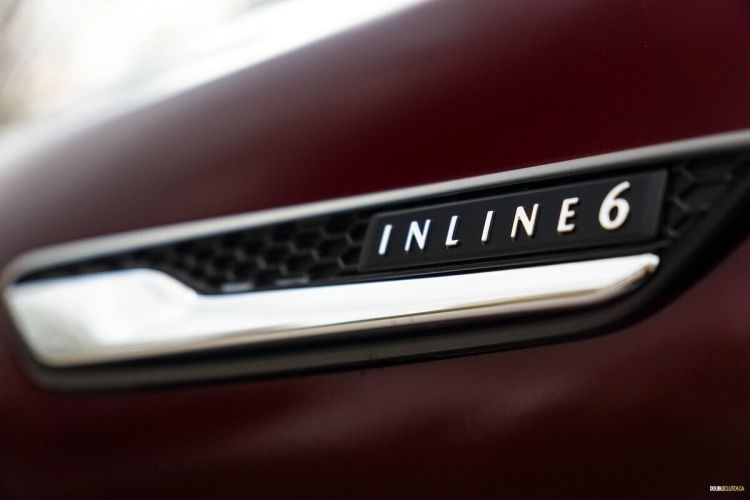 Mazda's new engine employs all the same tricks as the bigger brands, including twin cams, twin-turbocharging, and a 48-volt mild hybrid system to improve fuel economy and low-end torque. It displaces 3.3 Liters, and produces 340 horsepower and 369 foot pounds of torque on premium fuel. What's more important than these very healthy performance numbers is that the engine is excellently smooth, sonorous, and really separates itself from Mazda's (still impressive) four cylinder offerings with the refinement and character that is inherent to the natural harmonic balance of a straight-six engine.
Almost as impressive as the new engine is the new transmission, a refreshing break from the same six-speed automatic that Mazda has been using for the better part of decade. Mazda's taken a page from Mercedes on this one – no one was making a gearbox that fit their needs, so they just decided to do it themselves, and the result is pretty astonishing. Not only is it seamless in operation and eager to get playful, it's mechanically quite clever, as they've managed to eliminate the traditional slushy torque converter by incorporating the hybrid system with a wet clutch.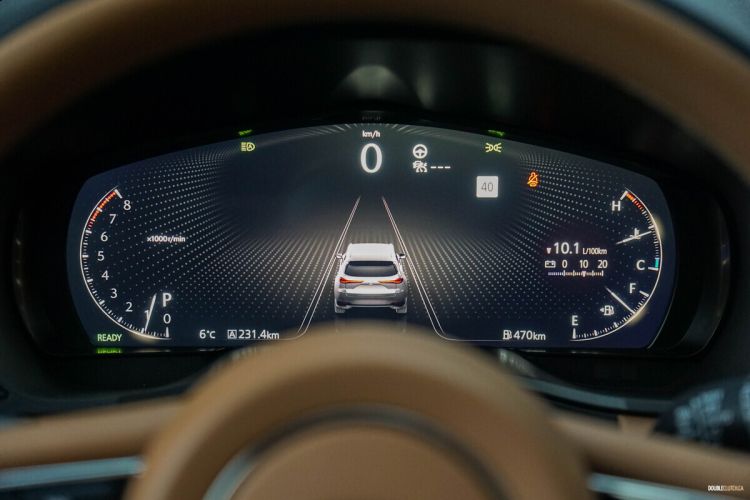 The result, when combined with the brilliant new engine, is remarkable efficiency. This is by far the biggest, most luxurious, and most powerful Mazda ever, and yet it still manages to subsist on less fuel than the outgoing CX-9, returning an average fuel use of 9.4L/100km. This an incredible feat of engineering, and it's made all the more impressive by the fact that this is Mazda's first time for doing something like this, and considerably more impressive given that at $63,300 for our loaded test car, it's not much of an ask over the already excellent CX-9… and some twenty-five grand less than a comparable BMW X5.
On the road, the CX-90 is honestly pretty comparable to said BMW. The double wishbone front  and multi-link rear suspension, are deftly calibrated to offer a fairly supple ride with decidedly taut body control for the benefit of excellent handling. It can't hide from it's hefty 4,900 pound weight, but it is set up to be well balanced, with relatively neutral handling and teutonic freight-train stability. The engine has the perfectly-linear powerband you'd expect, with prodigious low end torque that never lets up, and the transmission is excellent at knowing when to get out of the way and let you have fun.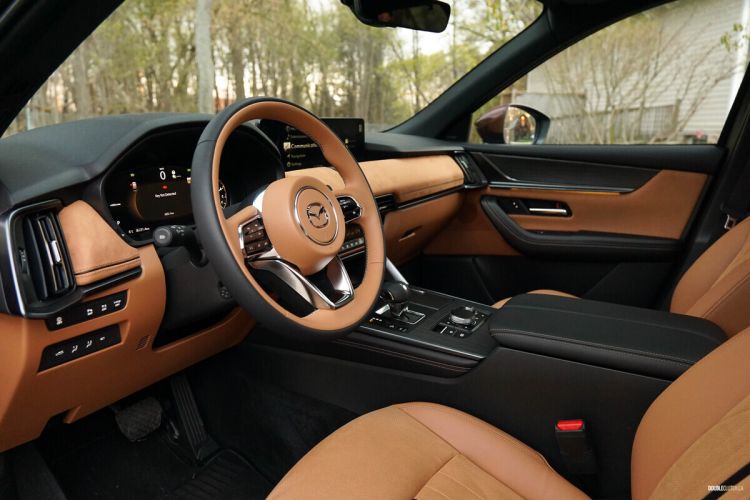 In typical Mazda fashion, all the driver controls feel organic, communicative, and responsive. The steering has a satisfying weight to it and feels direct, clearly communicating what the front end is doing. The brakes are firm and reassuring, with zero of the weirdness that comes with most hybrid setups. Throttle response is eager and generous, but never jumpy or difficult to modulate. When you're not looking to play, it's smooth, quiet, and well insulated from imperfections in the pavement, with only the massive 21-inch wheels transmitting the occasional crash over really broken roads. It's a thoroughly satisfying thing to pilot, whether you're cruising or hustling; it's comfortably the best driving SUV in its class.
When you're not hustling, the CX-90 is a lovely place to be. Our Signature model's tan Windsor Nappa leather with nubuck-esque finish looks and feels like a million bucks, and it's backed up by dark metallic accents, beautiful contrasting stitching, and a plethora of what looks like ebony-stained bamboo. Expanded dimensions and clever packaging make for generous room in the front and rear seats, and the third row is now much more usable, and cargo space is greatly expanded as well. It's a bright, open, airy space, with fantastic use of complementary colors and quality materials.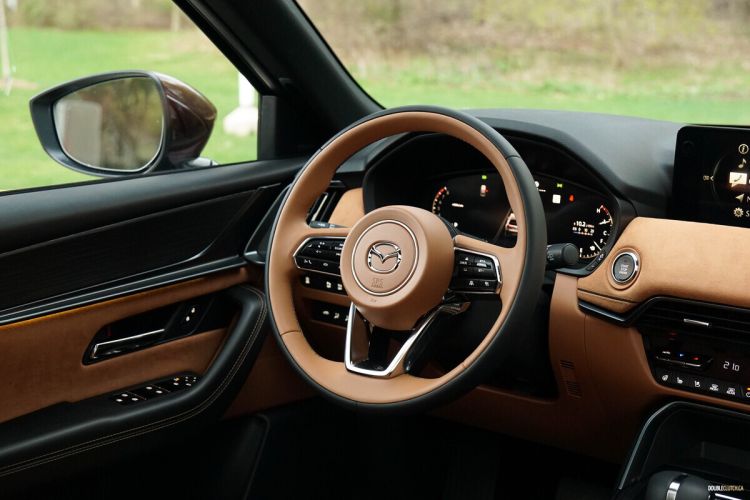 Infotainment is handled by a new ultrawide 12.3-inch display, featuring Mazda's love it or hate it UI, which forgoes touch controls in favor of a tactile knob and real buttons. That UI has gained a real asset in the form of wireless Android Auto and Apple CarPlay, and they are usable via touch – a huge win, as they never felt right with Mazda's physical controls. Audio is handled by a 12-speaker Bose setup, which sounds great with the CX-90's ample sound deadening.
More technology comes in the form of a comprehensive suite of driver aids, including a revamped lane centering system, which finally puts Mazda among the class of cars that basically drive themselves, and it does it better than most. When it's time to stop driving, the CX-90 is easy to park, with good visibility, and an excellent array of backup and 360 cameras, augmented cross traffic and proximity warnings.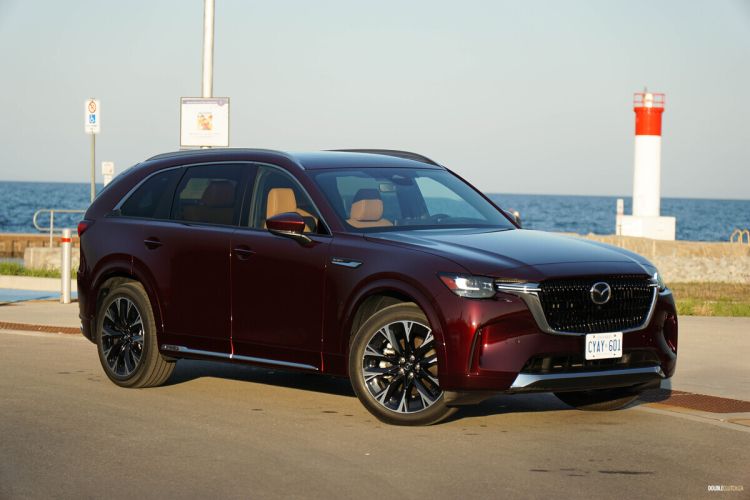 The old CX-9 is a fantastic vehicle that blurs the lines between the traditional upper and middle class offerings, and drives substantially better than its competition; we love it. This new 2024 Mazda CX-90 Signature is substantially better than that. It has fantastic style and real presence, a beautiful, commodious cabin that's brimming with equipment, and it's built on a dynamic new platform with an excellent new engine and a clever transmission. They've really shown they are serious about this luxury directive, pulled out all the stops, and left nothing on the table. It's a really remarkable effort, and it's been such a delight to see Mazda take this step and nail it so thoroughly – we're stoked to see what else they do with this.
See Also:
2023 Honda Pilot Black Edition