To state that the Kia Telluride has been a success would be an understatement. Since its release in 2020, this three-row crossover has won critical acclaim globally. Kia studied its competition and did everything just as well or better. This 2023 Kia Telluride X-Pro is the result of both a mid-cycle refresh as well as an answer to customers with more active lifestyles wanting a more rugged trim level.
With direct competition such as the Honda Pilot TrailSport and Ford Explorer Timberline providing more off-road oriented trims, this X-Pro model was a necessary addition to the Telluride's lineup. As production improves, Kia now has the ability to grow their market share that was impacted negatively by the pandemic.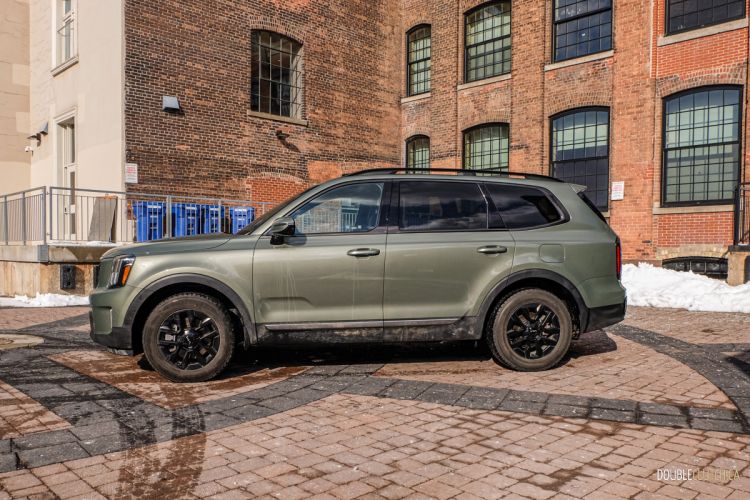 The Telluride has always been a sharp looking crossover and the facelift for this model year adds some small tweaks. I personally miss the amber LED for daytime running lights; this was a unique touch that always always attracted my attention. The Telluride name is no longer found on the hood above the grill, which has also been updated with a new insert design. The X-Pro tested here gets black 18-inch alloy wheels wrapped in all-terrain tires, and also the 213mm ground clearance of the X-Line model. Those who don't love the styling always have the choice of the Telluride's twin, the Hyundai Palisade.
Inside, there is very little that Kia could have done to improve the Telluride but still managed to work their magic. Since its release several years ago, the interior has always been well designed, with luxury quality materials throughout and built well. Kia has done away with the analog gauges and one large housing incorporates twin 12.3-inch high-resolution screens for a TFT digital instrument cluster and the infotainment center.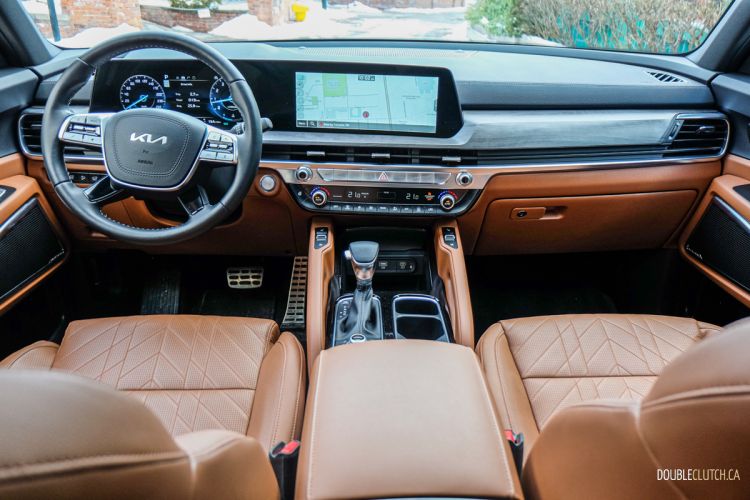 Beautifully designed heated and cooled seats in the front and second row are extremely comfortable for adults. Our tester had a bench in the second row with a 50/50 split that allowed for easy access to the third row. Lastly, the third row itself is adequate but as with just about everything else in this segment, really best kept for children or extremely short jaunts.
Those seated inside are treated to a well insulated interior. Road noise is kept to a minimum and the ride is composed with body roll well. While it's no BMW X5, the Telluride will hold its own better than its immediate competition. While Android Auto and Apple CarPlay are standard, they require a wired connection. The Harman-Kardon premium sound system does a good job putting out the tunes and all three rows have easy access to USB ports. Our X-Pro model also includes an impressive digital rear-view mirror and 10-inch heads up display.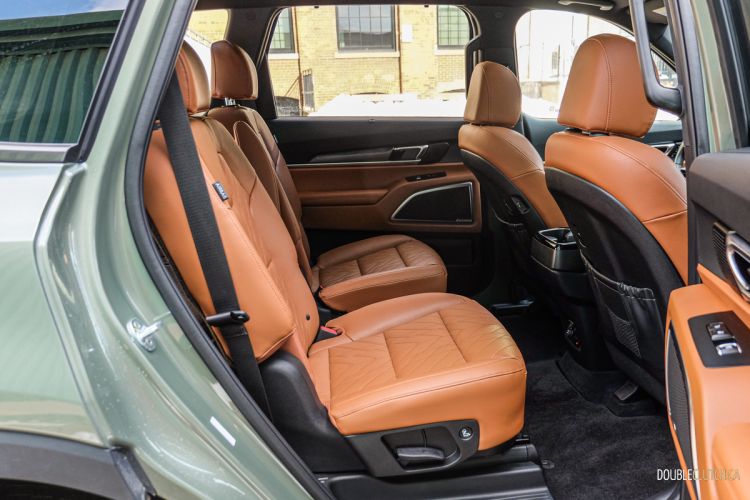 Kia has retained its naturally aspirated 3.8-liter V6 engine the sole powerplant in the Telluride. While far from exciting, it does a good job moving this 4,455-pound sport utility with relative ease. Mated to an eight-speed automatic and a standard all-wheel-drive system, the Telluride moves swiftly and smoothly. Power is pretty much on par with the competition with 291 horsepower and 262 lb-ft of torque.
It's worth noting that the tried-and-true V6 is still a smoother and better suited motor to a big SUV like this, as opposed to a turbocharged four-cylinder that much of the competition has moved to. On the flip side, boosted-four offerings like the Subaru Ascent and Toyota Highlander are able to squeeze out better fuel economy than these older V6s. Kia Canada rates the Telluride at 12.9L/100km city and 9.8L/100km highway, for a combined 11.4L/100km. Our test averaged 11.8L/100km in cold conditions on dedicated winter tires and 87-octane fuel.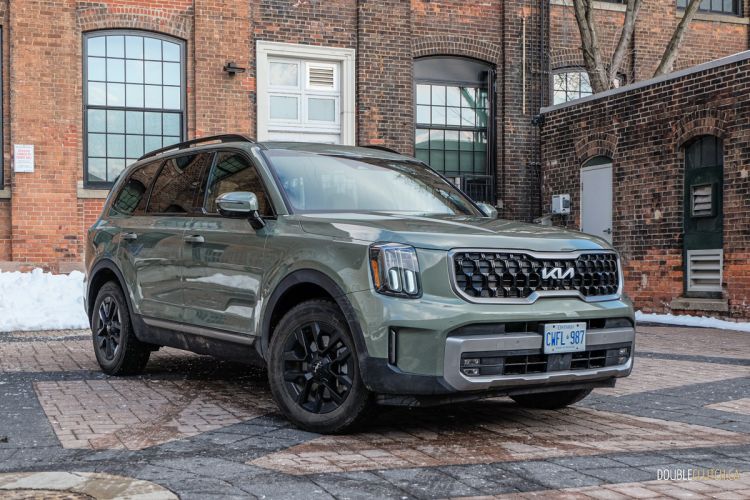 Buyers that need to tow will benefit from the X-Pro model's additional tow capacity of 5,500 pounds, up from the 5,000-pound limit of all other trims. Aside from this and some visual tweaks however, it's important to remember that the Telluride is still not a body-on-frame off-roader and shouldn't be shopped as such. Those wanting to venture further off the beaten path than a cottage side road will want to shop elsewhere. The Jeep Grand Cherokee Trailhawk offers more in this regard. With its starting price of $52,883, the Telluride is priced average for this class. Our X-Pro comes in at $65,483.
With production finally catching up to demand, the 2023 Kia Telluride X-Pro is sure to find a place in consumers hands with its rugged good looks and easy to use technology. It does everything well and should satisfy most buyers. Our recommendation would be to skip the X-Pro model and go for a regular luxury-oriented SX model, which offers just about everything most buyers will need.
See Also:
First Drive: 2023 Honda Pilot Black Edition
2023 Hyundai Palisade Calligraphy