Not long ago, I reviewed the 2023 Lexus IS 500, and I adored it for being a modern reincarnation of a '90s-era Mercedes 500E. This week, I've been tasked with reviewing the 2023 Cadillac CT4-V Blackwing — like the Lexus, it's a wonderful treat because it too is channelling golden-era German sports sedan energy. The difference lies in their inspiration, as the Cadillac is distinctly channelling the classic BMW M3 energy, and the result is astonishing.
We reviewed a CT4 Sport a few months ago, and thought it was pretty okay, if a little down on power. We reviewed a CT4-V last year, and thought it was pretty good, but held back by a grunty-but-gruff 2.7-litre truck engine under the hood. The range topping Blackwing fixes those woes with a twin turbocharged 3.6-Liter V6, mildly tweaked from the previous ATS-V to put out 472 horses. It's also blessed with GM's genius magnetically adjustable shocks, GM's clever Performance Traction Management system, and an electronic locking differential, to really make this chassis behave like a bygone Bavarian.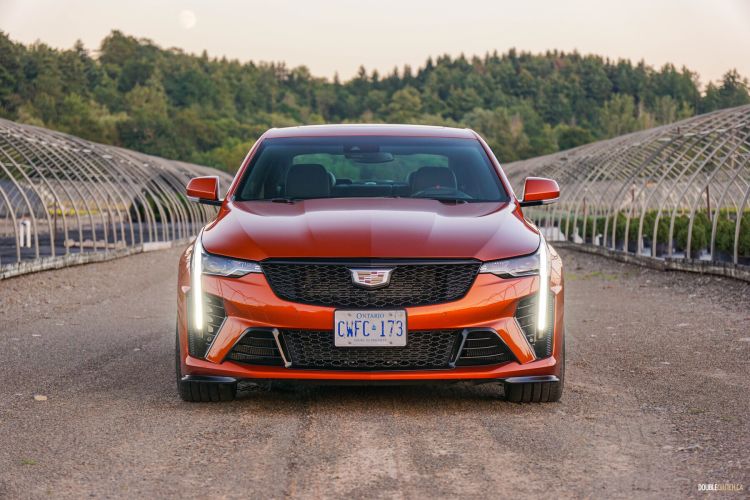 The BMW-ness isn't super obvious at a standstill. Whereas modern BMW M cars make no bones about broadcasting what they are with aggressive body kits, massive wheels, and a litany of badges, it wasn't always this way. They used to be subtle, with a revised front fascia and a small lip spoiler to differentiate them. That's more or less what Cadillac has done with the Blackwing, and it's maybe too subtle for some. The cabin is similar; well thought out and ergonomically sound, with good cargo space and visibility, but maybe a little underwhelming, especially on our (relatively) sparsely equipped tester.
But there's a unique addition to this cabin you won't find in any other modern sports sedan, save for Cadillac's own CT5-V Blackwing: a manually operated shifter and a clutch pedal. More important than the mere presence of said DIY gearbox is the fact that it is absolutely delicious to use, being totally unencumbered by rev hang, vague operation, and artificial feel that's leading a lot of modern manuals to their own demise. In a lot of new cars, it takes a while to figure out what the car's nannies want from you and what their rhythm is, never feeling organic in the way you'd hope.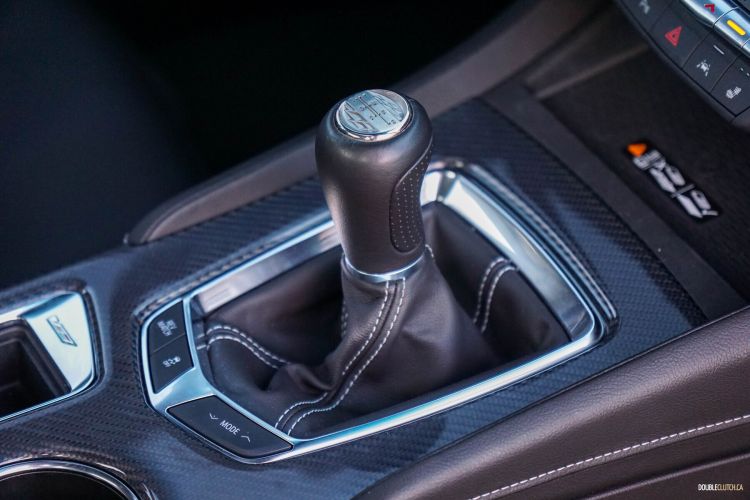 The little Blackwing doesn't have this problem. It's instantly a natural match, echoing the instant gratification of BMW's finest vintages. We've talked a lot lately about the clutch-throttle-shifter interface in manual cars, and this Cadillac is comfortably among the best on market — I'd even say tied with the perennially perfect Mazda Miata. Everything responds and feels exactly as you'd expect, with no having to think or learn — it just feels right and works, and it does so in a way that rewards more experienced drivers, rather than penalizing them with dulled responses. The clutch feels good, the throttle response is sharp and linear, and the shifter has a just-right amount of chunkiness to it, rather than feeling like a toy.
Of course, its M3 echoes go farther than just its deftly calibrated manual transmission — a 10-speed automatic is also available — as the real star of the show is the absolutely magnificent chassis. It's so good; everyone on staff who drove it was stunned at how much this car comes to life in a corner. This chassis is masterfully dialed in, offering impeccable balance, eager reflexes, and the inputs go beyond being communicative. It's conversational.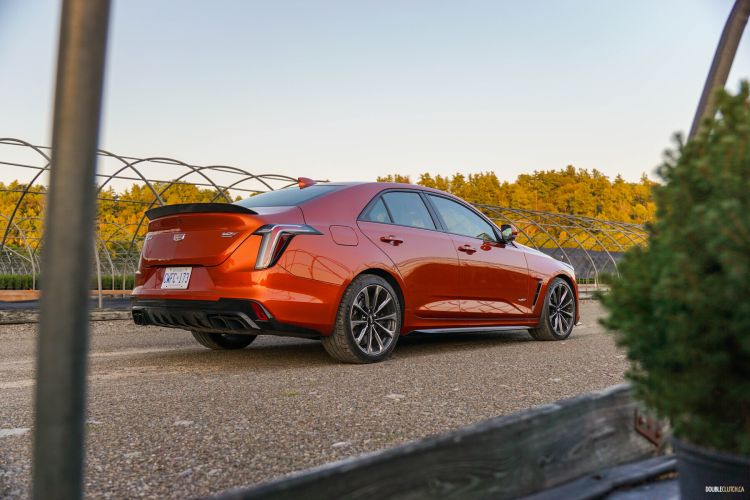 The steering is about as close to perfect as a modern daily driver can be. I didn't think it was possible anymore; I would've guessed this calibre of mecha-haptic goodness was reserved exclusively for distinguished Bimmers. It's sharp, natural, eager, but with zero of the artificial overcompensating that's become de rigueur on modern steering racks, including some of BMW's own. When thrown into a corner, the front end responds with deliciously crisp turn-in, an abundance of lateral grip, and a joyously playful tail end on exit. This chassis is nigh-on impossible to fault, it's astonishing.
The littlest Cadillac's real party trick is its ability to simultaneously be this wonderful, ethereal, melodious driving partner, and also a totally normal car. Our relatively base-spec test car came with hardly any options, and makes do as a perfectly adequate daily driver at $71,468 as-tested. It's got great visibility, adequate rear seating and cargo space, and excellent ride quality courtesy of the brilliant adjustable dampers. Otherwise, it's fairly well equipped, with generally good use of materials, save for a ghastly painted piece of trim under the eight-inch touchscreen.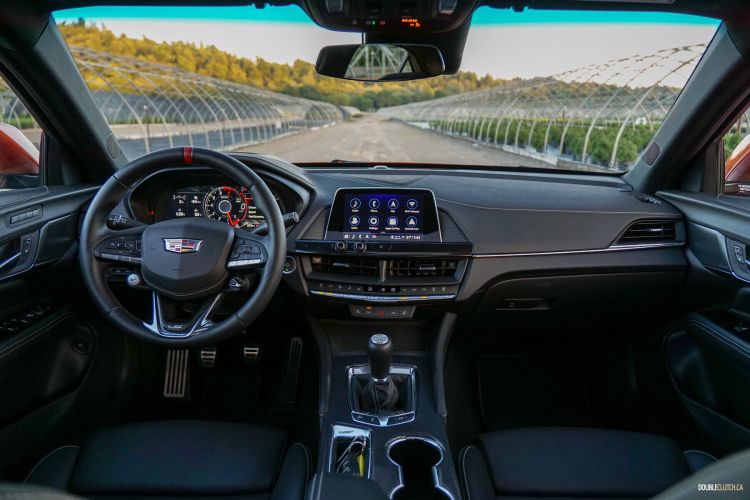 Admittedly it's not quite as nice inside as a modern BMW M3, but then again, a modern M3 starts at nearly $20,000 more than our Caddy. I'd spec mine with the upgraded interior with quilted and perforated two-tone leather, red stitching, and suede accents, which then opens up the option for ventilated seats. This makes the cabin a much nicer place to be for roughly $6,500 more, which is still a damn sight less than a comparable Bavarian.
There's not much to nitpick, either. The infotainment isn't the best, but the AKG sound system is fantastic, and I like the presence of a tuning knob, even though it's become a context-sensitive multi-function affair. It feels there's a lot of context sensitive multi-function affairs in the various drive modes and PTM selections, and it can be a little frustrating to sort out. The configurable one-and-done "V" button on our tester's sport steering wheel is a must-have to skirt this foible.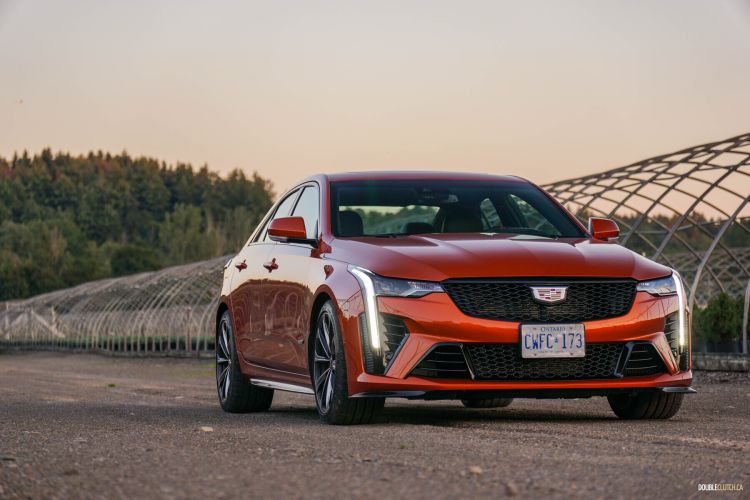 There's another nitpick, and I feel bad about this one. The CT4-V Blackwing is maybe a tiny bit — sterile? Sure, the styling is clean and handsome, but also a little underwhelming and as I said before, maybe a little too stealth. The heavily boosted V6 is a great engine that even sounds pretty good, but it's a little lacking in character, something which a Munchen straight-six — or a Yamaha V8 — has in spades. Also, our tester finished the week with an average fuel use of 14.7 L/100 km, which could've been a lot better if the car weren't so encouraging of hooliganism.
What this Caddy does so well is its ability to be a comfortable, reasonably practical daily driver, that's absolutely brilliant to drive in all the ways we thought had been lost to the ages. The tech doesn't create a dissonant split personality like many other modern sports sedans, and as such it's a pleasure to pilot at any speed, at any time, just like a classic M3. The 2023 Cadillac CT4-V Blackwing feels right in a way almost nothing else in production does right now. It's is the perfect fast daily driver for the person who cares about a pure, skillfully crafted driving experience above all else.
See Also