With the current wave of electrified vehicles on the market, it's hard to remember that it wasn't that long ago that V8's were the 'go to'. Muscle cars led the charge and eventually, German luxury car makers stuffed them into their coupes and sedans that resulted in fond memories for many car enthusiasts. Sadly, naturally aspirated V8s have been replaced with turbocharged smaller displacement engines. Lexus however has decided to go their own way by keeping their V8 hopes alive with our test car this week, the 2022 Lexus IS 500 F-Sport Launch Edition.
The IS 500 Launch Edition is limited to 500 units in North America, out of which 50 were slotted for Canada. Sadly, those that are itching to get their hands on one at retail price are out of luck as they were all snapped out almost as soon as it was announced. Slightly used models are being hunted down and buyers are willing to pay crazy amounts of money to own one.  Buyers can purchase a regular IS 500 with a wide variety of colors, though they're just about as scarce.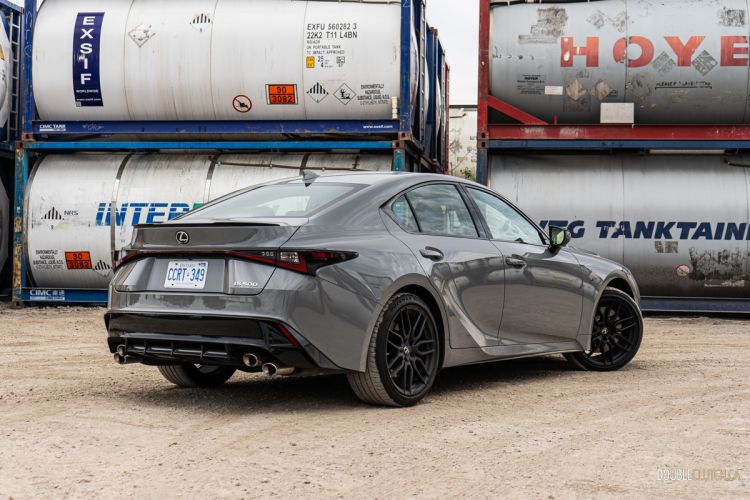 Setting this IS 500 apart from other models is the smokey grey exterior paint that Lexus has named 'Incognito'. It's aptly named since most people will have no idea what lies under the hood is until the driver decides to punch the throttle. Car enthusiasts did take notice everywhere I went with a couple of thumbs ups and double takes, so it's not a complete sleeper.
The tried and true Yamaha and Toyota 5.0-liter V8 can be found under the hood and sadly looks to be the last hurrah looking at what Lexus has planned going forward. Hybrids and EVs are the name of the game today. This is one smooth operator and owners can expect long term reliability. Sadly, the exhaust note could be better. The car starts to roar slightly over 2,800RPM, but it still seems to lack a bit in true throaty V8 goodness. Plenty of aftermarket companies have begun to release exhaust setups to make the most of this powertrain. Output is an impressive 472 horsepower at 7,100RPM and 395 lb-ft. of torque at 4,800RPM.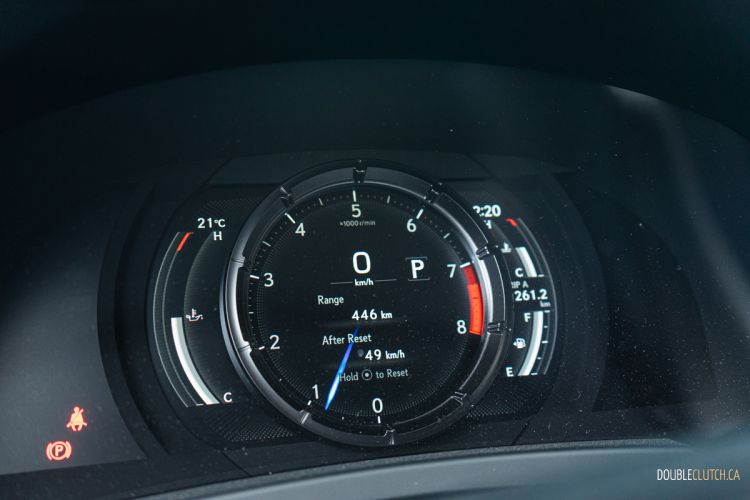 Those with a keen eye will notice the large bulge on the hood, hinting at the V8 powerplant hidden underneath. The front bumper and grille are super aggressive and look fantastic. The level of detail on the grill is typical Lexus; but out back the only true indicator that the IS 500 differs from lesser models are the dual stacked exhaust tips, blacked out lip spoiler and diffuser.
Unlike the regular IS' all-wheel-drive capability, the IS 500 only comes with rear-wheel-drive, mated to an eight-speed automatic. Handling is where the IS 500 falls short when compared to the competition. The F-Sport suspension is too soft and the cornering capability feels twitchy when pushed to the limit. For straight line performance and a luxurious ride, this is one of the better options. Those looking for true "F" handling will be disappointed, but this is not that and Lexus isn't trying to sell it as one.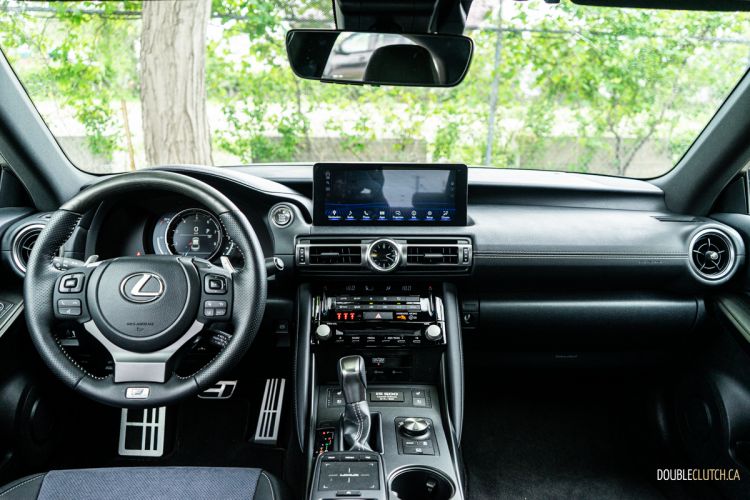 Sharing the same platform as the other IS models, don't expect any major changes to the interior. There are some small upgrades but basically this is the same interior design found on the regular IS for many years. This is disappointing as it looks quite dated when compared to the German competition; Mercedes-Benz and BMW won't be having sleepless nights.  The infotainment system remains as frustrating as ever though it looks like the resolution of the screen has been improved. CarPlay and Android Auto are wired through a USB-A connection, though aftermarket options exist to switch this to a wireless application.
As one of the smaller compact luxury sedans on the market, interior space is limited and those rear seats are best suited for small children. Heated and ventilated seats can be found up front. Those in the rear have neither option available, and it should have heated rear seats to keep up with the competition. The Launch Edition model gets a sweet two-tone leather and Alcantara blend that looks unlike anything else available in the segment.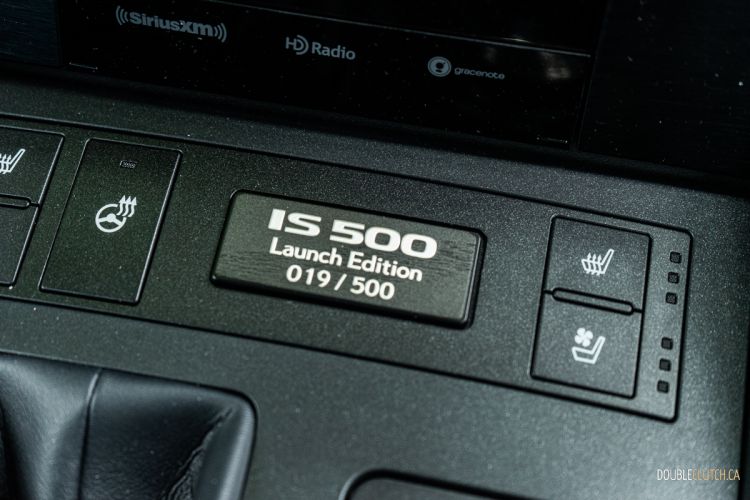 Unfortunately, with the fantastic V8, it does pay the penalty at the pumps. Lexus rates the IS 500 Launch Edition at 14.1L/100km in the city and 9.3L/100km on the highway, for a combined 11.9L/100km. We observed 12.7L/100km in mostly city driving with liberal use of the accelerator. As expected, the 66-liter fuel tank requires premium gas.  Prepare to be at the pumps every few days if this is your daily driver.
Prices start at $44,100 for a base IS 300, and the regular non-Launch IS 500 starts at $72,900. The Launch Edition costs $77,650 with no additional options available. Unique bits on this model include the paint scheme, visual upgrades, a Launch Edition plaque on the dashboard, and unique upholstery. Buyers also will receive a number-matched phone stand for their office or home setup.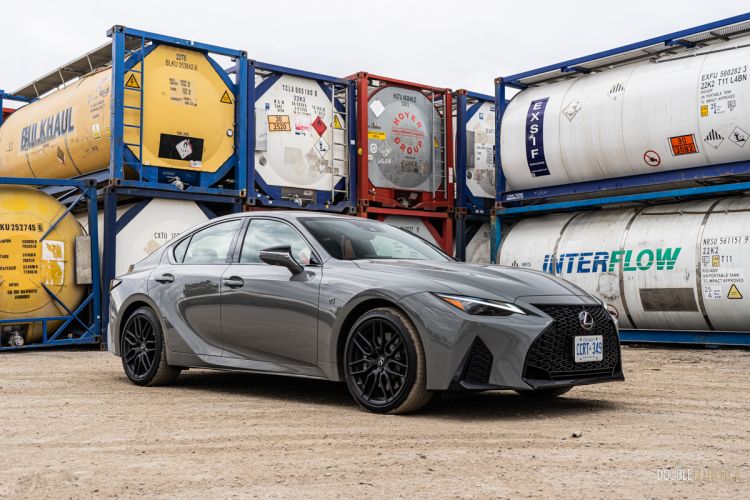 Even though the 2022 Lexus IS 500 F-Sport Launch Edition is far from perfect, we are lucky enough to have experienced one of the last chances to get a V8 engine. Even the larger Lexus LS has been deprived of a naturally aspirated V8, which is heartbreaking to say the least. Those looking for a V8 Lexus sedan have only one choice remaining, and this IS 500 fits the bill.
See Also:
2022 Lexus IS 500 Launch Edition