The BMW M3 is now known as one of the most iconic and legendary performance cars on the planet. Starting with the E30 model in 1986, the M3 has been through five generations, each delivering on a promise of performance, track capability, and livability. This is the sixth-generation car, codenamed "G80", and yes, it's available with three pedals. We took a 2021 BMW M3 Manual out for a week to see if it still lives up to everything an M car should have.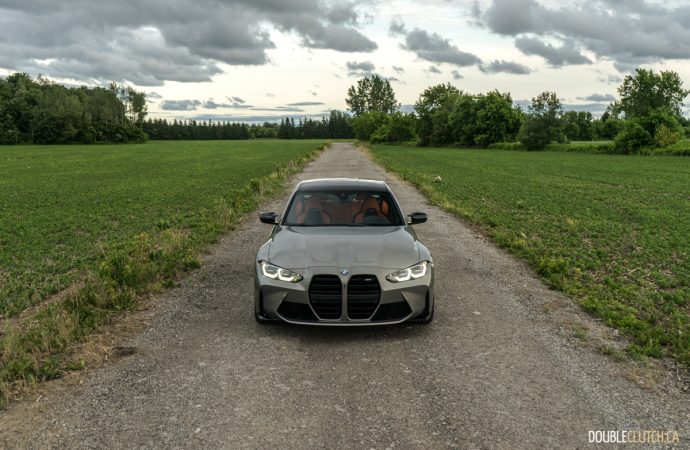 First things first – yes, we know, its face isn't timelessly pretty. Every single joke has already been made, and the reality is, the vast majority of onlookers either complimented the snout, or admitted that it's grown on them. The new M3 and M4 look best in darker colours, and other than the questionable fascia, they just look like sharper and more polished versions of the previous generation. This is not a bad thing, as the flared fenders and crisp lighting help the muscular proportions.
While BMW does still generously offer the three-pedal option to enthusiasts, it's only available on the base M3 tested here, and not the more powerful Competition model – the same applies to the M4. A twin-turbocharged 3.0-liter inline six-cylinder codenamed "S58" lies under the hood. It pushes 473 horsepower and 406 lb-ft. of torque to the rear wheels, and boasts a 4.2-second acceleration time to 100 km/h. The Competition pushes these numbers to 503 horsepower and 479 lb-ft., respectively, and brings the sprint time down to 3.9 seconds.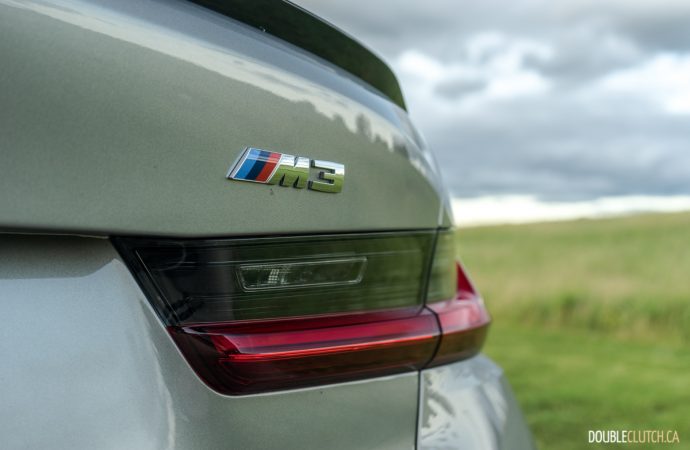 The M3 still remains rear-drive only, and is rather tail happy when pushed. We had the opportunity to put this and the M4 to the test in a track setting, and determined that while it's pleased to dance on command, the car is extremely controllable and extremely responsible to driver inputs. BMW says that the M3 Competition will eventually be offered with xDrive all-wheel-drive as well, for those that desire this capability.
The six-speed manual is a good unit, offering modern features such as automatic rev-matching. Call me lazy, but I've come to enjoy this gimmick in urban commuting. It will execute a perfect match every time, and when the M modes are set up in the right way, makes a great sound while doing it. Shifter throws are precise if not a little bit notchy, and the clutch engagement is perfect. We own a classic E39 M5 with a BMW accessory short shift kit, and this M3's shifter feels absolutely identical.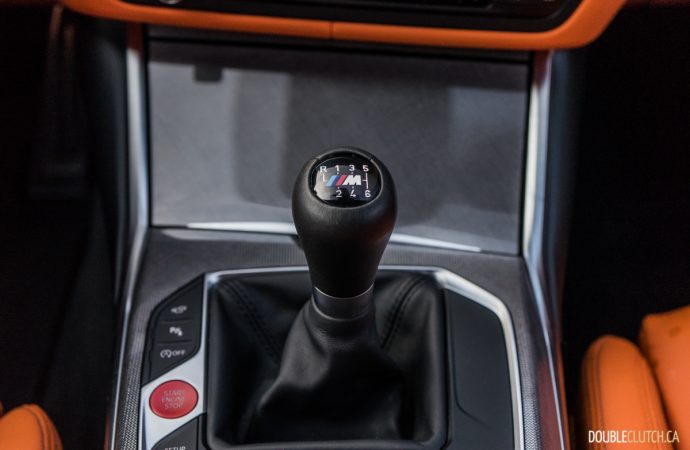 It's not just a straight line car – the M3 is a serious handler, as well. At 3,700 pounds, it's no lightweight, but as expected from an M car, it corners with confidence and maintains poise. Body roll is at an absolute minimum, and the M3 is as eager to dive into a corner as it is to rocket out of it. Steering feel is definitely number than ever before, though there has been some artificial heft added in to ensure that it doesn't feel too much like a video game. This is an unfortunate inevitability with electrically assisted power steering, though it feels vastly improved over the previous generation.
As in previous models, there are M modes that can be configured, which can adjust variables like steering, powertrain, suspension, stability control, and engine sound. The car's character can be transformed based on the driver's mood or surroundings. If hitting the track, it can be tweaked to be in full-performance mode with stability control turned off. When bombing across the province on a cluttered highway, the car can be set up to be nice and smooth, with impeccable ride quality.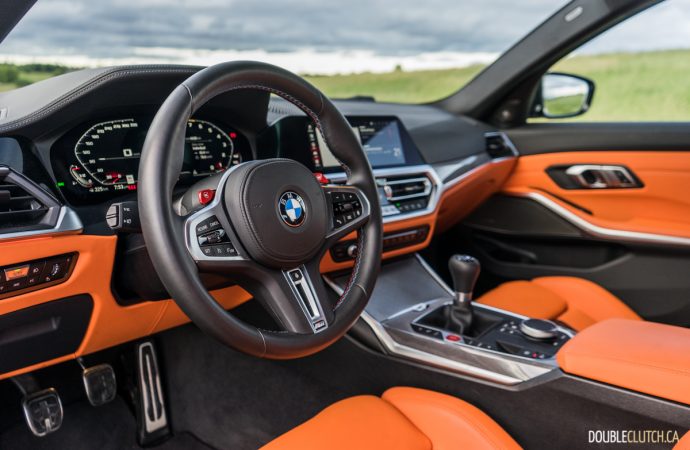 BMW Canada prices the new M3 at $84,300 to start, and the as-tested sticker here is $96,150. Our tester was equipped with an HEA Package for $5,900 that adds things like ventilated seats, M Drive Professional, heads-up display, LaserLight headlights, wireless charging, and more. It also packs a $4,000 full Merino leather interior, and an extra $1,450 for the Oxide Grey II paint. It's worth mentioning that the M3 Competition starts at about $89,000.
Here's another controversial opinion – I prefer BMW's current interior design language to what Mercedes-Benz is currently putting out. The layout is easy to navigate, there are hard buttons for many major commands, and iDrive is extremely intuitive and easy to use. Spending some time in the settings allows drivers to set up the cabin to their liking, and there's a vast array of available options to customize. Materials are excellent, and while some may not like the wild orange colour, the quality of the Merino leather is top shelf.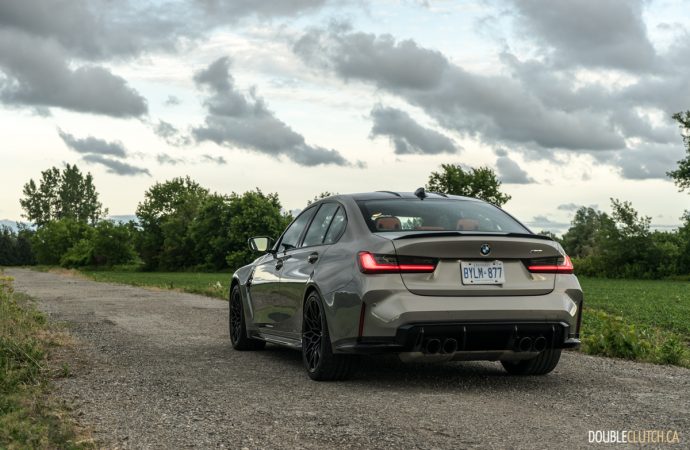 The 12.3-inch digital instrument cluster is also easy to read, and it flips into M View with corresponding drive modes. A heads-up display gives drivers some of the high-level information needed, and adjusts with the drive mode as well. Apple CarPlay can be operated wirelessly, and the M3 finally also gets Android Auto. Safety features on board include blind spot monitoring lane departure warning, lane keeping assist, and rear cross-traffic alert.
This new M3 is technically a brilliant car. It offers more performance than before, serious track capability, and a nice enough cabin for the daily commute. But there's a catch – it's a completely different car than what the M3 used to stand for. Earlier cars like the straight-six E46, or the brilliant V8-powered E90/E92, were uncompromised screamers. I drove a 2012 E92 with a manual gearbox back to back with this car, and it reminded me of what the M3 used to be.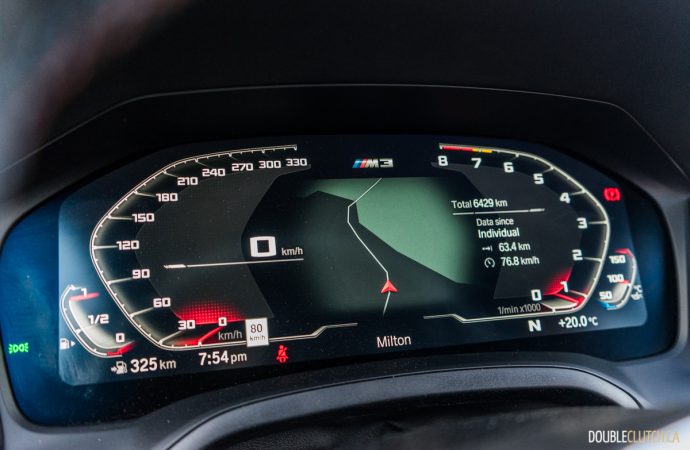 While the 2021 BMW M3 Manual is every bit a performance car as its predecessors, it's a touch larger, a smidge softer, and a lot more livable. It's no more an uncompromised performance car that needs to be babied. It's less temperamental and way more livable to use every day of the year. It's the perfect size for most, and can even accommodate small families, albeit just barely. This is what today's performance sedan is, and we're just fine with that.
See Also:
2020 Mercedes-AMG C 63 S Coupe