Like many of us, I grew up loving Hondas and Acuras. When I was younger, they were fun, sporty, and relatively attainable cars. Arguably, the one car that was the epitome of all that was the Acura Integra; my friend and I both owned Integras at one point, and both were loads of fun beyond what we paid for them. But as good as our Integras were, it was the Type R we lusted after — and that's come full-circle with the 2024 Acura Integra Type S.
Back then, the ultimate Integra was a bona-fide sports car, despite its humble economy car roots. It was a car that embodied the whole 'started from the bottom now we're here' mentality that represented many of us. So, when Acura announced the Integra was coming back after 21 long years, I was eager. The base Integra was a bit of a letdown, as I (along with many others) perhaps mistakenly expected a rebirth of the Type R from the get-go. Instead, what we got was essentially a liftback Civic Si. [Isn't that essentially what the Teggy used to be? —Ed.] Then, after what felt like an eternity, Acura revealed the Integra Type S. Was this a return-to-form for Acura? Is this what us '90s kids were hoping for all along? Short answer? Yes. Long answer? Heck yes!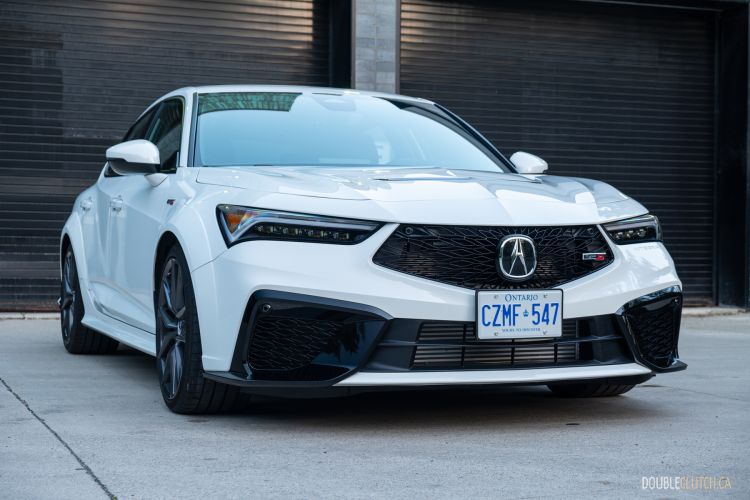 Yes, I'm excited about the new Integra Type S. You see, I've owned a number of Acuras and Hondas in the past. Along with my Integra, my first 'new' car was a 2008 CSX Type S and I even had an original NSX for a few years. Say what you will about Acura losing its way over the last little while, I think they just won the 'hot hatch' segment with the reborn Integra Type S, even besting the Civic Type R on which it's based in a few areas, too.
Where the base Integra looks a little too, well, basic, the Type S cranks things up a few notches with a 2.8-inch wider body, highlighted by muscular fender flares that instantly it an intimidating yet civilized look. The entire front end is different from the base Integra, with a more aggressive hood, bigger grille, and a redesigned front bumper that feeds significantly more air into the engine bay.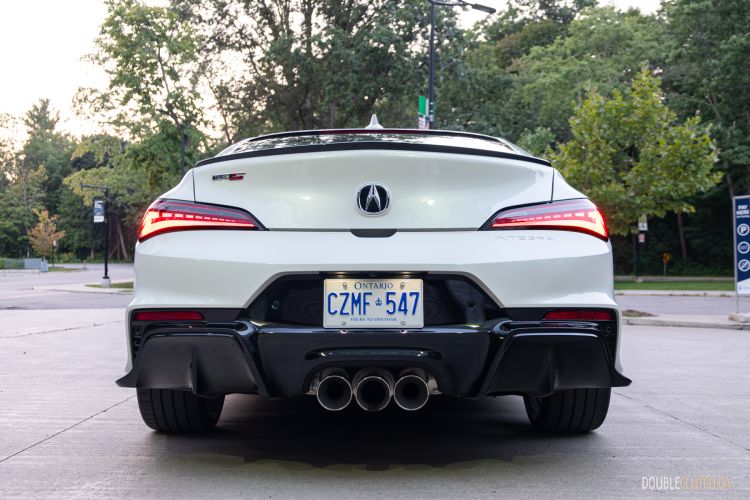 Out back, you have a pretty wild rear diffuser with centrally mounted triple exhaust tips. Acura, in wanting to maintain a level of luxury decorum and subtlety, forgoes the Civic Type R's large wing in favour of a small decklid spoiler. Finally, you get 19-inch wheels wrapped in 265-section Michelin Pilot Sport 4S tires. It all comes together for a premium yet aggressive look, perfectly balancing what an Integra buyer today would be looking for.
The Integra Type S' interior is typical Acura, blending equal parts sportiness and luxury. The red leather looks sporty and the suede-like black inserts feel premium while keeping you in place during spirited driving, although the seats themselves aren't nearly as form-fitting as the Civic Type R's seats. The driving position feels good, and the digital instrument cluster is clean, simple, and boasts yellow needles in Sport+ mode, a nostalgic nod to past Integras. The ELS 3D audio system is 530 watts of crisp, clean audio pumped through 16 speakers. The centre console is, frankly, brilliant in this day and age, offering proper physical switchgear and a touchscreen flanked by physical buttons for easy shortcuts. Being based on the already excellent Honda Civic, the Integra gets a lot right — the Type S thankfully doesn't suffer from Acura's own horrendous, touchpad-based infotainment!
You're also saved from having to deal with Acura's frustrating, button-based gear selector, because the Integra Type S only comes one way — with a proper six-speed manual transmission, topped by a shift knob seemingly yanked right out of an S2000. Said shift knob helps you control the 2.0-litre turbocharged four-cylinder engine, pumping out a healthy 320 horsepower at 6,500 rpm and a robust 310 pound-feet of torque between 2,600 and 4,000 rpm. It forgoes Acura's SH-AWD system in favour of front-wheel-drive aided by a helical limited-slip differential, which feels just right for an Integra.
True, much like previous Integras, the new one borrows much of its hardware from a Civic — the Type R, in this case — but that's not a bad thing. Acura put its own spin on things, starting with a different engine tune that gives the Type S five more horsepower. It also has a surprisingly rowdier soundtrack than the Civic Type R, helped in part by one less resonator in the Integra's exhaust. Mechanically, the suspension is all Civic Type R as well, but Acura tuned the software to provide a slightly more compliant ride in each of the drive modes. Where the Civic Type R is trying to be the ultimate FWD track weapon, the Integra Type S is intended to be the ultimate backroad warrior, behaving better than the Civic over less-than-perfect pavement.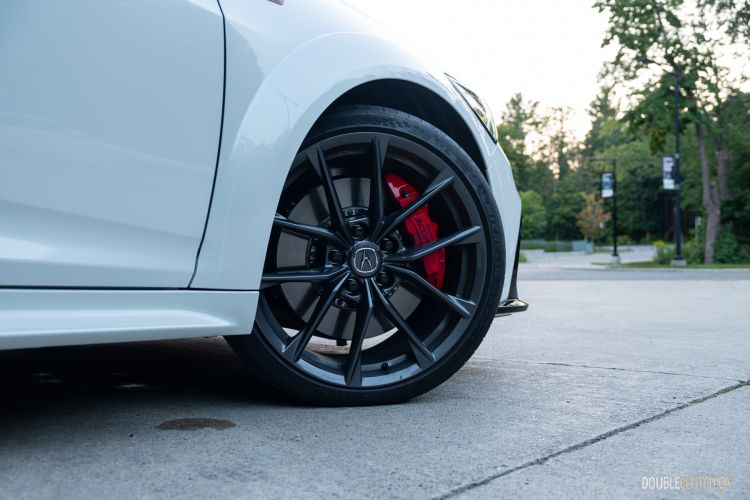 It all comes together well. This is a car you drive for the sake of driving. I found myself changing gears not out of necessity, but because I wanted to keep using that near perfect-feeling shifter. The clutch is light and easy to modulate, with a wide engagement point that makes you feel like a stickshift pro. The suspension is calibrated well, never beating you up yet working in perfect harmony with the limited-slip diff and those sticky Michelins to give you otherworldly levels of grip. The Brembo brakes will slow you down in a hurry and the pedal feels good. Of all the drive modes, my go-to was Individual, where I kept the engine in Sport+, the steering in Sport, and the suspension in Comfort.
Yes, there's a hint of torque steer and a bit of wheel hop when flooring it from a standstill, but you don't use a screwdriver to hammer in a nail. The Integra Type S isn't meant to drag race from stoplight to stoplight; it's made to wake up on a Sunday morning and help you seek out the curviest roads you can, with switchbacks and tight hairpins that'll have you shifting through the gears over and over. It's meant for you to put in the work, and you'll be that much happier for doing so.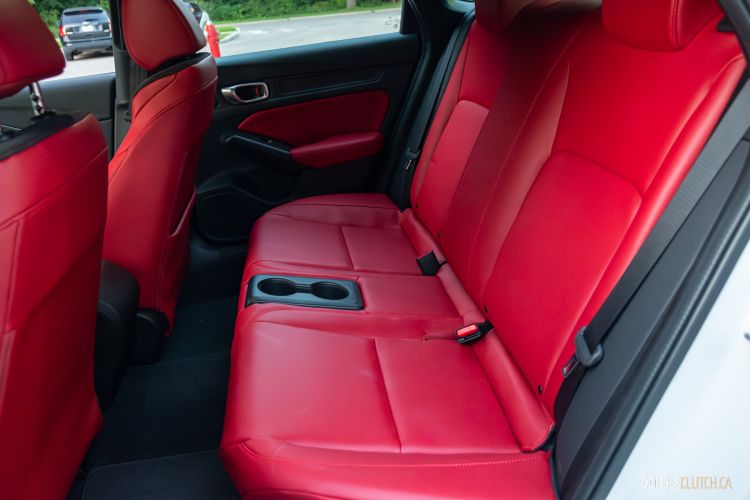 I do have a few quibbles to point out. Steering weighs up nicely the faster you go, but it feels somewhat artificial and offers little in the way of organic communication. The Integra Type S is also missing memory seats, which is a strange omission considering the Civic Touring has them. The digital gauge cluster is almost too simple, and is missing the Civic Type R's race-ready display, funky shift lights, and data-logging functionality as well. The rear bench only has two seats, with the central spot used only for cupholders. There are even a couple of buzzy panels inside, with Acura not quite entirely hiding the Integra Type S' economy car roots.
At $56,100 as-tested, the 2024 Acura Integra Type S isn't entirely cheap. But when you press in the clutch, put it in first, and set off, none of that matters. It instantly makes you remember why you love driving, and it handily captures the spirit of the original — so much so that I bought one for myself.
See Also
2023 Acura Integra A-Spec Elite