Growing up in Asia in the '80s and '90s, I witnessed the dawn of the Japanese car culture taking hold of everything, from professional racing circuits to grassroots motorsports to Hollywood. Even after I immigrated to Canada, I found myself turning this passion into an obsession; when I wasn't watching Best Motoring for hours on end, I attended local car meets. That eventually became a large part of my own identity when I acquired a sporty Japanese car of my own. The nameplate I hold closest to my heart, and arguably one of the most well-known in tuner circles, is Honda's iconic Type R badge — so naturally, when I picked up the 2021 Honda Civic Type R Limited Edition, I pitted it against another Type R built 21 years prior to see just how much has changed, and more importantly, whether the spirit that made these cars so legendary is still alive.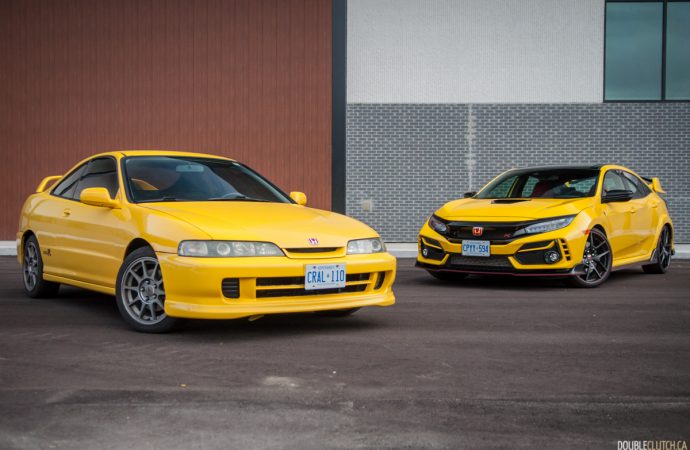 How do you make a car as legendary as the Type R stand out even more? Simple: paint it yellow. That is precisely what Honda did with everyone's favourite boy-racers and the end results speak for themselves – the 2000 Acura Integra Type R that is now regarded as a modern classic, and two decades later, this Civic Type R is looking to follow the footsteps of its predecessor with an ultra-limited model.
Prior to the Civic Type R LE, Phoenix Yellow has only ever appeared on one model in North America: the Integra Type R, and only for 2000 and 2001. This particular car is Canadian-spec 2000 Acura Integra Type R with a Japanese-spec conversion, which swaps out the front end, upsizes the original 15-inch wheels to 16s, and adds Honda badging, black Recaro seats, a titanium shift knob, and a Momo steering wheel. While Father Time has left some marks on this particular Integra, its simpler body lines and perfect proportions have remained timeless — a stark contrast to its aggressively styled successor.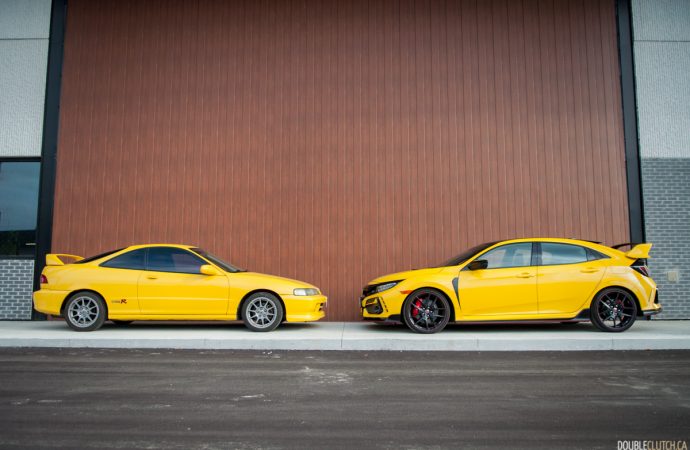 The current FK8-generation Civic Type R has been around for four years now, and its edgy appearance is just as controversial as it was back in 2017. The many air intakes, big spoiler, and vortex generator at the edge of the roof might seem excessive to the casual observers, but Honda maintains every element is functional.
The Limited Edition is a swan song for the current Civic Type R. Of the 1,020 units worldwide, Canada is getting only 100 examples. Aside from the obvious bright yellow paint, Honda has also added dedicated BBS forged wheels that save a combined 18 pounds from the regular Civic Type R, gloss black exterior accents, and a unique dark chrome Civic badge on its rear hatch. These enhancements may not seem like much, but the Civic Type R Limited Edition looks striking with the dress-up and got attention wherever we went all week.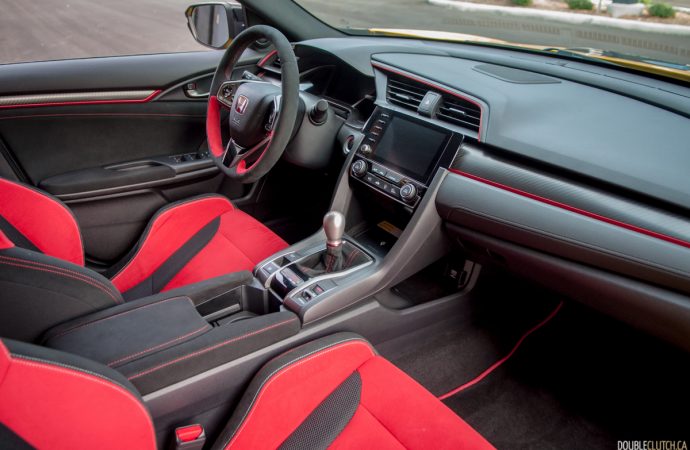 The Integra Type R is powered by Honda's legendary 1.8-litre B18C5 four-cylinder engine that had its intake and exhaust ports polished by hand. It produced 195 horsepower at a stratospheric 8,000 RPM when new, and its redline was an equally stratospheric 8,400 RPM. It may not seem like much horsepower these days, but back in the late 1990s, 108.5 horsepower per litre of displacement was the most ever produced by a production engine. Needless to say, it's definitely quick off the line, even by modern standards.
The Civic Type R's 2.0-litre K20C1 turbo-four remains under the hood of the Limited Edition, putting out 306 horsepower at 6,500 RPM and 295 pound-feet of torque between 2,500 and 4,500 RPM. Both the Integra and Civic Type R are equipped with VTEC and share a common characteristic: they both feel way faster than the numbers suggest, but that's about it in terms of similarities.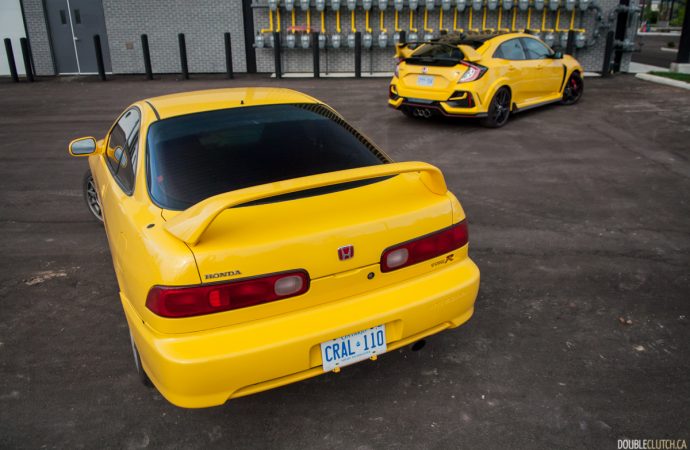 The Integra thrills with a hair-raising experience once VTEC kicks in around 5,700 RPM, and that feeling is unmatched by anything below 300 horsepower these days. The Civic counters with usable power from the early on and a forceful thrust that you just don't get in the Integra. The Civic's turbo-four is fast to spool up and highly responsive to throttle inputs, and the six-speed manual transmission's feel and precision are second to none.
Despite being front-wheel drive, both Type Rs see very little understeer and torque steer is minimal. Honda's philosophy of delivering joy is on full display; I found myself pushing both of these Type Rs harder than I normally would, even during commuting, and both boast communicative steering and a well-balanced chassis.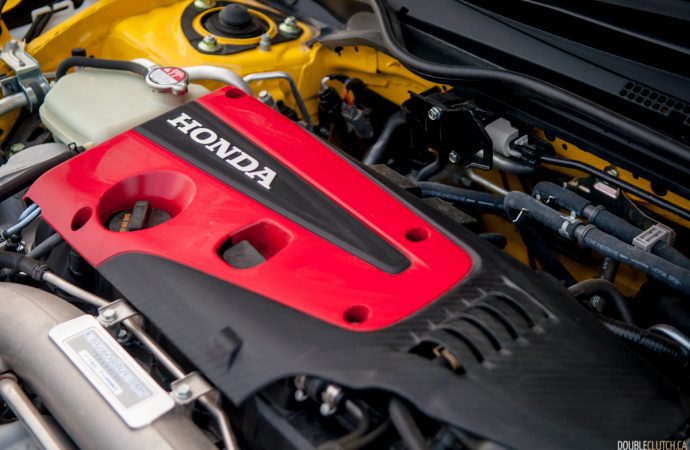 Another notable similarity between these two race-inspired hatchbacks is Honda's effort to save weight in pursuit of better performance. The Integra Type R used less sound deadening materials, thinner windscreens and floormats, and deleted the vanity mirror to achieve its weight loss, while the Limited Edition goes beyond lighter wheels and deletes part of its sound deadening materials, rear heater ducts, rear wiper, and cargo cover to drop a few more pounds over the standard Civic Type R. That said, I'd be lying if I said I could tell the Civic Type R's diet results in better performance,  but the reduced sound deadening meant I heard more of its engine sound, which is never a bad thing for a dedicated weekend warrior like these.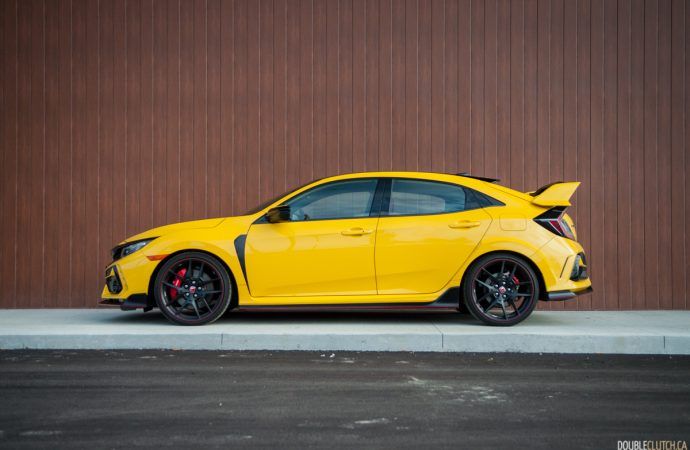 Back in the late 1990s, automakers started to focus more on interior design and digital instruments became more common. With the Integra Type R, though, Honda went the opposite direction and only offered what is required. The Japanese-spec Recaro SR3 bucket seats are excellent, and the only infotainment you have — and all that you really need — is the 10,000 RPM tachometer after the owner ripped out the original stereo system for maximum weight saving. That's all you get: a steering wheel, a shifter, and three pedals. The pure and unadulterated driving experience makes you forget about touchscreens and sport modes.
Fast forward to 2021, and the Civic Type R's interior easily trumps the Integra, but is still minimal by modern standards. The seats no longer say Recaro, but they're just as supportive and the lack of creature comforts like a sunroof and heated seats felt more like a reminder of the car's performance-oriented focus rather than a slight on the spec sheet. Honda also took care to ensure the safety of its occupants and their surroundings, offering a suite of its Honda Sensing driver's assistance technology as standard equipment on all Civic Type Rs, Limited Edition or not.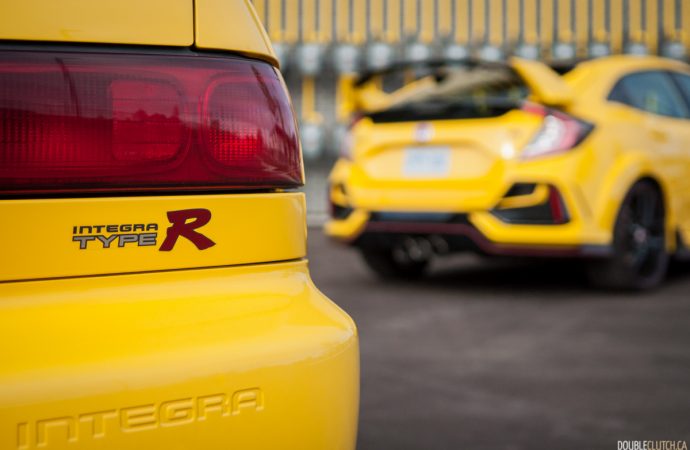 Adjusted for inflation, the 2000 Acura Integra Type R's $31,000 sticker price equals to $46,059 today,  nearly identical to the standard 2021 Civic Type R's $46,200 price tag. This is not a coincidence, but rather proof that Honda has locked onto the same target audience in the past 20 years and never faltered. I can see many former — or better yet, current — Integra Type R owners picking up a Civic Type R as they move on from one life stage to another while refusing to give up on the passion. As for the most hardcore Type R fanatics, they'll be happy to pay the premium for this $54,600 Civic Type R Limited Edition for its undeniable exclusivity and unique suspension tuning, weight savings, and BBS wheels that aren't easily replicated.
After spending time behind the wheel of these two Type Rs, '90s Japanese car culture is still very much alive and well, even if it has evolved into something much more well-rounded than the unapologetically simple engineering I obsessed over while growing up. Much like my own personal life journey, where I find myself smoother around the edges but still long for the thrill of motorsports, the 2021 Honda Civic Type R Limited Edition still very much has the Integra Type R's spirit and sparkle in its eyes, only more matured. The Integra is analog driving in its most evolved form and it will always have a special place in my heart, but I have no doubt that in 20 years, the Civic Type R will become a classic in its own right. Maybe in 2041, my kids will look back at the Civic Type R – and embrace Japanese car culture as a whole – as fondly as I look back at the Integra Type R today.
See Also: