I don't envy the engineers who were tasked with developing the 2023 Acura Integra Elite A-Spec. They were handed a brand new Honda Civic Si, which is a fantastic car, and told to make it an Acura. Make it meaningfully different from a Civic so as to appeal to a more upscale buyer, without compromising what made the already pretty-much-perfect Civic so good. Of course, the product planners who decided to resurrect the Integra name and the marketing peeps who hyped it as the second coming of Christ basically guaranteed the Integra was gonna be disappointing.
It's saddening to say the Integra is a disappointing car because, in a private universe with nothing else to compare it against, it's pretty excellent. It looks good, it's well made, the interior is well appointed and well thought out, it's practical, it's incredibly efficient, and it drives really, really well. Let's stay in our private universe with the Integra and break these down.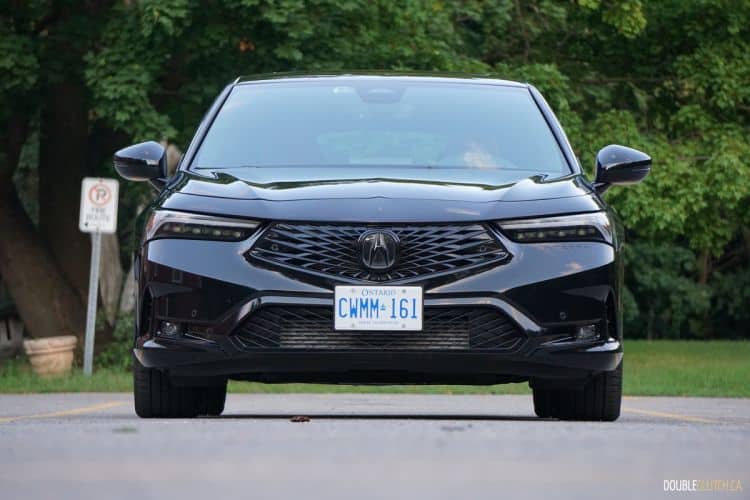 It's a fairly good looking little thing, with a striking nose leading into curvaceous lines, culminating over a fastback roof into a sleek boat tail rear end that looks like it belongs on a real sports car. We didn't care for our test car's murdered out color scheme (soooo 2010, guys), but the design is otherwise pretty successful at creating a striking little car that should be appealing to both luxury and sports oriented shoppers.
The successful design continues inside, where Acura mercifully blessed our Integra with a generous flourish of color – lots of red leather and metallic accents to break up the inky black. The seats are gorgeous, with black leather accents and suede inserts on the front, and are very comfortable and supportive. There's plenty of legroom for front and rear occupants, although headroom in the rear is compromised by the fastback roofline. Cargo space is generous and expanded by folding rear seats, and the hatchback rear makes loading just about anything a cinch.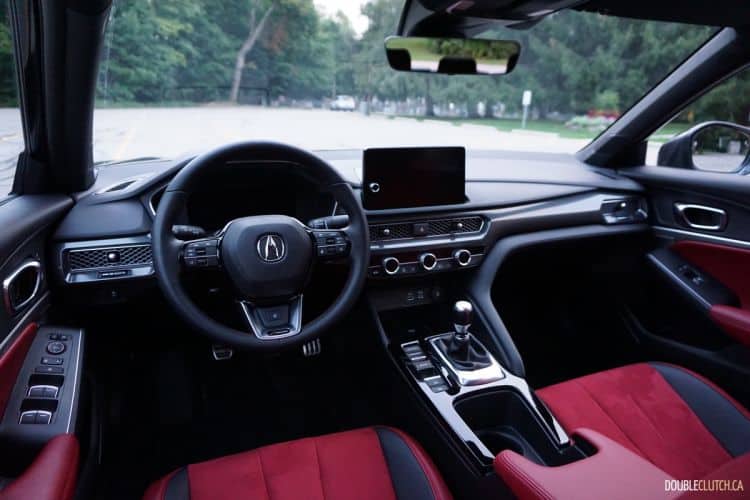 The infotainment touchscreen spans nine inches and is sharp and responsive, and is paired with a similarly snappy ten inch digital cluster. Both screens are augmented by physical buttons and dials – a huge boon in an era of increasingly frustrating touch controls. Everything is intuitively laid out and simple to use, and the wireless Android Auto works flawlessly. All the switchgear, just like everything else in the cabin, looks and feels like quality. It's a nice place to be.
Spending a lot of time in that lovely cabin won't be an issue at all, as the Integra is fantastically efficient. In our testing, the little 1.5L turbocharged four cylinder averaged 7.3L/100km, which is extremely impressive given the abundance of city mileage. It's even more impressive given that little engine is mated to a six-speed manual – it achieved that excellent mileage without the benefit of a CVT making all the decisions to save fuel.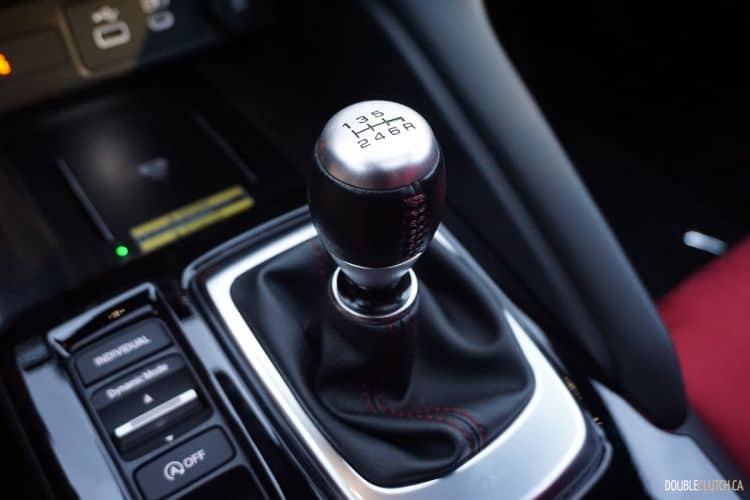 The 6 speed manual is the icing on the cake of what is a wonderful driving experience. It's short, slick, and perfectly judged. It never stops being satisfying to row through the gears, which is essential because the Integra has very short gearing, so you will be shifting often. The clutch is feather light and short, and is possibly the easiest ever fitted to a car – one of our testers had a broken left foot and had no issue driving it. The auto rev matching feature is the sort of thing we all expected to hate, but couldn't deny it works flawlessly and makes the already easy shift action even breezier. 
There's more to Integra's driving experience than a shifter – all the driver inputs and responses are similarly brilliant. The engine does a brilliant job hiding the fact it's turbocharged, offering immediate, linear response with a powerband that's broad, but has a definite upward incline that encourages more revs. It's lively and eager to respond, and pairs well with the short gearing to produce fairly quick acceleration whenever you want it.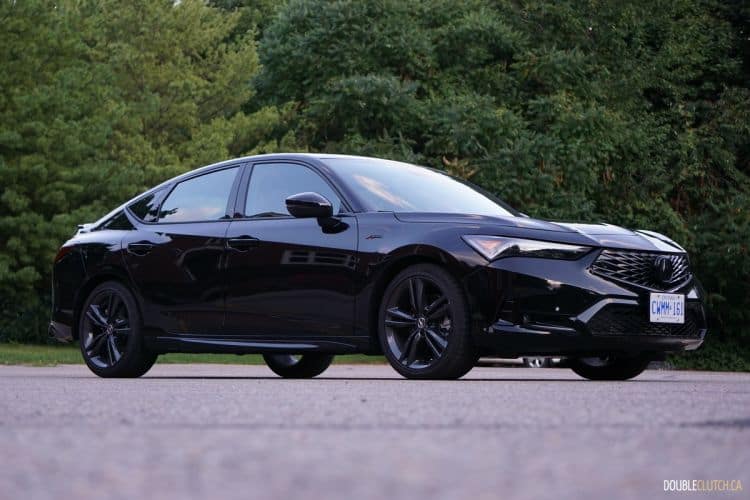 The Integra is just as ardent in the corners, displaying great balance and reflexes. The steering is quick and relatively communicative, and Acura's dialed in a little bit of artificial heft to further its luxury chasing intentions. The Elite A-Spec trim is fitted with electronically adjustable dampers, which results in a decidedly taut chassis with excellent body control. Exclusive to the manually shifted models is a limited slip differential, which allows the Integra to scamper out of corners just as eagerly as it dives into them.
Car sounds pretty great, right? Unfortunately now we're at the stage where we have to exit our private universe and step into the crowded house of reality… where other cars exist. All the sudden the Integra's charms have an asterisk next to them, and things start falling apart. It turns out that the product planning department's wish list made the Integra an expensive little car. Our Elite A-Spec test car rang in at $42,550 before taxes and destination and whatever else.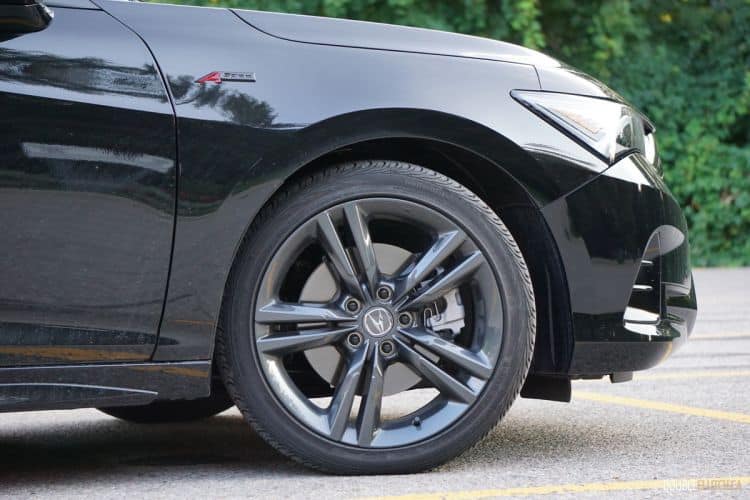 For those thinking you can skip some features and get all the driver-centric goodness, the product planners are one step ahead: the 6 speed manual is reserved exclusively for the fully loaded Elite trim. This presents a significant problem. This brings the Integra back to reality where it really starts to suffer and feel awkward next to the other kids on the playground, and even among its own siblings. 
Let's run through that list of attributes again. Yes, it's good looking. But… so is the Civic, especially in Si guise. The Mazda 3 GT is a desperately pretty car, too. The VW GLI and GTI siblings are both typical teutonic handsome. Yes, the Integra has a nice interior but then again, so do the others, and the Integra allows a very un-premium amount of road noise into the cabin. The Mazda 3 is debatably prettier and factually significantly quieter. The VW GLI offers more space, a more compliant ride, and more features – ventilated seats and navigation, which the Integra lacks. The Civic's own interior design offers slightly more usable space and more than a few of us prefer its dashboard design.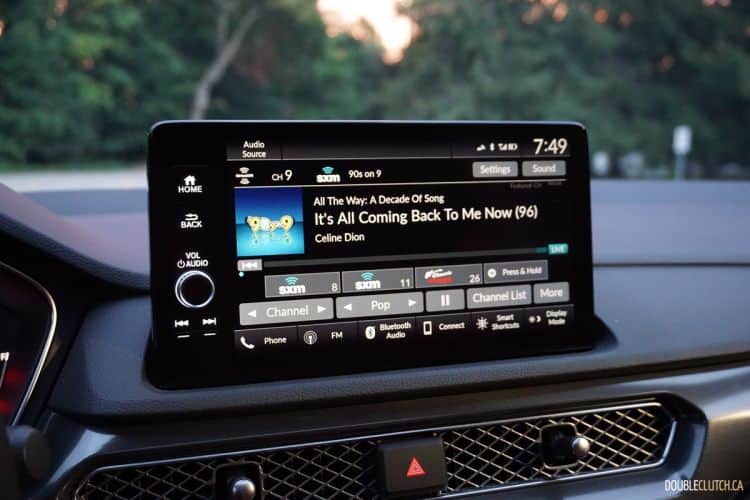 Yes, it's efficient, but again, so is the Civic. So is the 3. So is the Jetta GLI – the latter two only ask for regular gas, whereas the little Honda/Acura engine prefers the good stuff, which slightly undercuts its impressive efficiency. The GLI and GTI, Hyundai Elantra N, Subaru WRX, Mazda 3 Turbo, all make significantly more power too, and all but the turbocharged Mazda offer manual transmissions, too (a manual is available on the naturally aspirated front driver, though). All of the above cars offer a limited slip differential or all wheel drive to put their power down, too.

The Integra isn't even the best driving car of that group, either. Yes, it drives great, but the Civic Si runs nearly all of the same hardware with fewer pounds to move around – it wins by default. Some of you may point to Integra's adaptive dampers as a one-up on the Si, but their effect is hardly noticeable. They are firm, and they work well, but in comfort mode, they are still firm, and don't work well. The rev-hang endemic to Hondas kills any fluidity when you're pushing it. The Mazda 3 is light and ethereal and organic. The GLI is powerful and engaging and sounds way cooler. I won't even get into the Elantra N – it's one of the most fun cars you can buy at any price.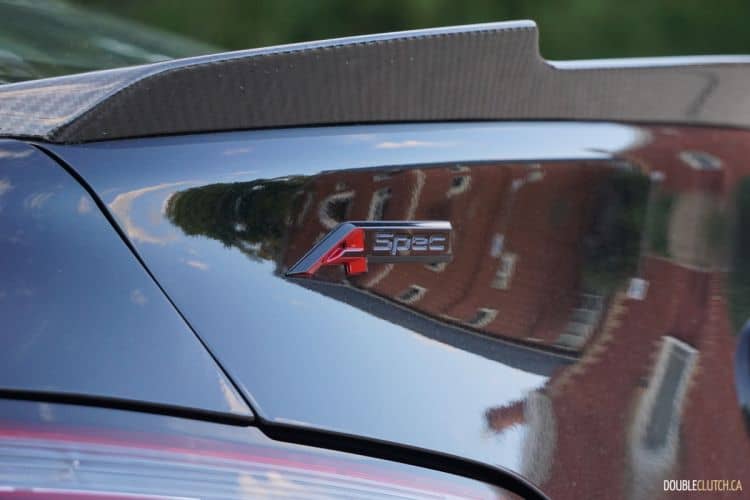 At $42,550, it's some ten thousand dollars more than a larger, faster, more feature laden VW Jetta GLI. And a Subaru WRX. And a Mazda 3 GT. It's six thousand more than a Mazda 3 Turbo AWD, and a Hyundai Elantra N – which might actually be the sport compact second coming of Christ. Its stiffest competition comes from Honda's own showroom, with its price tag almost exactly matching the fully loaded Honda Accord Touring, which is much larger, much more comfortable, handles very nearly as well, is much faster, just as well appointed (if not better), and has a more robust UI. Of course there's Honda's own Civic Si, essentially the same car with more conservative styling and cloth seats for nine thousand fewer dollars.
Acura has backed themselves into a corner with the Integra. Product planners took a page from the book of Hollywood and revived an old name to generate buzz. Marketing pitched it as an adrenaline injected sport compact that you could ride all the way back to the 90's (remember the screaming bright yellow paint on the world debut car with the obnoxious INTEGRA graphics? Neither of those are available). The accountants priced it well beyond any of the sport compacts it competes with, without having enough to show for it. The engineers and designers had to fix what wasn't broken on the Civic to make all this happen, and it culminates into a product that we're not sure will be able to compete.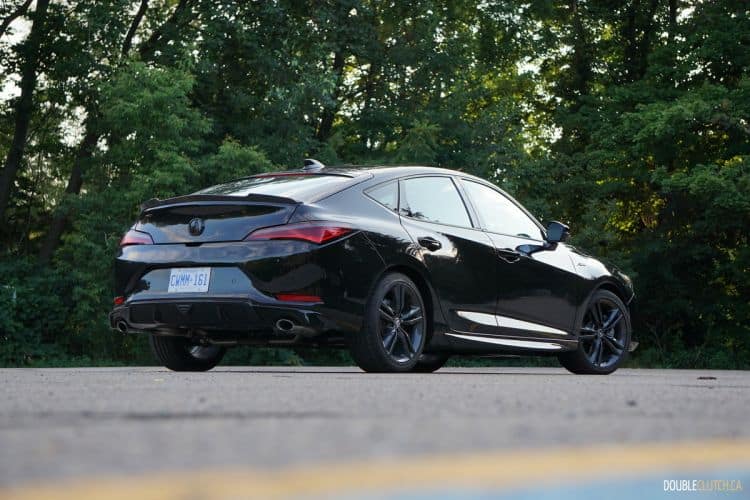 The base car at $34,350 makes sense. It's a compelling, well appointed, striking little car that looks every bit as premium as the entry level models from Audi, BMW, and Mercedes for a good bit less. You don't get the manual option but then again, they don't offer them either. Acura believes the manual shifter is a gotta-have-it feature, and has priced it right smack dab in the middle of those same entry level German brands. Is the driving experience of the 2023 Acura Integra A-Spec Elite going to be enough to justify it over its cheaper competitors? We don't think so. Is Acura's work on making the Civic look and feel premium going to be enough to woo customers away from the established luxury brands? I guess we'll have to see.
See Also: