I'm a bit of a contrarian and I don't even know why. It's so bad that I haven't seen Game of Thrones or Breaking Bad. They're too popular, and that somehow makes them less interesting to me. I like being different and seeking out the obscure, yet time and time again when my friends and family ask me to recommend a simple, easy, reliable car to buy, I go with the Honda Civic virtually every time. Sometimes the masses get things right, and there's a million reasons why the Civic is often the right answer. The 2023 Honda Civic Sport Touring Hatchback only makes those answers even more obvious, whichever way you look at it. Take a second to let that sink in.
The previous, 10th-generation Civic levelled up the entire compact car segment, albeit with some polarizing but mostly appreciated styling. Despite getting long in the tooth, it continued to reign supreme, offering up a great driving experience, excellent fuel economy, and a quality interior that was perhaps second only to the Mazda3. This 11th-gen model takes the compact car lead Honda had for years to another level once again. It's practically unfair at this point.
When you step inside, you might be fooled into thinking you're in an entry-level luxury car, at least an Acura or Infiniti. The layout is simple and efficient, with a perfect balance of touch and physical controls. The honeycomb grille, spanning the entire dash, is metal and looks fantastic, offering up a uniform look and doing a masterful job of concealing the air vents underneath. The nine-inch touchscreen for the infotainment system is crisp, with right-sized icons and no real lag. And get this — the screen is flanked by a physical volume knob and track buttons!
The Civic also uses hard controls for the climate control system, with some of the most satisfying rotary knobs you'll experience at virtually any price point. Seriously, these knurled metal looking knobs have an Audi-esque level of 'click' satisfaction. The Bose Centerpoint audio system is much better than it has any right to be — and I generally don't like Bose audio systems. It was clear, distortion-free, and most surprisingly, offers up a level of bass I haven't experienced in a Bose system in a very long time. The 10.2-inch digital instrument cluster was a bit of a surprise for me, as photos made it look very basic. In reality, it's simple in nature, mimicking analog gauges from Honda's past with no neat party tricks or different views, yet I somehow I grew to love the simple and clean look.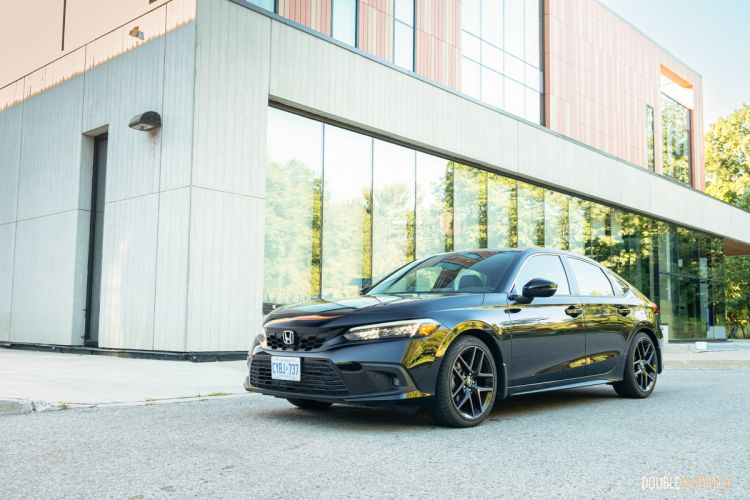 Outside, the 11th-gen Civic looks simple and elegant up front, eschewing much of the aggressive and edgy styling on the previous car. For us (slightly) older folk, it looks modern while harking back to the simplicity of previous Civics and Accords. The side profile is clean as well, with a moderately sloping roofline that doesn't materially affect rear passenger headroom, and certainly not trunk space — the Civic hatch is the roomiest in its class.
The back end offers up the most visual drama, with end-to-end LED taillights that have a pleasing light signature at night. The 18-inch split five-spoke wheels are shared with the sportier Civic Si and look great wrapped in 235-section tires. The whole look is undramatic and gimmick-free, but it manages to work quite well. You won't pick one of these out in a crowd, but you'll appreciate looking at it in your driveway.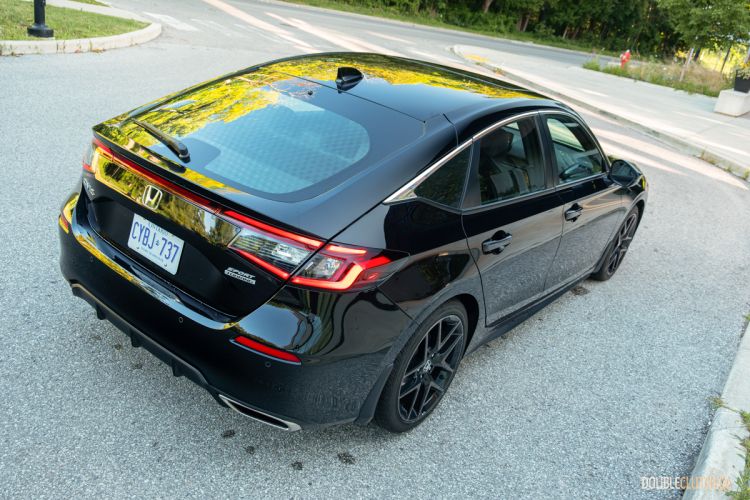 Power comes from a 1.5-litre turbocharged four-cylinder engine mated to a CVT. I normally dread CVTs, but Honda figured this one out. It does a great job of mimicking a conventional automatic transmission, with no odd hanging revs to ruin the experience.  With 180 horsepower at 6,000 rpm and 177 pound-feet of torque as low as 1,700 rpm, the Civic hatch never felt short on power. As is customary, the Civic returned excellent fuel economy, averaging about 7.6 L/100 km in mostly (very spirited) city driving. A one-and-a-half-inch longer wheelbase and a half-inch wider track gives this hatchback great ride quality, even erring on the side of fun. The suspension has been updated from the already excellent 10-gen model, with a new aluminum front subframe and upgraded bushings in the rear. The power steering gets an update as well, despite already being great in the previous generation.
The whole package made me feel like I was driving an automatic Civic Si, and I mean that in the best way.  The handling is that good and power isn't far off from the Si. I'm a firm supporter of saving the manuals, but for someone who can't — or prefers not to — drive stick, this 2023 Honda Civic Sport Touring Hatchback is an easy compromise to make.
See Also
2023 Acura Integra A-Spec Elite