Last year I had the pleasure of reviewing what I called the driver's spec Mazda3; a front-drive Sport GT hatchback, with the bigger naturally aspirated motor and a six speed manual transmission, and I adored it to such an extent that I didn't want to return it. This time round, I'm reviewing a 2023 Mazda3 Sport GT Turbo, a fully loaded hatch armed with turbo muscle that's routed through a smart automatic gearbox to all four wheels. I sort of had this thought with the last one, but this one, with its all wheel drive and boosted engine, has really got me thinking: what constitutes a luxury car?
Think about it: what makes a car luxurious? What makes a Mazda3 a compact and an Audi A3 a premium compact? What's to separate our Mazda3 Sport GT Turbo from an Audi A3, or something like say, a Mercedes CLA 250, or a BMW 228 GC? Gorgeous exterior design, sensual interior design, thoughtful ergonomics, fantastic sound system, carefully calibrated chassis tuning, excellent driver controls, comfortable seating, quality materials, satisfying touch points, a smooth turbocharged engine, a slick transmission, all wheel drive… a loaded Mazda3 like our tester has and does all of this.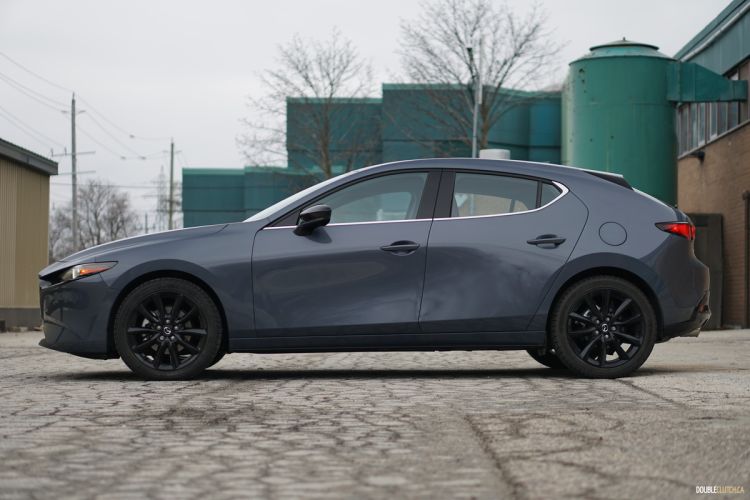 All of the auto rags have pretty well unanimously praised the 3 for it's "premium feel," but have stopped short of calling it premium. I think it's time we drop the qualifiers and just admit it's a lovely little luxury car, because a comparably equipped Mercedes A250 hatch, for some fifteen thousand more dollars, does exactly nothing better than this humble little Mazda. Some of you may scoff at the idea of calling a Mazda a luxury car, but the traditional luxury brands have been watering down their offerings for years, while others have been stepping their game up, blurring the lines between the proletariat and the patrician class. Are we at a point where we have to ask if modern luxury is nothing more than #brands?
What's the first thing you notice in a luxury car? Style. Presence. This generation of Mazda3 has got it in spades, with a soulful, curvaceous design that sacrifices some practicality in favor of beauty; an Alfa Romeo badge would look right at home here. Our tester's Polymetal Grey breaks up modern industrial chic of most medium greys with gold metallic flakes that only come out under bright light, with dark wheels and accents for a more serious, performance oriented look. Inside, you're greeted by a gorgeous interior design, with sumptuous curves abound, and two-tone black and dark garnet red leathers criss-crossing across the dashboard, with plenty of tasteful metallic accents to tie it all together.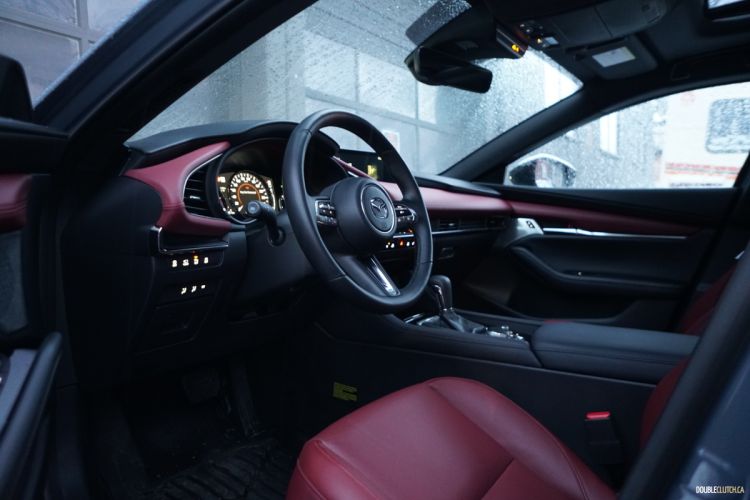 The thoughtful attention to detail continues with Mazda's software, as their already stylish and intuitive infotainment and gauge cluster continue on largely unchanged for 2023. There's some small tweaks we would have liked to see, like simplified audio playback and tuner controls, but overall, the system's cohesive aesthetic design and use of physical controls keeps it easy on the eyes and easy to use. Those physical controls, like all the other materials in the cabin, feel like quality pieces. Like any luxurious car, the cabin is thoroughly quiet, providing a very low noise floor for the excellent Bose sound system, and it's superbly isolated from wind and road noise.
While the cabin is hushed, the 3's chassis does a typically-Mazda superb job of striking a balance between isolation, and involvement. The suspension is taut, with firm shocks and relatively soft springs, to allow for sharp reflexes and reassuring body control without having a punishing ride. Impressively, the added heft and complexity of the all wheel drive system doesn't seem to have hindered the car's ride quality or eager responses, as we've seen elsewhere. The all wheel drive seemingly doesn't impact the car's balance, either, still exhibiting very neutral handling characteristics, with the extra driven wheels largely serving to put the added muscle down when needed. The steering is well weighted, with just enough heft to feel deliberate, and fantastically communicative, making the car a pleasure to hustle.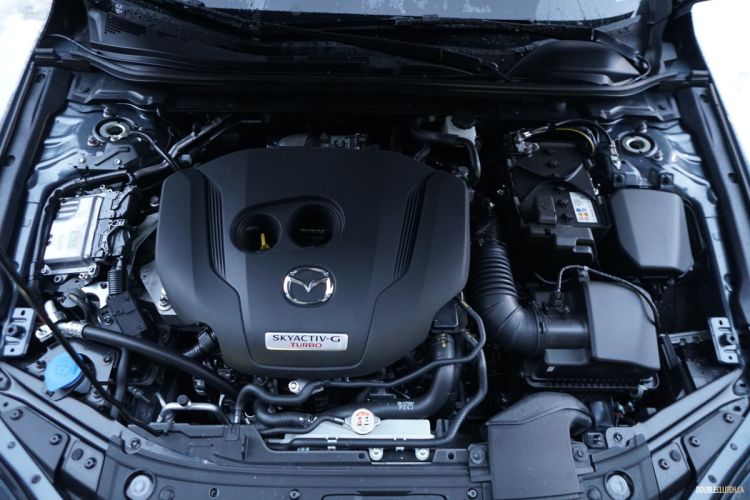 And hustle it will, with Mazda's 2.5 liter turbocharged four cylinder engine that also powers Mazda's much larger SUVs under the hood. With up to 250 horsepower and a very impressive 320 foot-pounds of torque on tap, this little hatch is quick, and doesn't give up an ounce of refinement to its "actually premium" German competitors. It starts building power low in the rev range and holds it all the way to its 6500 rpm redline, with minimal turbo lag, and accompanied by a satisfying baritone grunt, too It's clear Mazda tuned this exhaust for a little more attitude in this application. 
Mazda recommends premium fuel for maximum attitude, but says it will happily chug along on the cheap stuff, albeit with slightly reduced performance, giving up 23 ponies. We tested it both ways, and we'd strongly recommend keeping it on a steady diet of the good stuff. More than the power numbers convey, it feels so much more responsive and smoother, and is able to build its power much earlier, in a much more linear fashion, and holds onto it longer before pulling timing. It feels fine on 87, but it's great on 93. Either way, fuel efficiency remained about the same at 9.3L/100km (to be honest, it was slightly worse on premium, but that's because we were having a lot more fun with it).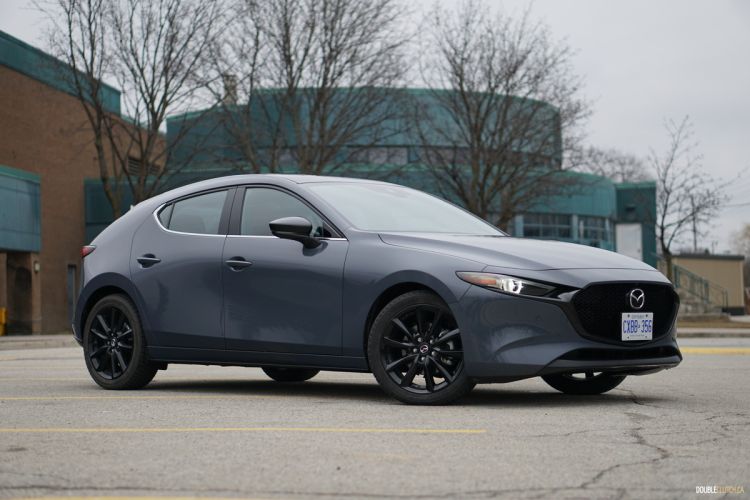 Mazda's ubiquitous six-speed automatic transmission that powers their whole lineup is present here, and the wonderful manual transmission that's available on the front-drive models isn't available. This has already been complained about ad nauseum, so I'll save the manual-elitist-jerk rant for another time, but I'll just echo what others have brought up and say it would really be a shot in the arm for the car, giving it some serious hot-hatch credibility. Having said that, the automatic does a fine job here. It's smart, seamless, and spirited when you want it to be, being one of the few autoboxes available that can snap off a smooth downshift into 1st when you're having fun with it.
So with all that in mind we come back to the main question: what makes a premium car? What makes a BMW 228i GC, with less power, less equipment, and a lesser driving experience worth the thousands of extra dollars? Is #luxury actually just #brands? Are we so vain that a badge is all that separates the wack from the wealthy? The 2023 Mazda3 Sport GT Turbo does quite literally everything at least as good as the "real" upscale cars, and in a lot of ways, does them better. I don't understand why Mazda doesn't get to sit at the adults' table, but if that would mean having to add an arbitrary fifteen grand to our tester's $37,650 sticker price, then so be it. Regardless, this is a wonderful little luxury driving instrument at any price point.
See Also: