The Honda Civic name invokes fond memories for many as one of Canada's bestselling vehicles. In my high school days a fifth-generation Civic was the first car available to our circle of friends and it soon became our first taste of the freedom. 20 years later and we're looking at the 11th generation Civic, the 2022 Honda Civic Hatchback Sport Touring. The latest Civic has been a big hit with the DoubleClutch.ca staff thus far, proving Honda still makes one of the best compact cars in the industry. We took this hatch on a road trip to see if the new Civic can be as comfortable cruiser.
After the polarizing boy racer look of the 10th-generation, Honda has redesigned Civic to appeal to a broader demographic. The new design is more restrained, giving it more mass market appeal. We were a bit apprehensive on the Boost Blue paint as we didn't think it suited the mellower Sport Touring, but it really grew on us. The Sport Touring also comes equipped with 18-inch aluminum alloy wheels machined with black inserts, LED fog lights and some very cool rain-sensing wipers with built in washer fluid nozzles.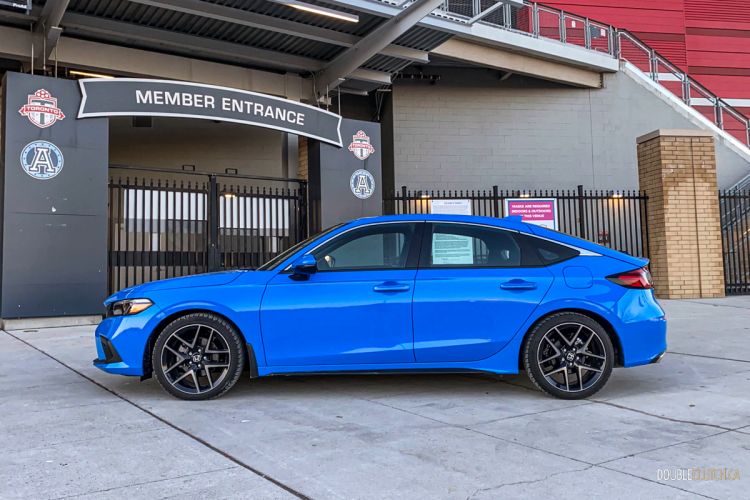 The new Civic Hatchback has a new tailgate design with a wider and lower opening to make loading cargo easier. It has 693-liters of cargo room compared to the 408-liters in the sedan, getting those hauls from Ikea home that much easier. The first thing we noticed when hopping in is the weight of the doors. As it turns out this is part of the refinement Honda has put in to make a quieter cabin, going as far as updating the door handles to make sure they don't rattle.
The dashboard has a minimalist design with a retro vibe. Vents are hidden behind a simple yet attractive honeycomb mesh. Chrome rimmed knurled knobs, piano black plastics and a nice herringbone textured center console trim really pull the design together. In Sport Touring trim the Civic also gets sporty aluminum pedals, a heated leather steering wheel and a comfy eight-way power adjustable driver's seat with lumbar support which still felt comfy after an eight hour drive.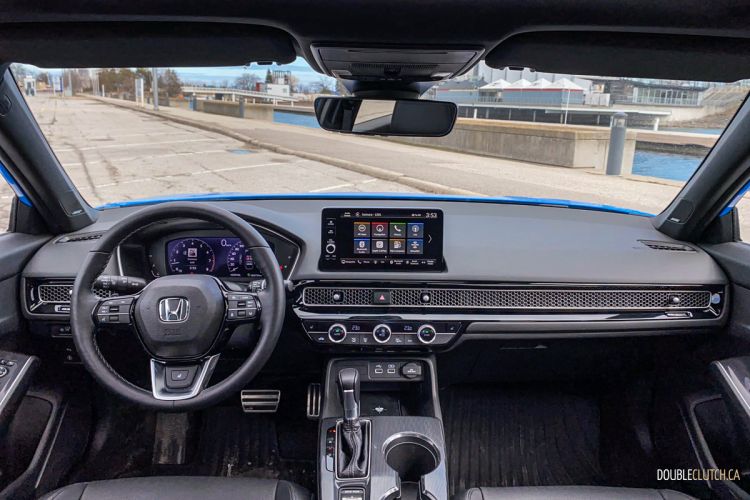 There was a time when if you wanted leather in your Honda Civic you had to go buy the equivalent vehicle at Acura. Not anymore; the Sport Touring model has a full black leather interior and even has heated rear seats so everyone can tour in comfort. Speaking of comfort, the Civic Hatchback also has one of the roomiest rear seats ever with over three feet of legroom for passengers to stretch out in.
In Sport Touring trim the Civic includes an impressive 12 speaker (plus subwoofer) Bose premium sound system which works incredibly well in this extra quiet cabin. Honda's nine-inch touchscreen running the latest infotainment is easy to use, too. Wireless Apple CarPlay and Android Auto comes standard and worked seamlessly. A nice touch is a center speaker which is used independently from the others for navigation commands. It was nice to be able to listen to the directions and music without one interrupting the other.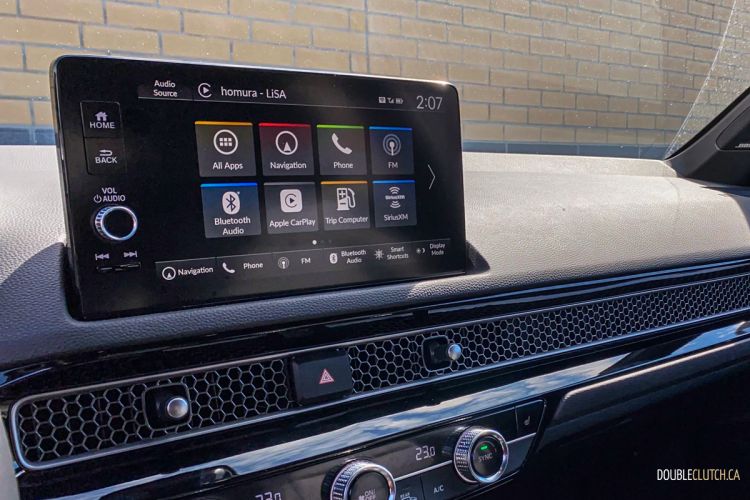 Our tester had a 10.2-inh TFT digital meter display which Honda put to great use when using the radar cruise control and lane keep assist functions. The Civic is rendered on the display with enough detail that brake lights and signals are shown in real time along with upcoming curves depending on what it sees. It also renders trucks and cars up ahead tracking them until you have safely passed. On long road trips little things like this keep the driver alert and engaged. We did experience one hiccup where the adaptive cruise control refused to activate. We could not figure out why from visual examination of the radar module and no error message was given. Thankfully, by the next day the problem corrected itself.
Our Civic is fully loaded with the latest in Honda's active safety and assisted technology features including collision mitigation braking, forward collision warning, lane keep assist, lane departure warning, and traffic sign recognition. Everything worked well but we did find the blind spot monitoring a bit over-intrusive as several times it warned us not to change lanes because of a vehicle that happened to be two lanes over.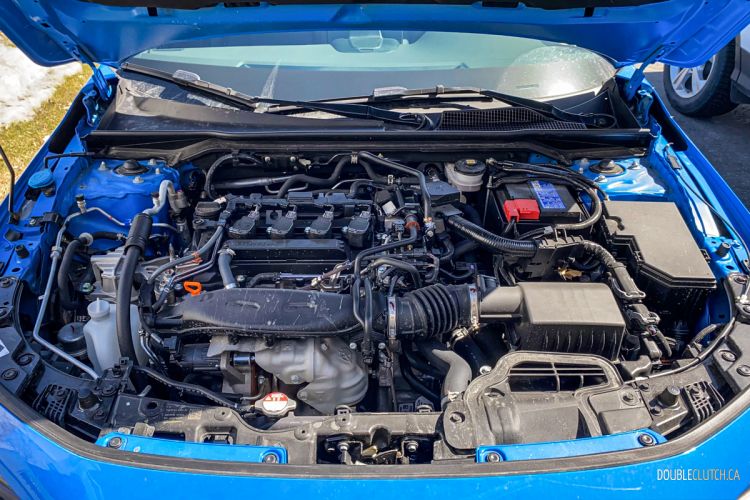 Under the hood is a potent 1.5-liter turbocharged four-cylinder pushing out 180 horsepower and 177 lb-ft. of torque from 1,700 rpm. While the engine is plenty powerful with usable low end torque we do lament the loss of character found in Honda engines of the past. Those little engines made you work for horsepower; egging you on to rev them to get more power ultimately rewarding you with those screaming VTEC noises. Now we have this wide turbocharged torque band – leagues quicker, more refined and economic to be sure but power delivery and acoustic character is no different from any number of similar turbocharged power plants.
We already know this engine is good fun when mated to a six-speed manual, but how does it fare with the CVT? You do sacrifice some driver engagement in the name of fuel economy but the CVT keeps the Civic in the power band as often as you ask for it. It's certainly appreciated on our long trip when we just want to set up the adaptive cruise control and cruise to the destination as economically for both fuel and driver fatigue as possible.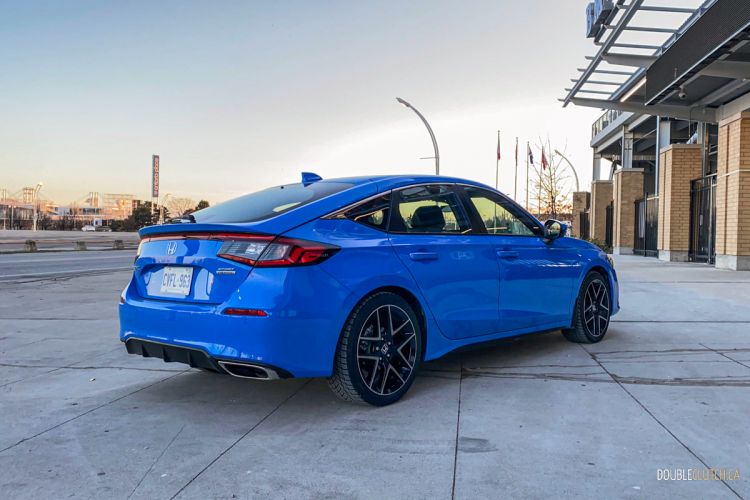 The CVT equipped Civic has fuel economy ratings of 7.7L/100km city and 6.3L/100km highway, for a combined 7.1L/100km. Our road trip was mostly highway mileage, and the Civic Hatchback managed an observed fuel economy rating of 6.6L/100 km, a figure we were very happy with given the current price of fuel even if it does use regular 87-octane.
While the exterior dimensions of this Civic Hatch probably more closely match the Accord of my youth, this iteration feels light and nimble on its feet. Sport tuned MacPherson strut front suspension and multi-link rear setup allow for great handling when pushing around corners while also providing a compliant comfortable ride quality.  We can see why Acura was so inspired by the capabilities of this superb handling chassis that they are bringing back the Integra on it later this year.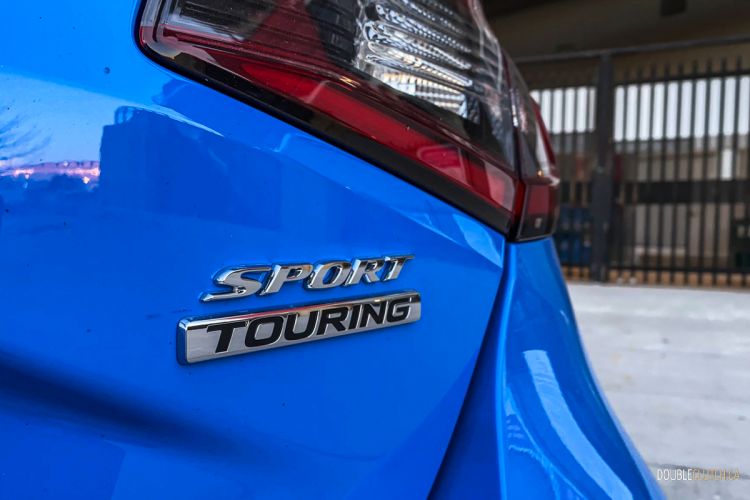 Acura may be bringing back the Integra to offer a more premium experience, but it certainly won't be as wide a gap as it was in years past as this Civic is packed with premium features. The Civic Hatchback starts at $28,650. The Sport Touring is $35,950 including a $300 premium for the Boost Blue paint. While that does sounds like a lot there really isn't another hatchback that can compete in terms of premium content and refinement until Acura releases the new Integra.
Overall we found 2022 Honda Civic Hatchback Sport Touring to have a quiet, comfortable, and roomy cabin, expansive cargo room, excellent sound, a fun to drive chassis mated to an economical yet powerful drivetrain packed with plenty of safety and driver aids. The entire Civic lineup is great in all configurations and the Sport Touring is no different. Needless to say we can't wait to get our hands on the upcoming Civic Type R!
See Also:
2020 Toyota Corolla Hatchback XSE