The Honda Accord has been a fan favourite among car enthusiasts for decades, and the 2023 model is no exception. We are now in the eleventh generation of the Accord, and this refresh includes an updated sleek exterior design, impressive standard technology features, and smooth driving experience, the 2023 Honda Accord EX tested here will surely continue to be a staple on the road for those in the market for an affordable quality midsize sedan.
The 2023 Accord has a fresh, modern design that sets it apart from its predecessors. The fascia is bold and aggressive, with a large grille and sharp LED headlights. The side profile is sleek and sporty, with a low roofline and sculpted lines that add to the car's aerodynamic appeal. The rear of the car is equally impressive, with LED taillights and a stylish spoiler that give the car a sporty edge.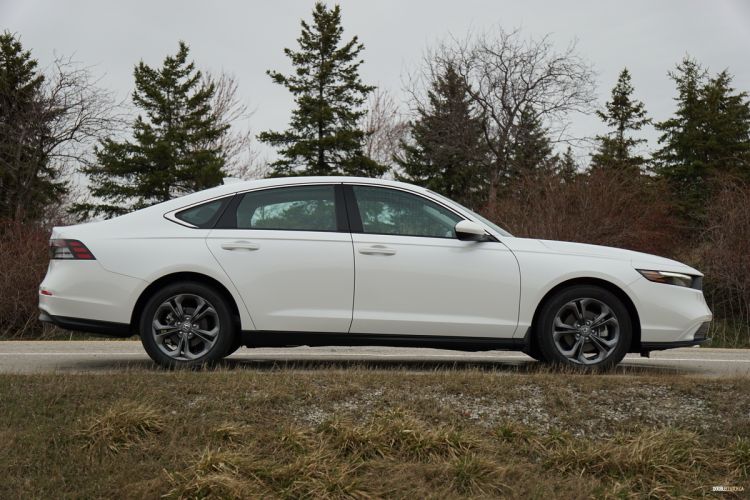 There are some elements of the exterior design that make the Accord lose some of its signature design, however there is no denying it's a handsome runabout. It's also nice to see that a lot of the key features that make the 2023 Accord look upmarket such as alloy wheels and LED lights all around come as standard even on our EX base model.
The interior of the 2023 Accord is just as impressive as the exterior. The cabin is spacious and comfortable, with plenty of legroom and headroom for both front and rear passengers. The seats are supportive and comfortable, with plenty of adjustments to ensure that drivers of all sizes can find a comfortable driving position.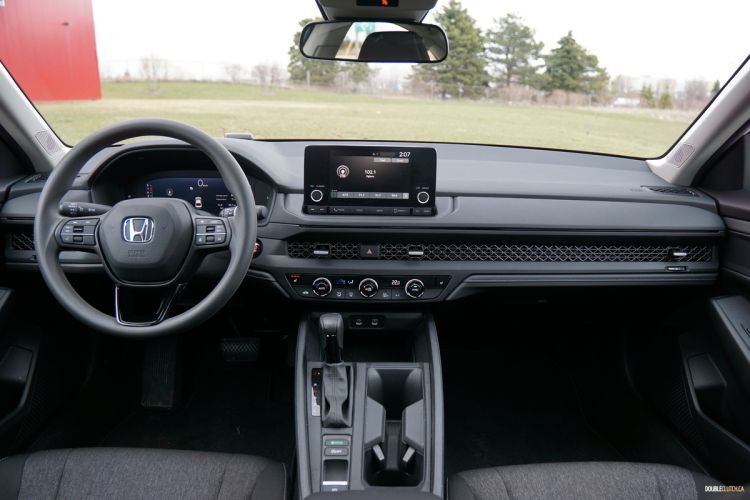 We can definitely see the new design language that started with the 2022 Honda Civic, as the interior is near identical just a little bit more spacious. Don't get me wrong; this isn't a bad thing, as the team all think that it is one of the nicer economy car interiors on the market. The dashboard and center console are well-designed and intuitive, with easy-to-use controls and a user-friendly infotainment system. The touchscreen display is large and easy to read however if you are not using your smartphone to enable the CarPlay or Android Auto there is very limited functionally. If you step up to the Sport or Touring models, you will get built in Alexa and a much more advanced system as well as a 12.3-inch screen to replace the seven-inch unit in the EX.
The 2023 Honda Accord comes with two engine options: a 1.5-liter turbocharged four-cylinder engine and a 2.0-liter four-cylinder engine paired to a hybrid drivetrain. Both engines are hooked up to a CVT transmission which is nothing special, and most times we found ourselves yearning for a proper torque converter automatic.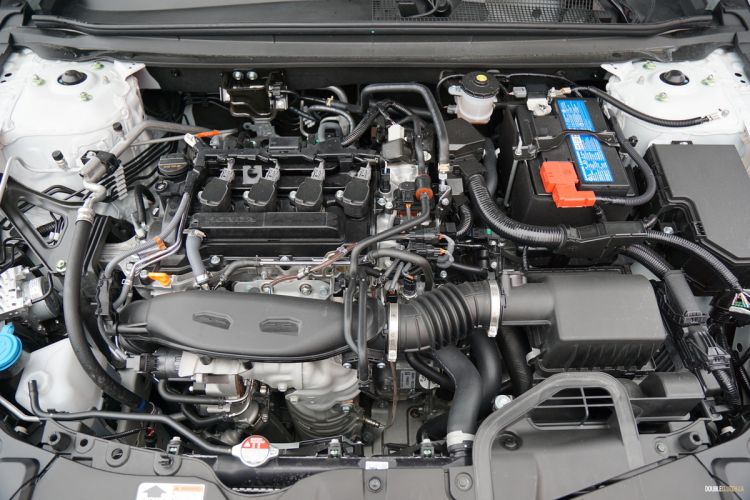 The 1.5-liter engine in our EX tester produces 192 horsepower while the 2.0-liter gas/electric combo produces 204 horsepower. Both engines are fuel-efficient, with the 1.5-liter engine achieving up to 8.1, 6.4, and 7.3 L/100 km (city, highway, and combined respectively). The Hybrid steps these numbers up to 5.0, 5.7 and 5.3. 
On the road the 2023 Accord is a pleasure to drive, with responsive handling and a smooth ride. The car's suspension system does an excellent job of absorbing bumps and vibrations, making it easy to drive on both smooth and rough roads. Road noise was a little higher than we'd like, and the steering feel is a tad numb but overall, in the midsize sedan segment, the Accord remains one of the better drivers.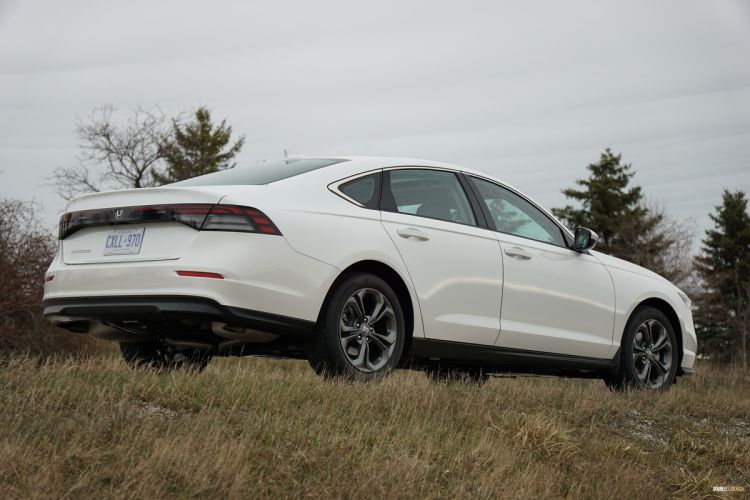 The 2023 Accord is packed with standard advanced safety features, including lane departure warning, lane keeping assist, adaptive cruise control, and automatic emergency braking to name a few. We found that the lane keeping assist and lane departure warning were poorly calibrated, resulting in a lot of false positives and with the lane keeping assist activated you'll find yourself bouncing between lanes. Luckily Honda has made it very easy to disable the systems when they start acting up.
Overall, the 2023 Honda Accord EX is an impressive car that is sure to impress drivers who are looking for a reliable, comfortable, and fun-to-drive vehicle. With its sleek exterior design, comfortable interior, impressive technology features, and smooth driving experience, the Accord is a standout among its competitors. Whether you're commuting to work, running errands around town, or taking a road trip with your family, the Accord is a great choice for drivers who want a car that is both practical and enjoyable to drive.
See Also:
First Drive: 2023 Honda Accord Hybrid
2023 Toyota Camry SE Hybrid Nightshade