TORONTO, ONTARIO – The Honda Accord has always been a favorite of the motoring press, being something of a gem hidden in plain sight. Go down a youtube rabbit hole and watch old reviews dating back to the very first incarnation of the Accord back in the 80s, and you'll see the then-new Accord being unanimously praised for its fantastic blend of value, build quality, every day usability and astonishing driving dynamics. It was heralded as a great family car that's as fun to toss around as some high dollar super sedans, and Honda's always been careful to maintain that. Now, four decades and eleven generations later, we're taking a look at the all-new 2023 Honda Accord Hybrid Touring to see if it's still the same guilt-free treat of a car we've always loved. 
The Accord has been facing an awkward challenge for the last number of years; who buys a midsize sedan anymore? The compact Civic buyers that used to graduate into the bigger Accord are now migrating to crossovers en masse, with the CR-V surpassing even the perennial best-seller Civic to become Honda's best selling vehicle. Just as is the case with urbanization and the preponderance of condo towers, people who want more space expand up, not out, and Accord sales have slumped, through exactly zero fault of the car itself; the last one was one of the best driving sedans on the market.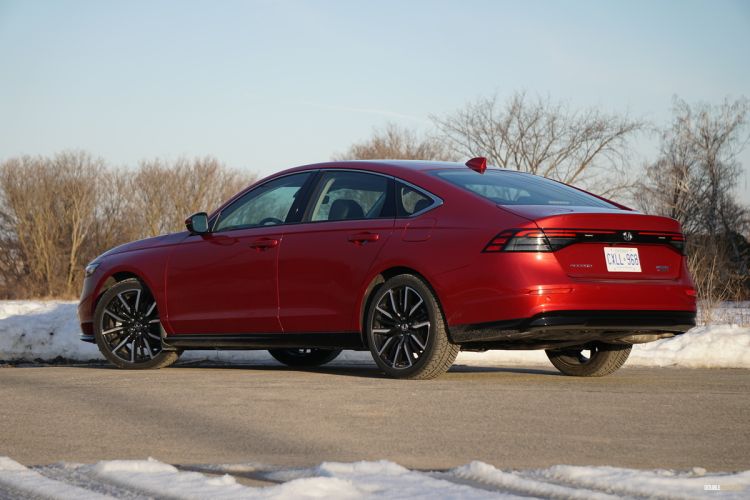 Honda's taking a slightly different tack this time around, positioning the Accord as a sophisticated sport sedan, leaning into the fact that by virtue of it not being a tall crossover, it's inherently sporty, which is the same strategy we've seen Toyota take with the new Prius. It's very evident in the styling of the new Accord, with Honda's new corporate facade stretched over a pronounced, muscular front end, with a sharp character line highlighting a low waistline, with the greenhouse framed by a sweeping fastback roofline leading into a tidy little teardrop trunk. It's refreshingly clean and unfussy, with a focus on dramatic proportions, rather than melodramatic details, giving it an imposing presence we think will age well. Our tester's Radiant Red metallic paint and 19-inch machined face wheels further add to the Accord's sporting pretensions. 
Inside, the Accord has been the beneficiary of a complete makeover, adopting Honda's new aesthetic that was introduced on the Civic last year, with the same mesh trim, and the same hidden vents. It's substantially tidier, with a much more minimalist theme than the outgoing Accord. A welcome change is the use of a leather PRND shifter lever, instead of the counterintuitive drive select buttons that Honda and Acura have insisted on for too long – no more accidentally putting it in reverse to go forward. The Accord also borrows a slightly larger version of the same digital gauge cluster as deployed on the Civic, and it's wonderfully customizable and easy to read.
Also larger is the 12.3 inch touchscreen that's standard on our Touring trim model, and it's powered by Android with Google Assistant baked in. Google's recent inclusion in infotainment has been hit and miss (looking at you, Volvo), but we're happy to report that what Honda's done here is among the absolute best available right now. It's so responsive, with impeccably slick and snappy animations, and it's super fast and fluid. Google Maps boots in a flash, and it couldn't be easier to navigate anywhere, with either the onscreen keyboard or Google Assistant voice control. In pursuit of a cleaner aesthetic, it forgoes the shortcut buttons that used to border the old system, and also loses a tuning knob, but functionality barely suffers from their absence – it mercifully keeps the tiniest volume knob. It's a stellar system that we're hoping it puts other carmakers on notice. 
The tech doesn't end there, as Honda's suite of driver aids have been updated and, not to sound like a broken record, are among the best available. The adaptive cruise and lane assist work together so well that the car can nearly drive itself. This version of Accord drives itself by means of an impressive engineering showcase, with dual electric motors and a new 2.0L Atkinson-cycle engine, delivering an incredibly slick 204 horsepower and 247 foot-pounds of torque through a continuously variable transmission to the front wheels. More often than not, the gas engines in a hybrid application like this are a let-down, introducing an unbecoming mechanical drone to an otherwise silent experience. Honda's gone to some length to beat Toyota at their own game and ensure that's not the case here.
In the overwhelming majority of situations, this powertrain combo is about as close to glass smooth as we've ever seen. The electric motors are capable of propelling the Accord (under light loads) to 60km/h on their own, and are used to provide perfectly polished power delivery. It's tricky to integrate electric and gas propulsion while making it feel organic, and Honda's nailed it to such an extent that It is damn-near impossible to tell when the gas engine kicks on, it's that well integrated. Only on the odd occasion when the engine kicks on at idle to replenish a depleted battery, or at full throttle when it's at full song and piping artificial engine noise through the speakers are you made aware of it. 
At full song is where the Accord begins to fall flat. The range topping 2.0L turbocharged engine and 10-speed automatic transmission that we adored last year are gone, and they are sorely missed. Don't get me wrong, this new powertrain combo is plenty quick, and it's astonishingly efficient, as our testing yielded 6.2L/100km with much hoonage inflating that figure, but the added muscle and directness that made the last Accord remarkably satisfying to hustle are long gone, sacrificed to the altar of progress. The CVT does its best to impersonate a conventional automatic when you ask it to, but it's not the same, and it never will be.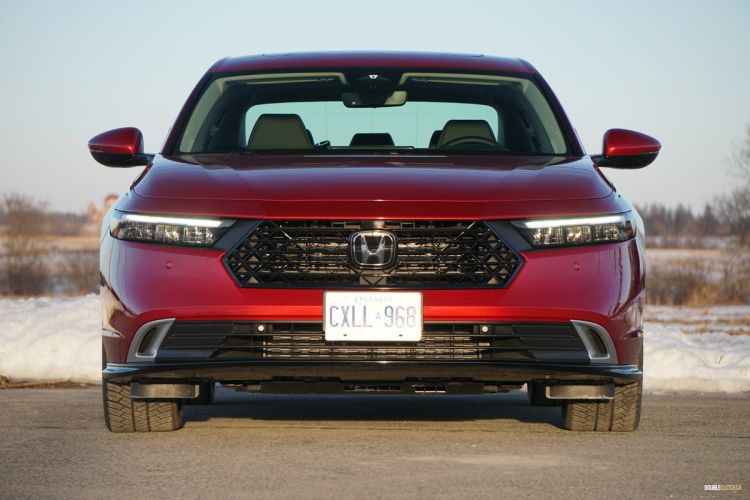 This concession to modernity is compounded by the new Accord's chassis, which is based on the same Honda Global Architecture as the Civic. As a result, it's brilliant, as it feels agile and well balanced, sacrificing some steering feel for what seems like a bottomless well of mechanical grip; you'd have to be a braindead gorilla to upset this chassis. The chassis won't upset you either, as in typical Honda fashion, it strikes a fine balance between chassis control and ride comfort, employing aluminum suspension components to reduce unsprung weight, improving ride quality and responsiveness. The Accord's undercarriage is also covered in sound isolating panels underneath to reduce road noise, whose success is tough to measure with the loud winter tires on our test car clashing with what seemed like a total absence of wind noise.
In my introductory paragraph, I mentioned old reviews of Hondas from the 80s. If you go even further back, to the launch of Honda's CB750 motorcycle in 1969, one of the common refrains that emerges is the scourge of refinement. It was an incredible bike that some called too perfect, so faultless (for its time) that it seemed to lack some character, and I feel like I can hear those echoes with the new Accord. It's better in every measurable way, and substantially better in a lot of the ways you can't measure, but some of its charm as a driver's instrument have been lost.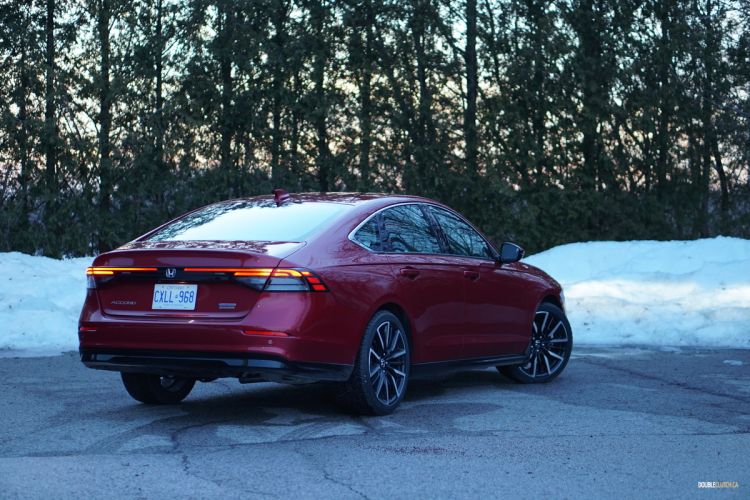 Nonetheless, there's no denying it's handsome inside and out, spacious, comfortable, and it drives incredibly well. Every Accord is well appointed and comprehensively equipped, and we feel that even our fully loaded $44,500 2023 Honda Accord Hybrid Touring is a great value. While the new Accord is packed to the gills with new tech, it's still very much an Acoord. It's a great family car with all the essentials nailed, and no needless frills to distract from what is, at its core, a fabulous vehicle. 
See Also:
2023 Toyota Camry SE Hybrid Nightshade