The Toyota Camry is a mid-size sedan that evokes all kinds of memories – be it your childhood's first family car, the trusty cab that brings you home after a long night or being ubiquitous with NASCAR having now competed in TRD guise for 16 seasons. The eighth-generation global Camry launched in North America in 2017 and struts its stuff having gone through over 20 years of continuous gradual improvement. With so many variations ranging from a front drive SE to the V6 XSE TRD there truly is a Camry to suit every budget and taste. We spent a week with the 2023 Toyota Camry SE Hybrid Nightshade to get reacquainted with this automotive staple.
Under the helm of CEO Akio Toyoda, Toyota set out to revamp their entire lineup with the energy and fun the brand was known for prior to becoming the purveyors of reliable appliances that would get you from point A to point B. This eighth-generation Camry really turned heads when it launched with its aggressive body sculpted body lines, and five years later Toyota has found ways to enhance the design even further. The Nightshade differentiates from the rest of the pack in a meaningful way, starting with a set of bronze 19-inch alloy wheels wrapped in 235/40-19 all season rubber. Keen eyes will recognize the design from the TRD XSE model and they look just as great here in bronze.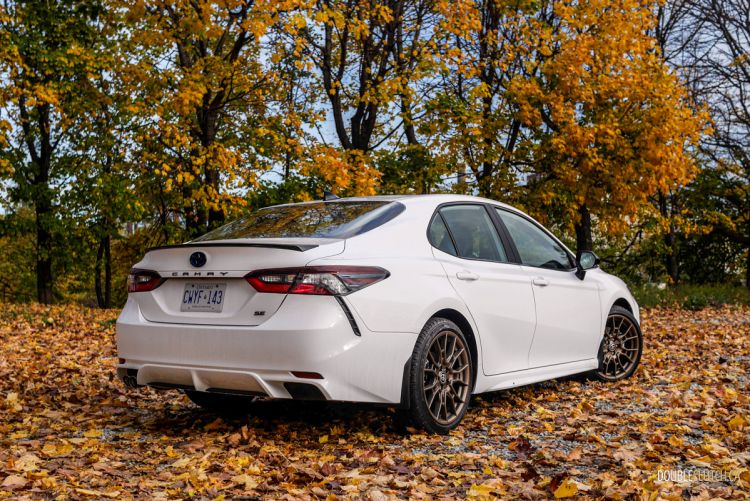 Rounding out the rest of the Nightshade package is a black rear spoiler, mirror caps, shark fin antenna, black badging, and black window trim. The sum is a cohesive package that makes a strong visual impact though a touch more subdued than the full out treatment on the TRD model.
The interior space on the Camry Hybrid shows refinement beyond what you might expect at this price point. When you enter the car you'll immediately notice the gleaming chrome door sills adorned with the Camry logo. The black on black Softex with fabric trim seating has a nice striped design and are just as comfortable as they look. The chunky leather heated steering wheel feels great in hand along with the matching leather shift knob. Front seats and steering wheel are heated for greater comfort in colder months.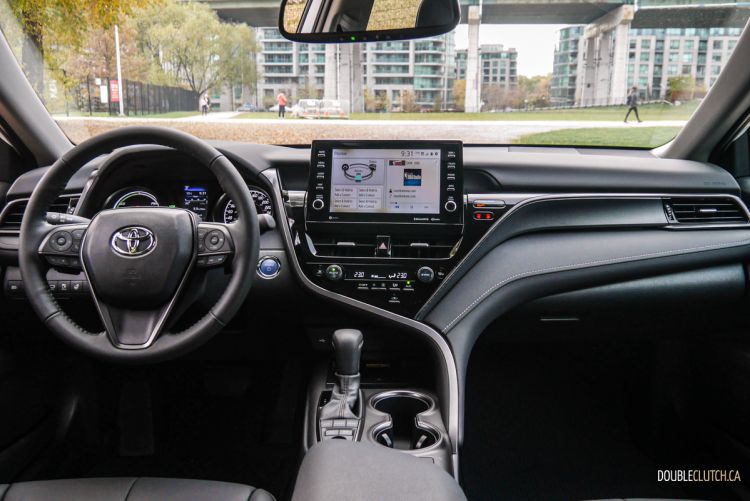 We really liked the way the door handles seamlessly blend in with the silver trim, with just enough interior accent detailing to make for a visually interesting dashboard despite its primarily black plastic construction. We did find a poorly finished edge on the curved plastic by the shifter trim, something we also noticed on another plastic piece in the new 2022 Toyota Tundra we reviewed earlier this year. The rest of the interior showed fantastic fit and finish which should stand the test of time down to the way the switch gear looks and feels.
It would have been nice to see Toyota's latest infotainment system but the aging design found here is saved with the inclusion of wired Apple CarPlay and Android Auto. We greatly appreciate the physical "Map" shortcut button that takes us directly to our CarPlay navigation app, making the system a breeze to use while flipping between CarPlay apps and the radio tuner. A nine-inch touchscreen with physical volume and tuning knobs is at the center of the system driving six speakers, which sounded adequate if nothing else. It certainly helps that the cabin is so quiet, along with the hybrid drivetrain.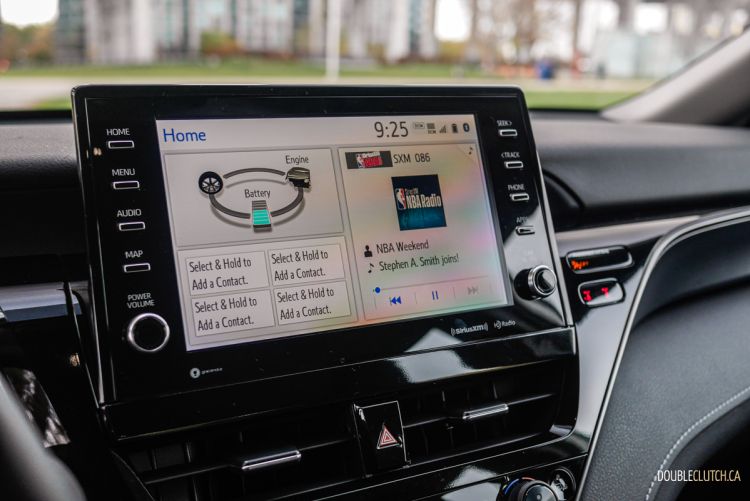 The first word that comes to mind about the experience behind the wheel of this Camry Hybrid is relaxing. The quiet roomy cabin, comfortable seats, and effortless steering create a sense of calm serenity and it's easy to see why so many cabbies choose to spend their day behind the wheel of a Camry. Suspension tuning is supple, soaking up most of the bumps and potholes along our route with ease despite the 19-inch wheels and tires. Handling is poised enough to have some fun in the corners though the overall character leans towards comfort over sport.
Under the hood we find a 2.5-liter inline-four with variable valve timing, and the fourth generation of Toyota's Hybrid Synergy Drive pushing out a net 208 horsepower and 163 lb-ft. of torque. Mated to an electronically controlled continuously variable transmission, power delivery is always smooth and efficient if not all that exciting.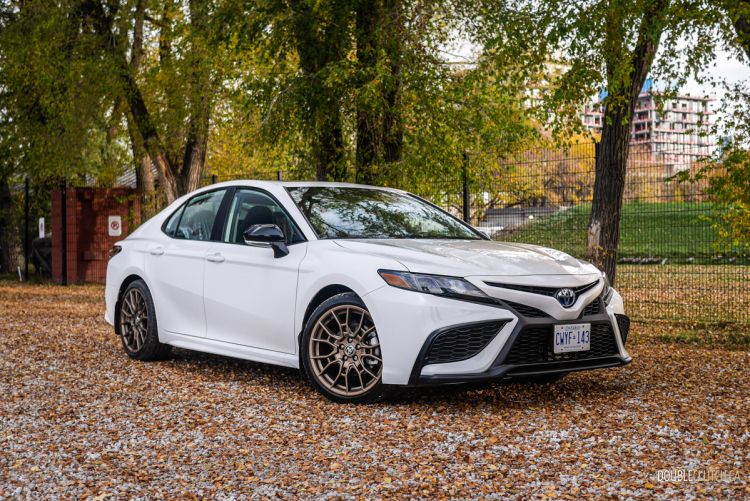 Claimed fuel economy figures for Camry Hybrid are 5.3L/100KM city, 5.0L/100km highway, and 5.1L/100km combined. Prior stints behind the wheel of the Toyota hybrids have shown that the best fuel economy is obtained by driving in sport mode and accelerating to the desired speed as quickly as possible, followed by coasting while off throttle until another burst of acceleration is required to maintain the desired speed. Most of our time was spent on the highway and with this method we were able to achieve 4.75L/100KM.
The 2023 Camry SE Hybrid Nightshade comes equipped with the full Toyota Safety Sense 2.5+ suite of modern features, including a Pre-Collision system for both vehicles and pedestrians and bicycles, lane departure assist with steering assist, auto high beam, radar cruise control, and blind spot monitor with rear cross traffic alert.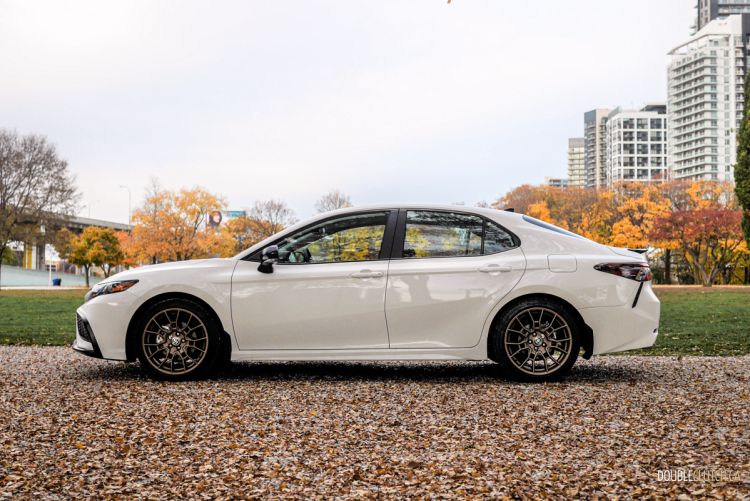 For 2023 Camry starts at $30,190 for the base SE model. Opting for the Hybrid SE adds an additional $4,640, and the limited Nightshade package a further $2,340 for a total of $37,170. If you are looking for comfort, reliability, safety and fuel economy wrapped in a sporty looking midsize sedan the 2023 Toyota Camry SE Hybrid Nightshade is worth serious consideration.
See Also: