After dipping their toes into the full-size pickup pond in 2000 with the original Tundra, Toyota released a second generation in 2007 which solidified their place among domestic heavy hitters. Its legendary reliability was demonstrated by a model which returned to Toyota HQ with over one million miles on its odometer, still running its original V8 engine. 15 years removed from the second generation's debut, an all-new 2022 Toyota Tundra TRD Sport is upon us and we can't wait to see if it lives up to its name.
For 2022 Toyota designers start from a clean slate and what they've come up with is striking. The bulbous hood of the previous generation is replaced with a pointed design leading the driver's eyes to the centerline. Modern LED lighting integrates well and the bold embossed Tundra logo in the tailgate finishes things off nicely. Our tester's TRD Sport package features color matched fender flares and grill surround. The distinctive hexagonal grill design with large embossed logo and integral LED fog lamps is another winner. Black 20-inch wheels complete the sport truck look.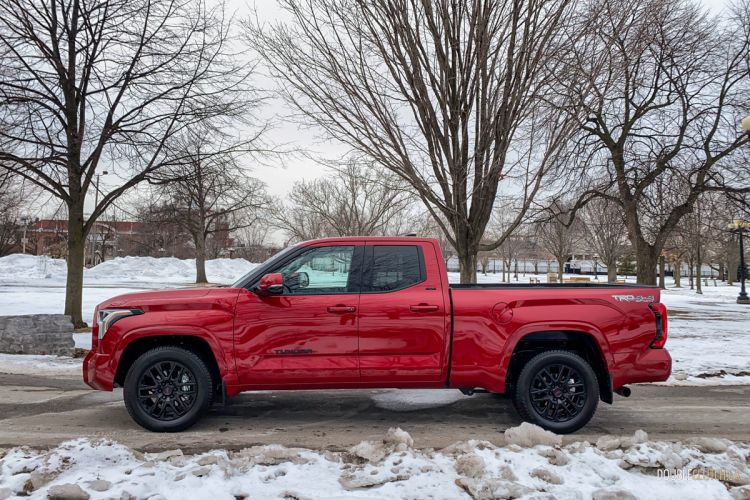 While the exterior redesign is a winner, the new interior design is a revelation. As we first climb into the cockpit it's almost surreal feeling being in an all new Tundra. It looks like an interior that will not be outdated for some time with clean lines. As we prod at all the new switch gear we can tell extra attention has been paid to the touch points providing great tactile feedback. Operating the mode select dial, center cluster toggles and 4WD switch is very satisfying with real heft and satisfying feedback. The tops of the front doors have a large supple surface perfect for comfortable arm resting.
TRD Sport further enhances the interior with some very nice pieces. A heated steering wheel and shifter are wrapped in a supple leather, both sport a snazzy red leather stripe and TRD logos. At first glance the eight-way power adjustable heated seats are a bit disappointing for a truck bearing the TRD name, but upon closer inspection the fabric has nice texture with honeycomb detailing on the bolsters. The seats are supportive and the cushions feel dense and firm. Two-way powered lumbar support with a wide range of adjustment in both front seats is among the best we've encountered.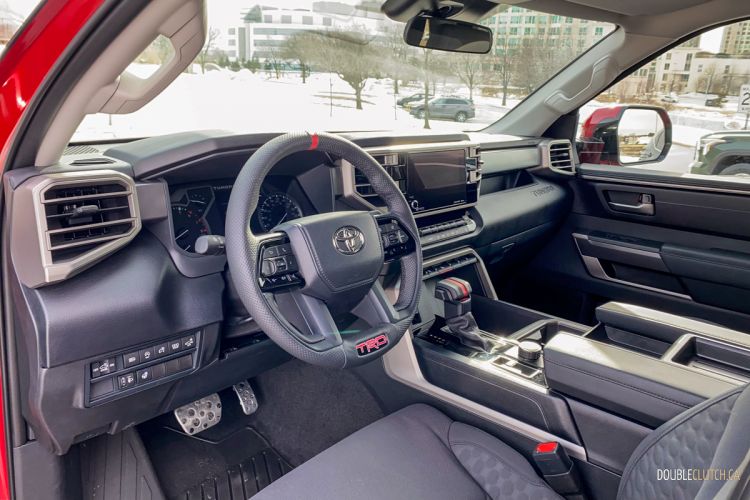 The overall design of the interior is a home run but the execution is hit and miss. The pewter accents don't quite pull off the metallic look designers were aiming for. For the most part the textured plastics across the dash look decent, but there is quite a bit of plain plastic in the lower areas of the truck such as around the window switches and in the center console. The glovebox release was already quite scratched up on our tester which does give us some concern over how some of these plastics will wear over time.
A high resolution eight-inch touchscreen houses an entirely new interface. It's responsive and the resolution and fonts look up to date. Physical controls for the dual-zone automatic climate control, heated seats, auto-hold function and thankfully a volume knob are all appreciated. Connectivity is available through Bluetooth, with wireless Apple CarPlay and Android Auto.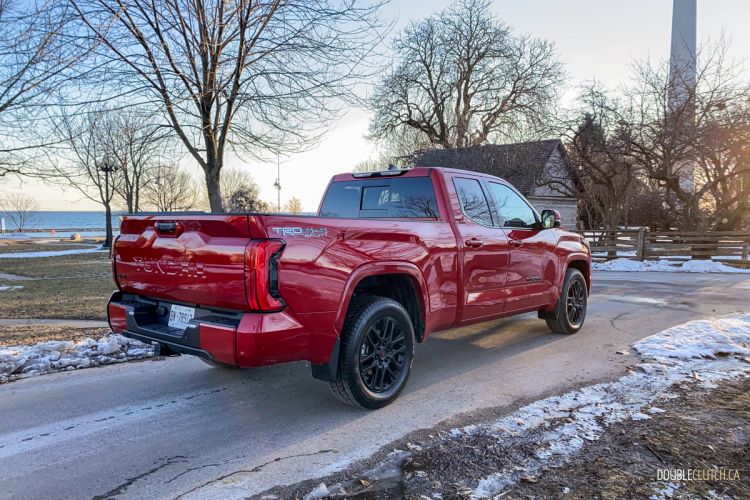 The TRD Sport package comes ready to tow with its 12,000-pound towing capacity. A trailer brake controller and heavy duty tow hitch receiver comes pre-installed, along with a seven-pin harness for lighting and braking outputs. The Toyota Tow/Haul mode has been updated with two distinct modes altering throttle mapping, transmission shift points and steering sensitivity depending on the weight of your trailer. To make towing safer the Blind Spot Monitor increases its range to account for a trailer.
Perhaps the biggest change for 2022 and a sign of the times; there is no longer a V8 powertrain. Instead we have a twin-turbocharged V6 paired with a 10-speed automatic transmission. The good news is that this new engine is not only more efficient than the outgoing V8, it also manages to make more power. The replacement for displacement is a pair of turbos pushing 389 horsepower and 479 lb-ft.; an additional eight horses and 74 lb-ft. over the V8 of its predecessor. The upcoming hybrid powertrain will give us even more of the good stuff, 437 horses and a whopping 583 lb-ft.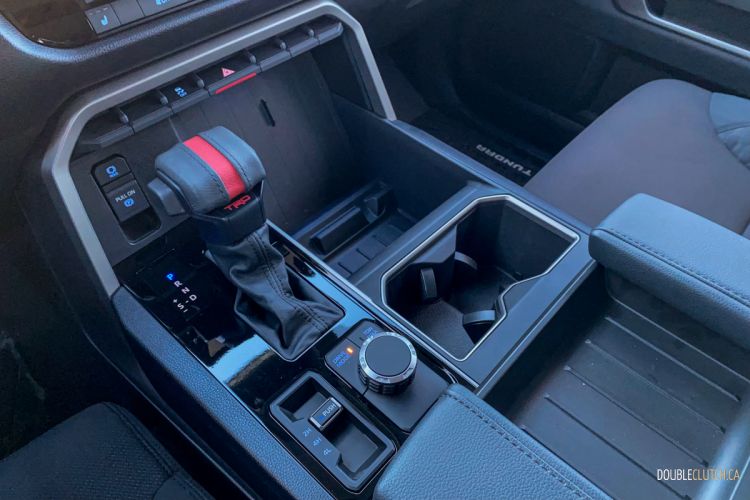 Firing up the Tundra we immediately miss the rumble V8 but the new i-Force V6 does make a good sound in its own right. Our first few prods of the throttle don't result in much action; Response is quite lazy and requires quite a bit of travel to get moving. The TRD Sport is equipped with three driving modes, Eco, Normal and Sport. Putting our foot down we're immediately served a healthy portion of low-end torque that will put a smile on anyone's face.
The new Tundra does away with leaf spring suspension opting for a multi-link rear coil spring setup. This allows for more versatility in the lineup; currently there are three different dampers on offer with more on the way including an air suspension setup with auto leveling for towing. Our tester runs exclusive "TRD Sport Tuned Shock Absorbers" geared towards on-road sports handling.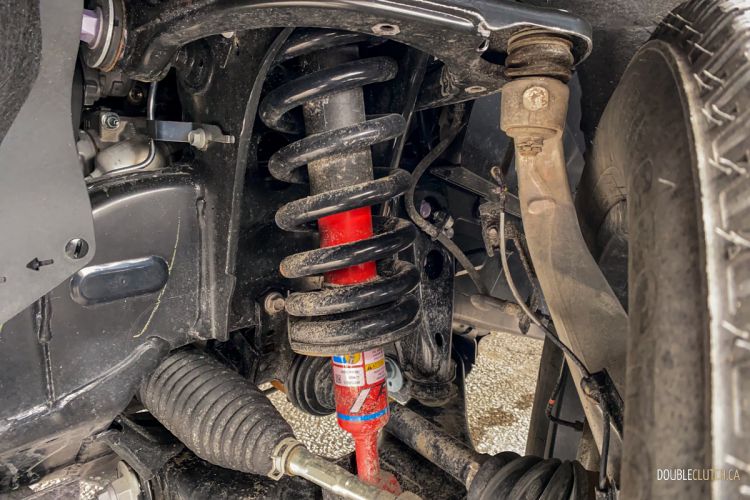 We found the suspension firm – probably too firm for most.  A small bump in the road can still be felt a good 10 meters later as the truck continues to undulate after initial impact like ripples in a shock wave. At higher speed the bumps in the road surface seem to be absorbed a little better, but the Tundra just keeps bouncing as though the dampers are being overpowered by the springs. Steering feel is more refined and less vague than before, perhaps the silver lining of this cloud.
When it comes to fuel economy, this new Tundra has more new tricks up its sleeve. Tucked in behind the front bumper is an active front spoiler that automatically deploys at 60 km/h forcing air to move around the truck rather than under it, reducing drag at higher speeds and improving stability. Behind the grill are active shutters that open and close to manage aerodynamics and cooling depending on the driving conditions.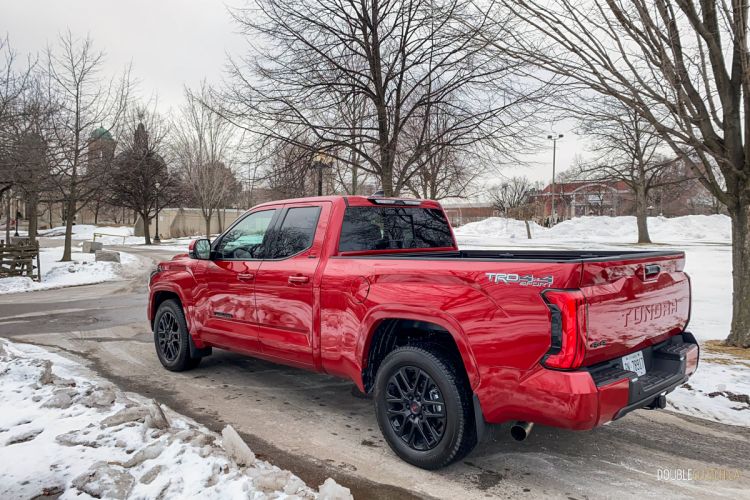 Toyota reports fuel consumption at 13.1L/100km city and 10.1L/100km highway, for an average of 11.8L/100km. Despite our best efforts to be fuel efficient we ended up consuming fuel at a rate of 14.6L/100km. More than half of our mileage were highway using the radar cruise control, sipping fuel in Eco mode in 2WD. At least Toyota has mercifully tuned the new Tundra to use 87 octane to fill its 85-liter tank.
At present there are 23 possible configurations to build out your new 2022 Toyota Tundra with Double Cab and Crew Cab options on offer. The TRD Sport package adds an additional $5,800 to the base SR5 4×4 Double Cab (SR5 base starts at $48,290) for a total of $54,090. If it wasn't for the dampers in this package we would say it's the one to have but as things stand we'd opt for the TRD Off-Road package instead. It comes in at $6000 for all the TRD goodies, more off-road capability and hopefully a suspension more befitting the TRD name.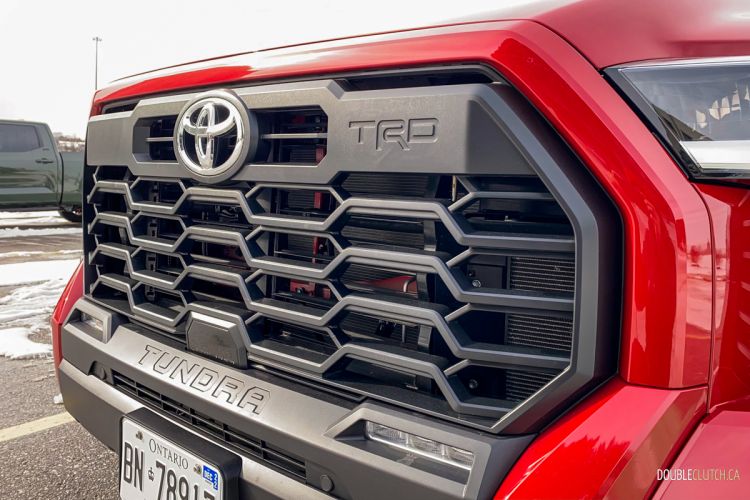 We also expect to see a TRD Pro offering in the not too distant future if you are interested in owning the most capable Tundra of the bunch. If you prefer your Tundra more luxurious there are Limited and Premium models, and possibly an ultra-luxurious Capstone edition coming soon. We'll have plenty more to discuss when it comes to the new Tundra as we get to experience more of the lineup later this year, but the 2022 Toyota Tundra TRD Sport is a capable new entry.
See Also: