The big motor, a long-standing tradition to offer slightly faster variants of standard cars for drivers who want the most out of their vehicle. Although there aren't as many surprisingly quick family sedans as there used to be, the Toyota Camry V6, Honda Accord 2.0T and Mazda6 Turbo all offer more power for those who want to exploit it. Now Hyundai's thrown their hat into the ring with this 2021 Hyundai Sonata N-Line. We already know that the standard Sonata is a perfectly good mid-size sedan, but how much does adding more power improve the formula?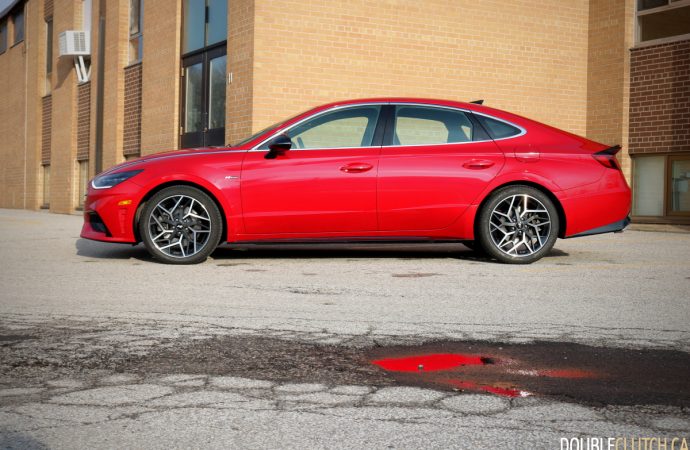 On the outside, the Sonata N-Line is unexpectedly subdued. The air inlets in the front bumper are a little bit larger, the side skirts feature subtle black accents, the wheels are a bit bigger, most of the chrome trim is blacked-out and there's a tiny rear spoiler perched atop the trunk lid. Other than a smattering of N-Line badges, there aren't any hugely obvious hints of the power that lurks within. In fact, the bigger front bumper vents help proportion the grille better, adding a handsomeness that isn't quite there on the regular Sonata's face.
Inside of the Sonata N-Line, Hyundai has taken great care to eradicate any chrome trim for the purpose of sporting looks. Also for the purpose of sporting looks are plenty of red stitching and suede-faced Nappa leather sport seats that hold occupants in place and don't get apocalyptically cold in the winter like leather-faced seats do. The driver's seat even features power-adjustable bolsters for those who never got hugged as children.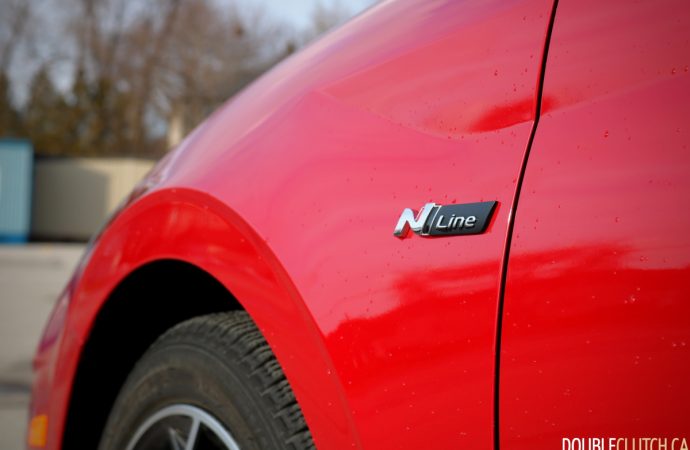 Of course there are a smattering of N-Line emblems, alloy pedals and chunky paddle shifters inside the cabin as well, but nothing too garish or compromised. It feels more special than the Accord 2.0T but doesn't have the practicality sacrifices of big sills and non-folding seats like the Camry TRD.
As expected for a mid-size sedan, interior space is quite good. There's plenty of adjustability in the steering column and driver's seat to fit most body types, although we do wish the driver's seat could go a touch lower on its rails. Space in the rear seat is equally commodious, with enough width for three adults and ample head and legroom for most humans. As for the trunk, it's quite capacious at 453 litres. It's enough to edge out the Camry's 428 litres but not enough to swallow more cargo than the Honda Accord's truly massive 473-litre trunk.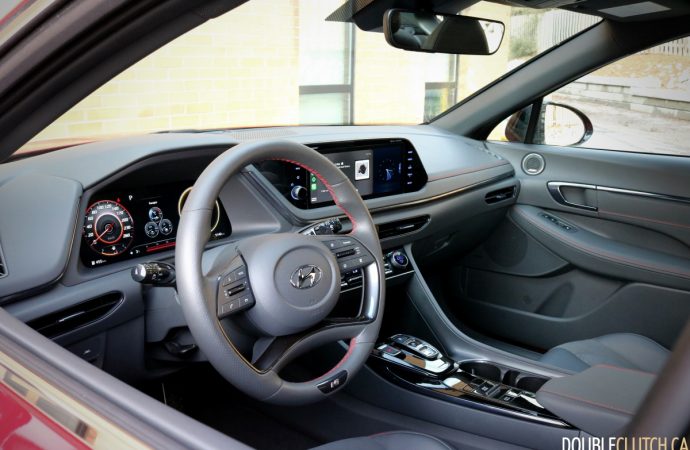 As for in-cabin tech, the Sonata N-Line comes comprehensively equipped. Wireless charging? Check. A panoramic moonroof? Check. Seat heaters in all outboard positions and a heated steering wheel? You bet. Speed can be read off either a massive, crisp heads-up display or an equally-massive fully-digital 12.3-inch gauge cluster that glows red in Sport or Sport+ mode, nicely accenting the configurable ambient lighting that goes across the dashboard. That fancy cluster also features a whimsical yet meaningless boost gauge and an oil temperature gauge.
The Sonata N-Line's infotainment screen is also massive at 10.25-inches and features solid black levels, albeit questionable utilization. CarPlay isn't truly widescreen as cascading information tiles take up the right side of the screen. As for audio, the Sonata N-Line comes with a Bose system that's really quite flat. Go ahead, crank up the equalizer to abnormally warm levels as that's the only real way to get any dynamism out of it. Distortion is fairly well-controlled but overall amplification isn't great.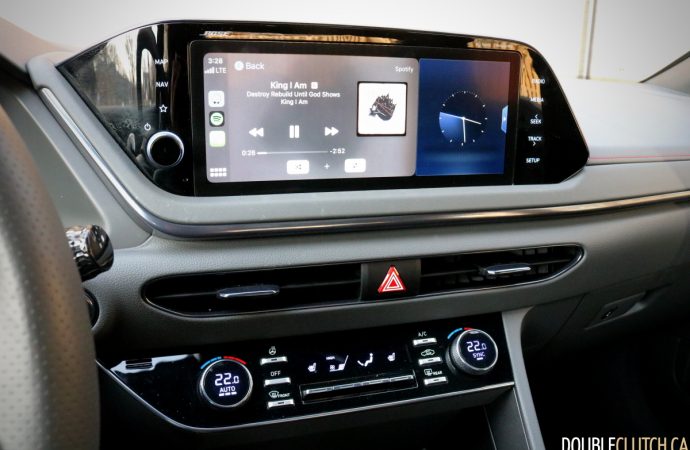 The Sonata N-Line may be a light beer compared to what a full N model would be, but anyone who's attended college parties has seen table lamps get absolutely brutalized after a few Bud Lights. At the heart of it all is a 2.5-litre turbocharged four-cylinder engine cranking out 290 horsepower and a herculean, tire-torturing 311 lb-ft. of torque. All that thrust gets routed through an all-new wet-clutch eight-speed DCT with launch control that cracks off upshifts faster than you can say "yo." It may not be the slickest DCT but it's far more responsive than most gearboxes in the mid-size sedan segment.
Here's where the fun begins. Dial up the Sonata N-Line's Sport+ mode and traction control is automatically switched off, enabling one-tire fires from actual speeds and dishing out enough torque steer to make a Mazdaspeed3 blush. It gets down rowdier than a sophomore on homecoming week. And once all 311 lb-ft. of torque make it to the ground, watch out because this thing makes the Accord 2.0T feel as prude and restrained as a Catholic Priest. Highway passing power is immense for a mid-size sedan, surging the Sonata N-Line forward on a tidal wave of torque. The brakes are equally impressive and offer a firm pedal and plenty of confident stopping power.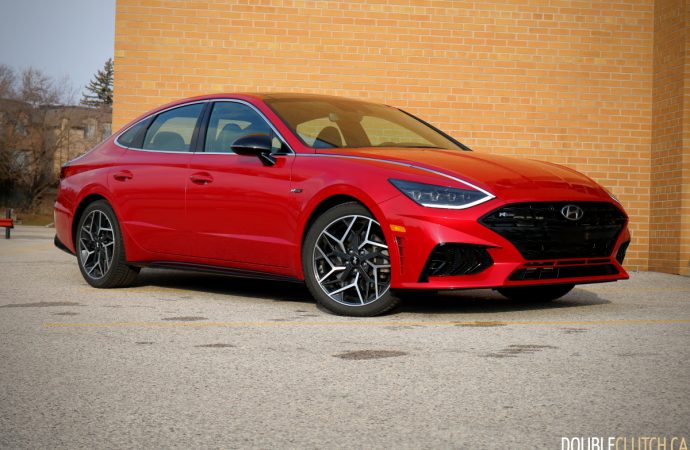 As for handling, Hyundai has equipped the Sonata N-Line with a fairly fabulous chassis that's both lively and confidence-inspiring. While it's possible to provoke some understeer or just a hint of lift-throttle rotation, the Sonata N-Line never does so unexpectedly. Steering feel isn't phenomenal but it's quite decent for a mid-size sedan and steering weight is quite good. Ride quality is also well-sorted with suspension that's slightly firm without ever being harsh. Instead of fitting incredibly stiff springs, Hyundai has instead relied on high-quality dampers that control the body over bumps well. It's a trick that pays huge dividends in driving performance.
Or, kick it back into normal mode and everything settles down. The gearbox settles into a higher gear, the steering goes lighter, the throttle response slackens off and the fake engine noise fades away. Then the Sonata N-Line becomes a very comfortable, well-equipped family sedan with plenty of passing power and respectable fuel economy. The official combined rating is 8.8L/100km and we averaged 8.7L/100km with reasonable use of Sport+ mode and few bothers given towards hypermiling sensibilities. Moreover, it's a quiet place to be in normal mode too; wind and road noise are well-hushed.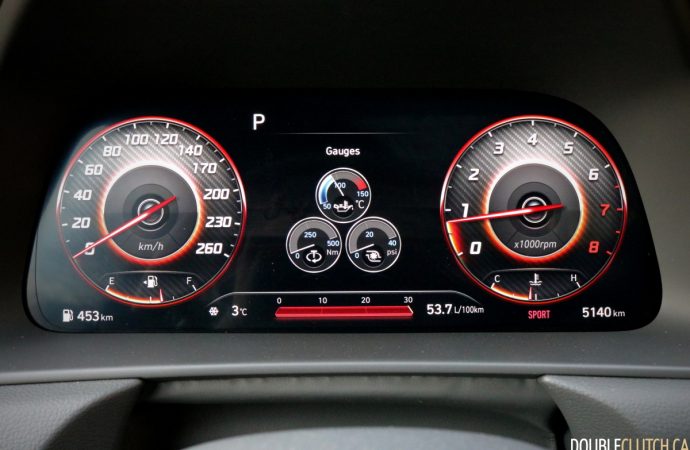 So what does all this gurn-inducing youthful exuberance cost? To put it simply, $37,999, which is a fair bit of coin. Then again, that's what a well-spec'd RAV4 goes for and let's face it, a RAV4 just isn't as fun. More to the point, the Toyota Camry TRD may be $1,459 less expensive than the Sonata N-Line but it doesn't come with nearly as many toys. Conversely, a similarly-equipped Honda Accord Touring 2.0T costs $3,506 more than a Sonata N-Line which is a significant premium.
It seems like the 2021 Hyundai Sonata N-Line is a great balance of value, maturity and juvenile indulgence. It may be a bit stiffer than a Camry and a bit feistier than an Accord but it's nowhere near uncomfortable or loutish and it's certainly not spartan. For 30-something-year-old parents with Billy Talent merch hidden in the back of their closets, the Sonata N-Line fits the bill just perfectly.
See Also: