Even though my parents never owned a Camry, it was always around as the de-facto family hauler for many of my friends. I remember seeing my elementary school crush go home in a green 1998 Camry, hitching a ride home in my friend's beige 1993 and later learning to drive with my Ontario G1 license by experiencing the acceleration of a grey 2002 Camry V6. Of course, many more stories that had revolved around the popular Japanese family sedan.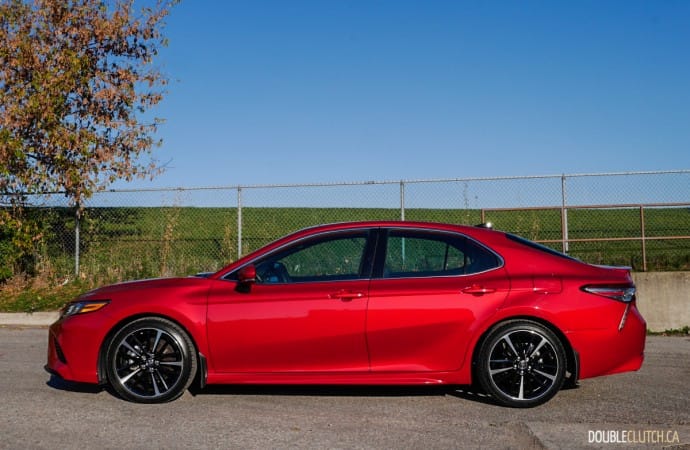 For better or worse, the latest eighth-generation Camry is nothing like the models of yore. This is partly due to Toyota's overhaul of its brand image to become more youthful in hopes of attracting younger buyers, as well as the changing consumer tastes that stripped away much of the Camry's default family vehicle status.
The sample we have on hand this week, a 2019 Toyota Camry XSE V6, is an aggressive looking sedan with sculpted body panels, 19-inch two-tone wheels, and quad exhaust tips. Our tester sports the body coloured roof and black interior, giving it a bit more subtlety over last year's Camry XSE with the two-tone body and bright red interior, and is more fitting for the family. It is a car that has many thinking it is a class above that of the Honda Accord (reviewed here) and Mazda6 (reviewed here).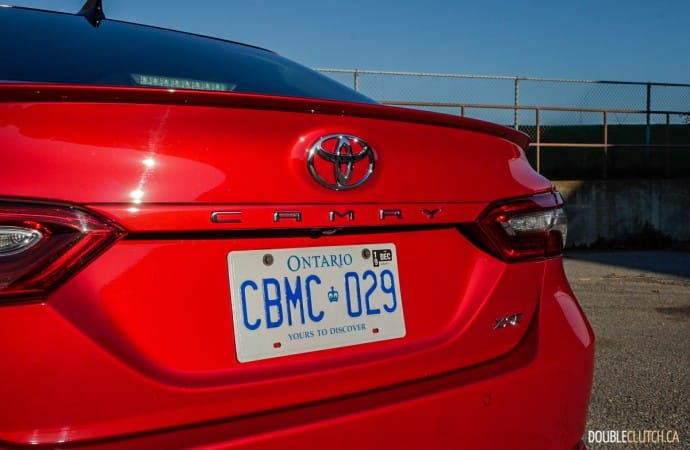 The Camry's aggressive looks are backed by a 3.5-litre naturally aspirated V6 engine, producing 301-horsepower at 6,600 RPM, and 267 lb-ft. of torque at 4,700 RPM. In a segment where most entrants have moved away from six-cylinder engines for efficient and powerful force-induced four-bangers, the free breathing V6's smoothness and linearity are absolutely the Camry's best trait. Getting the sedan moving requires no more than a nudge of the throttle, and the eight-speed automatic responds instantly to any extra force exerted to the accelerator. The V6's potent powerband also means it maintains poise at all times, rarely exceeding 2,000 RPM in normal driving conditions.
All SE and XSE models feature sport tuned suspensions, upping the fun on the Camry. Steering has good weight and response is above-average in this typically-boring segment. Body rotation is nicely controlled by upgraded dampers, and while handling is not at the level of dedicated sports sedans, it is far better than the model it replaces. The assuring part for traditional Camry buyers here is that the Camry XSE continues to be a very comfortable car, and those looking for the best ride possible can opt for the XLE model (reviewed here) with more compliant springs and 18-inch wheels.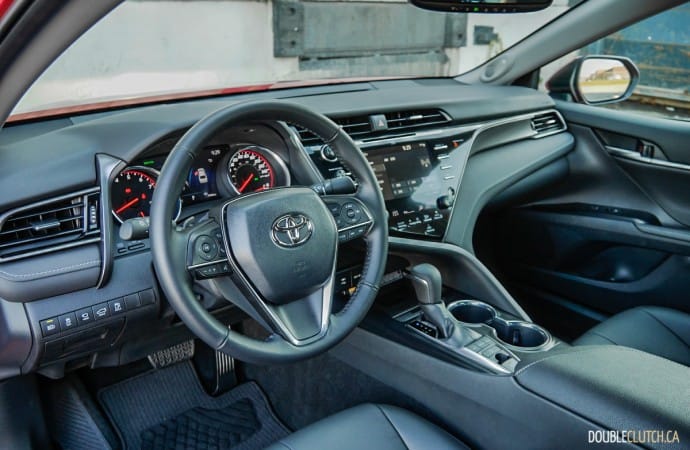 Fuel consumption of the Camry's V6 engine is rated for 10.7L/100km in the city, 7.1L/100km on the highway, for a combined figure of 9.0L/100km. Our week of mixed commute nets us at an even 10.0L/100km, similar to what we observed in the Accord 2.0T, and drivers who want maximum fuel efficiency can opt for the excellent Camry Hybrid (reviewed here) that boasts a frugal combined rating of 5.1L/100km. Regular grade gasoline is accepted by the Camry V6, and it has a fuel tank capacity of 60 litres.
In terms of features, the Camry XSE is about average for its class. It comes with leather seating surfaces, and the front seats are powered and heated. For 2020, Camry XSE and XLE models with the V6 will add ventilated front seats, putting it on pace with the Accord Touring and the all-new Subaru Legacy, but unfortunately will still lack the rear heated seats that its peers have. It does come with a useful Head-Up Display (HUD), and infotainment is controlled using the eight-inch TFT touchscreen on the centre console. All new for 2019 is the inclusion of Apple CarPlay and Android Auto connectivity, representing a big step forward. The Camry XSE V6 also comes with a JBL Clari-Fi premium audio system with nine speakers.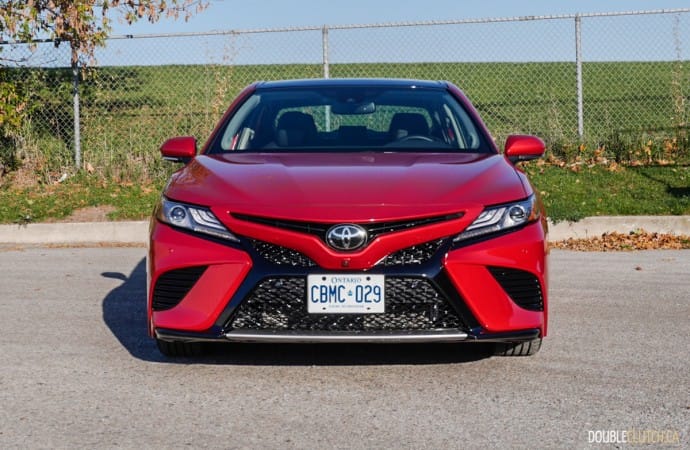 Remaining true to tradition, the 2019 Camry is spacious for all passengers with the exception of the rear center passenger's legroom. There is decent headroom even with the raked roof design, and the panoramic sunroof helps brighten the entire cabin. Materials are acceptable, but the large slab of plastic on the bottom of steering wheel and the bland design of the two JBL tweeters on the A-pillars left a lot to be desired. Trunk capacity is rated at 428 litres, with a large enough opening to make for easy loading. However, unlike most sedans out there today, the absence of covers or padding around the trunk's gooseneck hinges leads to the possibility of crushing cargo with a full load.
Toyota Safety Sense P system is onboard across all Camry trim levels, and includes auto high beam, pre-collision system with pedestrian detection, lane departure alert with steering assist, and dynamic radar cruise control. XSE V6 and XLE V6 models also include additional safety systems such as the Intelligent Clearance Sonar, Rear Cross Traffic Brake, and Birds Eye View (360° camera) Monitor.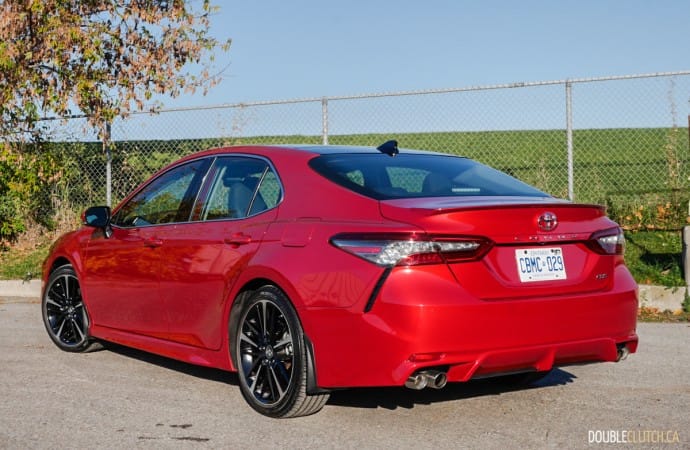 The 2019 Camry XSE V6 starts at $40,090, and the pictured Supersonic Red paintjob adds $255, bringing the as-tested total to $40,345. Toyota remains very competitive in the mid-size sedan segment, going head-to-head versus the likes of the Honda Accord, Mazda6, and Subaru Legacy. The Accord and the Mazda6 are the better drivers of the bunch, and the Legacy's all-wheel drive adds winter driving confidence to those living in colder climates. The Camry wins on its overall comfort, and being the only one with a naturally aspirated six-cylinder engine will give it a unique proposition.
For those who prefer a livelier driving experience, there is going to be a Camry XSE V6 with TRD option for 2020. It dials up the Camry's sportiness by adding a TRD dedicated body kit, LED headlamps, shift knob, exhaust, and sport-tuned suspension, as well as sport seats and rear V-brace. It also deletes some of the XSE goodies such as sonar, blind spot monitoring, panoramic moonroof, and dual-zone automatic climate control systems. A typical approach by luxury brands like BMW and Porsche would be to charge more for a 'track edition' like this, but Toyota is offering it for $4,500 less than the standard XSE V6, making it the cheapest way to get a V6 Camry and an interesting dilemma at the time of car shopping.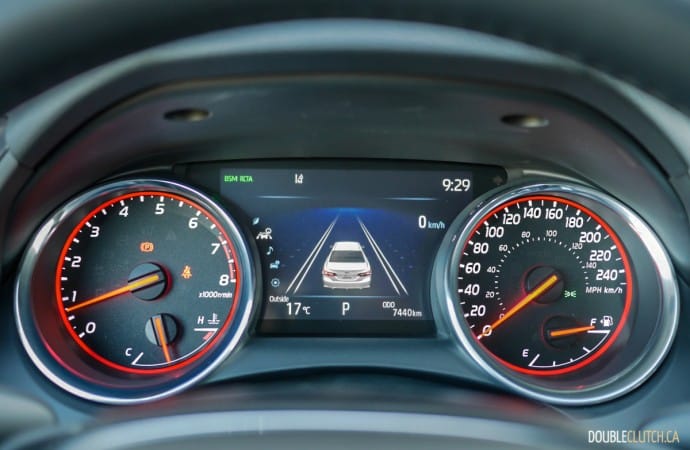 In a way, the Toyota Camry is a completely different car than the ones we grew up with. It looks like a sports sedan, wears 19-inch wheels, can be optioned with red seats, and has almost as much power as a Subaru WRX STI. If you examine it closely, it is still the comfortable and dependable family sedan that will get you and your whole family around safely and reliably.

See Also:
2019 Honda Accord 2.0T Touring
Road Trip: 2019 Mazda6 Signature Turbo
2018 Toyota Camry XSE