If you're anything like us (and you probably are if you are reading DoubleClutch.ca) you may have noticed the algorithm of your social media inundated with ads for a new vehicle from a brand we haven't heard from in a while – Mitsubishi. Probably more well known for their warranty than their current crop of vehicles, it's nice to see that the diamond star brand has come up with something truly worthy of attention, the 2023 Mitsubishi Outlander PHEV, tested here in GT Premium S-AWC trim.
It starts with a solid base, a platform shared with the Nissan Rogue. They don't share any sheetmetal per se, but have the same wheelbase, body panel lines and suspension points. While both have modern angular body lines, the Outlander's fascia is distinctly Mitsubishi and probably their most attractive design in over a decade.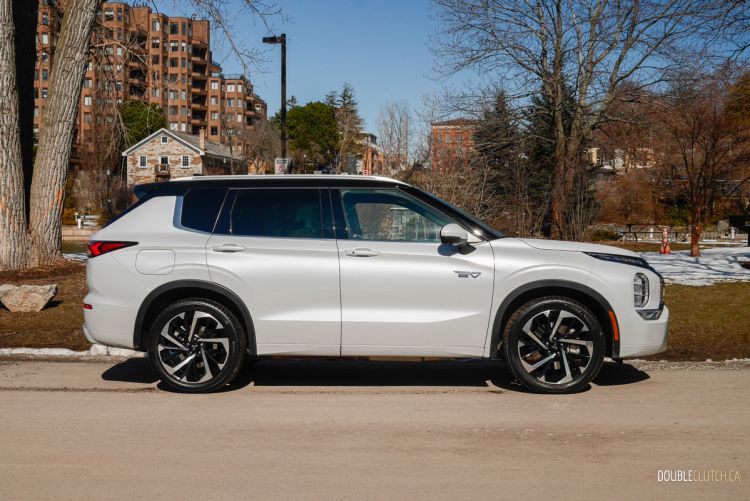 The similarities between these platform mates don't end there. They both use Nissan's floating mouse gear selector and have similar layouts for the infotainment screen and climate controls. Even the software's graphic user interface and gauge cluster graphics are almost identical. Compared to the previous generation Outlander these are welcomed changes that create a cleaner and more user-friendly interior space. If we had to critique there are probably two or three too many different textures here which make it lose some cohesiveness in the overall design.
While we enjoyed Nissan's new variable compression turbocharged three-cylinder lump in the Rogue, the drivetrain in the Outlander PHEV is where Mitsubishi makes its mark. There are actually three motors under the sheet metal; an electric motor for each axle providing the Super All Wheel Control (S-AWC) system, and a 2.4-liter inline-four that acts as both a generator and can power the front wheels with 131 horsepower and 144 ft-lb. of torque. When tasked with putting out maximum acceleration the three motors can deliver a punchy 248 horsepower and 332 ft-lb. of torque.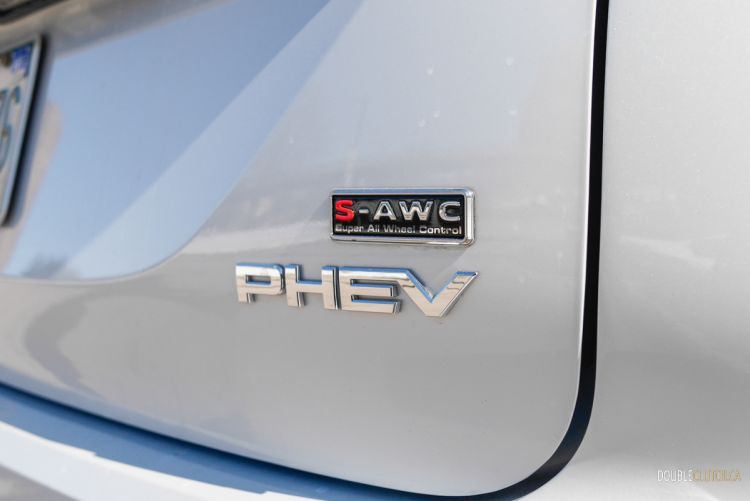 At full charge the Outlander PHEV is capable of travelling up to 61 kilometres on EV power alone, which should be enough to cover the average daily commute. Topped up with 56 liters of fuel and a full charge, the total range is nearly 700 kilometres. As enthusiasts we love having more control over things like rowing our own gears, adjusting torque split or disabling traction control. The engineers at Mitsubishi know this and have graced us with four distinct EV modes and seven driving modes governing how fuel, battery, and S-AWC systems are used.
In "Normal" mode, the Outlander will deplete the battery power first, only engaging the internal combustion engine when depleted to both charge the battery and drive the front wheels or for maximum acceleration. You can also select "EV" mode to run strictly on battery power, or "Charge" mode which will continuously charge the battery while you drive. "Save" mode only uses the gas engine to conserve the battery for when EV driving is desired.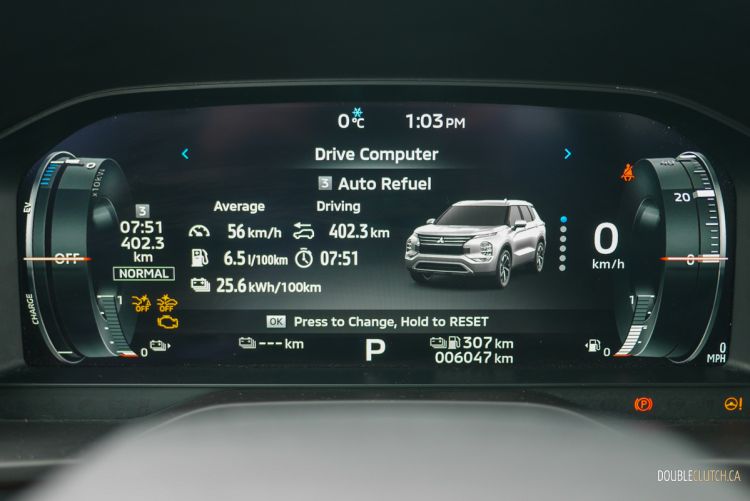 This adds a layer of involvement and control that puts Mitsubishi's PHEV system ahead of the rest. Not every journey is the same, and only the driver knows when the next plug-in top up is happening so having this extra layer of control feels liberating. It's quite satisfying to see the EV range increase a few bit at every stop light.
In charge mode it takes about 94 minutes for the gas engine to charge the battery to 80 percent, which can even be done while idling, and when using the 1500-watt 12V AC outlet you can truly use the Outlander PHEV as a generator. Unfortunately, the engine sounds more like a generator than an engine but with this fuel economy it's hard to complain. While charging the battery and driving the front wheels it was sipping fuel at a rate of 7.0L/100km. Plugged in for a full charge, a Level 2 charger needs six and a half hours whereas a Level 3 can get the job done in 38 minutes.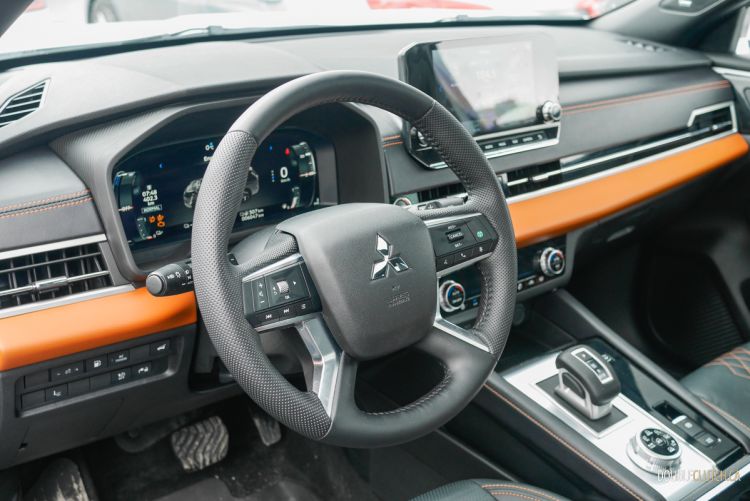 With success in both Dakar and the World Rally Championship, Mitsubishi knows a thing or two about how to maximize traction on all surfaces. This knowledge is distilled down to the seven drive modes, selectable through a center console dial. Each mode adjusts torque distribution to maximize traction for the task at hand (ie. Tarmac, Mud, Snow) as well as dialing in the amount of drag from the electric motors for regeneration (also user adjustable through steering wheel mounted paddles).
All of this wouldn't amount to much if the Outlander PHEV didn't drive well; thankfully it does. Electric power delivery is smooth – not enough torque to pin you to your seat but more than enough for the segment. Suspension is set up on the softer side for comfort but the Outlander PHEV can still find its way around a corner. Brake pedal feel on hybrids can sometimes be a challenge but this one is easy to modulate. Steering wheel mounted paddles control the desired amount of regenerative drag, and there is a dedicated "intelligent pedal" button that goes straight into the most regenerative drag setting for one pedal driving.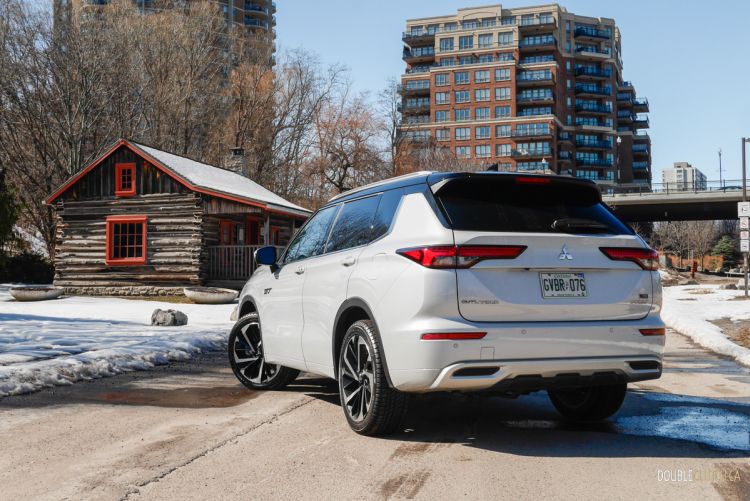 The Outlander is versatile with three rows and seating for up to seven (although the rear two seats would really only be usable by small children). The third-row folds completely flat, providing 948 liters of cargo room, which expands to 1,832 liters when folding the second row down.
Like the rest of the Mitsubishi lineup, the Outlander PHEV trim levels are extensive and a bit of an alphabet soup. The base model ES S-AWC starts at $46,538. Step up to LE S-AWC for an additional $4,700 and you get a panoramic sunroof, heated steering wheel, powered driver seat and the excellent MVCS camera system. The SEL S-AWC adds the handsome 20-inch two tone wheels, quilted leather seats with a power passenger seat and heater rears for another $2,810.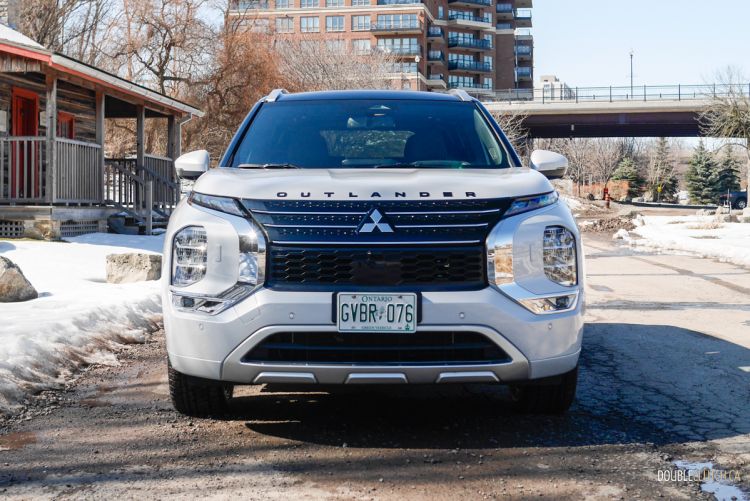 Add another $2,300 for the GT S-AWC for active safety features like lane keep assist, adaptive cruise, rear door sunshade, and a heads-up display. Here you also get the Bose Premium Audio system with nine speakers including a subwoofer which sounds great for the segment. Finally the GT Premium S-AWC trim adds Semi-Aniline quilted leather, and a massage function for the front seats. The leather is nice though doesn't quite reach the level of the European makes (can the industry please move away from orange stitching?), and the inflatable air massage system leaves a bit to be desired. All told our GT Premium tester rings in at $57,048.
It's been a tough go for Mitsubishi in Canada but things are looking up for the brand. If you are in the market for an all-wheel drive PHEV crossover, the 2023 Mitsubishi Outlander PHEV should be at the top of your list. Our week with it has us clamoring for the long overdue return of an iconic name – a rumored Ralliart edition. Sign us up!
See Also: