You gotta give Nissan credit for being ambitious. In the last few years they've made a significant turnaround, going from being the butt of the joke to impressive competitors in a market that's never been tougher. The most crowded and perhaps toughest market segment of all is that of the compact crossover SUV, and this 2022 Nissan Rogue Platinum AWD is an example of what has been their best seller for years, helping keep the lights on in Yokohama while the company restructured. For the 2021 model year, Nissan introduced an all-new Rogue, and the handsome new design was met with strong sales and consistently positive reviews. 
However, said reviews all featured the same consistent complaint, the same  "The Rogue is good, but…" That trailing but came from the coarse, underpowered 2.5-liter four-cylinder engine, made worse by it being the only choice. While Nissan's 2.5L engine has received multiple improvements over the years to keep it contemporary, the bottom line is it was introduced twenty years ago in the 2002 Altima – the very same one that's featured so frequently in all the Big Altima Energy memes. That old workhorse motor is as tired as Nissan is of those jokes.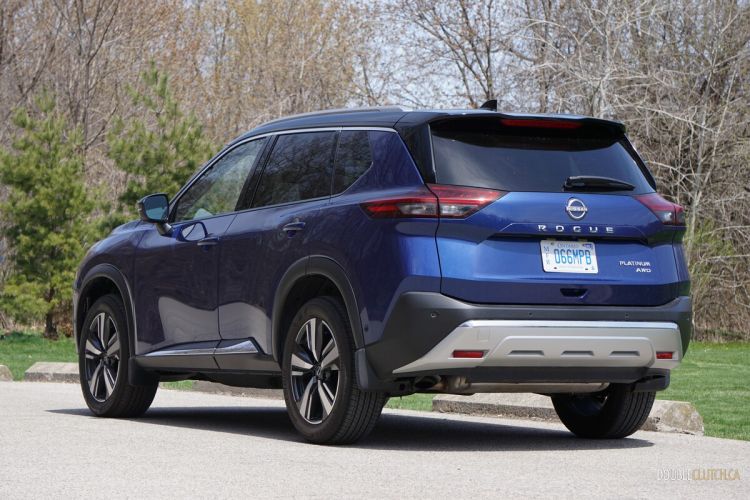 With this in mind, the forward thinking engineers at Nissan continued work on the sparkling fresh Rogue, and for the 2022 model year, they've graced the upper trim levels with a new engine, called the VC Turbo 3-Cylinder. The Rogue Platinum AWD here is fitted with said powerplant which, in the pursuit of ever-better fuel efficiency, forgoes a fourth cylinder and supplants it with layers of tech and a turbocharger. Yes, the Rogue's new engine has just three cylinders, displacing all of 1.5L. 
Its tiny little heart punches well above its weight, putting out a very healthy 201 horsepower and 225 lb-ft. of torque. This is an improvement of 20-hp and 44 lb-ft over the older 2.5, placing it among the top of its class. Moreover, the new motor produces this torque much lower in the rev range, no longer needing to be wrung out to wake up. Nissan claims this new engine is able to produce more power in a more accessible way, while also improving on NVH (noise, harshness, vibration) levels, and boasting better fuel efficiency, without the use of an annoying stop-start system.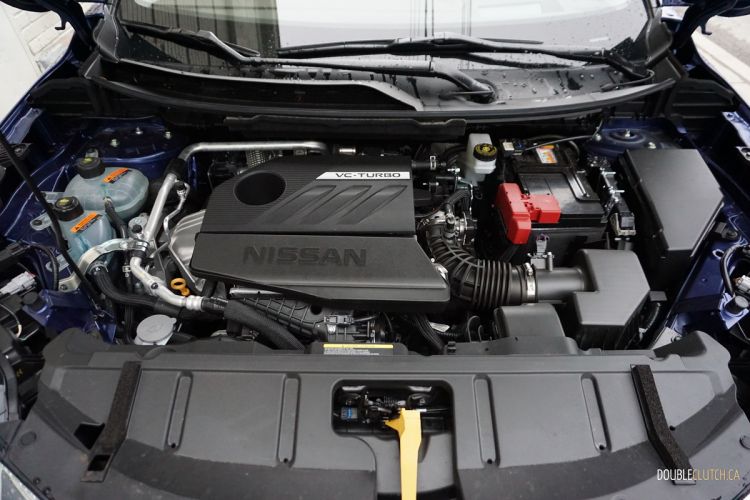 Nissan is able to achieve all of this through a series of newly implemented technologies all layered together. The chief engineering trick lies in the name of Nissan's VC-Turbo engine, with VC standing for variable compression. It's able to actively vary the (usually static) compression ratio of the engine based on throttle input. This means at low loads and idle, it can run a very high compression ratio of 14:1 for maximum fuel efficiency and improved throttle response. It can steadily ramp it all the way down to a very low 8:1 ratio as loads increase, allowing the electronically controlled turbocharger to safely push lots of boost for more power. 
Variable valve timing is utilized to switch into and out of Atkinson cycle combustion, where the intake valves remain open while the pistons begin their compression stroke, reducing pumping losses and further improving efficiency – a trick usually only seen on hybrids. Nissan claims their variable compression tech also greatly improves harmonic balance, smoothing out the vibrations inherent to three-cylinders, and then it's fitted with hydraulic engine mounts to further improve NVH.  Nissan has been working on this since 1998, and they first introduced it in the Infiniti QX50 in 2019.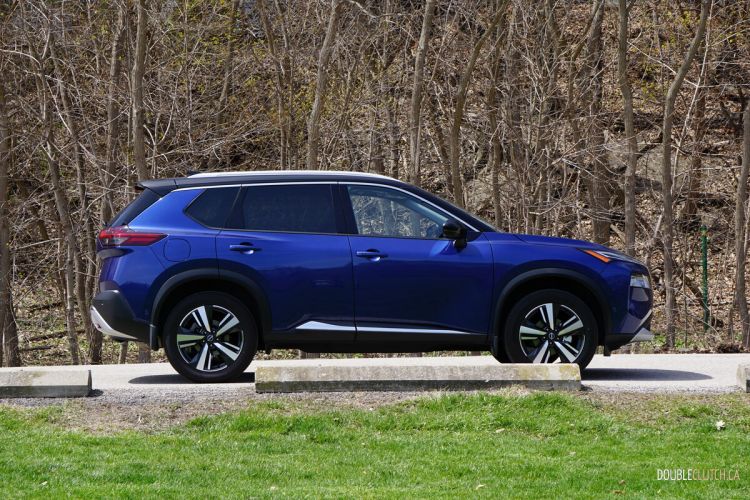 This new three-cylinder is the benefit of real world feedback and development, and features smoother, more natural power delivery, and the crucial addition of being able to run on regular gas. The new engine is paired with a revamped CVT, which features twin oil pumps, wider gearing and reduced internal friction, to improve performance, efficiency, and presumably longevity as well. The Rogue is Nissan's bread and butter, they're pulling out all the stops and making sure they've done this right.
Over the course of a week of real world use with this powertrain combo, it's clear that Nissan's claims are not just boasts from the marketing department; they pulled it off. The Rogue operates smoothly and quietly, with nearly imperceptible transmission performance and plenty of punch on tap at all times. It's eager to get up and go at any speed, and it never feels like it's working nearly as hard as it actually is. It even sounds pretty good at higher rpms, with a satisfying thrum aping that of a six cylinder mill.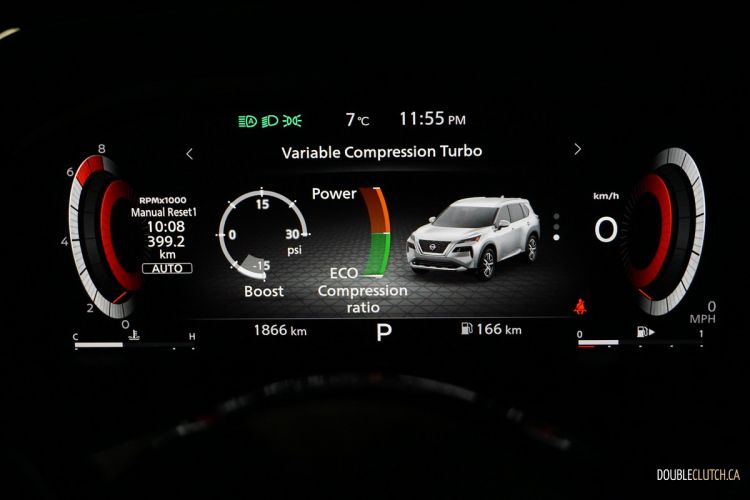 Of course, all this engineering effort was done with fuel economy in mind, and it's no surprise the Rogue is rather frugal, especially given that it's not so compact anymore. Nissan claims fuel economy numbers of 8.4 and 6.7L/100km in the city and highway, respectively. We observed 7.8L/100km in moderate rush hour conditions – slightly short of Nissan's combined rating, but it bears mentioning our test car was barely broken in. 
My only real gripe with this new powertrain combo is that while it is eager, it isn't always very linear in how it delivers power, as it takes a moment to prime its many systems for more power and delivers a big surge which isn't always wanted or needed. Both Sport and Eco modes on the drive selector dial nullify this, only the default Auto mode had occasional trouble deciding what I wanted, and we grew to understand each other within a few days.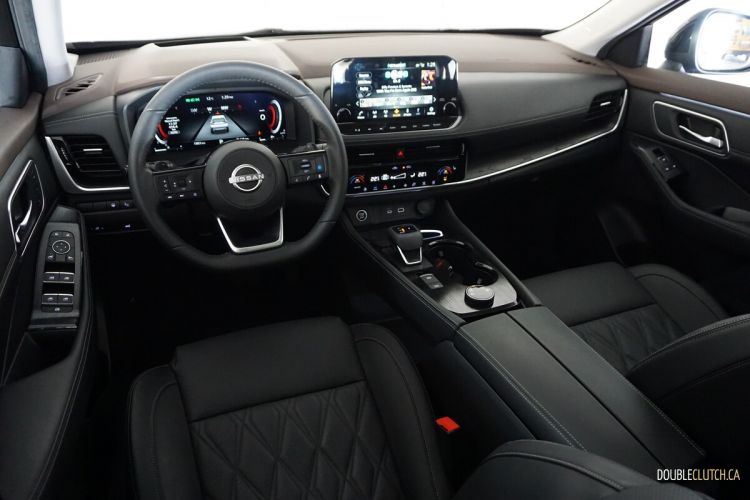 Beyond that, it's the same Rogue Platinum that we reviewed last year, albeit with a 6% bump in base price to cover the costs of that new hardware under the hood, ringing in at $42,398. It's a handsome, practical vehicle that's easy to understand and live with. The interior space is spacious, impeccably fitted and well appointed, with quilted Graphite Nappa leather, brushed aluminum accents, and a splash of open-pore dark wood veneer. My favorite thing about it is how it prioritizes being intuitive, in that it eschews industry fads in favor of just making sense and feeling natural. 
All essential controls are operated by physical buttons, switches and dials, which are logically placed, and is a welcome break from so many controls being buried in touch menus in some other vehicles. Speaking of welcome breaks – there's very little piano-black trim to attract fingerprints, and there's no gimmicky fake capacitive touch buttons, either. The digital gauge cluster is clearly legible and easy to configure on the fly with steering wheel controls, and is flanked by a nine-inch touch screen and a heads-up display.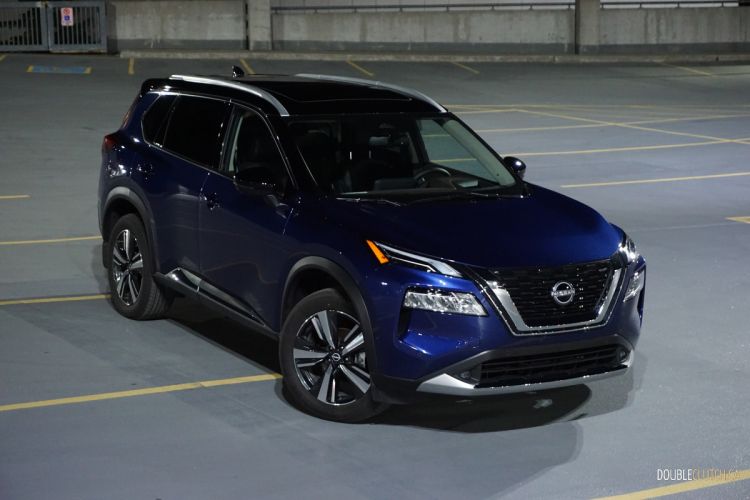 The touch screen is bright, crisp, and the interface is easy to use with nearly all functions like radio and navigation accessible via the digital gauge cluster as well. Nissan's suite of Intelligent safety features all work brilliantly and are unobtrusive, so you never feel like you have to turn them off. I cannot emphasize enough how important this is: there's no point in having, say, collision detection, or steering assist, or any modern safety features for that matter, if you're not using them because they're irritating.
The Rogue's driving experience continues the theme of being intuitive and safe. The steering is well weighted and reasonably direct, with the ride being well calibrated, emphasizing comfort and stability. The cabin is serenely quiet, with big sections of broken pavement that you would expect to crash and bang producing little more than soft, distant sounding thumps through the chassis. It's not a sports car, it's not trying to be, but it's competent and confidence inspiring. Forward and side visibility are good, and rear visibility is okay – not bad for this class – but hugely aided by Nissan's Intelligent Around View Monitor, which is a godsend for parking.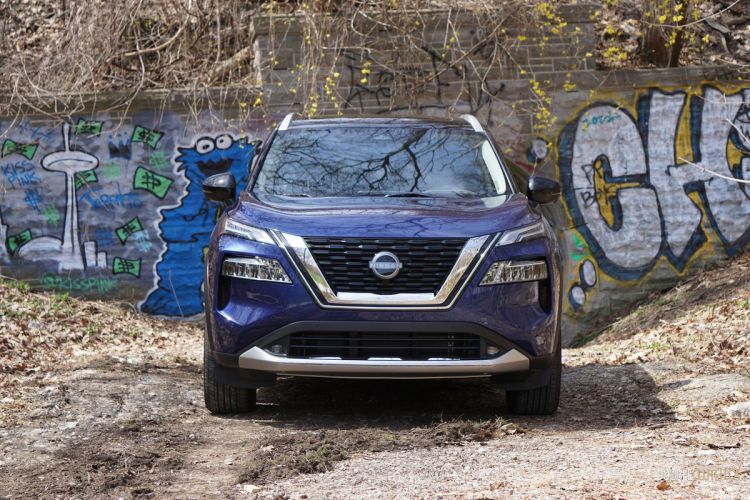 Combine the 2022 Nissan Rogue Platinum AWD's composure with the proficient new powerplant, and you're left with a crossover that really defies its status as a compact economy crossover. In 2021, the Rogue was a great entry in the compact crossover segment, with a but coming from the older engine. In 2022, with an ambitious new heart under the hood, the Rogue is a great crossover, no ifs, ands, or buts.
See Also: