Change is hard. Green initiatives around the world are dragging both customers and manufacturers kicking and screaming towards electrification and alternative energy. Honda knows this and is here to help by giving its customers an electric vehicle with training wheels – in this case in the form of an internal combustion engine. For the first time in the Canadian market, we give you the 2023 Honda CR-V Touring Hybrid.
You'll find no fancy space age aerodynamics here. One look and you can immediately identify this as the new CR-V, which looks a lot like the previous model with Honda's new front end treatment applied. Evolution over revolution is the name of the game with such a loyal following. Our test vehicle in  Canyon River Blue Metallic is complemented nicely by Touring trim add-ons – 19-inch aluminum wheels, front grill, side mirrors, and roof rails all painted gloss black.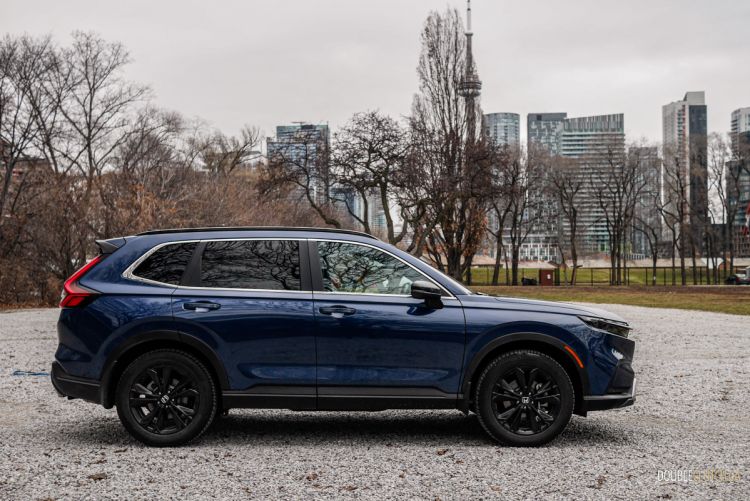 The interior space is also familiar. Fans of the latest generation Civic will feel right at home – the unique wire mesh accent running across the dash and the excellent knurled knob controls throughout. Our Touring model comes equipped with a full leather Interior including heated seats and a comfy heated steering wheel. Unfortunately, I didn't find the seats quite as comfy. Creating a bucket like contour with the seat cushion is commendable but it just didn't work for me – it feels like sitting directly on the metal seat pan.
At some point it seems the manufacturers decided to make orange stitching the de-facto standard for higher trim crossovers and the CR-V Touring is no different, with its use of orange contrast stitching throughout the interior. Meanwhile the dashboard is a mix of black and gloss black accents, but at least it's mostly textured to reduce unsightly fingerprints.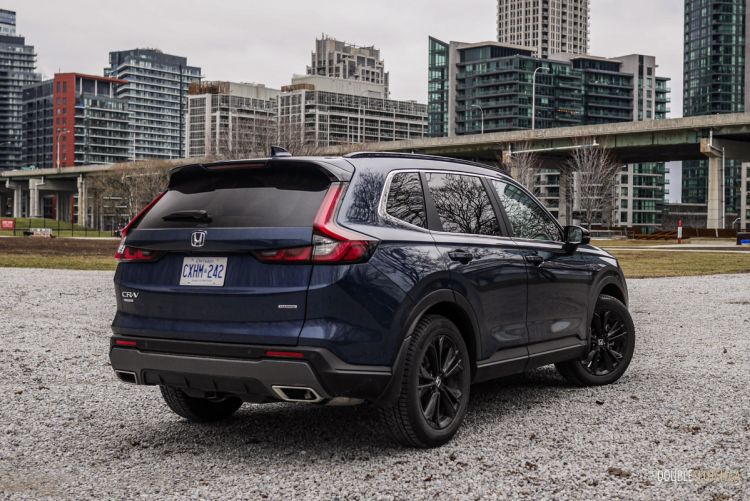 The CR-V Touring is equipped with Honda's latest seven-inch color TFT meter display and driver information interface – a minimalist layout that is easy to read if not very configurable. An upgraded nine-inch touchscreen display takes care of infotainment duties with built in volume knob and physical shortcut buttons. The Bose premium audio system here features 12 speakers and we're not sure if it's strictly due to the acoustic front glass, but the system sounds improved over previous iterations. Wireless Apple CarPlay and Android Auto support round out the entertainment features.
Under the hood is where things get interesting where there's a 2.0-litre inline four-cylinder capable of churning out 145 horsepower 138 lb-ft. of torque. Doesn't sound all that special, does it? Those numbers get a whole lot more impressive when you learn that the four banger is used primarily as a generator to keep the tiny 1.4-kWh battery juiced up. This provides power to the 180 horsepower electric motor and starter motor responsible for seamlessly firing up the gas engine when necessary.
Unlike other hybrid systems, the CR-V Hybrid uses the electric motor for the majority of the propulsion so it drives very much like a battery electric vehicle (BEV) in terms of power delivery. The gasoline engine is able to add power to the front wheels when necessary (ie. When towing up to 463-kg, or for maximum overtaking power) for powertrain capable of delivering 207 horsepower and 247 ft-lbs. of torque.
This setup also means there is no traditional CVT to muddy up the power delivery, instead we have direct electric drive (e-CVT) and power sent through a set of planetary gears which makes for a much-improved experience behind the wheel. Perhaps the main thing to point out is that you can drive the CR-V Hybrid totally oblivious to the hybrid system. Just use the gas and brake like you normally would and the software takes care of the rest.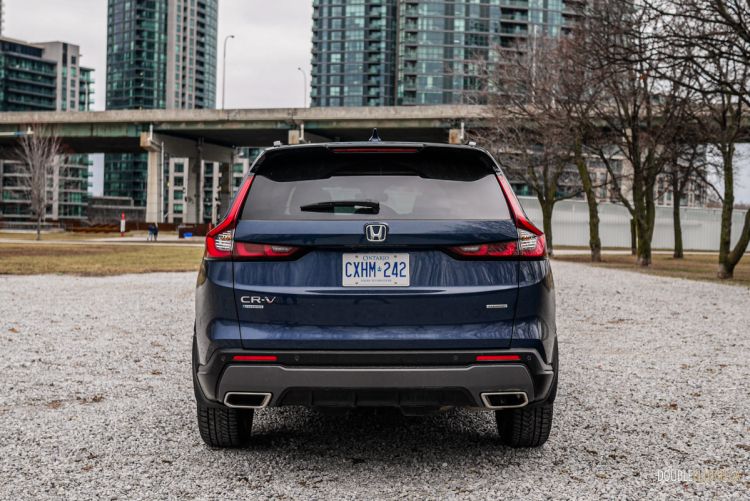 It has a comfortable ride quality whose suspension soaks up anything the road has to throw at it and handling prowess only just short of the Mazda CX-5. If I had to point out one gripe, it would be the almost comical fake engine noise blaring out the speakers in sport mode; just in case you missed the groaning engine noises from CVT powered CR-V's trying to keep up on the freeway. Seriously if you are going to play fake engine noise can it at least be samples from an NSX or S2000?
Like all hybrid and electric vehicles, the CR-V can harness energy from regenerative braking to help top up its battery. Honda has fitted a set of paddles on the steering wheel, but instead of shifting through gears they modulate the amount of drag when the vehicle is coasting. There are 4 levels of what amounts to engine braking, or Honda's way of introducing its customers to one-pedal driving found in BEVs. At maximum drag its not enough to bring the vehicle to a complete stop but it does allow you to dial in just the right amount of drag to maximize battery regeneration for any given situation.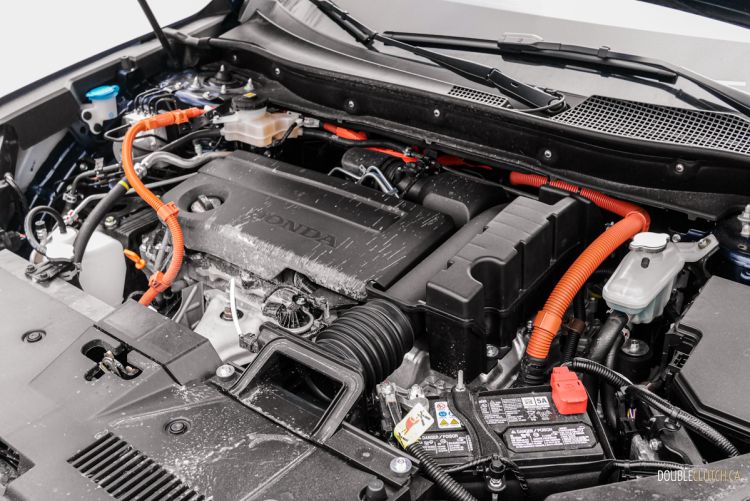 So, is this the best of both worlds? Smooth EV power delivery without a heavy battery weighing you down and constantly having to worry about planning your trips around where the closest charging station is? Well, not exactly. The small battery capacity means the engine is almost constantly churning away and as a result its fuel economy doesn't quite hit the mark like its hybrid peers.
Rated at 6.0L/100km city, 6.9 highway and 6.4 combined, it sounds excellent on paper but the best we could achieve was a lackluster 8.2L/100km. This very slight improvement over the gasoline version negates any notion of cost savings compensating for the higher price tag.
Which brings us to the final trait that the Honda CR-V Hybrid shares with BEVs – sticker shock. The base price for a 2023 Honda CR-V is $34,790 which will get you into the latest evolution of Honda's gasoline powered front wheel drive compact crossover SUV. There is only one hybrid trim available – the 2023 CR-V Touring Hybrid which starts at a whopping $48,890. If you don't want a grey or silver one, add another $300 for paint. Add on the power tailgate and all-weather mats plus cargo tray and our tester rings in at an as-tested price of $50,019.95.
This is roughly $15,000 more than what it would cost to get into a Toyota RAV4 Hybrid. In fact, it puts the CR-V firmly into RAV4 Prime (PHEV) territory. We thought it was asking a lot for a RAV4, but at least it can do 70 kilometers without using a drop of gas. It would seem a difficult proposition outside of diehard Honda loyalists but in the real world it might take years before Toyota can deliver you a RAV4 Hybrid due to supply chain issues. Spending a few years behind the wheel of the Honda CR-V Touring Hybrid won't be so bad if you have the means; it's the most well-equipped CR-V you can buy and it will get you prepared for the next iteration when the training wheels come off by going full electric.
See Also: