This is the 2023 Volvo V60 Cross Country. I'm not a fan of this whole faux-off-roader trend that's taken over the car market. The whole idea that everything has to be lifted and covered in plastic cladding to give the illusion of toughness and capability bugs me to death. The overwhelming majority of new cars on the road would be so much better off – better looking, better handling, more efficient – if they were about three inches closer to the ground and lost the ridiculous fake body armor they're garnished with. 
Don't get me wrong, there is a place for actual toughness and off-road prowess, but your average front-drive economy-based whatever-mobile shouldn't be playing that game. Having said all that… our tester this week followed that recipe exactly, and I loved it. The V60 Cross Country is how you do it right.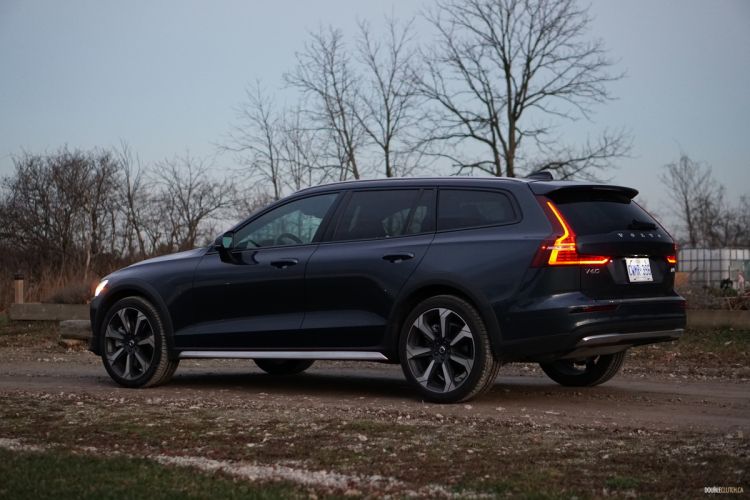 For 2023, the already handsome V60 gets a mild facelift, with new front and rear fascias, and some new wheel options. The optional 20-inch sawblade wheels on our tester look fantastic, and fill out the subtly flared wheel arches impeccably. Take notes everyone: this is how you do wheel fitment. Otherwise, the V60 Cross Country was already handily the best looking lifted wagon on the market, and Volvo's careful tweaks elevate it just a little bit further. 
The V60 Cross Country gains an extra 2.5 inches of elevation over the base V60 for a total of eight inches of ground clearance, and also gets standard all wheel drive, off road modes and hill descent control; it can handle itself admirably when the pavement ends. There's some unique styling cues too: an eggcrate grille, the aforementioned wheel arches, and a really slick brushed trim piece running along the bottoms of the doors with Cross Country oh-so tastefully printed on.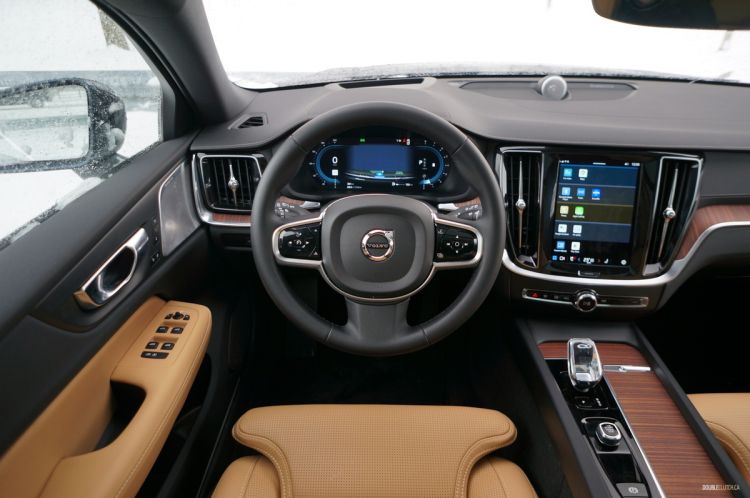 Less slick is the Google based infotainment system, which we're disappointed to say seems to be a bit of a step backwards – a rarity from the sensible Swedes. It's not all bad, as it is very fast and responsive, and the long-ish boot time of last year's Sensus system is gone. The home screen is similar to what it was before, with the same vertical tile arrangement, but there's another, separate but also similar homescreen that's the one you'll actually need to change media sources. It's not intuitive, and it can be a little frustrating to figure out which home screen you have to back out into to do what you want to do. We're split on it, but the most positive opinion around here is "it's not that bad."
By far the worst of all is the fact that everything is too small, including but not limited to the core functions relating to seat heat and climate controls. Not only is it tricky to hone in on the tiny "button" you want while on the move, it looks bad; the smaller fonts and icons reveal the nine-inch touchscreen's low-ish resolution with some unfortunate aliasing that was never an issue on the old system.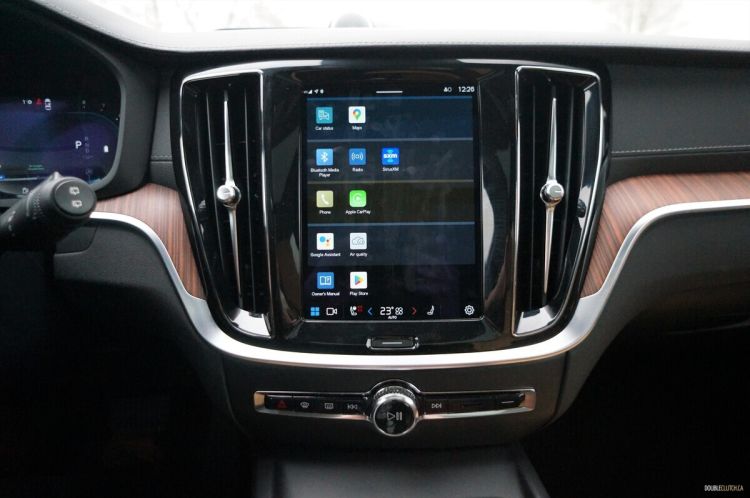 The revised digital gauge cluster presents well, but lacks functionality. While most cars give you the option to display media, trip info, driving info, vehicle status, navigation, fuel economy, this system gives you either a large, lovely navigation display, between the speedo and tach, or a huge blank space. That's it. Or at least, that's all we could make it do. It's bewildering that anyone thought this was an improvement.
With that out of the way, I'm pleased to report that the complaints stop there. The silly shifter in other Volvos that requires two nudges to be put into drive or reverse isn't here, and they've been careful to not fix what wasn't broken (infotainment notwithstanding). The interior space remains largely unchanged, and is every bit as appealing and upscale as it's wonderfully restrained Scandinavian exterior styling.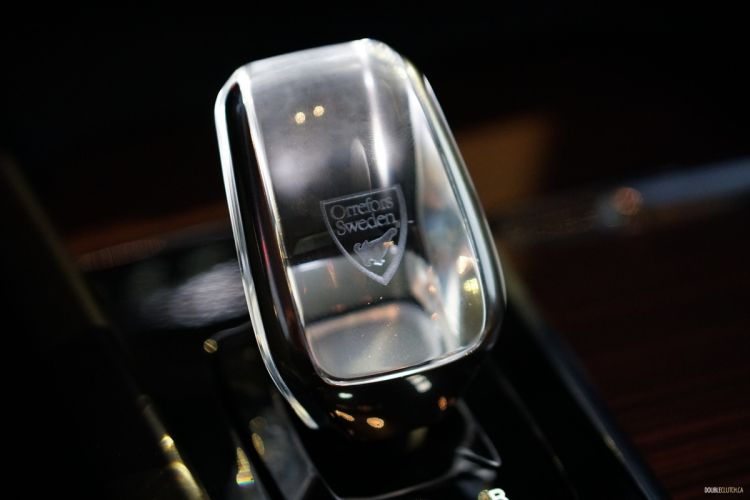 It's clean, warm, inviting, and largely well thought out, save for the absence of some controls that we'd prefer had their own buttons, rather than being buried behind the touchscreen. We especially enjoyed our tester's two-tone amber over charcoal color scheme, and the linear lime wood trim ties it together beautifully – very few car makers understand complimentary colors like Volvo does. 
Very few car makers understand how to make a car feel as natural to drive as Volvo does, either. They've always enjoyed a masterful blend of connection of comfort, and this is no different. Don't get me wrong, it's not the same kind of telepathic tuning you'd expect from a Miata, but that their initiative of safety demands that everythings feels deliberate and organic, and it's a blessing. The steering is taut and well weighted, the brakes are firm and linear, the throttle response is linear – all the basic stuff that so many tend to slip on (or over compensate with) is excellent. Volvo's suite of Pro Pilot Assist features all work very competently, such that it'll largely drive itself about as naturally as you would.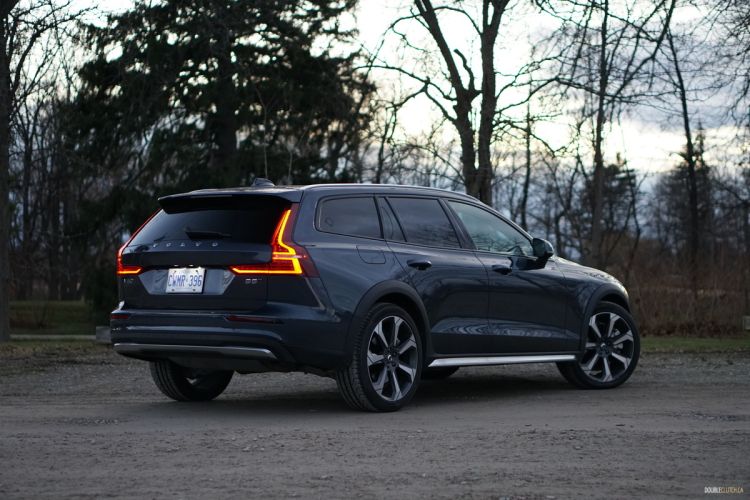 On or off the road, the V60 is confident, quiet, and secure. The ride is just a tiny bit flinty over sharp imperfections from the gigantic wheels, but overall it's very comfortable, and body motions are well controlled. Its relatively low center of gravity and taut tuning means it feels much more agile than its taller crossover counterparts, but it still maintains more than enough ground clearance to handle just about any off beaten paths or snowbanks you're liable to come across. Our tester's optional heated, ventilated and massaging seats are a) beautiful and b) ergonomically flawless, and the optional Bowers & Wilkins sound system remains among the best you can buy. 
The new B5 powertrain that we've sampled in other Volvos, with its turbocharged inline four and 48 volt mild hybrid system, is new to the V60 for this year. With 247 horsepower available, it's not gonna set your hair on fire, but it's more than enough to pass and merge confidently. Moreover, it's impressively well insulated, and the stop-start system is among the smoothest on the market, and it delivers a respectable fuel economy of 9.8L/100km.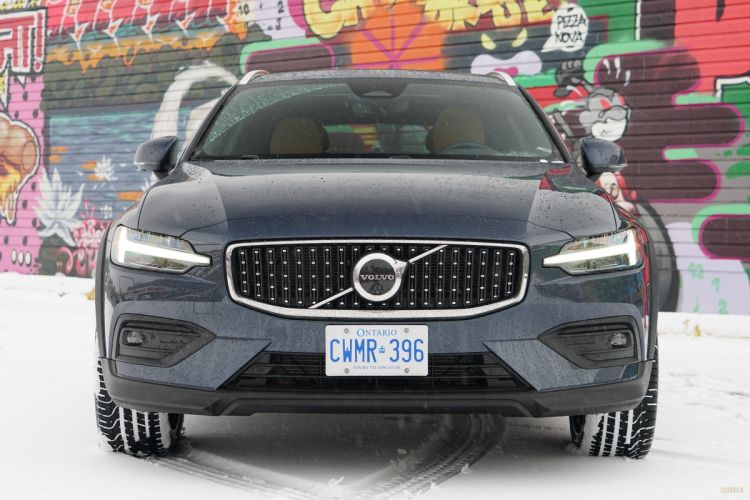 The eight-speed automatic transmission is largely undetectable in its operation, as is the full time all wheel drive; everything ties together seamlessly. It's an old Scandinavian adage that good design should be invisible, and they've nailed that with the powertrain. 
Ironically, our favorite thing about the V60 Cross Country is that it's not invisible. It's not the same boring, faux-tough plastic fantastic crossover as everything else on the road. Its low slung wagon profile looks so good sitting up just a little high on those big sexy wheels, under tasteful little winglets. Its crisp, sharp design cues inside and out make it look more upscale than it actually is.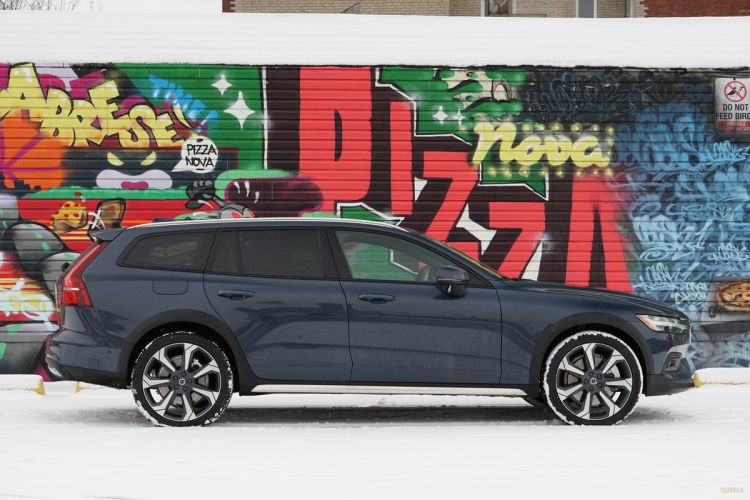 Our decked out tester carries a $73,445 price tag – higher than a fully loaded A4 Allroad, its only direct competitor – but you're getting so much more equipment, and so much practicality, and so much more honest-to-god style that it's hard to argue with. In the past I also would have argued that a lifted car thing like the 2023 Volvo V60 Cross Country has no purpose, but I'm happy to be wrong on this one.
See Also:
2022 Volvo V90 Cross Country B6
2021 Volvo XC90 Recharge Inscription