From the outset, the Volvo XC90 has always been a bit of a left-field success. The Mk1 model, the predecessor to this 2021 Volvo XC90 Recharge Inscription, was really the first luxury soft-roader to actually fit seven people. It was stylish, and it was safe. For 2015, Volvo revealed the current model and everyone was astonished. It paired one of the nicest interiors ever put in an SUV with sharp looks, thoroughly modern powertrains and that reassuring Volvo attention to safety.
In the six years since it launched, most of its competitors have been updated. The Mercedes-Benz GLE was all new last year, the BMW X5 was new for 2018 and the Lincoln Aviator was birthed into existence once again.
From the outside, the Volvo XC90 is handsome, understated and still one of the best-looking mid-size luxury SUVs on sale today. A telltale mark of a good design is that the inevitable mid-cycle facelift is only new wheel designs and freshening of small details, and that's exactly what's going on with the XC90. Compared to earlier models, the fascias are slightly sleeker, the wheel designs are more complex, and that's about all that's changed on the outside. It's still the same sharp-looking minimalist design with superb proportions, iconic vertical tail lamps and aptly-named "Thor's Hammer" daytime running lamps.
The interior of our XC90 test car came with the two most important option boxes ticked. The first is wool upholstery. It's no secret that leather is a mediocre material at best. It ages poorly, gets hot in the summer, cold in the winter and is easily damaged. It also requires care, which few car owners are willing to actually do. But wool? It's soft, always the right temperature and feels fabulously expensive. It's a $250 option, which is fairly inexpensive, and on a rainy Spring evening it's worth every penny and then some.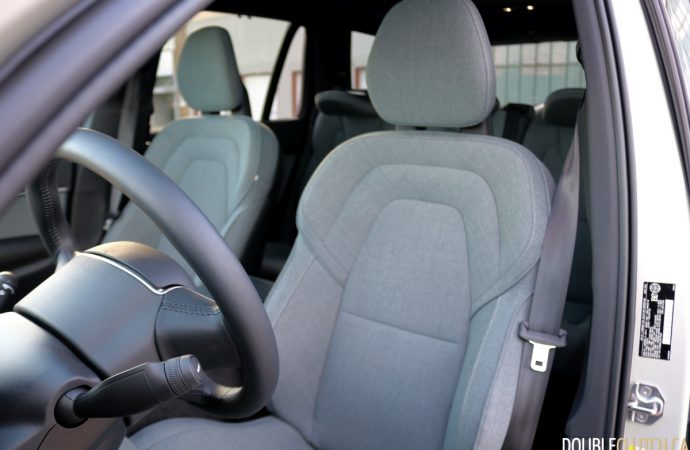 The second important option is the Bowers & Wilkins audio system. Pumping out a massive 1,400 watts, it features nineteen speakers including a forward-firing dashtop tweeter and a free-air subwoofer. It's crisp, clean and features superb adjustability. Put simply, it's one of the best audio systems available in any car at any price point. At $3,750 it is fairly expensive, but once experienced, it's impossible to go without.
As for the rest of the interior, it's a phenomenally lovely and spacious environment. Stitched materials and soft-touch plastics are featured in spades while the volume knob, starter knob and drive selection switch feature a fabulously tactile knurled finish. There's also plenty of room for seven adults, not just five adults and two teenagers in the way back mashed in like sardines. The second row even features an available integrated booster seat in the centre, and that whole centre section can be moved forward so parents can have easier access to their little one.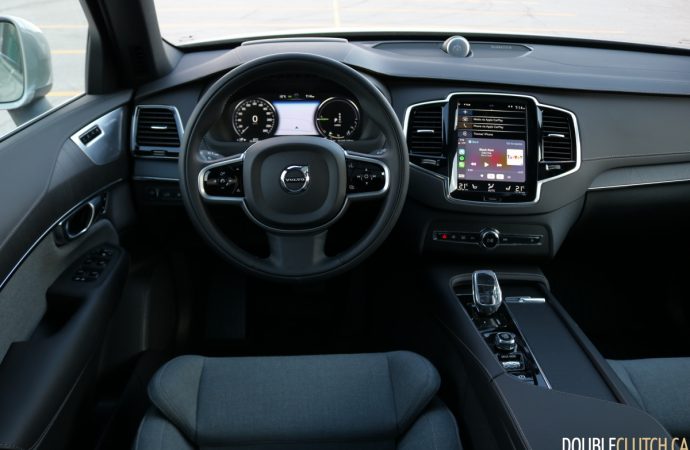 Funnily enough, easter eggs are also abundant within the XC90. There's a little Swedish flag stitched into the seam on the passenger seat, a little cartoon spider in the third-row storage bin to amuse children and the words "Since 1959" engraved into the seat belt buckles, a reminder of how Volvo invented the three-point safety belt 61 years ago.
Powering the XC90 Recharge is a system more complex than the missile guidance system on a Eurofighter Typhoon. It starts with a two-litre four-cylinder engine that's turbocharged and supercharged, then mated to an eight-speed Aisin automatic gearbox driving the front wheels. To augment this, Volvo has stuck an 11.6 kWh battery pack underneath the floor, along with an 87 horsepower electric motor on the rear axle, powering the rear wheels and allowing for all-wheel-drive. All of this combined generates a total output of 400 horsepower and 472 lb.-ft. of torque.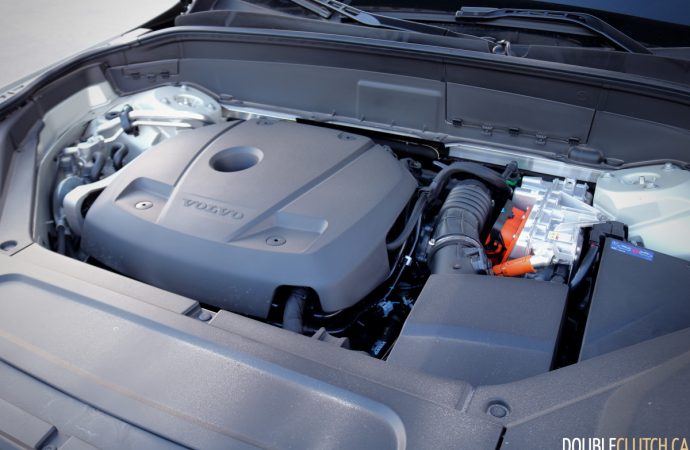 Except our test example doesn't top out at 400 horsepower and 472 lb-ft. of torque. See, Polestar has been fiddling with this powertrain to create a factory-authorised tune that bumps horsepower to 421 and torque to 501 lb.-ft. It also delivers quicker powertrain response and faster shifts to create a more performance-oriented driving experience for those who walk up to the dealer accessory counter feeling a bit adventurous.
Not that the Polestar remap changes the fact that the XC90 is a luxurious, comfortable cruiser. Instead of featuring a leather-wrapped joystick gear selector straight out of an arcade fighter jet simulator, the XC90 Recharge Inscription features a gear knob made by Orrefors in Sweden out of crystal. It may require two taps to get into drive or reverse, but you won't mind simply because it's such a lovely thing to use. What's more, there are no paddle shifters on hand for manual gear selection. This is because fitting flappy paddles to something the size of a church bus is stupid and unnecessary and try-hard because they muck up the ergonomics of the steering wheel and nobody will ever use them.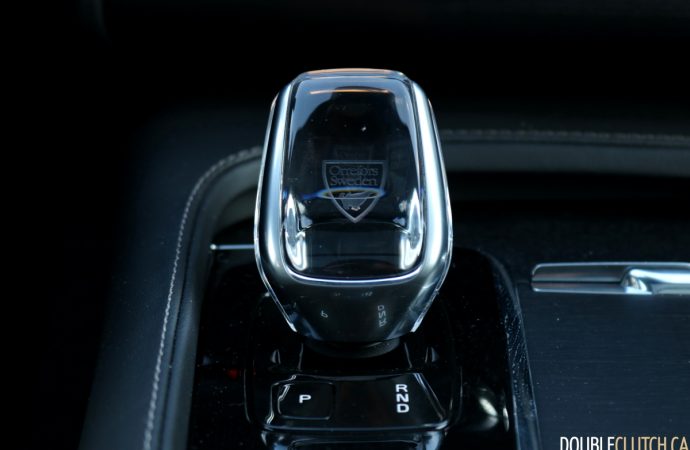 Naturally, the luxurious nature of the XC90 is only furthered by the way it goes down the road. Our test car rides on optional air suspension that displays absolutely phenomenal tuning. It's not floaty, it's not too firm, it simply lets the XC90 glide over decaying highway infrastructure with astonishing grace. And this magic carpet ride quality of the air suspension doesn't let the XC90 down in the bends. Roll is well-managed and mid-corner adjustability is impressive for something of this size.
Turn the light but appropriately-weighted steering wheel and the cornering response is so surefooted, it makes the Mercedes-Benz GLE feel like a mid-size container ship and the Lincoln Aviator Grand Touring feel as balky and uncoordinated as a yak attempting to fit in an elevator.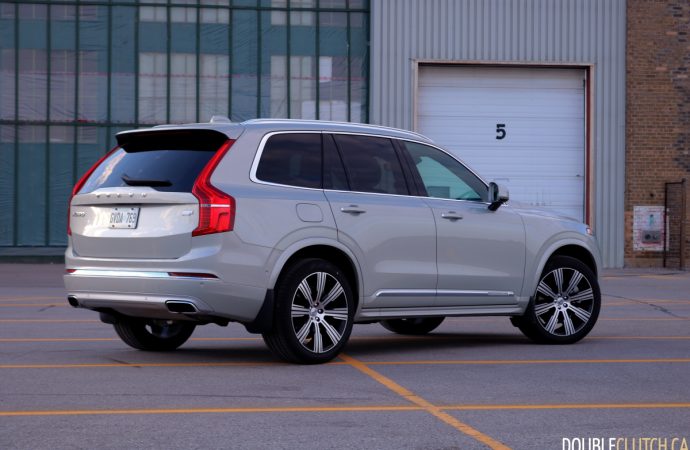 Truthfully, performance isn't the main selling point of the XC90 Recharge. It's a plug-in hybrid so it must be seriously efficient to warrant the extra dosh over a gas-only T6 model. Indeed, we found 30 kilometres or so of all-electric range to be perfectly achievable in real-world driving, charging through a normal household plug socket to be swift enough and practical efficiency to be phenomenal. Plug it in at night, nick some electricity at work and most drivers will be able to commute on electric power alone. In fact, we averaged 4.5 L/100km over our testing period just by plugging the XC90 in when it wasn't being used. Impressive stuff for a vehicle the size of Niagara Falls.
Of course, it's impossible to review a Volvo without talking about safety. All the usual advanced driver assists are featured in the XC90 including Pilot Assist, Volvo's highway driving system. Even though it's been updated over the years, it still behaves like someone on their learner's permit, so it remained off for the bulk of our testing period. I suspect most Volvo owners will do the same, as they're usually quite good drivers.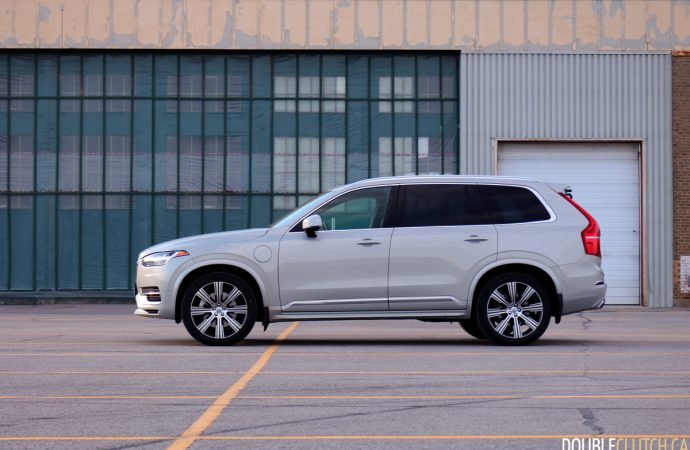 Think about it: have you ever been cut off by someone driving an XC90? I'm fairly certain the answer is no. People who buy XC90s are safe, kind, courteous and responsible. The exact opposite of most luxury SUV owners. In 2018, a group of professional researchers in Britain crunched the government's numbers and found that not a single person had been killed in an XC90 since record-keeping started in 2004. That statistic is almost biblical.
The 2021 Volvo XC90 Recharge Inscription is brilliant with every fibre of its being. It's not a marketer's idea of luxury, it's genuinely luxurious. And the best part of it all? It's incredibly understated. What it isn't is inexpensive. It starts at $88,050 and fully-specced will just break past the six-figure mark. That sort of money buys a lot of BMW X5, Mercedes-Benz GLE or Range Rover Sport. But none of those SUVs have the same unpretentious confidence that the XC90 does. For some people, six years after its introduction, the XC90 is still the one to have.
See Also:
2020 Volvo XC90 T8 Inscription